A video of a youth forcefully cutting a sadhu's beard and hair is viral on social media. The attacker is also heard abusing the monk. It has been claimed that a Muslim man in Khandwa misbehaved with a sadhu.
A Twitter user named Sudhir Mishra (@Sudhir_mish) who describes himself as a 'journalist' and 'nationalist' in his bio, has shared the video. In the tweet, he wrote: "कुछ विशेष समुदाय के लोगों द्वारा घटना को अंजाम दिया गया।" indicating that Muslims were behind the assault.
बुजुर्ग साधू के बाल-दाढ़ी नोचकर बर्बरता क्रूरता का वीडियो वायरल है..

बताया जा रहा है…. कि कुछ विशेष समुदाय के लोगों द्वारा घटना को अंजाम दिया गया।

इसकी पहचान करके कार्यवाही होना चाहिये! 😡 pic.twitter.com/IjowGel5s1

— Sudhir Mishra 🇮🇳 (@Sudhir_mish) August 18, 2023
The tweet has been viewed over 3 Lakh times and retweeted close to 2,000 times. Among Mishra's followers is Union minister Smriti Irani.
Several users have shared the video on Twitter in the recent past, including कुलदीप शर्मा (@ksekuldeep) whose bio says 'जन्म से ब्राह्मण' (Brahmin by birth), 'Ex-Secular' and 'हिंदुत्व पर गर्व है' (proud of Hindutva), among other things.
Alt News has received requests on its WhatsApp helpline number to fact-check the video.
The video was Viral Last Year As Well
Twitter user 'Mahesh Sahu' shared the video in May 2022 and wrote that the youth should be punished under 'Hindu Act'. (Archive link)
खंडवा में एक मुस्लिम युवक ने एक अघोरी साधु महाराज की जटाएऔर दाढ़ी सारे आम काटी इस सूअर की औलाद को जल्द से जल्द पकड़ा जाए सभी इस पोस्ट को ज्यादा से ज्यादा फॉरवर्ड करें इसे सख्त से सख्त हिंदू एक्ट में सजा होना चाहिए @ChouhanShivraj आदरणीय संज्ञान लें। pic.twitter.com/fDuJScf1Wp

— mahesh sahu महेश साहू (@sahumahesh324) May 28, 2022
Several Twitter users amplified the video and accompanying claim.
खंडवा में एक मुस्लिम युवक ने एक अघोरी साधु महाराज की जटाएऔर दाढ़ी सारे आम काटी इस सूअर की औलाद को जल्द से जल्द पकड़ा जाए सभी इस पोस्ट को ज्यादा से ज्यादा फॉरवर्ड करें इसे सख्त से सख्त हिंदू एक्ट में सजा हो। @ChouhanShivraj @drnarottammisra @BJP4MP @MPPoliceOnline pic.twitter.com/BumOgmtEbp

— Dr. Tarun Gupta🎵 (@Tarun_19_20) May 28, 2022
The clip was also circulated on Facebook with a communal angle.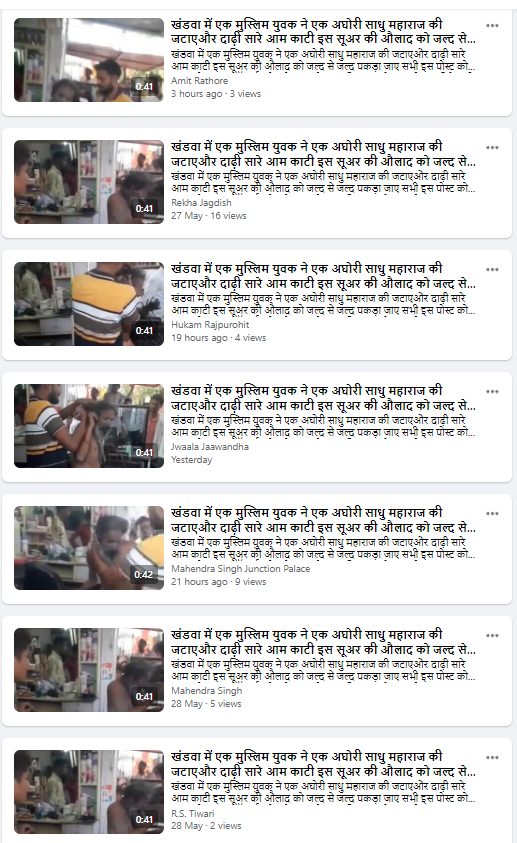 Fact Check
Taking a closer look, we noticed the video contained a logo that read 'Prithvi Chakra'. Upon further research, Alt News found that a channel named 'Prithvi Chakra' had posted this video on Facebook on May 24, 2022. According to the caption, a man named Praveen beat up a monk in Khandwa, Madhya Pradesh.

Navbharat Times reported that a youth named Praveen Gaur had cut a monk's hair and beard in front of a barber shop in the Patjan village of Khandwa district. The article also states that Praveen is the son of a hotelier and attacked the monk in an intoxicated state.
Aaj Tak also identified the accused as Praveen Gaur. Gaur was subsequently arrested. Khandwa SP Vivek Singh was quoted in the report as saying that appropriate action was being taken and a case had been registered in this matter.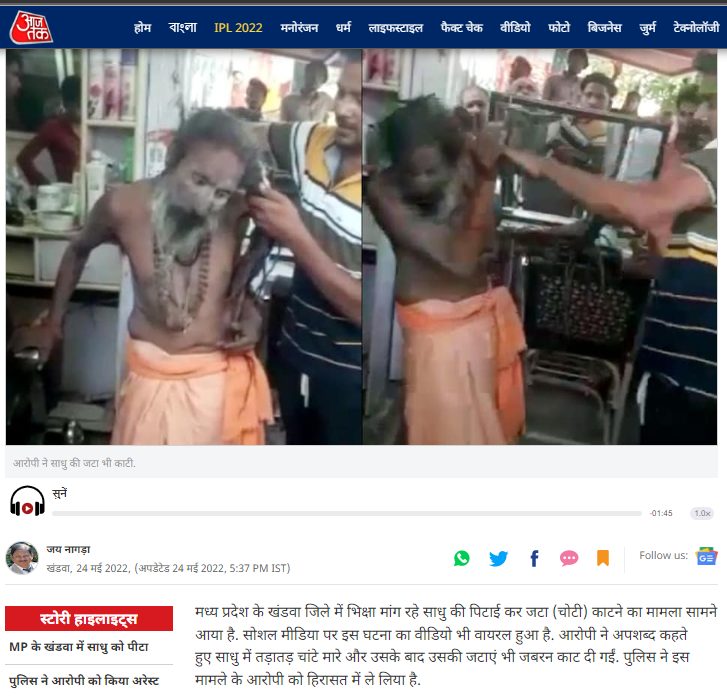 Alt News reached out to Khandwa police station in charge PR Davar. He informed us that there was no communal angle in the incident. "When the video of this incident went viral on social media, people objected to a monk being subjected to such an act. Following this, the police registered a case and the accused was taken into custody. However, the victim could not be traced during the investigation. The accused is not Muslim but hails from the Hindu community. He is currently in prison," he said.
To sum it up, a video of a young man assaulting a monk in Khandwa, Madhya Pradesh was falsely shared with a communal angle. The accused was not Muslim.
Donate to Alt News!
Independent journalism that speaks truth to power and is free of corporate and political control is possible only when people start contributing towards the same. Please consider donating towards this endeavour to fight fake news and misinformation.