Bollywood film 'Brahmastra', slated to be released in September 2022, has been in the headlines for some time now. A call to boycott the film, too, has gained momentum on social media. Against this backdrop, a screenshot of an alleged tweet by BBC Hindi is being circulated widely. As per the post, Bollywood has come forward to offer aid to victims of the severe flooding in Pakistan. It is written that the producer of the film, Karan Johar, donated Rs. 5 crore, while actors Alia Bhatt and Ranbir Kapoor donated Rs. 1 crore each. Along with this, they announced that they would donate Rs. 51 crore if the film was a box office success. In the end, it states that Bollywood is an example of humanity.
Twitter user '@CuteRashmika3' posted this screenshot asking how much Bollywood had donated for flood relief in India and the 2022 flood victims in Assam. The tweet contained the hashtags #BoycottBramhastra #BoycottBollywood. (Archived link)
#BoycottbollywoodCompletely
How much money have they given for Indian floods ??

How much money did Bollywood give in #Assamfloods 2022.??

"Saviour Of Humanity"#आलिया_My_Foot
#RanbirKapoor #BoycottBramhastra #BoycottBollywood #FridayFitness #ShameOnNDTV pic.twitter.com/H4eDqVRXRz

— Love Is Rashmika (@CuteRashmika3) September 2, 2022
Several other Twitter users also amplified the image in opposition of the film 'Brahmastra'. This screenshot is trending on Twitter with the hashtag '#BoycottBrahmastra'. (Link 1, Link 2, Link 3)
This slideshow requires JavaScript.
The screenshot is widespread on Facebook, and it is being circulated on Instagram as well.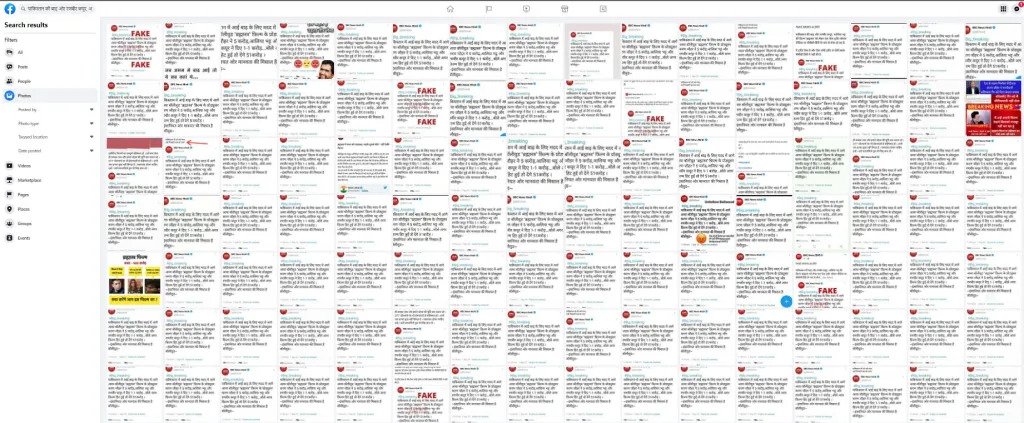 Fact-check
Taking a close look at this screenshot, we noticed some inconsistencies in the language and syntax. For example, the first sentence ends abruptly without a full stop. Besides, there is no space after the comma (,) between the words 'crore' and 'Alia Bhatt'. At the same time, 'and' (aur in Hindi) is misspelt in the last line. Such grammatical errors on the part of media organisations is unusual. Another thing that we noticed was that BBC Hindi usually does not tweet only texts without some graphics or videos. However, the post in the screenshot only contains text.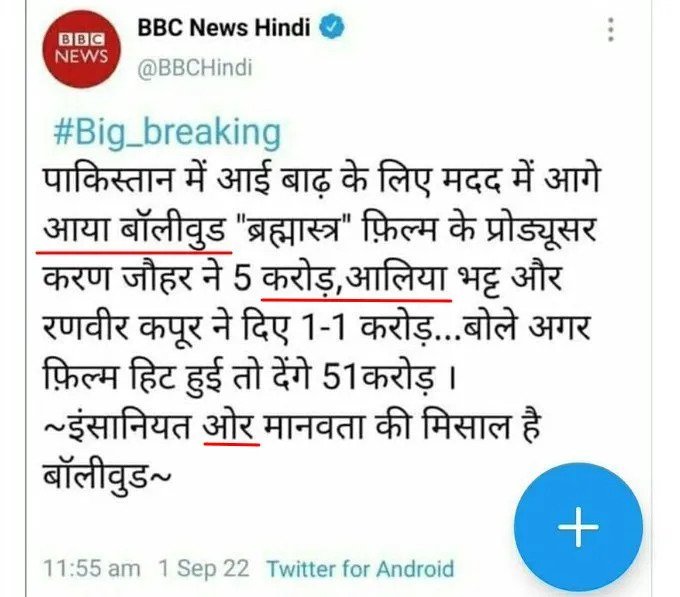 Next, on examining the Twitter timeline of BBC Hindi, Alt News could not find any tweet like the one shown in the viral image. We also noticed that BBC Hindi posted a tweet on September 2, 2022, clarifying that the screenshot featured a fake tweet. BBC Hindi clearly said it was the screenshot of a fake tweet and the outlet did not publish any such news.
FAKE NEWS ALERT

पाकिस्तान की बाढ़ और रणबीर कपूर, आलिया भट्ट की फ़िल्म 'ब्रह्मास्त्र' को लेकर एक फे़क ट्वीट सोशल मीडिया पर बीबीसी हिंदी के नाम से शेयर हो रहा है.

ये ट्वीट फ़ेक है और ऐसा कोई ट्वीट या ऐसी ख़बर बीबीसी हिंदी ने नहीं की है. pic.twitter.com/MVylmCz7Ix

— BBC News Hindi (@BBCHindi) September 2, 2022
Furthermore, when other tweets of BBC Hindi are compared with the viral screenshot, it becomes clear that the latter is fake:
Tweets contain a dot (.) between the timestamp and date. However, the viral screenshot does not have it.

The alleged tweet appears to have been posted from an Android phone while the BBC Hindi tweets are shared via 'SocialFlow', 'Twitter Web App' or 'Twitter Media Studio'.
In addition, Alt News could not find any media report to corroborate that the 'Brahmastra' team had donated to help Pakistani flood victims.
To sum up, it is evident from the announcement by BBC Hindi and our fact-check that the said screenshot is fake. It is pertinent to add that we have often encountered screenshots of fake tweets falsely shared on social media as real. Alt News has already published fact-check reports on several such fake tweets, which can be read here.
Donate to Alt News!
Independent journalism that speaks truth to power and is free of corporate and political control is possible only when people start contributing towards the same. Please consider donating towards this endeavour to fight fake news and misinformation.