Days after the murder of a youth in West Delhi's Naraina, a video clip of the alleged incident went viral on social media. Several BJP leaders and supporters of the party such as @ippatel, @nkgurjar4bjp, @ElvishYadav, @HinduITCell, and others (1, 2, 3, 4, 5) claimed that the accused are from the Muslim community and called the incident a 'mob lynching'.
These tweets were accompanied by the hashtag '#Justice_For_Shiva_Gurjar'.
This slideshow requires JavaScript.
BJP's Kapil Mishra tweeted that Shiva Gurjar was murdered mercilessly in 'jihadi style'.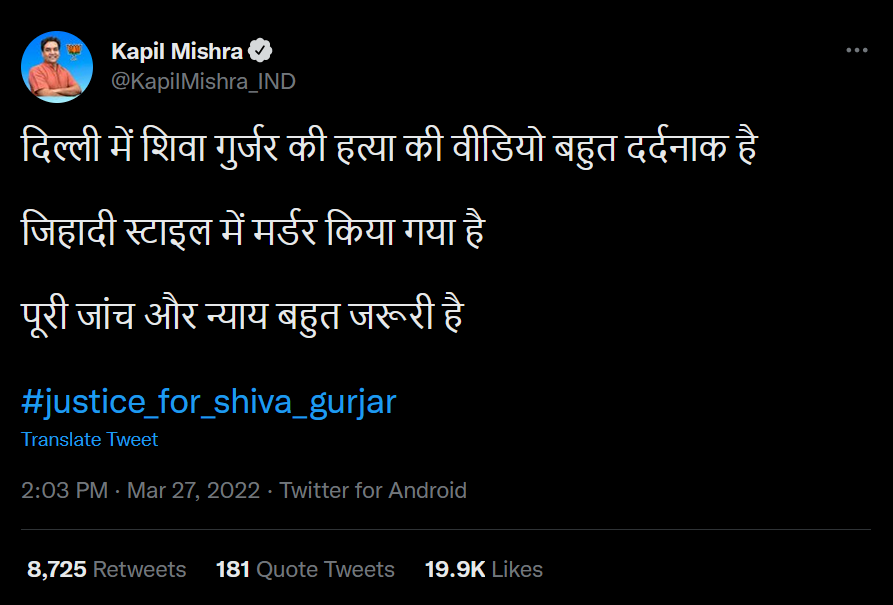 Sudarshan News called the alleged murder a 'Taliban style execution' thus, insinuating that it was carried out by Muslims.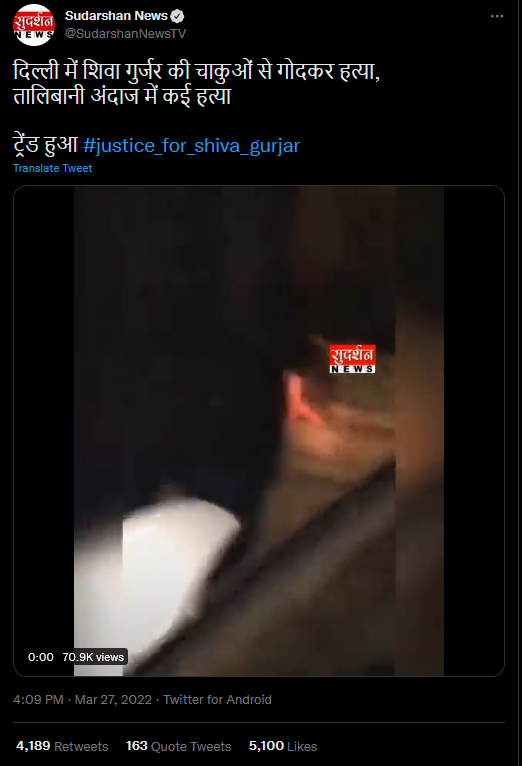 A video of this incident has been widely shared on Facebook with similar claims.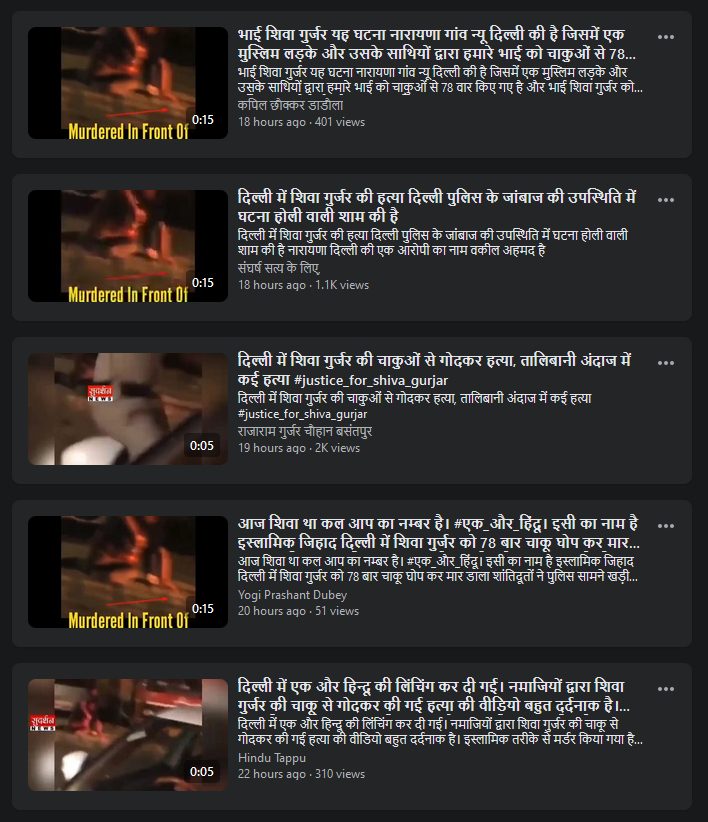 False communal spin
We performed a keyword search on Google and came across news reports by India Today, Hindustan Times and Times Now. According to these reports, on the night of March 18, Shiva Gurjar, 29, and his friends were visiting the PVR complex in West Delhi's Naraina, where Shiva's bike came in contact with an employee of a paan shop. This led to an argument between the shopkeepers and Shiva and in a fit of rage, one of the employees stabbed Shiva in the chest. He succumbed to the injuries.
This slideshow requires JavaScript.
According to the police investigation, the employee of the shop was a minor and both the victim and the perpetrators belong to the same community. Delhi police also released a video statement where they have confirmed the same and have dismissed the communal claims made on social media.
पश्चिमी जिले के नारायणा थाना इलाके में हुई युवक की हत्या पर #दिल्ली_पुलिस ने तत्काल कार्यवाही की है।@DCPWestDelhi ने बताया कि मामला साम्प्रदायिक नहीं, बल्कि आपसी मारपीट से जुड़ा है।
घटना से संबंधित सभी अभियुक्तों को गिरफ्तार किया जा चुका है।#DelhiPoliceUpdates@ANI@CPDelhi pic.twitter.com/twtXlcuQUs

— Delhi Police (@DelhiPolice) March 27, 2022
The accused have been identified as Dharmendra Rai, his relative who's a minor, his two sons Sachin Rai and Ramanuj Rai, and his employee Vakil Ahmed. DCP West Delhi Ghanshyam Bansal told Alt News that Dharmendra Rai's relative (the minor) is accused of stabbing Shiva.
Hence, the gruesome murder of a youth in West Delhi's Naraina was given a false communal spin on social media.
[Update: Details about the minor accused have been added to the report.]
Donate to Alt News!
Independent journalism that speaks truth to power and is free of corporate and political control is possible only when people start contributing towards the same. Please consider donating towards this endeavour to fight fake news and misinformation.