While reporting on the Assam floods in June, The Indian Express stated that Silchar — southern Assam's biggest town and the gateway to the three districts on the bank of the Barak river — had submerged in water unlike "ever before in its history". By the first week of July, the total death toll in the state had crossed over 170.
On June 26, Assam Chief Minister Himanta Biswa Sarma claimed that the flooding in Silchar was "man-made". "If the embankment at Betukandi was not breached [destroyed by people], this would not have happened," he said. Betukandi is less than 10 kilometres away from Silchar.
In the first week of July, four men — Kabul Khan, Mithu Hussain Laskar, Nazir Hussain Laskar and Ripon Khan — were arrested for their alleged involvement in causing the breach. Dyke or embankment is a structure that typically runs parallel to the course of a river in its floodplain or along low-lying coastlines. Its purpose is to keep the course of rivers from changing and to protect against flooding of the area adjoining the river or coast.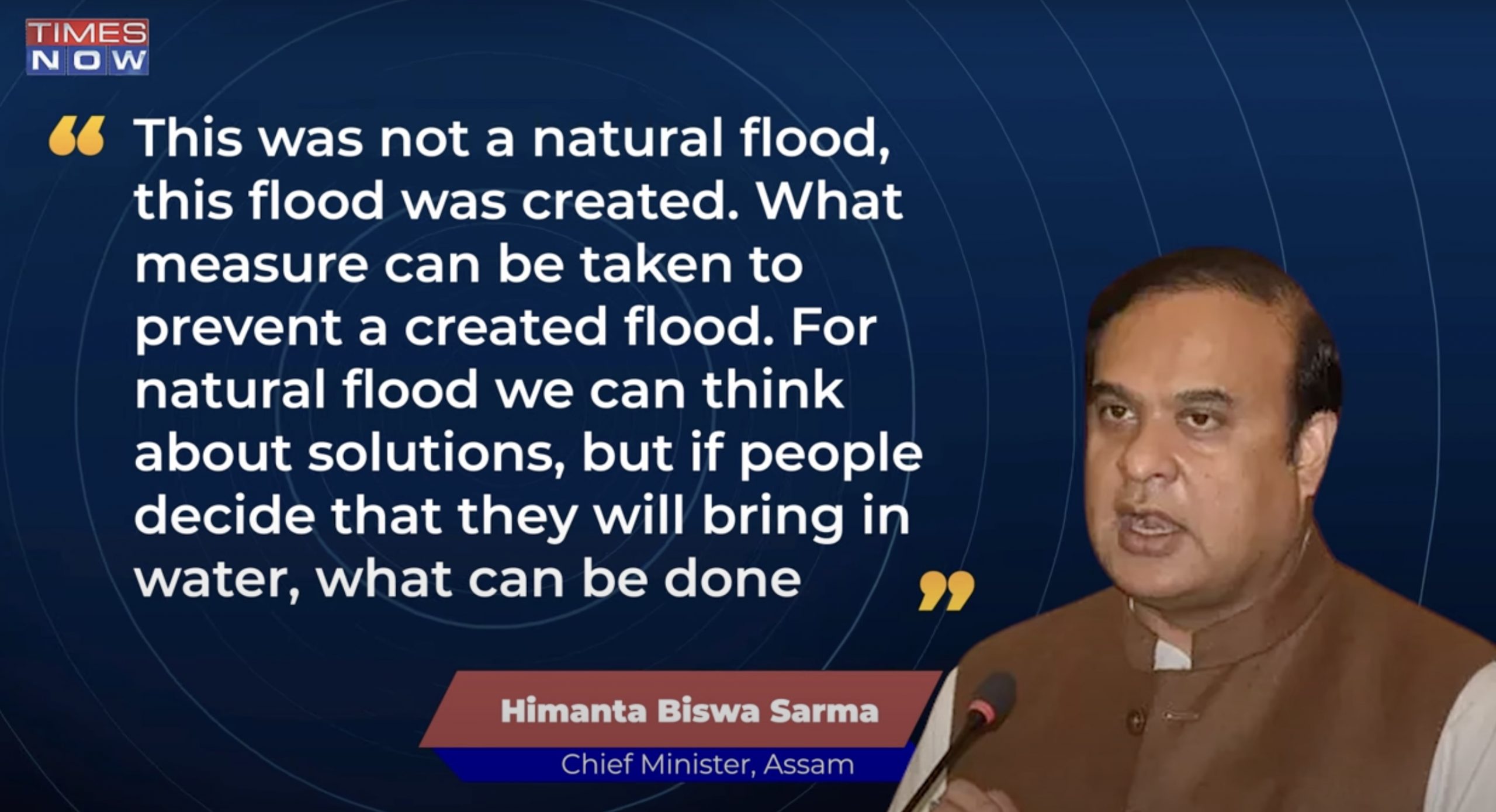 From 'man-made' disaster to 'flood jihad'
Around July 5, a section of the mainstream media reported the alleged breach as 'flood jihad'. NewsX had conducted a prime-time debate regarding flooding in Silchar. The panellists were former diplomat Bhaswati Mukherjee, former Home Ministry official RVS Mani, Aurelius Corporate Solutions founder Sumit Peer (as a political analyst), and Editorial Director at iTV Network (parent company of NewsX) Madhav Nalapat. All panellists, including the anchor, were of the opinion that "flood jihad" took place. (Archived link)
After introducing the panellists, anchor Meenakshi Upreti asked, "…this doesn't seem like an innocuous mischief… would you say it's a simple mischief or do you smell a more sinister plot… do you think perhaps… at the highest level the Indian government should be alerted…" Mukherjee called this incident "a matter of internal sabotage", "an act of treason". Responding to Upreti, Nalapat said that this incident was "a plan for mass murder". All panellists opined that the incident was an attempt to destabilise the BJP-ruling state.
'Dyke Sabotage' Exposes Flood Jihad in Assam's Silchar. NewsX gets you this revetting discussion.

Click on the link below to watch the full debate with @MeenakshiUpreti https://t.co/1ROOCJwJAt pic.twitter.com/VaspsZs6GB

— NewsX (@NewsX) July 5, 2022
Pro-BJP propaganda outlet Sudarshan News also produced a similar show. The clip is available on Facebook and YouTube. Sudarshan News' chief Suresh Chavhanke also posted it from his social media handle multiple to amplify the claim further. (1,2,3)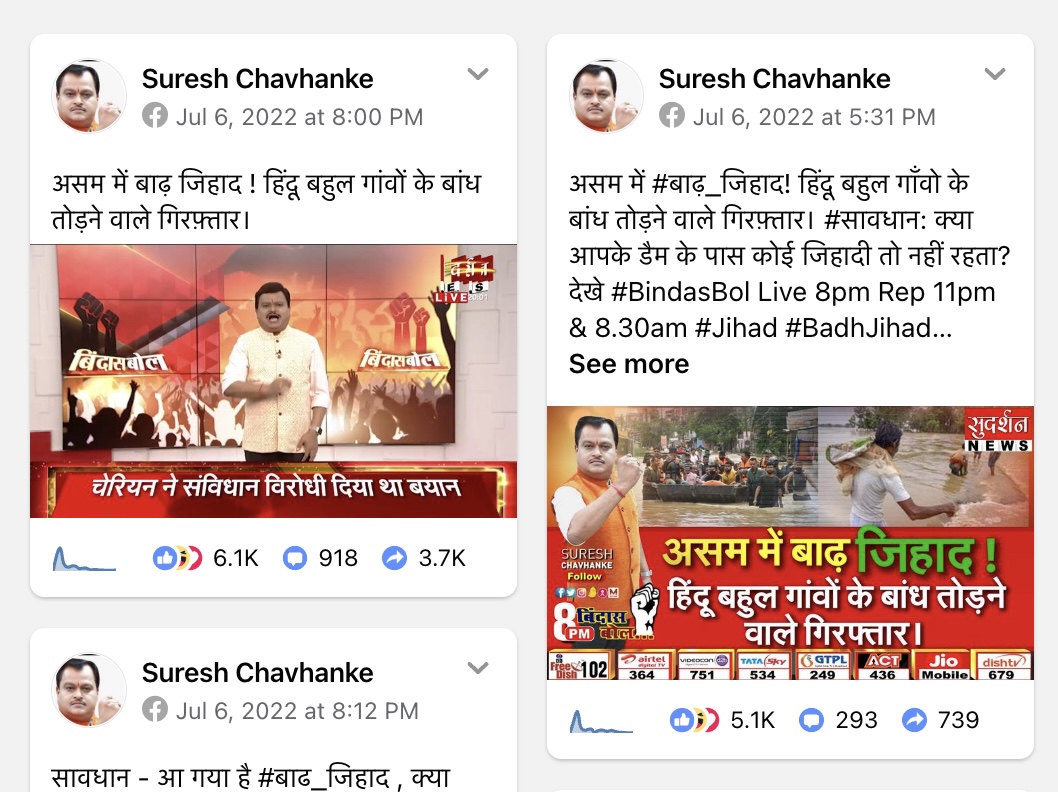 Hindi media outlet Dainik Jagran didn't use the phrase "flood jihad" but its report stated, "There are signs of a deep conspiracy behind this."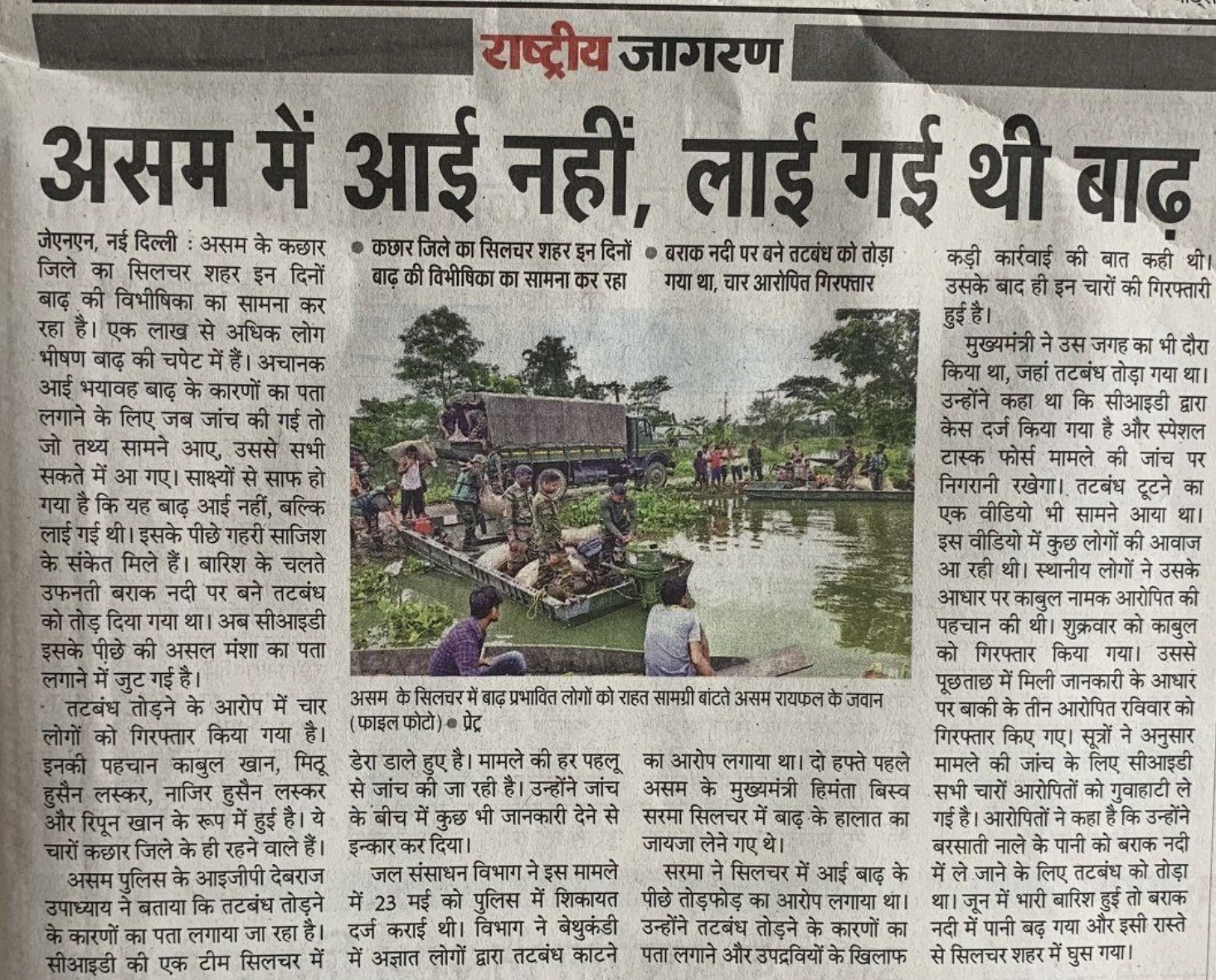 OneIndia published an article titled 'Flood Jihad: Assam floods may have more than meets the eye' authored by Vicky Nanjappa. Pro-BJP propaganda outlets such as The Frustrated Indian also reported along similar lines. (Archived links 1 and 2)
"Journalists" of varying influence also described the incident as "flood jihad" — Live Hindustan's Deputy Chief Content Producer Himanshu Jha; India Today anchor Gaurav C Sawant; Nishant Azad, senior correspondent at RSS mouthpiece Organiser; the founding editor of Earshot Abhijit Majumder; Ashwani Mishra, special correspondent at Panchjanya; and journalist Vicky Nanjappa.
This slideshow requires JavaScript.
Rahul Nagar, National Social Media In-charge for BJP's OBC Morcha, also made the same claim. He shared a clip of the four accused and wrote, "Succeeded in drowning the whole of Assam, what should we name it now. #FloodJihad". (Archived link)
पूरा असम को डुबोने में कामयाब ,क्या नाम दे इसे अब ।।#FloodJihad pic.twitter.com/RQNI63d8zh

— Rahul Nagar (@RahulNagarbjp) July 6, 2022
NewsX and others communalise Silchar floods
Two days after NewsX and other media outlets dubbed the alleged Betukandi embankment breach as "flood jihad", CM Sarma said, "It is not a big deal. There was no need to use words like jihad. A few people with small brains did that." While he refuted the "jihad" angle, Sarma seemed to have stuck with his narrative that the Silchar floods were "man-made".
The Hindu reported, citing India Meteorological Department, that Assam received 41% above normal rainfall during the pre-monsoon season (March to May), and it has received 71% more than normal rainfall up to June 25. As per the report, Assam's annual normal rainfall between 1961 and 2010 has been 2,239.4 mm. However, it received 1,891.9 mm of rainfall between just March 1 to June 24 — which is close to the annual rainfall level in less than three months.
On July 7, in a press interview, Cachar SP Ramandeep Kaur stated she came across the phrase "flood jihad" for the first time in her life and categorically refuted the communal angle to the incident. She urged news outlets and others to not give the incident a communal angle. Around the 1:15 mark, she said, "… a few days ago we got a complaint from the irrigation department stating that the dam [embankment] was broken. They also did not know how the dam was broken… In our preliminary investigation, we learnt few people broke it and based on that, four people have been apprehended…"
Cachar SP Ramandeep Kaur warns against rumors on 'Flood Jihad'

#Northeastlive | A new angle to the recent devastating flood in Silchar has come to the fore with a section of the media including news channels, web portals and social media have tried to give a new connotation to the calamity. The recent incident of devastating floods in Silchar caused as a result of breach at the Bethukandi dyke has even been termed by a section of the media and in various social media platforms as 'Flood Jihad'.

Dismissing such claims, Cachar Superintendent of Police Ramandeep Kaur said that a section of the media encompassing platforms have attempted a give a communal angle to this dyke damage incident.

#floodjihad #silcharfloods #dyke #assamfloods #northeastlive

Posted by Northeast Live on Wednesday, 6 July 2022
On July 4, SP Kaur told Telegraph that the police started probing the case after the irrigation department lodged a complaint on May 23 about miscreants damaging the Bethukandi dyke. As per the same report, the alleged breach was 30 meters.
The report stated that the accused allegedly caused the breach in May to reduce water logging in Betukandi. East Mojo, on May 19, had reported, "Torrential rains cause flash floods in Barak Valley, hundreds affected".
Telegraph's report also added that the residents of Bethukandi had made several requests to the authorities to find a permanent solution to water logging. Alt News spoke with multiple journalists from the region who had visited the affected area, out of which two are associated with national news portals. On the request for anonymity, they confirmed that the water logging pushed the community to take such drastic measures, i.e., to allegedly breach the embankment/dyke. Additionally, they also opined that state authorities should have fixed the embankment much sooner. A source told Telegraph, "They should not have damaged the dyke and the administration, too, should have taken timely action against the miscreants and plugged the breach on time."
Regional photojournalist Partha Sheel shared images of the embankment from May 23 and July 4. "To the best of my knowledge, the rebuilding started around June 26 and was completed by July 6 or 7," he said over a telephonic call.
This slideshow requires JavaScript.
In fact, in May, local news outlet Way2Barak reported that an executive engineer of Silchar WR Division sent a formal message to the state government saying, "The most vulnerable dykes at Bethukandi area, Berenga area, Ringbund area, Bagadahar area at Silchar town are also in threat due to flooding." Another regional media outlet also warned that the affected area could face flooding if authorities don't take action.
A senior water resources department official, who did not want to be named, while speaking to the Scroll said it was not unreasonable on the part of residents to breach the embankment. The official added, "If your house remained under water, you would have also cut it." The report explains the relationship between the floods and embankment — thus capturing the crisis' magnitude.
Several media outlets have reported that embankments have become the Achilles heel in Assam and other states prone to flooding. Times Now wrote that "building embankments to control floods started from the 1950s. It has now led to an "embankment economy" of sorts, in which large amounts of money are invested in construction, maintenance and repair of embankments every year. They often give away during high flood season and the intensity of the water then released causes more damage".
The Sentinel reported, "Nearly 70% of embankments in Assam have outlived their span which explains the devastation following a recurrence of breaches in every wave of flood in the state in recent years." According to a report in Firstpost, "Building embankments alone is not sufficient, steps must also be taken to protect erosion and these need to happen simultaneously."
Alt News spoke with Parthankar Choudhury, Professor at the Department of Ecology and Environmental Science, Assam University, Silchar. He said, "If the breach was the only cause of the flood, then why didn't the concerned departments and the administration give urgent attention to the problem? This had to be done on war footings. Excessive rainfall (<1900mm) was in place and the city experienced the first phase of flood in the month of May. To have a long-term solution for 'Silchar-flood', the government should consider sanctioning 'water canal' infrastructure."
He added, "Yet, some national news media's reportage has called it "flood Jihad". They couldn't report when the people were suffering. However, now that the situation is improving, they are trying to politicise the incident by giving it communal shade. Absolutely shameful!"
It's worth noting CM Sarma and SP Kaur have refuted that the alleged act of breaching the embankment was communally motivated. Furthermore, Alt News spoke with several regional journalists who stated that it was done to get relief from water logging.
This isn't an isolated case of a mainstream media outlet branding an incident as communal by the use of the term "jihad". Zee News dedicated an entire show in 2020 to "report" on different types of "jihad" – from "love jihad" to "economic jihad" to "film and music jihad". The police filed an FIR against then Zee News chief Sudhir Chaudhary. In the same year, Sudarshan News, a pro-BJP news channel, broadcasted a controversial show on Muslim "infiltration" in the Union Public Service Commission (UPSC) examination after the Supreme Court overturned a Delhi High Court order staying the program. Alt News debunked six falsehoods in the one-hour-long broadcast. Sudarshan News's broadcast was termed as a "communal and irresponsible piece of journalism" by the Indian Police Service Association.
To sum it up, on May 23, the irrigation department sent a complaint to the concerned police station about the alleged breaching of the Betukandi embankment which is less than 10 km away from Silchar. The town on Silchar submerged in water unlike "ever before in its history" around June 19. In the first week of July, four Muslim men were arrested for allegedly breaching the embankment. Local reporters said that the embankment was damaged in May to relieve water logging. More than a month after this incident, Assam's Chief Minister called the flooding in Silchar a "man-made" disaster. Several media outlets then added an anti-Muslim spin by reporting that the floods were a part of the "larger controversy". Instead of reporting on the nuances of the calamity, media outlets and journalists dubbed the incident "flood Jihad" to blame the Muslim community for the floods in Silchar. It is unfortunate that the reports were carried at a time when communal tensions have flared up in several parts of the country.
As per Cachar SP Ramandeep Kaur, the investigation is still in process. However, both the CM and SP have refuted any communal angle to the incident.
Donate to Alt News!
Independent journalism that speaks truth to power and is free of corporate and political control is possible only when people start contributing towards the same. Please consider donating towards this endeavour to fight fake news and misinformation.