It is one thing for Twitter trolls to use posts from satirical websites for political propaganda. However, for main stream media outlets to promote satire as news is quite disturbing. It shows how the process of news making lacks the due diligence in a few organisations. Sometime ago, Aajtak had published a fake fatwa about men being allowed to eat their wives if they are extremely hungry. Pune Mirror had published the same fake fatwa in their newspaper. It turned out to be a sarcastic column written by a satirist Moroccan blogger called Israfel al-Maghribi. Yesterday, yet another set of news organisations have fallen for a piece of satire claiming a Pakistani man was sentenced to death due to farting in mosques during Ramzan.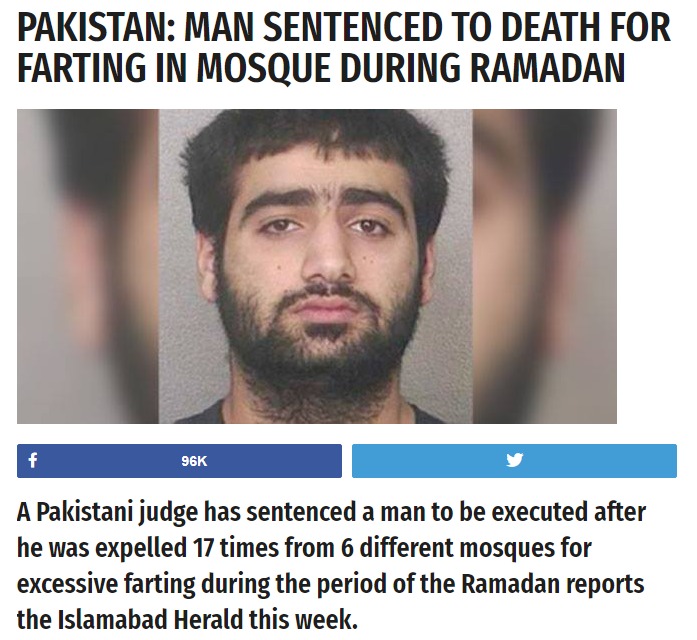 This satirical post was published by a website called World News Daily Report. The website carries a disclaimer at the bottom of every page on its website stating that the nature of their content is entirely fictional. The disclaimer states, "World News Daily Report assumes all responsibility for the satirical nature of its articles and for the fictional nature of their content. All characters appearing in the articles in this website – even those based on real people – are entirely fictional and any resemblance between them and any person, living, dead or undead, is purely a miracle." The statement about their content being fictional is also present on their disclaimer page. The photo used in the World News Daily Report article is that of one Behnam Yaali who's been accused of murdering his former girlfriend in Canada.

Despite the disclaimer, many on social media believed this report to be true and at the time of writing, this post has been shared/liked over 102,000 times on Facebook. People usually don't scroll down to the bottom of the website and almost never visit the disclaimer page. A satirical post should ideally state that the content is fictional immediately after the main text of the article and not at the very bottom of the website. However, for the sake of traffic and the resulting money from advertisement clicks, many satirical websites often push the disclaimer to places where people are not likely to notice.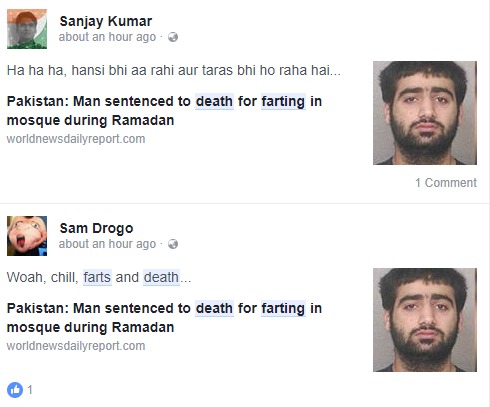 Recently, even Shashi Tharoor had fallen prey to a new report from this website and had tweeted about it. Upon being informed about his error, he deleted the tweet, albeit without an apology.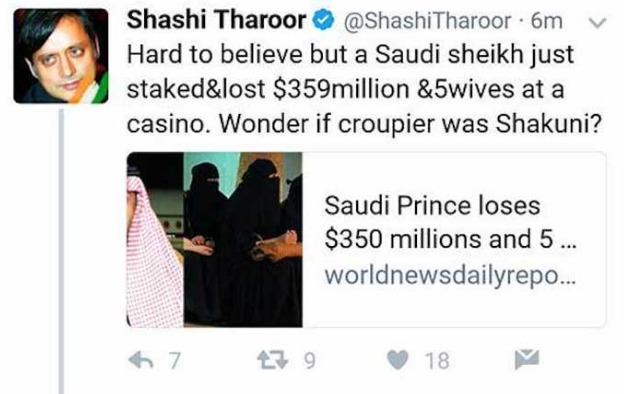 Now, one main stream vernacular newspaper, Sandesh, and an online news portal called OneIndia have fallen for this. Sandesh has the second largest circulation in Gujarati Newspapers in Gujarat. They translated the report from World News Daily Report and published it on the 12th page of the newspaper on Sunday (02-07-2017). OneIndia translated the news report into Hindi and published it on their online portal.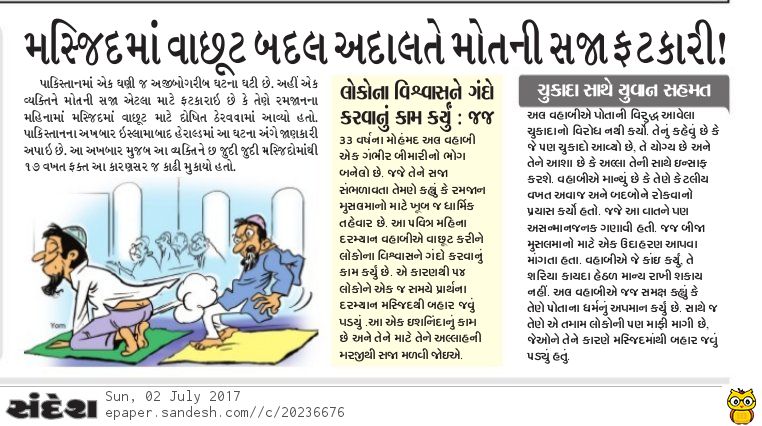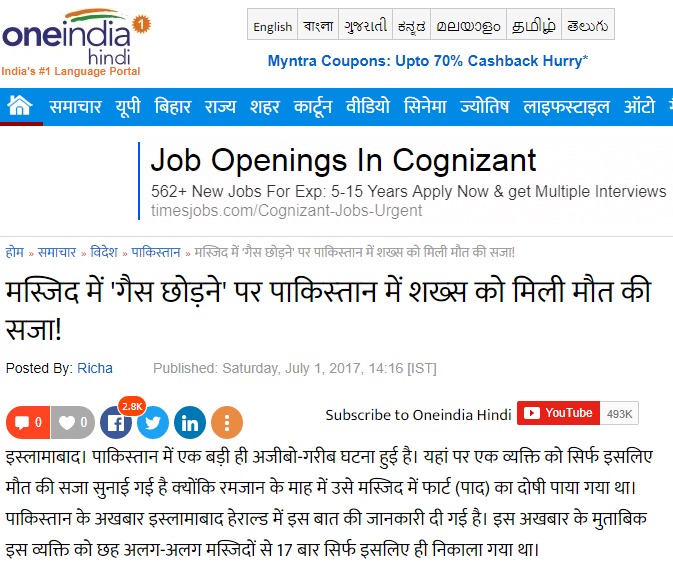 India.com, right-wing Bengali website Sangbad Pratidin and Samacharnama.com are few of the other websites which published this story as factual. Many in the right-wing Twitter ecosystem also fell for this and propagated it via their Twitter timelines (1, 2 & 3). Both Rishi Bagree and Gaurav Pradhan are followed by PM Modi by Twitter.
While it is the business of many right-wing Twitter trolls to promote hatred, let's hope that the main stream media websites in India stop falling for satirical websites. And if and when they do, they'll be named and shamed for it.
Donate to Alt News!
Independent journalism that speaks truth to power and is free of corporate and political control is possible only when people start contributing towards the same. Please consider donating towards this endeavour to fight fake news and misinformation.