A rumour that has been making rounds since last year has reappeared on social media. A twitter user @beingsandeep posted a pixelated picture of journalist Barkha Dutt riding pillion with a young man driving a scooter. That picture was juxtaposed with a face shot of Hizbul Mujahideen commander Zakir Musa and a question was raised "Is it true @BDUTT that you were seen with Hizbul mujhaddin Commander Zakir Musa? What have you got to do with terrorists?"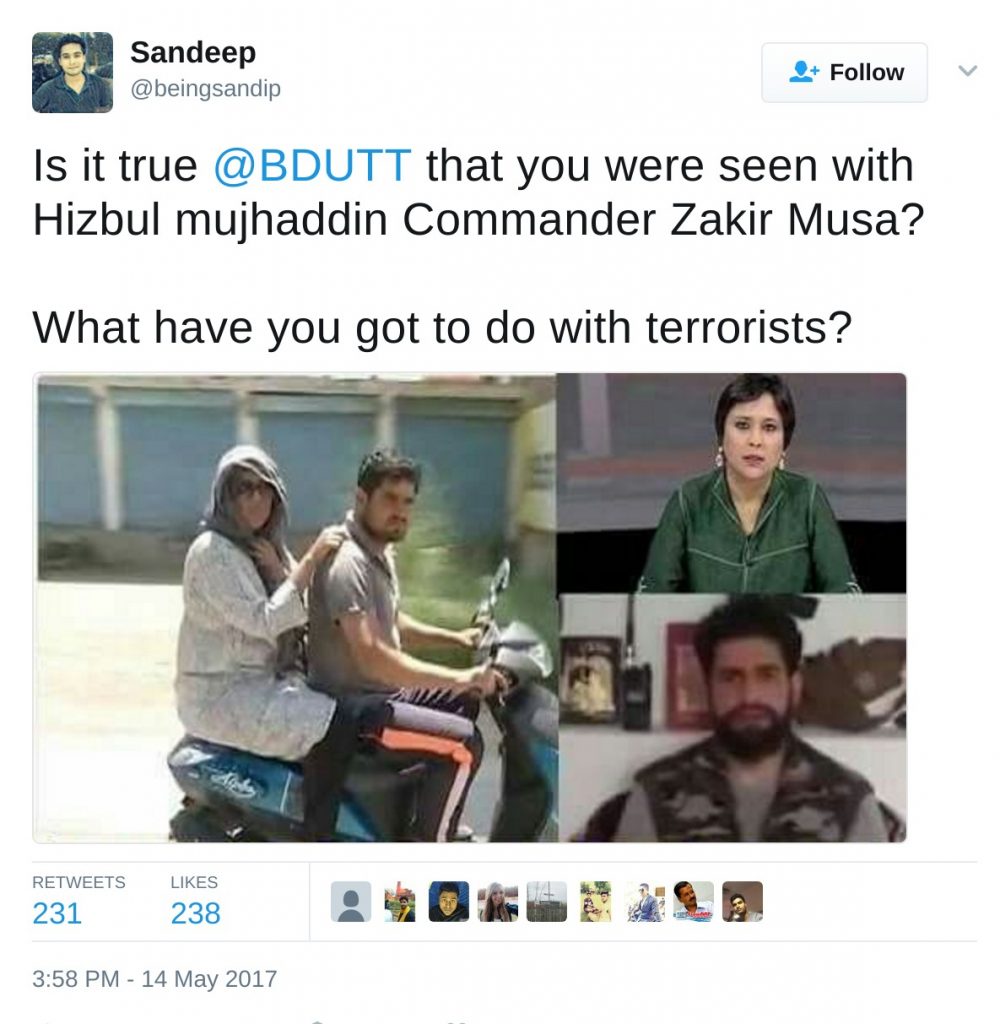 This rumour was first floated by pro-BJP social media users in August 2016, with multiple accounts and websites spreading the same image.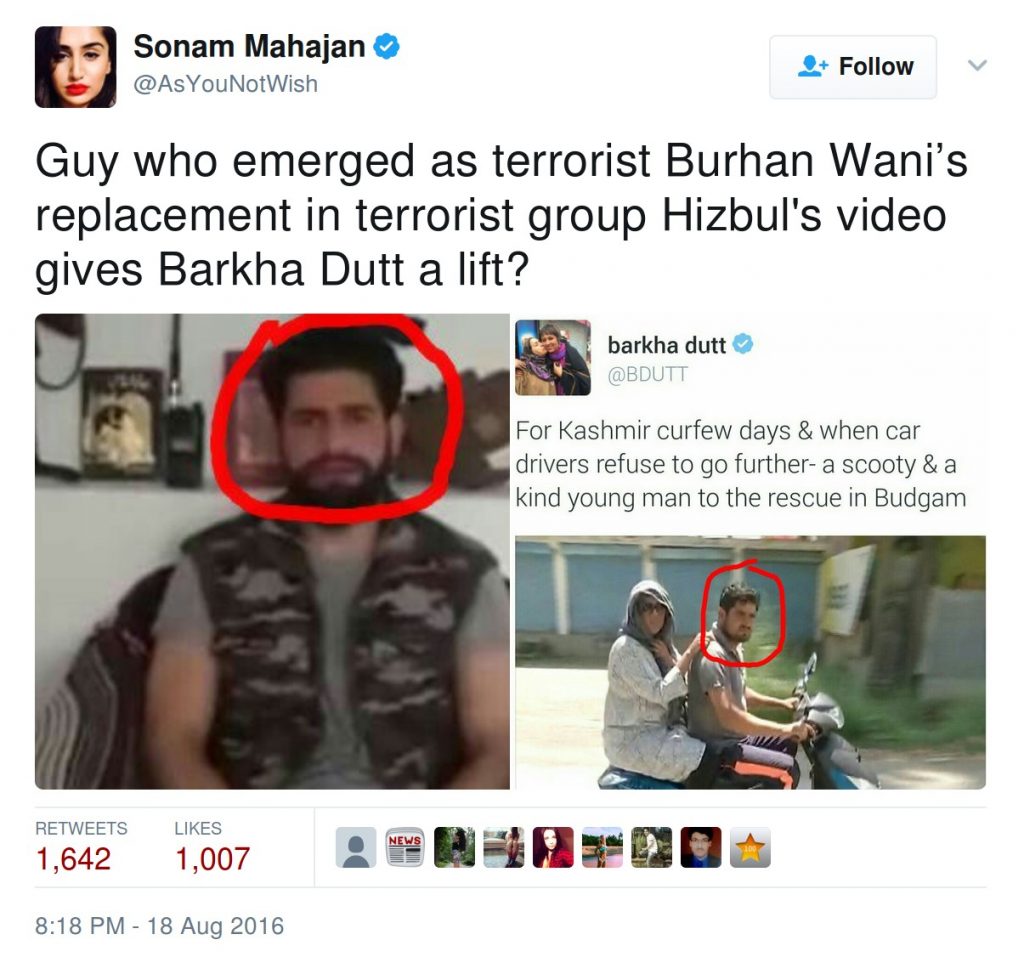 This same tweet was carried by multiple right-wing fake news sites such as Postcard.news and Hindutva.info. Recently, we had exposed Hindutva.info as to who runs that patently fake news site and how much money they make.
What is the truth?
The picture of Barkha Dutt on the scooter was posted by Dutt herself on her Twitter account on August 18th, 2016. This was during the phase when there was massive unrest in the valley after former Hizbul Mujahideen commander Burhan Wani was killed in an encounter in July 2016, and curfew was imposed for long periods of time.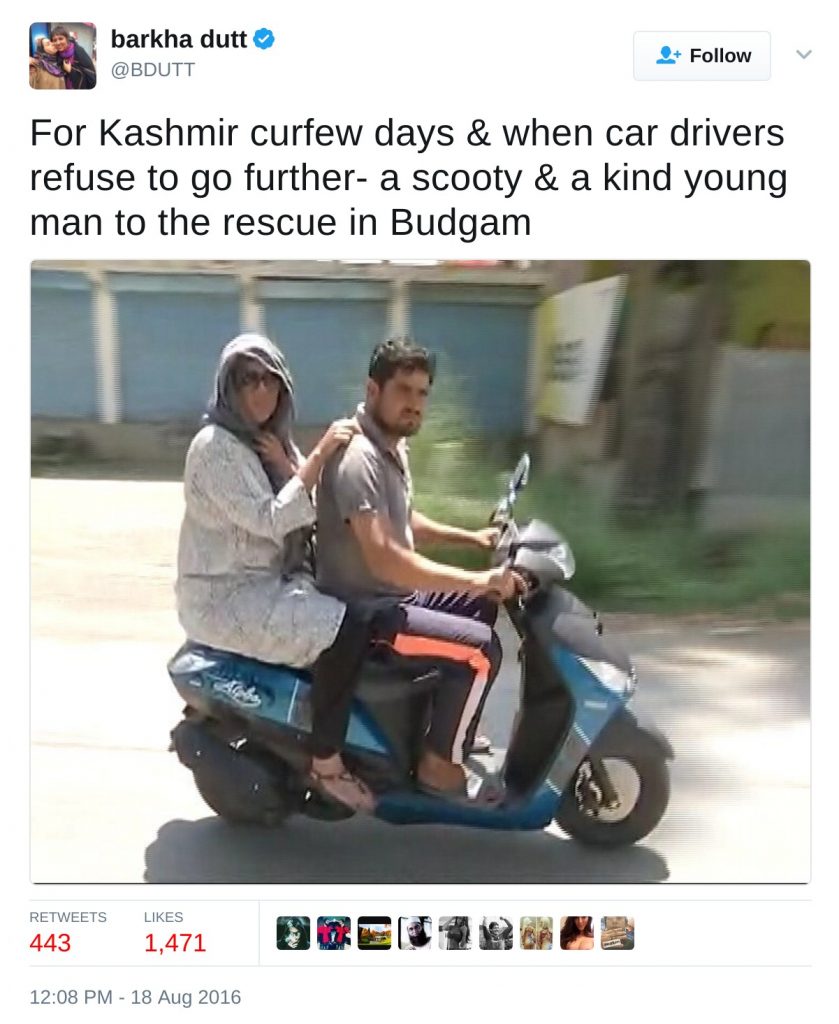 The snapshot of Hizbul Mujahideen commander Zakir Musa that has been juxtaposed with Dutt's picture was taken from a video that the Hizbul Mujahideen militants had made just a day before, i.e. on August 17th, 2016. The video was posted by many media outlets on their YouTube channels. Here's one by Hindustan Times. One can compare the items behind Zakir Musa in the screenshot below from Hindustan Times YouTube channel to the items behind Zakir Musa in the picture that has been put alongside Dutt's. It'll be apparent that the snapshot that's been put alongside Barkha has been taken from this video which was made public on August 17th, 2016.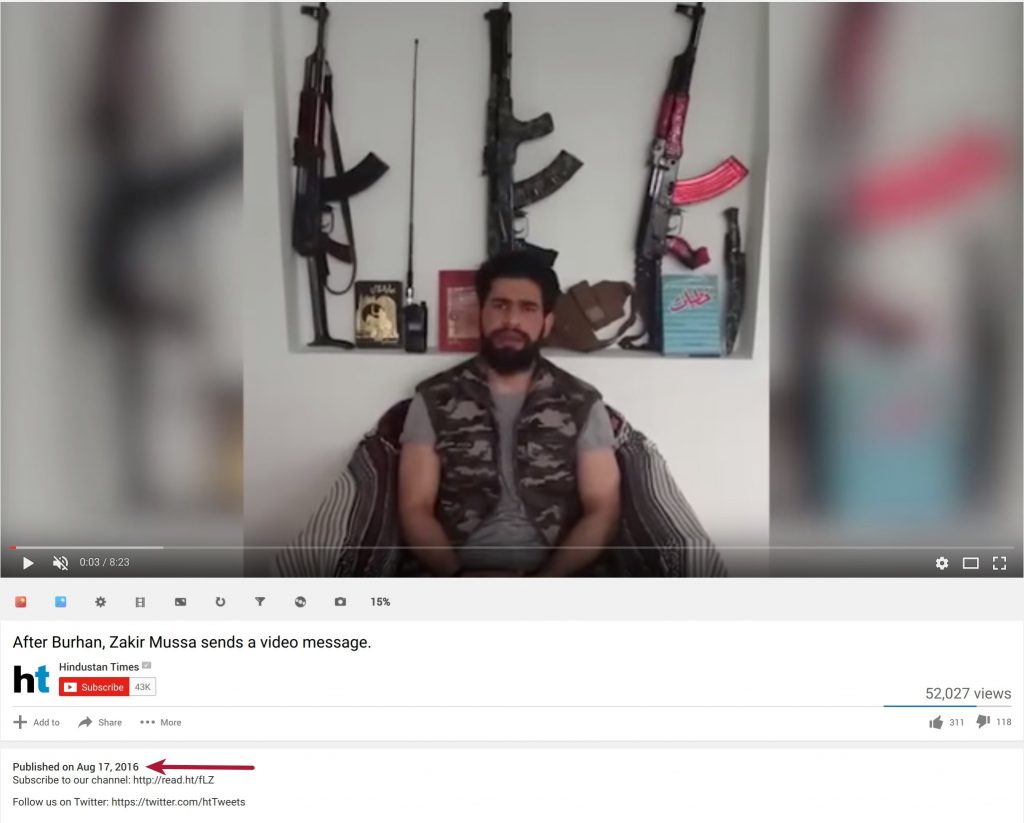 .
If we cut out just the faces of Zakir Musa from the August 17th video posted by Hindustan Times and put it next to a face cut-out of the person driving the scooter on August 18th, this is what we get.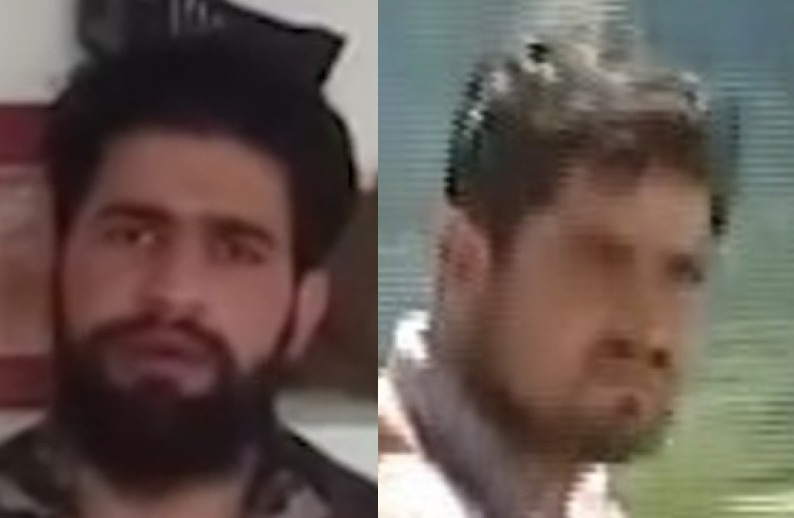 The above comparison makes it pretty evident that they are not the same people. One would have to go through quite a make over in the space of 24 hours, from August 17th to August 18th, for the two people to be the same. The hairstyle, the amount of facial hair etc clearly indicate that the two people are different.
In conclusion, a photograph posted by Barkha Dutt herself on her Twitter account was mischievously portrayed as Dutt riding pillion with dreaded terrorist Zakir Musa. It may be reiterated that the person seen with Dutt is not the Hizbul Mujahideen commander.
Donate to Alt News!
Independent journalism that speaks truth to power and is free of corporate and political control is possible only when people start contributing towards the same. Please consider donating towards this endeavour to fight fake news and misinformation.