Protests by JNU students have been raging in the national capital after the university administration proposed a fee hike in the draft hostel manual. As is the case with every news development of significance, the issue has become fodder for purveyors of misinformation on social media. Over the past few days, old and/or unrelated photographs have been circulated on Facebook, Twitter and WhatsApp in the backdrop of these protests. In a majority of the instances, the JNU students are at the receiving end of misinformation.
1. Random images of young women found online shared to discredit JNU protest
A photograph of a young woman holding a liquor bottle in one hand and a cigarette in the other, has been circulated with the narrative that she is a JNU student.
The liquor bottle in her hand apart.. This JNU junkie has 2 packs of "Classic" on the table as she smokes one…Each pack costs 300 bucks.. And these castards are whining about fee hike?… @Timesnow @Indiatoday @Republic @PMOIndia @DrRPNishank @mamidala90 https://t.co/ZgKaLbvB60 pic.twitter.com/sA8pVpEEqF

— Ravinar (@RavinarIN) November 16, 2019
Another picture of a girl who has tied her hair with a condom too has been shared as a protesting JNU student. "JNU 's fall cannot be explained better than this – Condom to tie hair & Naked protests", reads the caption along with the photograph.
JNU 's fall cannot be explained better than this – Condom to tie hair & Naked protests 👎 pic.twitter.com/TmXYH8HBtz

— Karuna Gopal (@KarunaGopal1) November 18, 2019
Alt News reverse-searched both images and found they are unrelated to JNU protesters. The image of the woman holding the liquor bottle was found on a blog from August 2016. As for the picture with the condom, Alt News found it posted by a Twitter user in December 2017.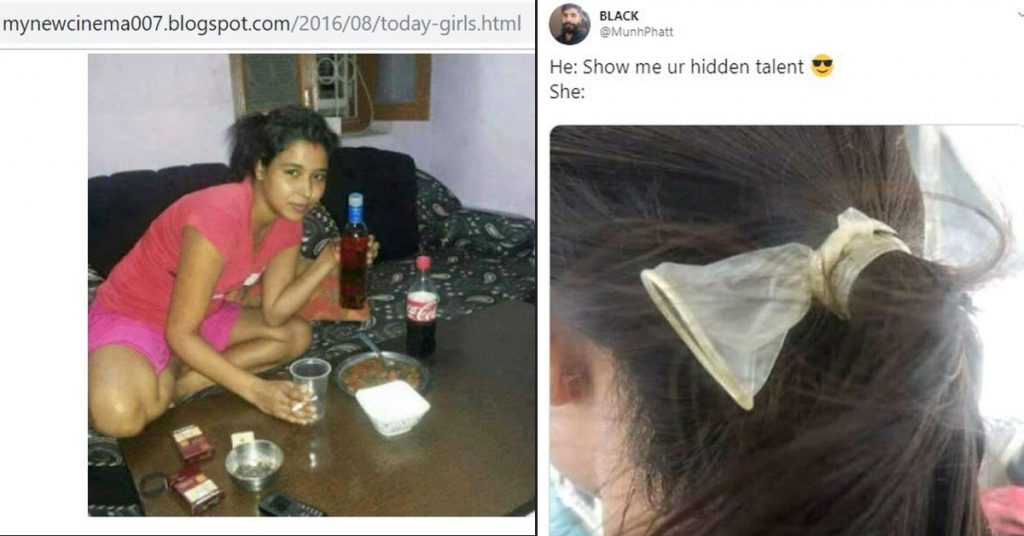 2. Photo of CPI leader shared as JNU student detained by police
A photograph of an elderly woman was shared widely on Facebook and Twitter with the narrative that the person is a student of JNU. The messages accompanying it were sarcastic in nature.
A final year student from JNU got arrested. Fascist Modi#ShutDownJNU #JNUWallOfShame #JNUFreebies #JNUProtests pic.twitter.com/AAEq6Imtf8

— Amaresh Ojha 🇮🇳 (@Amreso99) November 18, 2019
It turns out that the lady in the photograph is Annie Raja, a leader of the CPI and not a student of JNU. Annie Raja was among those who had protested outside the Supreme Court in May 2019 over the clean chit given to former CJI Ranjan Gogoi over allegations of sexual harassment. That is when this photo was taken
3. 23-year old student passed off as 45-year old Congress leader and JNU student Abdul Raza
In yet another example, a photograph was shared on social media, targeting the protesting students. An image of a student was circulated with the claim that he is a 45 year old Congress leader Abdul Raza, who is still a student at the university. The photograph was shared with the message, "ये JNU का छात्र निकला 45 वर्ष का जानते हैं कौन है अब्दुल रजा कांग्रेस का मण्डल अध्यक्ष कुछ समझे" (This 45 year old turned out to be a JNU student, he is Abdul Raza, a Congress leader- translated), and the hashtag #ShutDownJNU.
45 वर्षीय #अब्दुल_रजा कांग्रेस का #मण्डल_अध्यक्ष भी अभी JNU में पढ़ाई कर‌ रहा हैं।
हद हो गयी यार…😠😠😡#ShutDownJNU pic.twitter.com/97PW0nVKNw

— डा.सीमा (@seematri6) November 19, 2019
The social media claim, once again turned out to be false. The person in the photograph is Shubham Bokade, a 23-year old student at JNU studying MA in Lingustics. In a conversation with Alt News, Bokade said, ""First of all, the post being circulated is fake. I think the narrative being circulated is also very problematic. It is Islamophobic, clearly. Secondly, suppose even if I were the Abdul Raza who is 45 years of age as the fake news claims, the question is what's wrong with a 45 year old man trying to get an education at an affordable price. The idea of education is not to make University spaces exclusive but rather to make space for the last person standing."
4. Photo of injured woman at Muharram procession shared in backdrop of JNU protest
A photograph depicting a young woman bleeding copiously from a head wound was circulated on social media with a narrative targeting the government. It was shared in the context of the clash between students and the police in the national capital, in which 15 students were injured.
The above picture is not from India. According to an article published by a Shia News website JafariyaNews.com in February 2005, these images depict the observation of Ashura on the tenth day of Muharram. Hence the suggestion that image was clicked during the recent students' fee hike protest is false.
5. Photo of 30-year old JNU student shared as 47-year old student Moinuddin
In another such instance, a photograph of a man was circulated with the narrative that he is Moinuddin, a 47-year old student at JNU. According to the claim on social media, Moinuddin had enrolled at the university thirty years back i.e. in 1989. "That baldy looks like he's been there for a while.. ₹10 room, free food, generous stipend, condom vending machine.. What else a 'revolutionary' want?" is the message accompanying the image.
That baldy looks like he's been there for a while.. ₹10 room, free food, generous stipend, condom vending machine.. What else a 'revolutionary' want? 😄 pic.twitter.com/2ygF1O0NmA

— ചാത്തൂട്ടി (@chathootti) November 16, 2019
The narrative is false. The person in the photograph is Pankaj Mishra, a student of JNU indeed, but not 47 years old as claimed. Mishra is 30 years old and is a MPhil student at the university.
6. Old image of woman arrested in Hyderabad over protest shared as JNU student
"जिस उम्र में लोग बृद्धा पेंशन लेते है उस उम्र में ये आँटी कौन सा ज्ञान ले रही है ,😂😂😂#JNU (In the age when people take an old-age pension, what knowledge is the aunty attaining -translated)", tweeted a user along with an image of a woman who seems to be forcefully escorted by the police. Another account posted the same image with a message, "ई कवन पढ़ाई पढ़े ली JNU में ..!😊 (What is she studying in JNU -translated)". Both tweets were retweeted widely.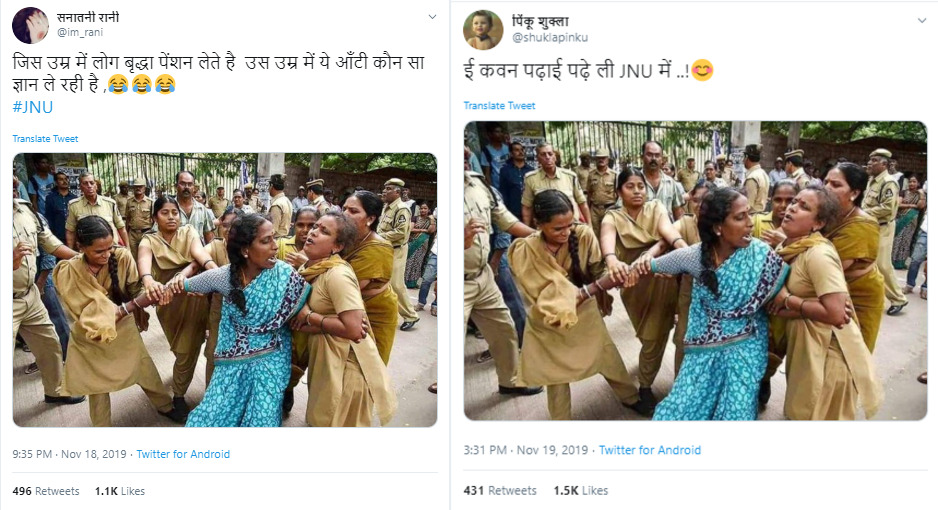 A Google reverse image search of the image revealed that the image is not related to the JNU students' protest. "Police arrests a woman who was participating in a protest demanding for minimum wage, at labour Commissioner Office in Hyderabad", reads the caption of the image published by Outlook. According to the media outlet, this is an image by PTI from September 19, 2017.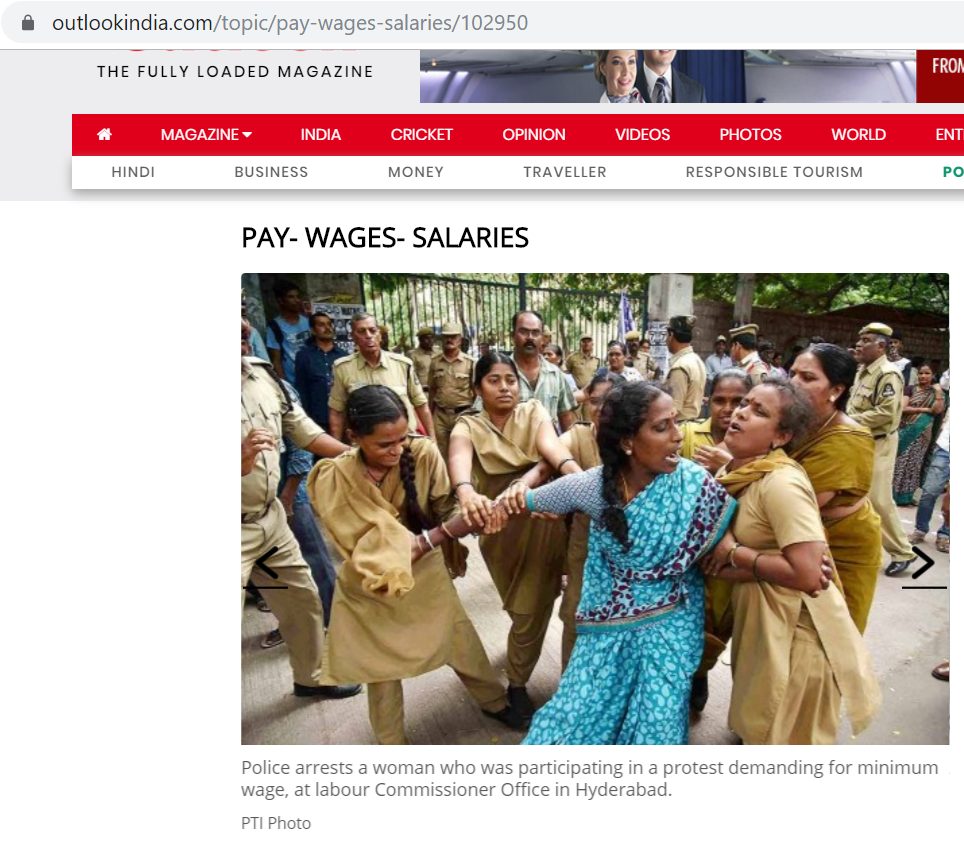 7. Old photo of protest over Nirbhaya case shared as clampdown on JNU students
A photograph showing a young woman attacked with a lathi by police personnel, was shared widely by social media users who took a dig at the protesting JNU students with the words, "ये पड़ा धोनी का 6 और गेंद स्टेडियम से बाहर". The image was posted on both Facebook and Twitter.
ये पड़ा धोनी का 6 और गेंद स्टेडियम से बाहर 😆 pic.twitter.com/kVCuXRvMxy

— गब्बर सिंह ( रामगढ़ वाले ) (@IntolerantMano2) November 19, 2019
The photograph in question was clicked in 2012, during the protest which had taken place in the national capital over the brutal rape and murder of Nirbhaya.
8. 43-year-old student protesting fee hike? JNU student misidentified in viral image
A screengrab of a Zee News broadcast, where a woman can be seen standing in a crowd, is was shared on social media. One Kanak Mishra posted the image with a claim that the woman is a 43-year-old student at Jawaharlal Nehru University whose daughter is also studying in the same institute.
मोहर्तमा JNU की 43 साल की छात्रा है, और कमाल की
बात उनकी बेटी मोना भी 12 वी में JNU में ही पड़ती है🙄🙄🙄 #muftkhori_Zindabad 😃😃

Posted by कनक मिश्र on Sunday, 17 November 2019
This too is a false claim. The student is Shambhavi Siddhi, a 23-year old student of the university, who is pursuing Masters in French literature.
Social media continues to rage with misinformation surrounding the agitation by JNU students. The modus operandi is simple- pick up photographs randomly from the internet, from personal social media profiles of students, or from feeds of news outlets and share them with new, false contexts. As noted, it is the students of the varsity who have been targeted in most cases.
Donate to Alt News!
Independent journalism that speaks truth to power and is free of corporate and political control is possible only when people start contributing towards the same. Please consider donating towards this endeavour to fight fake news and misinformation.To make an instant donation, click on the "Donate Now" button above. For information regarding donation via Bank Transfer/Cheque/DD, click here.