An image of a green flag hung inside a temple with a crescent moon, star, and number 786 written on it is being shared with the claim that it is from Chhattisgarh's Gunderdehi. It was tweeted by RRS mouthpiece Panchjanya on February 6. Panchjanya tweeted —"Islamic flag in temple!!" — without sharing any context. It gained over 4,500 retweets and more than four lakh views. (Archive)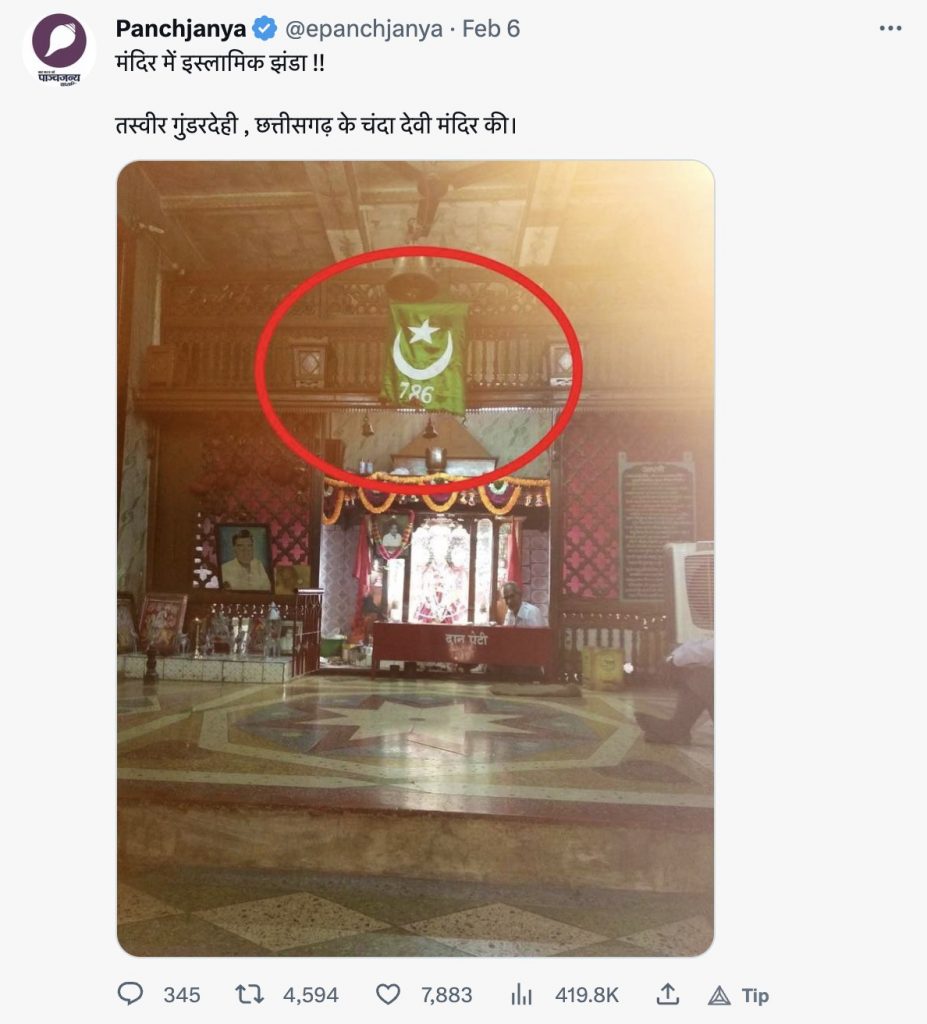 Verified Twitter user Arpita Shaivya shared the viral image and wrote, "Maa Chandi Devi Temple, Gunderdehi Chattisgarh. Waqf Board claimed it's their property. Our govt is busy digitizing their assets." (Archived link)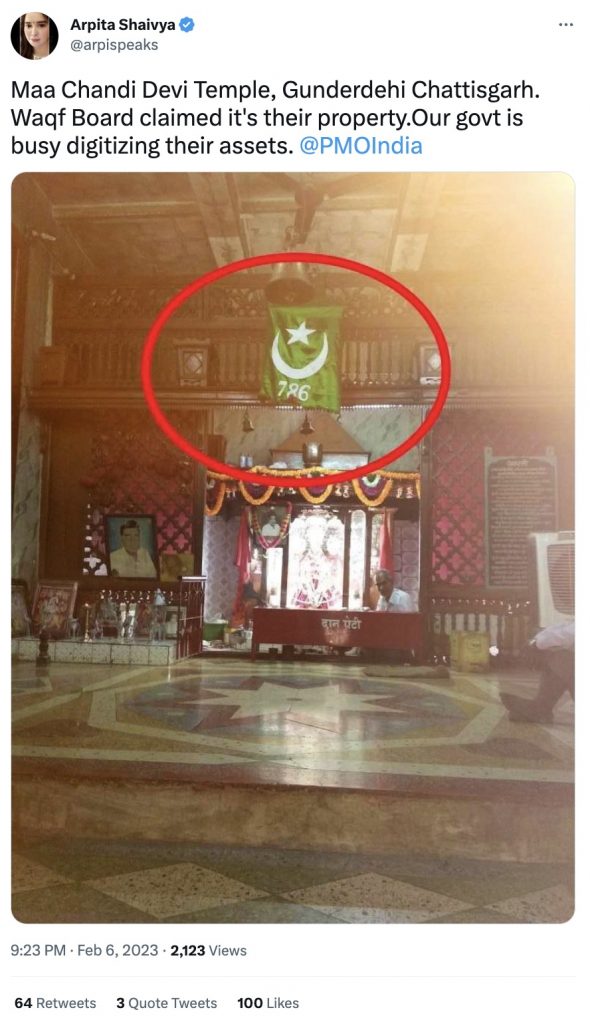 Several Facebook accounts also made the same claim in their posts.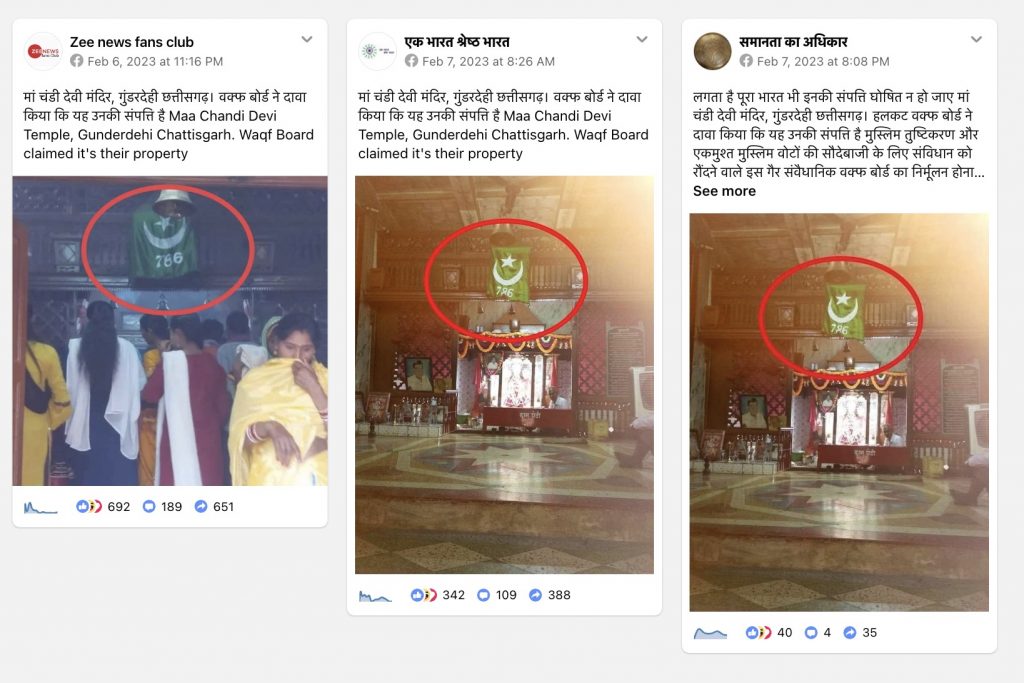 Screenshots of Panchjanya's tweet were sent to Alt News on its helpline number (7600011160) several times for a fact check.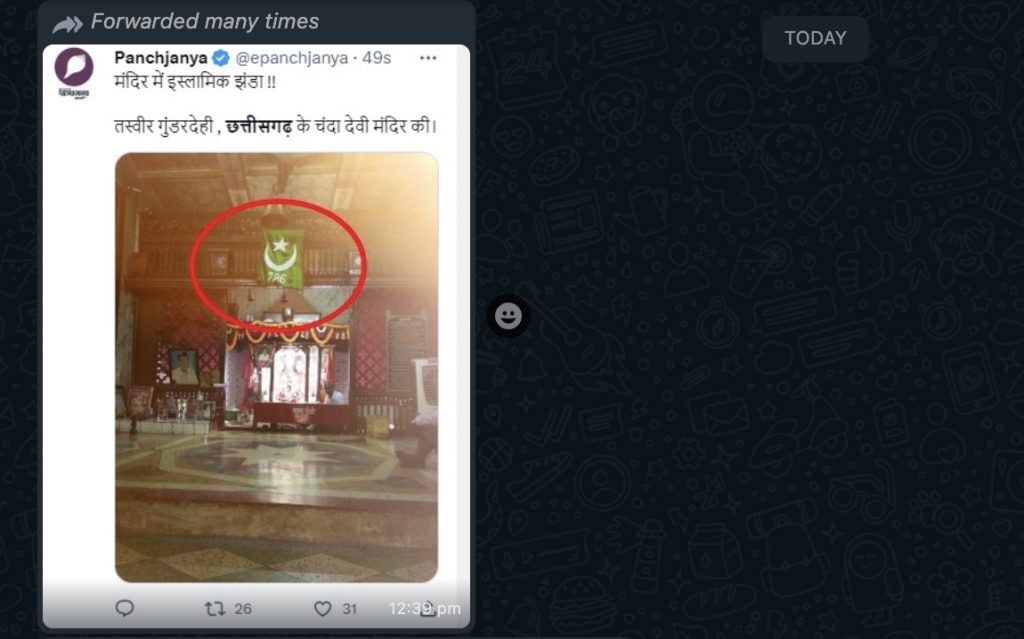 Fact Check
Alt News performed a keyword search and found that Amar Ujala had gone to the spot for a ground report. They put out a video report with the caption, "On the one hand, when the atmosphere is heated in the country regarding caste and religion, this temple in Chhattisgarh is an example of Hindu-Muslim unity. In this temple, people of both the religions bow down together. When the doors of the temple open, first frankincense is lit and a 'chadar' is taken out for the 'mazaar' outside. After that, both the communities worship Maa Chandi. The thing that stands out is that there is also an Islamic flag on the idol of the goddess."
Balod News: छत्तीसगढ़ का यह मंदिर हैं, हिंदू-मुस्लिम एकता की मिसाल | chhattisgarh News

#temple #balodnews #hindumuslimunity

एक ओर जब देश में जाति और धर्म को लेकर माहौल गरमाया हुआ है, वहां छत्तीसगढ़ का एक मंदिर हिंदू-मुस्लिम एकता की मिसाल है। इस मंदिर में दोनों ही धर्म के लोग एक साथ माथा टेकते हैं। मंदिर के पट खुलते हैं तो पहले लोबान जलाई जाती है और वहां से प्रांगण में स्थित मजार के लिए चादर निकलती है। इसके बाद दोनों मिलकर मां चंडी की पूजा-अर्चना करते हैं। खास बात यह है किदेवी की मूर्ति पर इस्लामिक झंडा भी लगा हुआ है।

Posted by Amar Ujala on Tuesday, 7 February 2023
In the video report, we can see the flag in question inside the temple at the 0.05-minute mark.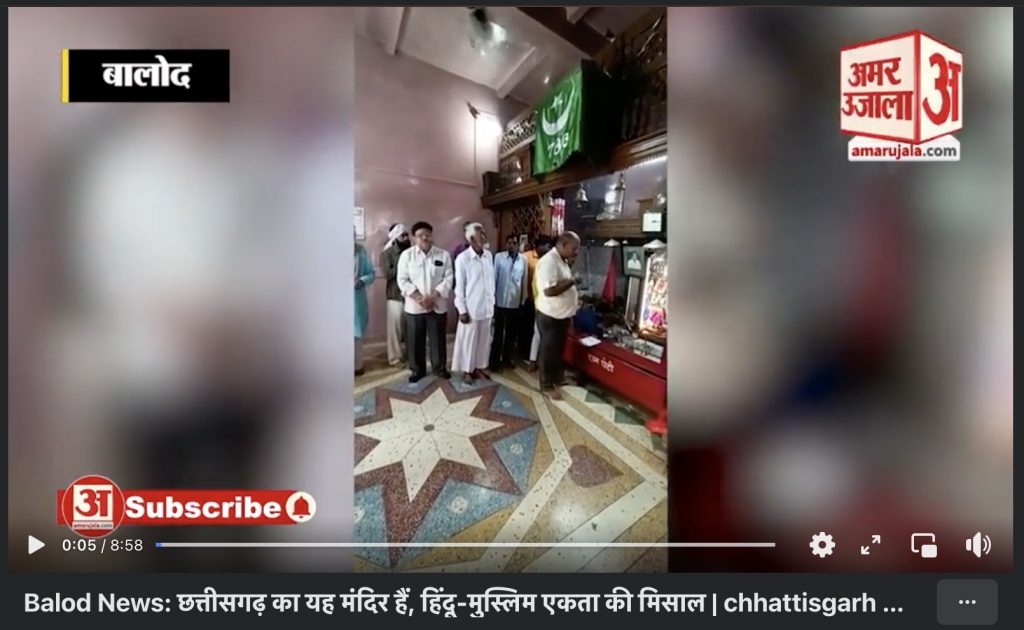 In the video, individuals from both the communities and the priest of the temple say that the practice of Hindus and Muslims praying together is an age-old tradition.
Later, Aaj Tak and Republic Bharat also reported on the issue. This claim was earlier fact-checked by Digital Forensics, Research and Analytics Centre (D-FRAC).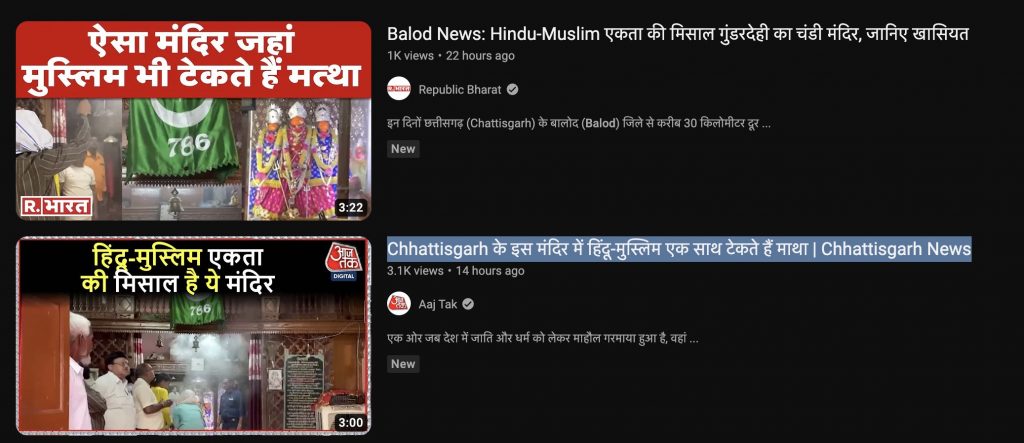 To sum up, the image of an Islamic flag hanging over a Hindu deity in a Chhattisgarh temple where Hindus and Muslims pray together was shared without context on social media with misleading claims. Several of the posts claimed the temple was taken over by the Waqf Board.
Donate to Alt News!
Independent journalism that speaks truth to power and is free of corporate and political control is possible only when people start contributing towards the same. Please consider donating towards this endeavour to fight fake news and misinformation.