Former Pakistan Prime Minister Imran Khan was arrested on Tuesday, May 9, in the Al-Qadir Trust case from the Islamabad High Court premises. The 70-year-old cricketer-turned-politician was in the biometric room of the courthouse when he was taken into custody by the Pakistan Rangers, a federal paramilitary law enforcement agency. Videos showed that when PTI workers refused to open the door, the Rangers broke off the glass windows to enter the room.
As per a report in Pakistan-based daily Dawn, Khan and his wife Bushra Bibi are facing a National Accountability Bureau (NAB) inquiry for allegedly "accepting Rs 5 billion and hundreds of kanals (of land) from an Islamabad-based real estate company, Bahria Town, in exchange for protecting the firm in a money laundering case."
Soon after his arrest, violent protests erupted nationwide and around 1000 protesters were arrested. Following his arrest, several images and videos of Imran Khan have surfaced online with a wide range of claims.
Claim I: Image of Imran Khan in Jail
On May 10, Aaj Tak Bangla published a report claiming that images of Imran Khan in jail had been leaked. The report titled, "Imran Khan Arrest: আগুন জ্বলছে পাকিস্তানে, জেলে কেমন ব্যবস্থা ইমরানের? ছবি Leaked" (Translation: Pakistan Is Burning, What Are The Arrangements For Imran In Jail? Pictures leaked), contained two images of Imran Khan purportedly clicked in jail.
This slideshow requires JavaScript.
Aaj Tak also used this image several times in their reportage of Imran Khan's arrest. The segment was hosted by journalist Shubhankar Mishra. (Archive)
This slideshow requires JavaScript.
The photo was also used by NDTV, Times Now Navbharat and Zee News in reports/bulletins. While Zee News described it as the first photo of Imran Khan since being arrested, Times Now Navbharat said Khan looked desolate and helpless in the photo.
This slideshow requires JavaScript.
Asianet News Tamil and Naiduniya used one of these images claiming that they were taken during Khan's first night in jail. Naiduniya claims that Khan looks sick in the picture. They further add that he was not allowed to sleep and was tortured.
This slideshow requires JavaScript.
Fact Check
We noticed that the text 'exclusive by midjourney' is superimposed on one of the images used by Aaj Tak Bangla.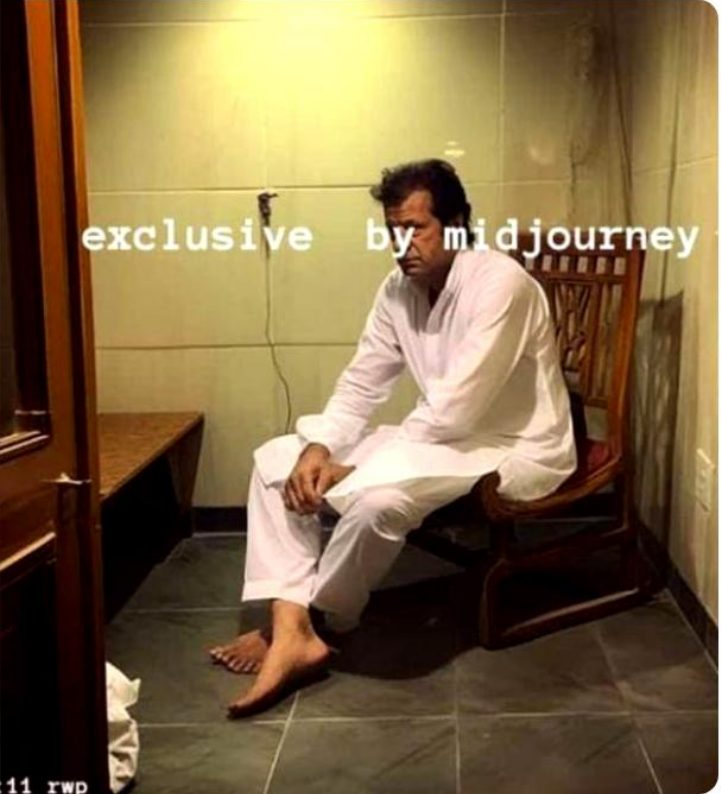 Upon a relevant keyword search on Facebook, we discovered that the other image also carried the same watermark.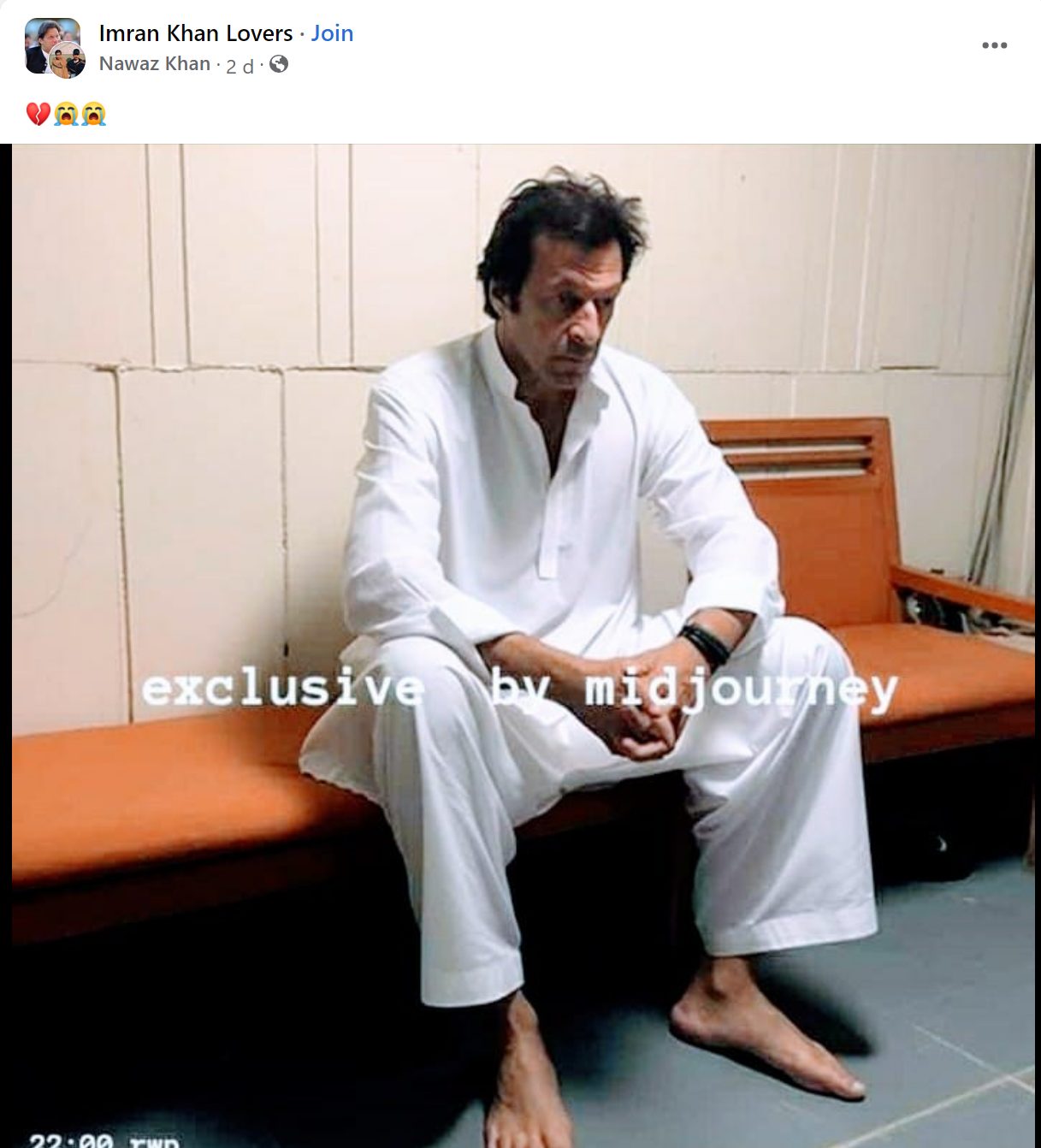 Midjourney is an AI tool that generates images from natural language descriptions, called 'prompts'. According to its website, it is 'an independent research lab exploring new mediums of thought and expanding the imaginative powers of the human species'.
We also noticed several discrepancies with the images. In one of the images, Imran Khan's feet have seven toes. Below, we have compared it with other images of Imran Khan available online. As is evident, Khan doesn't have seven toes in reality.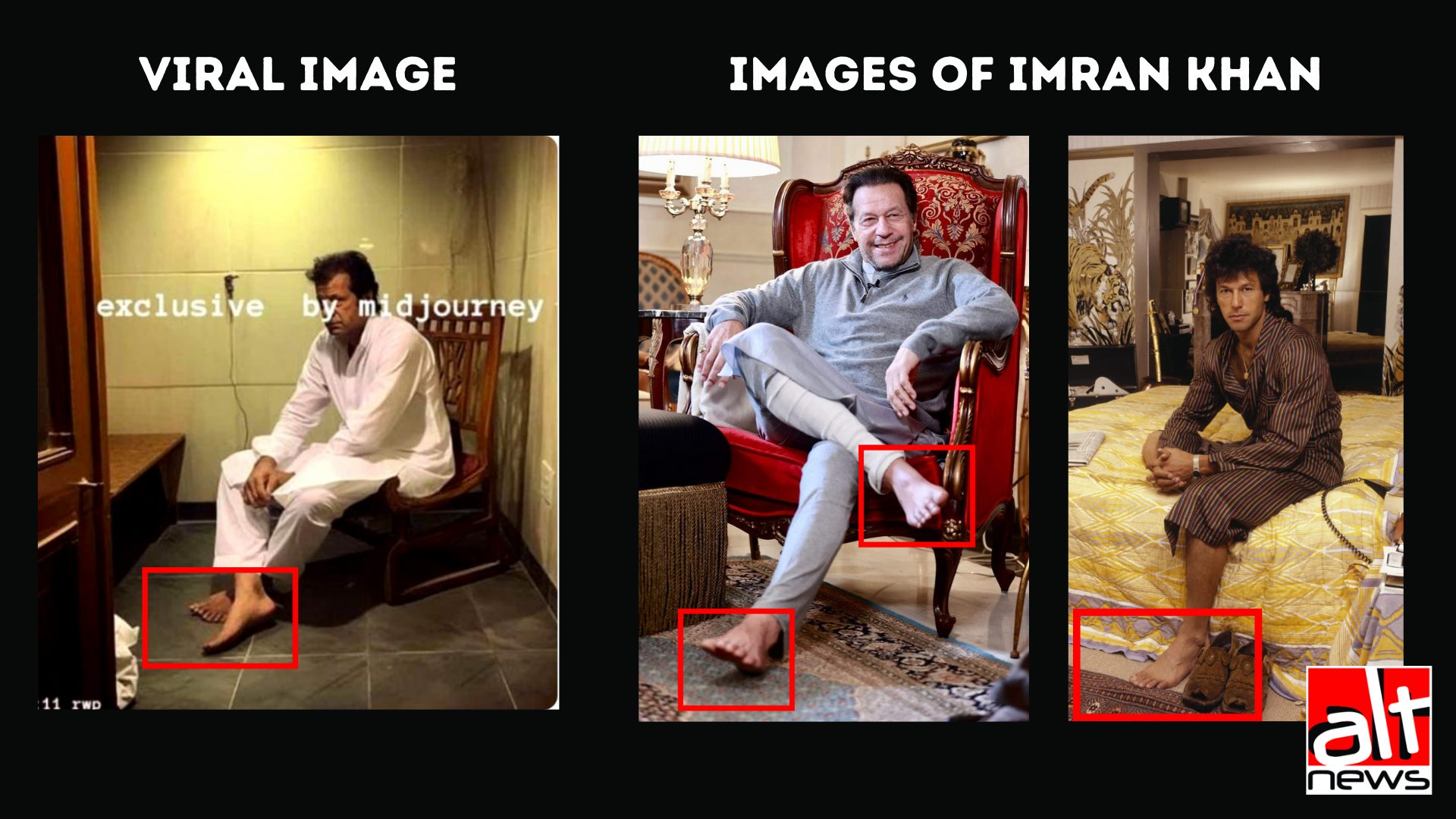 Another discrepancy that is clearly noticeable in the second picture, is Khan's misshaped hands. It is a common feature in AI-generated images.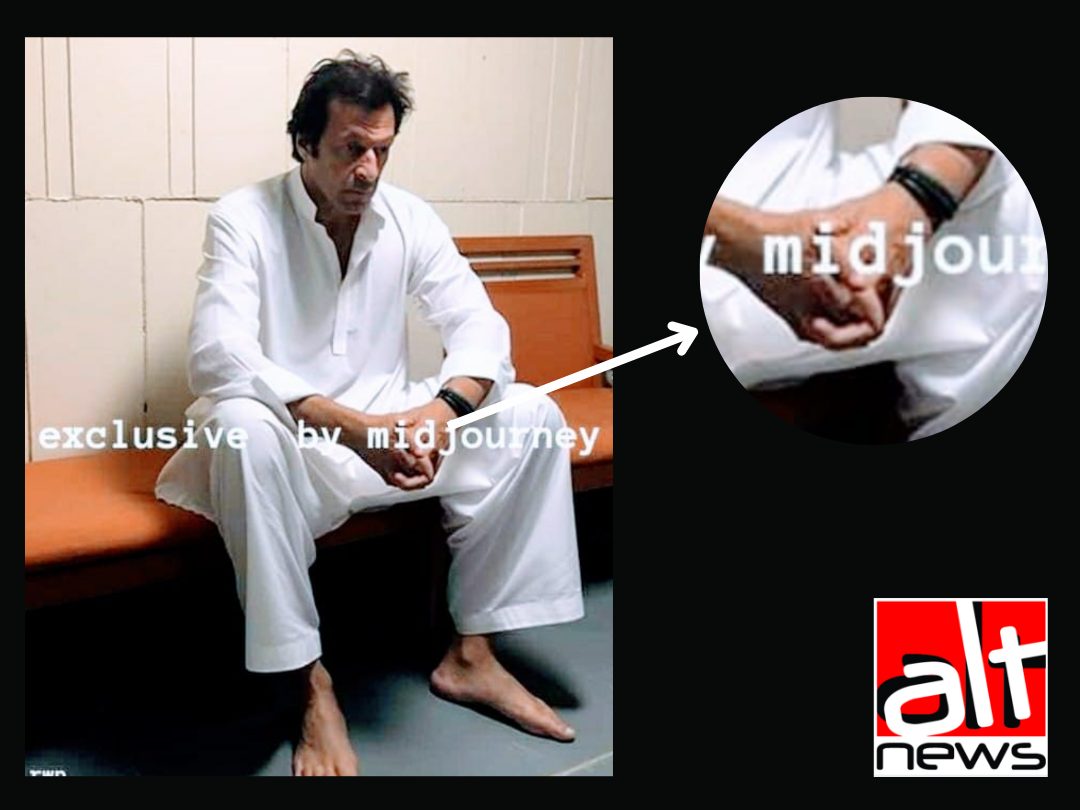 According to a New Yorker article, newly accessible tools such as Midjourney, Stable Diffusion, and dall-e are able to render a photorealistic landscape, copy a celebrity's face, remix an image in any artist's style, and seamlessly replace image backgrounds, but are unable to compute favourable results when requested to draw hands. A generator can compute that hands have fingers, but it's harder to train it to know that there should be only five of them, or that the digits have more or less set lengths in relation to one another. This is because hands look very different from different angles.
Hence, it is clear media houses including Aaj Tak and Aaj Tak Bangla used AI-generated images of Imran Khan claiming they were taken during his first night in jail.
Claim II: Protest Against Imran Khan's Arrest Outside Nawaz Sharif's House in London
Ashok Swain, a professor of peace and conflict studies at Uppsala University, tweeted a video of a protest claiming that it was shot outside former Pakistan Prime Minister Nawaz Sharif's house in London. He claimed that the 'protest had gone global'. (Archive)
Imran Khan protest goes global – A large number of Pakistanis are protesting Imran Khan's arrest in front of Nawaz Sharif's house in London. pic.twitter.com/34V68Ak46G

— Ashok Swain (@ashoswai) May 9, 2023
Several other users also shared the image including Twitter Blue subscribers @Bob_cart124 and @Sajidnawazwattu.
This slideshow requires JavaScript.
Fact Check
Upon a reverse image search, we found a tweet from November 2022, carrying the same video. The tweet claimed that the video portrayed scenes outside Nawaz Sharif's Avenfield residence.
Scenes from outside Nawaz Sharif's Avenfield residence.

Khan has 3 powers right now:

1) Youth
2) Overseas
3) Social Media

And nobody can buy or beat them on earth ✌😎#حقیقی_آزادی_لانگ_مارچ pic.twitter.com/5GSM3Rzt8P

— Faisal Khan (@KaliwalYam) November 1, 2022
We found another video tweeted by @iihtishamm with the same visuals from April 2022.
Aerial view of PTI protest out side former PM Nawaz Sharif residency pic.twitter.com/RdwhBP6vBL

— Ihtisham Ul Haq (@iihtishamm) April 17, 2022
Upon comparing visuals from the viral video and the aforementioned tweet, it was evident that both videos were shot during the same event.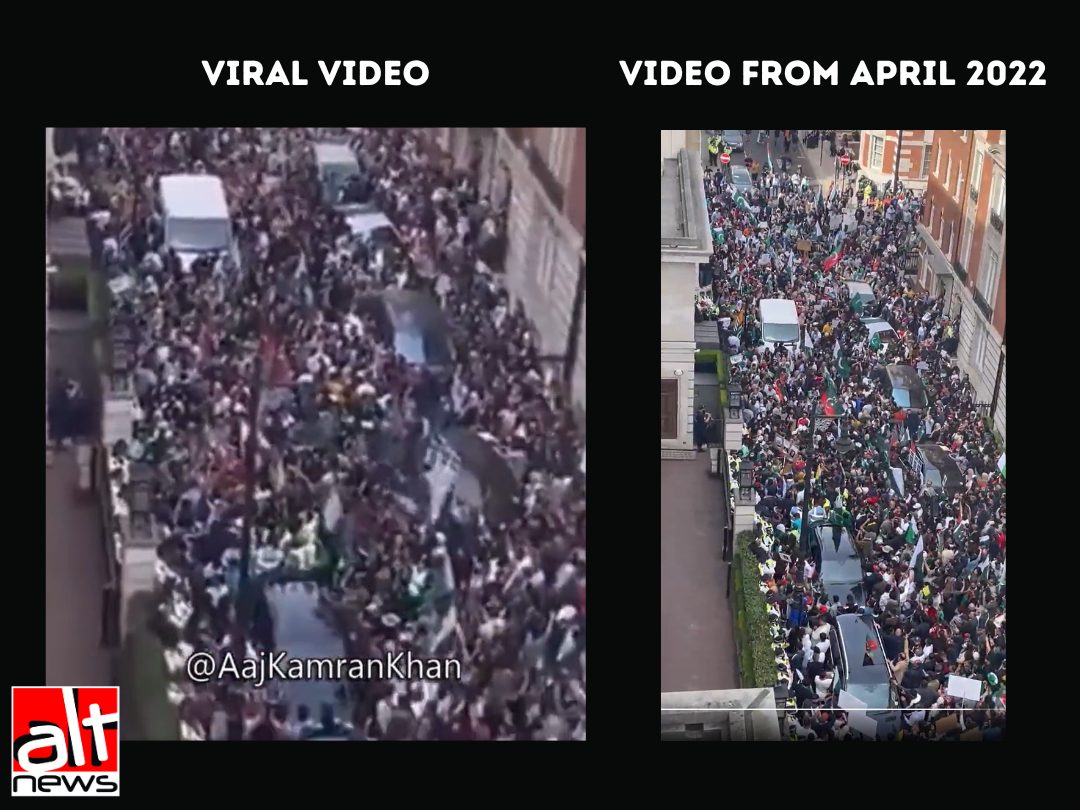 According to ThePrint, the supporters of Pakistan Tehreek-e-Insaaf were protesting against the ouster of Imran Khan, the former Prime Minister of Pakistan through a no-confidence vote, outside the residence of Pakistan Muslim League supremo Nawaz Sharif.
We also found other tweets from April 2022, portraying the same scenes outside Nawaz Sharif's house.
Protest in London, Outside of Nawaz Sharif's Flat pic.twitter.com/0UrzUL6KnC

— Mohsin Haleem (@mohsinhaleem_) April 17, 2022
Hence, a video of demonstrators protesting Imran Khan's loss after a vote of no-confidence outside Nawaz Sharif's residence in London in April 2022 has gone viral with the claim that it is recent and the aftermath of Imran Khan's arrest on May 9, 2023.
Claim III: Agreement on How Khan is to be Treated in Jail
An image of a document is being circulated online with the claim that it shows an agreement signed by Imran Khan, US ambassador to Pakistan Donald Blome and a functionary of the government of Pakistan. The document purportedly shows the terms of agreement for Imran Khan's arrest, which include points such as him not being raped or interrogated naked.
The terms listed in the document are listed as follows-
Imran Ahmed Khan Niazi Chairman of Pakistan Tehreek-e-Insaf (PTI), will not be forced to be naked while being interrogated.
No one will be allowed to Rape Imran Ahmed Khan Niazi Chairman of Pakistan Tehreek-e- Insaf (PTI), specially while he is patient of Piles (Hemorrhoids).
Imran Ahmed Khan Niazi Chairman of Pakistan Tehreek-e-Insaf (PTI), will not be tortured with any kind of Rods, Bamboo (Sticks), etc.
Twitter Blue subscriber and 'Public Speaker for BJP' Pradeep Mahaur tweeted the document and called it pathetic. The user is followed by Prime Minister Narendra Modi. (Archive)
Agreement between "Imran Ahmad Khan Niazi" and "Government of Pakistan"
This is pathetic #Pakistan #ImranKhan pic.twitter.com/hK9MWQoVlv

— Pradeep Mahaur (@Pradeep_Mahaur) May 11, 2023
Twitter Blue subscriber Gautam Trivedi also tweeted the document and wrote, "According to confirmed unreliable reports, Imran Khan has entered into an agreement with the Government of Pakistan regarding sureties while he's in custody". (Archive)
According to confirmed unreliable reports, Imran Khan has entered into an agreement with the Government of Pakistan regarding sureties while he's in custody. pic.twitter.com/Kh7sMqxMkg

— Gautam Trivedi (@KaptanHindustan) May 11, 2023
Twitter user @IndianSinghh also tweeted the image and garnered close to 1500 likes and over 390 retweets. (Archive)
Pakistan army was planning to Rape Imran Khan.

Even Former PM is not safe from lust of ISI. pic.twitter.com/Ii2vnIkjo8

— Akshit Singh 🇮🇳 (@IndianSinghh) May 11, 2023
Fact Check
We noticed that the signatories included interior secretary Yousaf Naseem Khokhar. However, on probing further, we found that Khokhar had resigned from his duties on March 7 of this year, two months prior to the date mentioned in the viral letter. Moreover, his name has been misspelt as "Yousuf Naseem Khokhar".
Furthermore, we noticed that Khokhar's signature doesn't match the one found on a notice released by the official website of the Pakistani Federal Information Agency.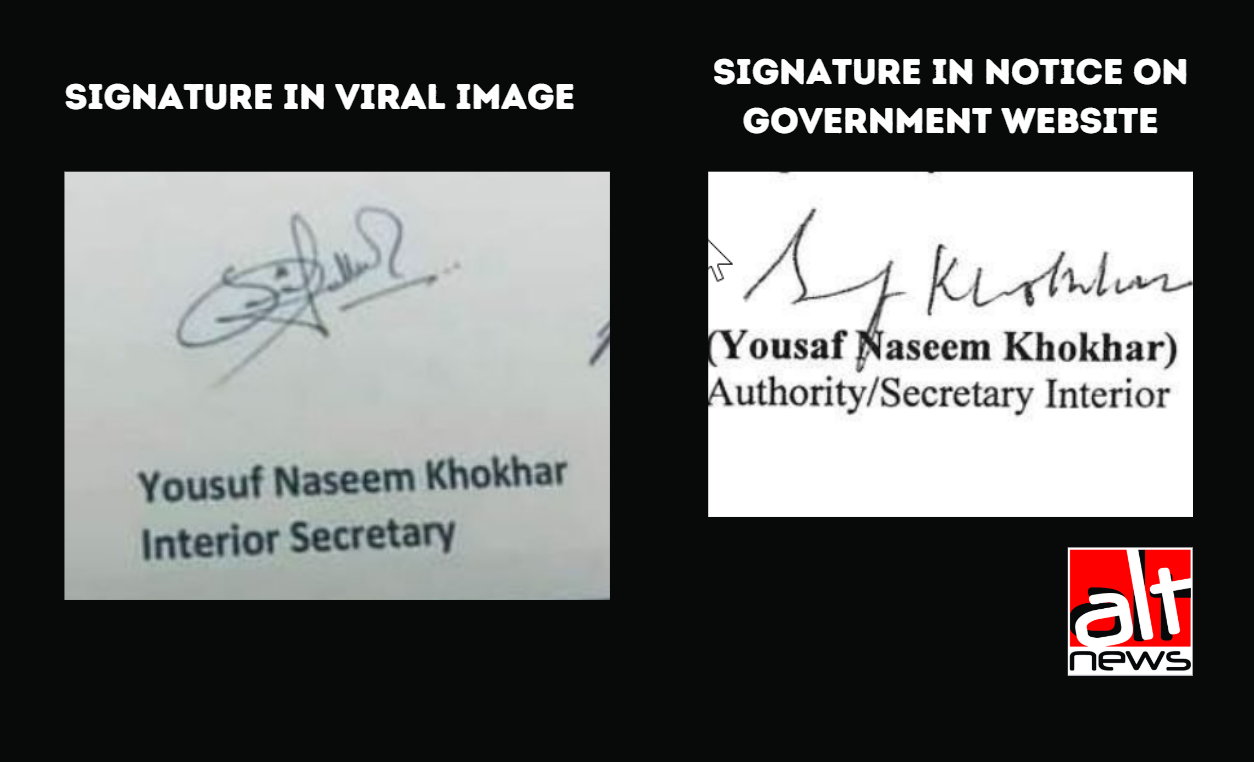 Similarly, US Ambassador Donald Blome's signature in the viral image does not match Blome's signature as seen on the US Embassy's official website.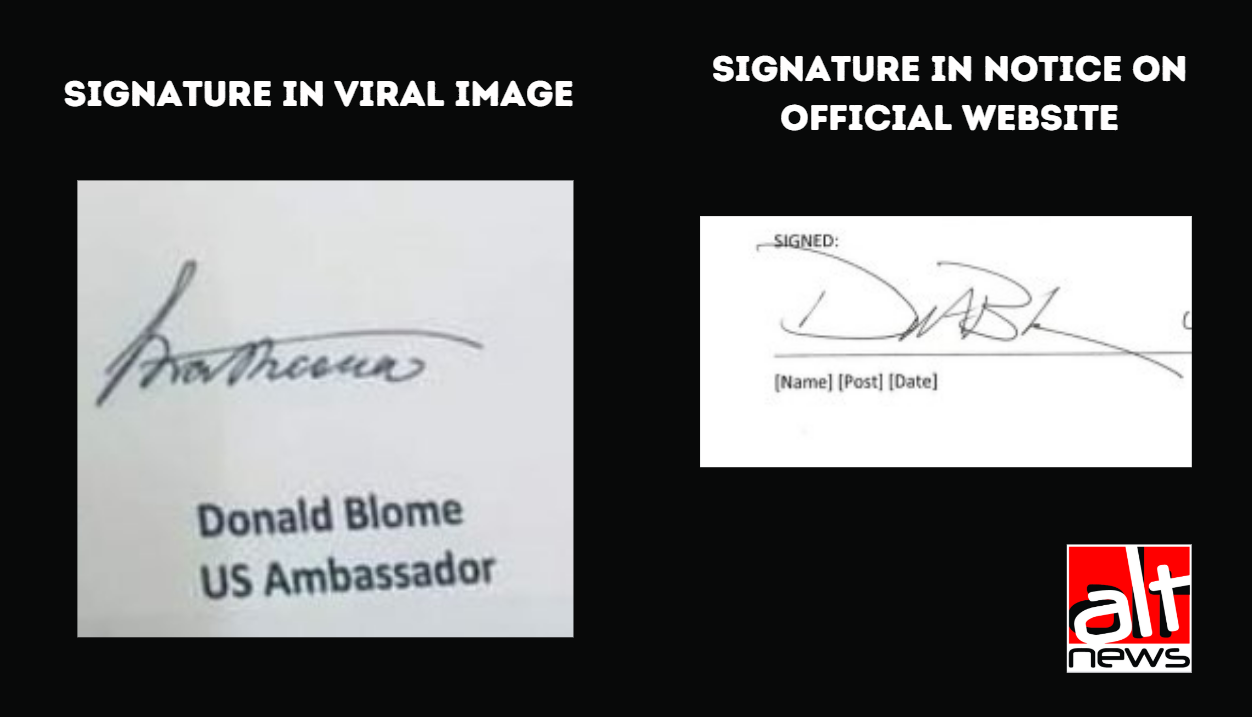 We also noticed a couple of dissimilarities in the formatting of the letter. The font in the letterhead as seen in notices released on the official website (on the same date) is different than the one in the viral image. Moreover, the date in the reference number in the original notifications from the PTI website is written in the YYYY format. However, the date is written in YY format in the viral image. The format of the date is also different.

Pakistan-based news outlet Geo TV also fact-checked this claim on May 10, saying, "An official privy to the development told 𝘎𝘦𝘰 𝘍𝘢𝘤𝘵 𝘊𝘩𝘦𝘤𝘬, on the condition of anonymity, that no such agreement was signed between Khan and the U.S. ambassador".
𝗖𝗹𝗮𝗶𝗺: A letter circulating online claims that an agreement was signed between PTI chairman Imran Khan, the interior secretary Yousuf Khokhar and the U.S. ambassador Donald Blome, where the ambassador offers Khan certain sureties in case of arrest.

𝗙𝗮𝗰𝘁: ❌ The letter… pic.twitter.com/wJJ04bKHM8

— Geo Fact Check (@GeoFactCheck) May 10, 2023
Hence, a false document purportedly showing the terms of the agreement for Imran Khan's arrest is being circulated online. An Alt News analysis shows that the document is fabricated and no such agreement has been signed.
Donate to Alt News!
Independent journalism that speaks truth to power and is free of corporate and political control is possible only when people start contributing towards the same. Please consider donating towards this endeavour to fight fake news and misinformation.