Various social media handles of the Indian National Congress (INC) shared an image of two men from the Hindu and Muslim communities holding a poster of the party. The image has been shared ahead of the upcoming poll in Uttar Pradesh.
It was posted by UP East Youth Congress on Twitter and Facebook (1, 2).
गंगा जमुनी तहजीब की तस्वीर
चंद ज़हरीले लोगो के जहर से
खत्म नही होने वाली ।

ये तस्वीर इस और भी इशारा कर रही है कि उत्तरप्रदेश के दिल मे इस बार सिर्फ कांग्रेस है ।

हिन्दू मुस्लिम सिक्ख ईसाई
आपस में हम भाई भाई!

बोलता उत्तरप्रदेश आ रही है काँग्रेस!#AaRahiHaiCongress pic.twitter.com/IfXYI7JRWk

— UP East Youth Congress (@IYC_UPEast) January 10, 2022
This image was shared on several Facebook groups, including politician Jittu Gaharwar and We Support Indian National Congress.
Morphed image
Alt News performed a reverse image search and found another version of the image where the same men can be seen holding a poster of West Bengal CM Mamata Banerjee. This image was posted on March 3, 2021, by Facebook user Prabir Kar Rajarhat Newtown.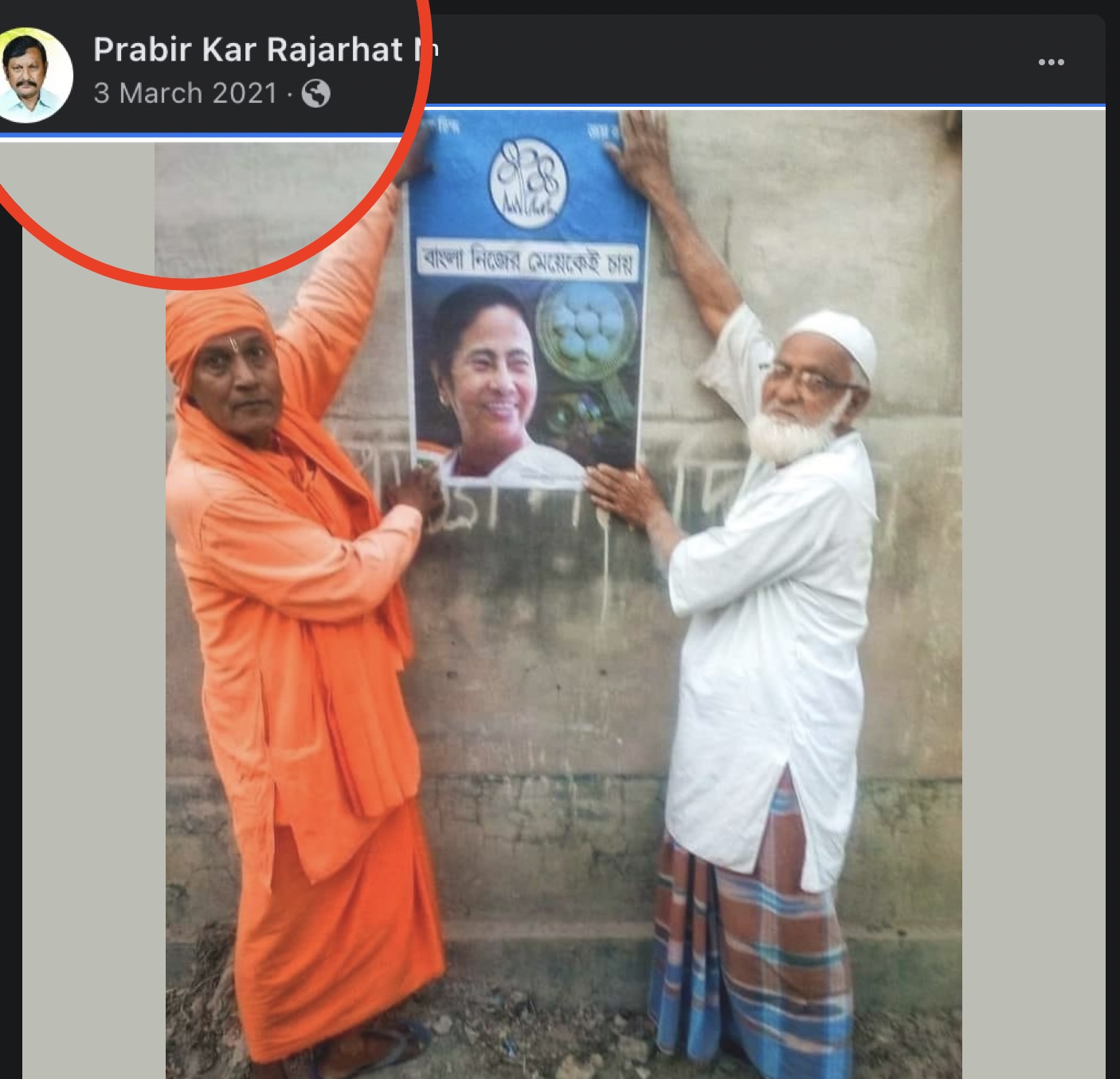 The image was posted by Banerjee's political campaign's FB page 'Didi Ke Bolo' on March 2 last year. A day prior to Prabir Kar's post.
'সামাজিক ঐক্য দিচ্ছে রায়
বাংলা নিজের মেয়েকেই চায়'

আপনি কি আগামী দিনেও বাংলায় উন্নয়ন চান?
তাহলে, এই ওয়েবসাইটে গিয়ে…

Posted by Didi Ke Bolo on Tuesday, 2 March 2021
To sum it up, Congress posted a doctored image of two men from different communities holding a party poster in order to show that both the communities support them.
Donate to Alt News!
Independent journalism that speaks truth to power and is free of corporate and political control is possible only when people start contributing towards the same. Please consider donating towards this endeavour to fight fake news and misinformation.