On December 14 2017, Prime Minister Narendra Modi officially commissioned INS Kalvari. The first of the Scorpene class of submarines, INS Kalvari was inducted with much fanfare after extensive sea trials by the navy were a success. The Defence Minister through her official twitter handle a day before on December 13 celebrated the induction as a success of Prime Minister Modi's 'Make in India' initiative.
Hon'ble Prime Minister, Shri @narendramodi will dedicate naval submarine INS Kalvari to the nation tomorrow at Mumbai.
Smt @nsitharaman will be present at the ceremony.
INS Kalvari represents a success of PMs "#MakeInIndia" initiative.https://t.co/dHOzBVH0nK pic.twitter.com/tqDSOYhCZZ

— Raksha Mantri (@DefenceMinIndia) December 13, 2017
Prime Minister Modi in his speech hailed the induction of Kalvari as an 'excellent example of Make in India'. He said,
"Induction of INS Kalvari in the Indian Navy is a big step taken by us in the direction of national security. This is the best example of 'Make in India'"
After almost 20 years, India is getting such a submarine; it is a privilege for me to dedicate #INSKalvari to the country: PM @narendramodi @indiannavy @DefenceMinIndia @SpokespersonMoD pic.twitter.com/ekBBCkiKWF

— Doordarshan News (@DDNewsLive) December 14, 2017
On his twitter handle, PM Modi reiterated that the commissioning of the submarine was illustrative of the success of 'Make in India'
Commissioning of INS Kalvari is an occasion of great pride. It illustrates the success of @makeinindia and adds strength to our defence capabilities. pic.twitter.com/oVg6wlSwJM

— Narendra Modi (@narendramodi) December 14, 2017
How true is this claim made by the official handle of the Defence Minister that INS Kalvari is a product of PM Modi's 'Make in India' initiative? Alt News conducted a quick fact check on the claim and here is what we found:
The construction of INS Kalvari, designated as MDL Yard 11875 had commenced in December 2006
The five separate sections of the submarine were welded together, called 'Boot Together', on 30 July 2014
In October 2015, the submarine was 'launched' and christened as INS Kalvari
Sea trial of the submarine started on May 1, 2016
On September 21 2017, INS Kalvari was delivered to the Indian Navy by Mazgaon Docks Ltd.
Further details about the submarine can be read in this press release by the Press Information Bureau dated December 13, 2017.
INS Kalvari is a Scorpene-class submarine which is the first of six diesel-electric attack submarines that India is constructing under the programme which is known as Project 75. The submarines have been designed by the French naval defence and energy company DCNS and are being constructed by Mazgaon Docks Ltd. in Mumbai under a technology transfer agreement. The Scorpene deal was finalised by India and France in 2005.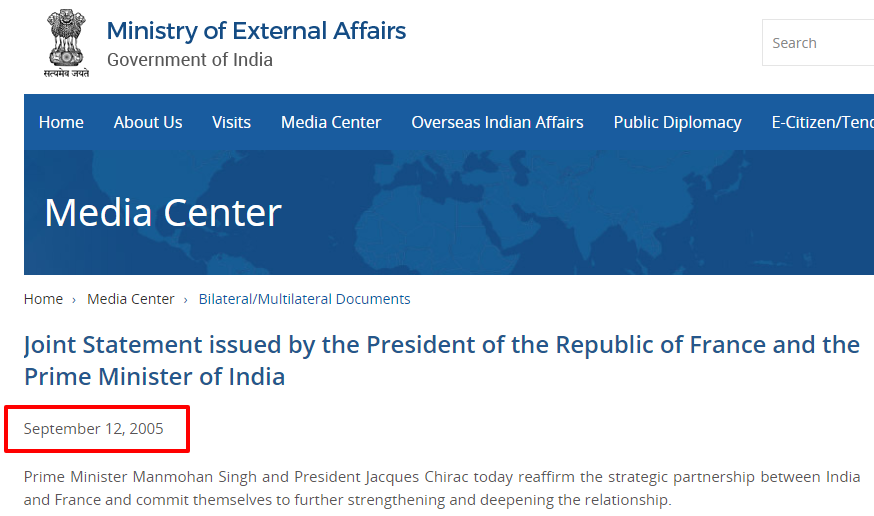 The Scorpene deal was signed between the two countries with an agreement for transfer of technology, which made it possible for an Indian shipbuilding company to commence production. The technology transfer agreement came as a shot in the arm for the indigenous defence industry and a huge fillip for defence manufacturing. In April 2013, France's ambassador to India Francois Richier had said, "The first submarine would be ready by 2014, heralding an important and strategic tie-up between both the nations on the defence front. It is a full transfer of technology, something we don't do with everybody. Defence component of India-French relations is very important to us".
The 'Make in India' initiative was launched by Prime Minister Narendra Modi in September 2014 with the objective of making India a global hub of manufacturing. While it is a commendable initiative and a continuation of the National Manufacturing Policy of 2011, the construction of the Kalvari-class submarines was initiated in 2006 following the agreement between India and France in 2005. It is correct that the submarine is being constructed in India by Mazgaon Docks Ltd., a Public Sector Undertaking (PSU) of the Govt of India. However, the programme does not technically fall under the 'Make in India' initiative which is the brainchild of the NDA government, as claimed by the Defence Minister.
Donate to Alt News!
Independent journalism that speaks truth to power and is free of corporate and political control is possible only when people start contributing towards the same. Please consider donating towards this endeavour to fight fake news and misinformation.