Late in the evening of January 5, a mob wielding sticks and iron rods stormed hostels of Jawaharlal Nehru University, Delhi. Most individuals who were a part of the mob had their faces covered. Soon after, videos and images of the incident began doing the rounds on social media. In the video below, several masked individuals can be seen inside a hostel.
Horrible videos coming out from JNU. In this, a horde of alleged ABVP goons unleashing terror inside Sabarmati hostel, JNU.#JNU #CAA_NRCProtests pic.twitter.com/YZNxtcvKut

— Asim Ali (@AsimAli6) January 5, 2020
One of the individuals was alleged to be Komal Sharma, a member with RSS-affiliated ABVP's Delhi chapter. A Facebook user claimed, "The girl who is found on multiple videos vandalising JNU Girls Hostel is Komal Sharma. She is from Delhi University ABVP unit."
The girl who is found on multiple videos vandalising JNU Girls Hostel is Komal Sharma. She is from Delhi University ABVP…

Posted by Reetam Singh on Sunday, 5 January 2020
Exposé by a school senior
An Instagram user Anuja Thakur posted a screen recording of an Instagram conversation with a person whose name on the platform reads – 'komal❤sharma😎 ABVP ❤️'. The corresponding username being '26_saravashisth'. Thakur claimed that the conversation was with Sharma, the woman alleged to be part of the mob. In the screen recording which has an audio clip, Sharma is confirming her presence in the campus during the incident. Alt News was unable to access the said Instagram account as it may have been deleted or deactivated.
In her detailed post, Thakur wrote, "Komal Sharma Student Activist from ABVP was my junior in college as well as in school. Last night I messaged her just to confirm the fact if she was there at JNU campus or not but I asked her indirectly starting from that 'I saw you today at Munirka' and 'if she was wearing red white checkered shirt' and her admission to all my questions (which were my urges to confirm her presence there at the campus) with the following audio in which she says 'Didi, please kisiko matt batana' is the legal evidence that she is the same person as in the pictures that were leaked yesterday confirming the fact that she was the girl with the iron stick in the "unidentified mobs". I screen recorded her audio and chat as her Instagram account is no longer found."
The video of the conversation can be seen below.
Speaking with Alt News, Thakur reiterated that she interacted with Sharma from her Instagram account.
Apoorv Thakur, brother of Anuja Thakur, posted the same on Facebook. In his post, he shared an additional screenshot which shows Sharma responding to Anuja Thakur's question as to why she has become a topic of conversation on social media. In her response, Sharma sent the viral picture alleged to be hers.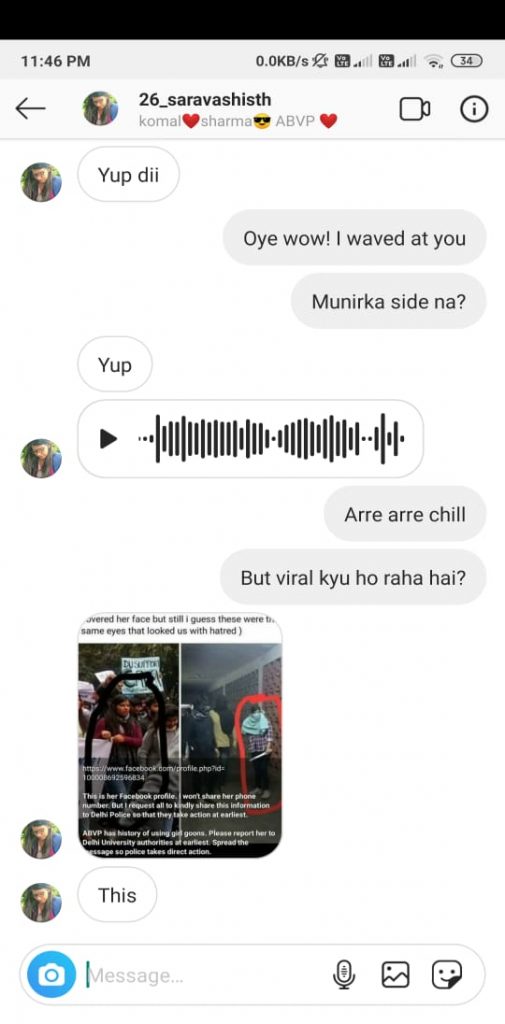 Tracking the identity of '26_saravashisth'
Alt News was able to independently confirm that the Instagram account seen in the video is of ABVP activist Komal Sharma. But '@26_Saravashisth' is either deactivated or deleted at the moment. However, we were able to find an archived version of the profile. Below, we have compared a screenshot of the Instagram handle and profile picture seen in the video with a screenshot of the archived version.

Sharma's Facebook profile which goes by the name 'Komal Sharma ABVP' is also inaccessible at the moment. Although, her old Facebook profile and a barely active Twitter handle (Sara Vashisth) which share the name given on her Instagram account confirm her identity. Both the accounts existed at least a year ago and have an image of Komal Sharma in the profile picture. In the case of her Facebook profile, the profile picture dates back to July 2017.

We located two more accounts of Sharma – Facebook, Twitter – where she refers to herself as 'Sara Vashisth'.
Komal Sharma had also tweeted in support of ABVP member Bharat Sharma who was caught on camera kicking a person. This tweet was made on December 18, 2019. "I support you bhai. Well done. You are a true brother. I am proud of you. For protecting me that day from those goons of the left," she wrote. Now, this account too is deleted or deactivated. An archived version of the tweet can be seen here.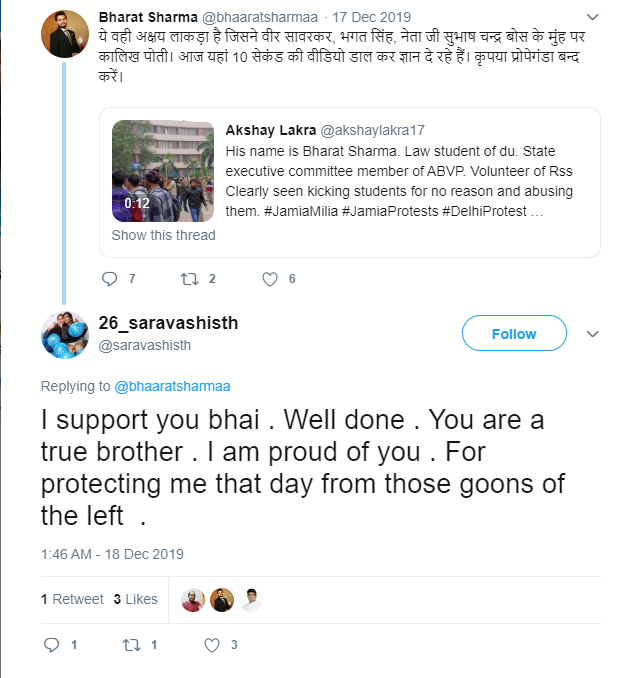 Based on multiple corroborations, Alt News was able to establish that ABVP activist Komal Sharma was caught on camera in the viral video of masked individuals inside JNU campus.
[Update: After this report, Komal Sharma's Twitter account was deactivated or deleted. Hence, a screenshot of the tweet was added later in the report in place of the embedded tweet.]
Donate to Alt News!
Independent journalism that speaks truth to power and is free of corporate and political control is possible only when people start contributing towards the same. Please consider donating towards this endeavour to fight fake news and misinformation.