Several prominent BJP leaders have claimed that Prime Minister Narendra Modi intervened to stop the war between Russia and Ukraine for some hours so that Indian students caught in the conflict could be evacuated and brought back to India.
BJP president J P Nadda was the latest to join the bandwagon. The party's official Twitter handle amplified the claim. (Archive)
No other Prime Minister in the history of India has been as great as Modi Ji.

He stopped Russia-Ukraine War to evacuate 22,500 students from there back to India.

Many of them were from Karnataka.

– Shri @JPNadda pic.twitter.com/t3Fmi3hnYd

— BJP (@BJP4India) February 20, 2023
In an interview with News18 Uttar Pradesh last year, Union home minister Amit Shah had said that at the request of Prime Minister Narendra Modi, Russia and Ukraine agreed on a 72-hour ceasefire to facilitate the evacuation of Indian students. It is a matter of honour for every Indian and a testimony to the growing influence of India across the world, he added. He also made the point that he was following India's diplomatic ties with other countries for a long time, but this was unprecedented.
Shah also tweeted a clip of the interview.
प्रधानमंत्री @narendramodi जी के आग्रह पर रूस और यूक्रेन ने 72 घंटों तक युद्ध रोक भारतीय छात्रों को जाने दिया यह हर भारतीय के लिए गौरव की बात है।

यह दुनिया भर में भारत के बढ़ते प्रभाव का परिचायक है। pic.twitter.com/vQloEp6ByJ

— Amit Shah (@AmitShah) November 14, 2022
BJP4India, the official Twitter handle of the BJP, quoted Shah's statement to the TV channel and repeated the claim.
ऐसा पहले कभी नहीं हुआ कि 35 हजार बच्चे यूक्रेन में फंसे हों और भारत के प्रधानमंत्री, रूस व यूक्रेन के राष्ट्राध्यक्षों से बात करें,

युद्ध को 72 घंटों तक रूकवा कर फंसे बच्चों को वापस भारत लाएं हों।

ये हर भारतीय के लिए गर्व की बात है।

– श्री @AmitShah #AmitShahToNews18 pic.twitter.com/NJMVc8d7bV

— BJP (@BJP4India) November 14, 2022
While electioneering for the forthcoming Assembly elections in Himachal Pradesh, BJP national president JP Nadda, too, had made the same claim. While addressing a gathering at Kotkhai, he said that 32000 youth from India were stranded in Ukaraine in the Russia-Ukraine war. Prime Minister Narendra Modi, over phone calls, urged the Russian president Vladimir Putin and Ukranian president Volodymyr Zelensky for a ceasefire and then evacuated the India nationals.
Several prominent people shared the tweeted the statement.
The live stream of the speech is available on BJP's official YouTube channel. Excerpts from his speech that mention the above statement starts at 20 minutes and 37 seconds of the video.
BJP's official Twitter handle also tweeted the statement made by JP Nadda.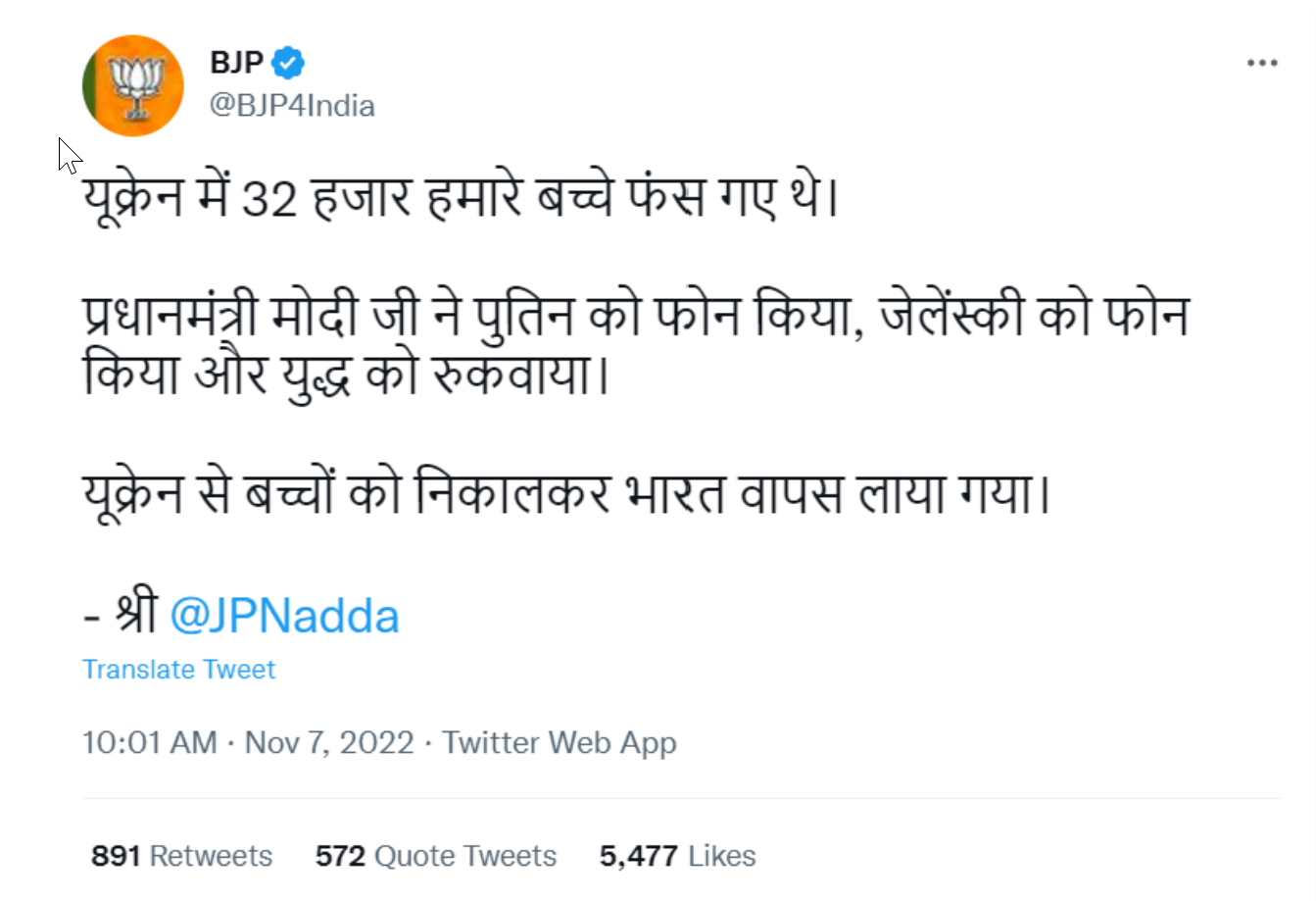 Likewise, BJPLive, BJP Rajasthan, BJP MP from Darbhanga Gopal Jee Thakur, BJP MLA from Chanpatia assembly constituency of Bihar Umakant Singh, and many others shared Nadda's statement in their tweets.
This slideshow requires JavaScript.
Fact-check
In a special briefing on Operation Ganga on March 3, 2022, ministry of external affairs spokesperson Arindam Bagchi categorically denied that Russia or Ukraine had stopped the bombing at the behest of India. The spokesperson said, "We got specific inputs that look.. this is a route that's available.. these are the places that Indian citizens should go by this time. We conveyed that to our citizens. And I am happy that many could make it…. there were sporadic incidents of violence, but this is a war zone and I can't comment on the details. We haven't met them yet…. But I am happy that significant number of people could come out.. Extrapolating that to say that somebody is holding up bombing or this is something we are coordinating, (that) I think that's absolutely inaccurate."
This statement by the spokesperson of the ministry of external affairs can be seen from 21 minutes 18 seconds in the video below.
After numerous media organisations made the 'ceasefire' claim in March 2022, Alt News had published a fact-check report debunking it.
A plethora of media outlets and journalists, including Sudhir Chaudhary, claimed that Russia "stopped the war for 6 hours" at India's behest. MEA clarified this is absolutely inaccurate.pic.twitter.com/Zbdd3wuqZd

— Alt News (@AltNews) March 7, 2022
In summary, BJP leaders falsely claimed that it was Prime Minister Narendra Modi's phone calls to the heads of both the States that paused the Russia-Ukraine war facilitating evacuation of Indian nationals. This information has been debunked by the ministry of external affairs itself.
Donate to Alt News!
Independent journalism that speaks truth to power and is free of corporate and political control is possible only when people start contributing towards the same. Please consider donating towards this endeavour to fight fake news and misinformation.