On January 20, Twitter user Anil Jacob posted a screenshot of a TV9 Bharatvarsh broadcast featuring Jawaharlal Nehru University Students' Union (JNUSU) president Aishe Ghosh. He claimed that injury marks on her forehead vanished "within a few days". Aishe Ghosh was severely wounded when masked goons armed with sticks and rods attacked JNU campus on January 5. At the time, she was admitted to AIIMS trauma centre and the attack left her with 16 stitches on the head. The message posted along with the video implicitly suggests that Ghosh was never injured but pretended to be grievously wounded. The tweet has garnered more than 2,100 retweets so far.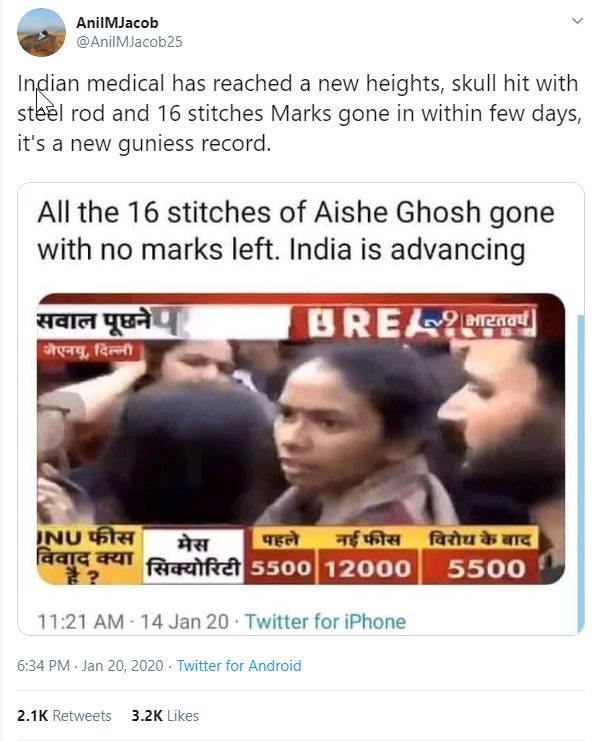 Author Bhaavna Arora also tweeted the screengrab and quipped, "They say Doctors are God… don't know about other doctors, Aishe Ghosh's doctor is definitely God, only God can do such a miracle". It has amassed over 2,700 retweets so far.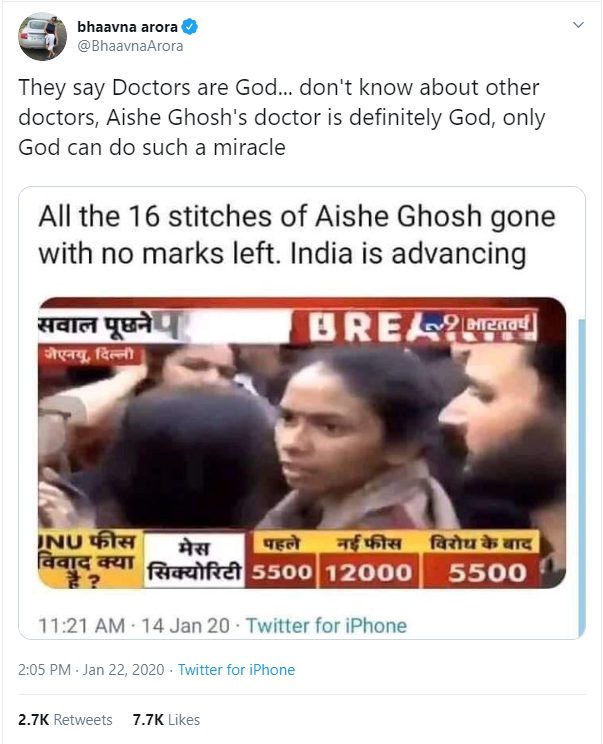 Another Facebook user shared the screenshot with a similar claim – Dipaka's upcoming venture "Those 16 Stitches" – reads the message posted on January 14. At the time of writing this article, the post has garnered close to 1,800 shares.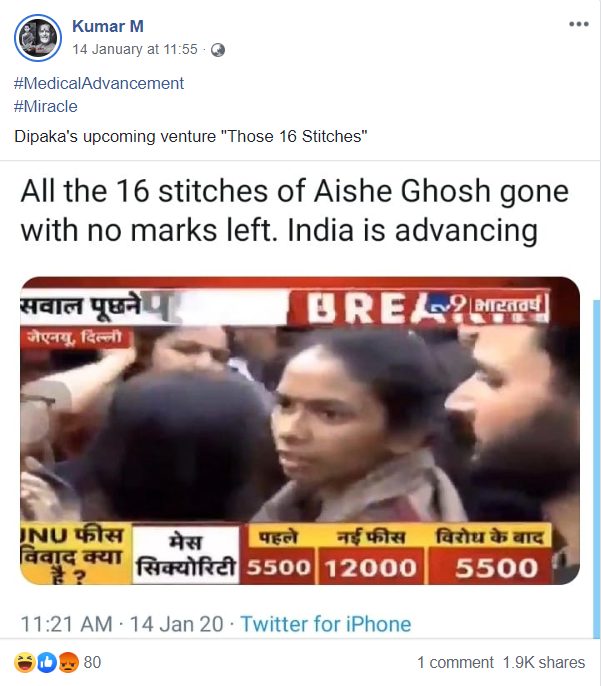 Alt News also received verification requests on its official Andriod application.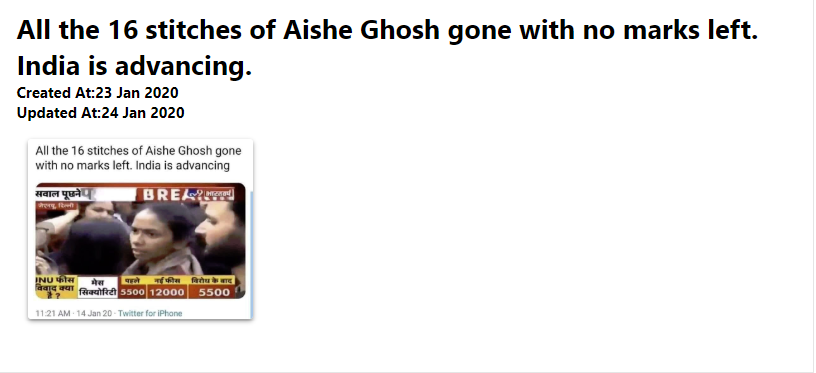 FACT-CHECK
A cursory look at the screenshot hints that the report was broadcast when the JNU administration announced partial roll-back of fees in mid-November 2019. At the bottom of the broadcast is a ticker that talks about the roll-back of the mess security deposit from Rs 12,000 to the earlier amount of Rs 5,500.

Furthermore, another ticker "फीस विवाद (fees controversy)" further hinted that the broadcast could be from November when the controversy was at its peak.
Taking this clue, Alt News performed a search on the Facebook page of TV9 Bharatvarsh with keywords, "फीस विवाद (fees controversy)" and found a November 19, 2019, article titled, "फीस विवाद को लेकर प्रेस कॉन्फ्रेंस में भड़के JNU छात्र संघ नेता. (JNU students leaders infuriate at the press conference over fees controversy -translated)".
However, we were unable to trace the broadcast in question. Alt News contacted TV9 Bharatvarsh assignment desk with the above details including the timeline we wanted to be checked. In response to our query, the desk provided a link to a tweet which carried a portion of a November 19, 2019 broadcast.
जेएनयू स्टूडेंट्स की प्रेस ब्रीफिंग में हंगामा, मीडिया के सवालों पर भड़के JNU के स्टूडेंट्स. लगाए मीडिया बाहर जाओ के नारे. @ShubhankrMishra ( @upadhyayabhii ) pic.twitter.com/zTlMFLhsTM

— TV9 भारतवर्ष (@TV9Bharatvarsh) November 19, 2019
A screenshot of this broadcast was used to propagate misinformation about Ghosh. At 2:29 minutes in the video, one can spot the viral frame where the JNUSU president is seen. The broadcast talks about a scuffle between protesters and the media during a press conference held by JNUSU on November 19, 2019.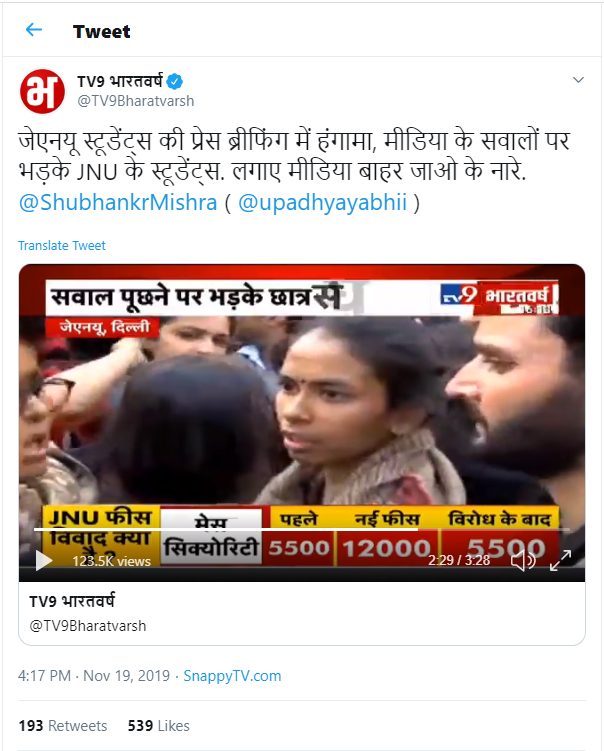 On November 18, the first day of the winter session, JNU students defied Section 144 and marched towards the parliament demanding a total roll-back of the hostel fee hike. About 100 students including Ghosh were detained by the police. A press conference was held by the students' union the next day. Masked goons had attacked JNU campus on January 5, 2020, while the screenshot is of a TV9 Bharatvarsh broadcast from two months ago.
[Update: Bhaavna Arora's tweet was added to this report on January 25, 2020]
Donate to Alt News!
Independent journalism that speaks truth to power and is free of corporate and political control is possible only when people start contributing towards the same. Please consider donating towards this endeavour to fight fake news and misinformation.