A non-violent sit-in protest against the Citizenship Amendment Act (CAA) by women at Delhi's Shaheen Bagh has been going on since December 15, 2019. On January 15, a month into the protest, BJP IT cell head Amit Malviya tweeted a video which alleged that protesters were gathering at Shaheen Bagh for Rs 500 per day. In response, the protesters reportedly filed a defamation lawsuit against Malviya.
Now, a video of a couple of women involved in a scuffle is being shared on Facebook with a message that reads, "शाहीन बाग पैसों के बंटवारों मे दिक्कत बेटी बना के लाई पैसे कम दिए तो बेटी ने चप्पलों से नकली अम्मी को caa से तो नही सम्मान से आज़ादी दे दी👍👍👍👍 (Shaheen Bagh: There was some trouble over distribution of money between a woman and an actor who posed as her daughter. The daughter thrashed her fake mother, not giving freedom from CAA but from respect. -translated)".
शाहीन बाग पैसों के बंटवारों मे दिक्कत
बेटी बना के लाई पैसे कम दिए तो बेटी ने चप्पलों से नकली अम्मी को caa से तो नही सम्मान से आज़ादी दे दी👍👍👍👍

Posted by Ashutosh Teenu Shukla on Wednesday, 22 January 2020
A Twitter user @KPUSHPENDRA15 also posted the video with a similar claim.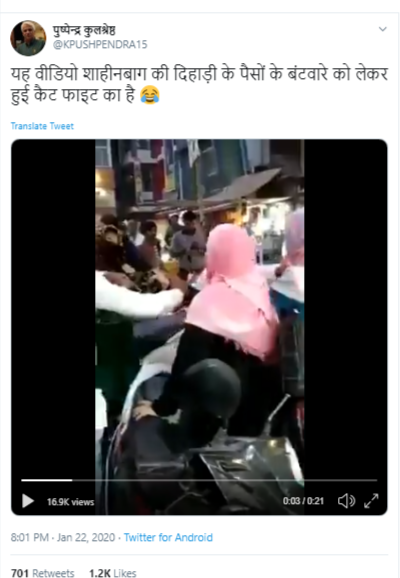 Fact-check
Alt News broke the video into multiple keyframes with the help of digital verification tool InVid. A reverse-search of one of the frames on Google revealed that the video is from Bhopal, Madhya Pradesh. We found a video of a report published by News 24 on January 5, 2019, which said that the incident took place at Bhopal's Chowk Bazar.
According to the report, a scuffle broke out between four women over a minor traffic collision. It said that an argument led to a fight where the women were seen beating one and another with slippers. The same can be corroborated with a report published by Dainik Bhaskar on January 5, 2019.
Viral on Facebook with the false claim
The video is viral with two similar false messages on Facebook (1, 2). It is also being shared on Twitter.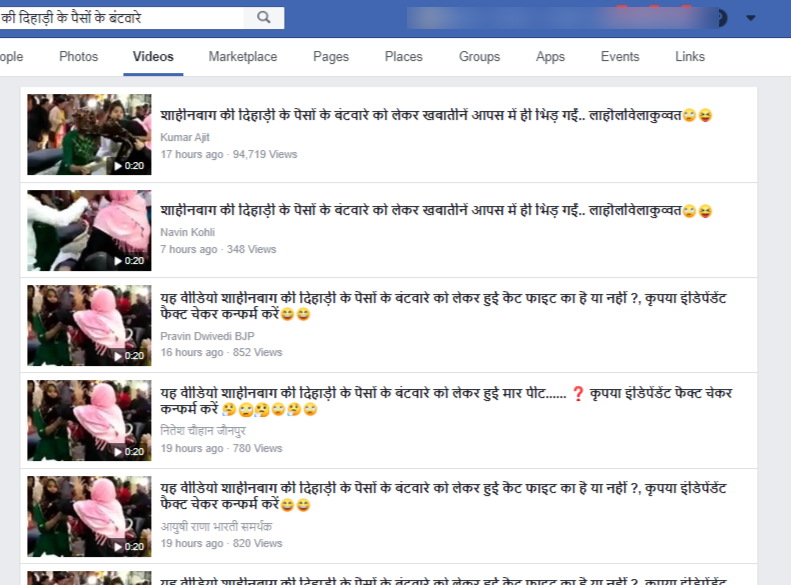 In conclusion, a year-old video of a scuffle between a group of women in Bhopal, Madhya Pradesh was falsely shared as protesters fighting over the distribution of money at Shaheen Bagh. Earlier this week, a photograph of a poster was morphed to suggest that the women are accepting a 'fixed rate' of Rs 500 per day for protesting against CAA.
Donate to Alt News!
Independent journalism that speaks truth to power and is free of corporate and political control is possible only when people start contributing towards the same. Please consider donating towards this endeavour to fight fake news and misinformation.