"हर गाँव में बिजली पहुँच गई, लेकिन बिजली का बिल गरीब कैसे भरेगा। वो उसके लिए कर्ज लेगा और फांसी लगा लेगा"(Electricity has reached every village, but how will the poor pay the bill? He will have to take a loan for it and then hang himself- translated). This statement is ascribed to journalist Ravish Kumar and has been posted along with his picture on the Facebook page Yogi Adityanath Ki Sena on March 3, 2018. This page has more than 3 lakh followers. At the time of writing, this post has been shared more than 8000 times. It has also been posted in the Zee News Fan Group on Facebook, which has more than 600,000 followers.
This image has also been shared by Rashtriya Swayamsevak Sangh Fans page which has over 7 lakh followers. It has been shared more than 4000 times.
The page Yogi Adityanath Ki Sena has earlier too posted quotes attributed to Ravish Kumar. If one looks closely, the image that is shared of these quotes has 'YogisenaGkp' written on it. Recently, this page attributed a fake quote to journalist Rana Ayyub, which was shared thousands of times on Facebook and WhatsApp. Readers are advised to be circumspect if they come across a quotation ascribed to a public figure marked with the words 'YogisenaGkp'.
Another post claims that Ravish Kumar had said, "मोदी सरकार के आने के बाद से अगर सबसे ज्यादा कोई परेशान है तो वो पत्रकार है, कोई भी आता है और #दलाल बोलकर निकल जाता है।"(After Modi Govt came to power, most harassed are journalists. Anyone can abuse us and call us dalal- translated).
Alt News contacted Ravish Kumar to find out the truth about these quotations, who clarified that none of the statements ascribed to him have been made by him.
This page (Yogi Adityanath Ki Sena) had earlier spread fake news about missing JNU student Najeeb having joined ISIS, and targeted Ravish Kumar, asking why the latter had not reported on this news. This post was shared over 7000 times.
Alt News had reported that information about Najeeb having joined ISIS was a malicious rumour, which was given credence by some BJP leaders. This page had also posted a fake tweet of Ravish Kumar with the words "No wonder he is called a dalal (translated)", to make it seem as if it was indeed tweeted by him.
The tweet in the post above is from a Twitter handle @RavishKumar_Ind. This is not Ravish Kumar's Twitter account but a spoof account. Kumar's Twitter handle is @ravishndtv and his account has been inactive for a long time.
एक बार फिर से ट्वीटर से दिल-विराम लेने का इरादा हो रहा है । दो चार दिनों बाद ग़ायब हो जाऊँगा, लंबे समय तक के लिए । अग्रिम सूचना है ।

— ravish kumar (@ravishndtv) August 22, 2015
"मुझे दुःख है कि मोदी जैसा गुंडा मेरे देश का प्रधानमंत्री है।" (I am sad that a goon like Modi is the Prime Minister of my country- translated). This quotation ascribed to Ravish Kumar too is being posted on numerous groups and by individual users. It was posted on a group Ek Crore Hinduo ka group Jai Shri Ram on May 5, 2018. This group has more than 2 lakh members. One more group BJP Mission 2019 which has more than 66000 members has posted this fake quote.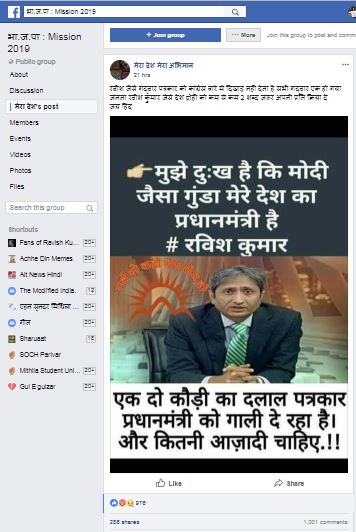 This quote is still being shared on social media despite the fact that on September 8, 2017, Ravish Kumar via his official Facebook page had clarified that "I have not said any such thing about the Prime Minister" (translated). He had also posted images of this fake quote on his page.
Ravish Kumar is often targeted on social media through fake news. Alt News had earlier reported how BJP IT Cell head Amit Malviya had targeted him through a mischievously edited video that showed only part of a statement made by Kumar. Recently, a quote with regard to the Ghazipur rape case had been atrributed to Ravish Kumar which was completely fake. In another incident, some unknown person was identified as Kumar's sister and this was used to spread misinformation about him.
India's ranking in the World Press Freedom Index, 2018 stands at 138, having slipped two places compared to 2017. With the manner in which journalists like Ravish Kumar who are critical of the establishment are incessantly targeted by right-wing elements, it is not difficult to see that journalism in India is becoming an increasingly difficult exercise.
Donate to Alt News!
Independent journalism that speaks truth to power and is free of corporate and political control is possible only when people start contributing towards the same. Please consider donating towards this endeavour to fight fake news and misinformation.