"साध्वी प्रज्ञा ठाकुर की कुल सम्पत्ति 4 लाख 50 हजार है. और बेरोजगार कन्हैया कुमार के पास 18 करोड़। ये 18 करोड़ आया कहाँ से ? (Sadhvi Pragya Thakur's total assets are worth Rs 4.5 lakh and unemployed Kanhaiya Kumar has assets worth Rs 18 crore. Where did this 18 crore come from? -translated)"
The above message is being shared on social media. It is being claimed that CPI's Begusarai candidate Kanhaiya Kumar, who even though unemployed, has accumulated assets worth Rs 18 crore while BJP's Bhopal candidate Sadhvi Pragya Singh Thakur has assets to the tune of Rs 4.5 lakh. The message takes a jibe at Kumar for supposedly accumulating a ludicrous amount of wealth with no employment and also questions the means by which it was harvested. This post shared by a Facebook page, I Love My India, has garnered more than 3,400 shares so far.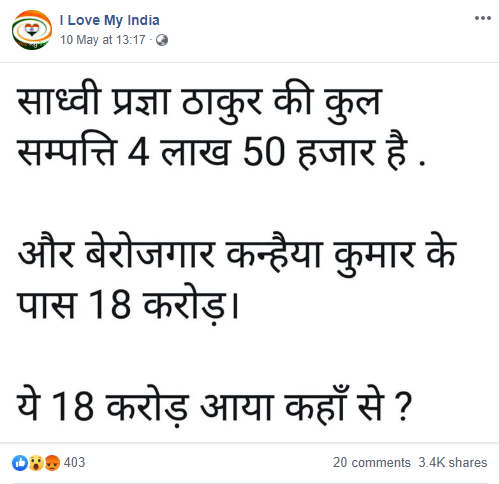 This message has been shared by several other individuals on Facebook and Twitter.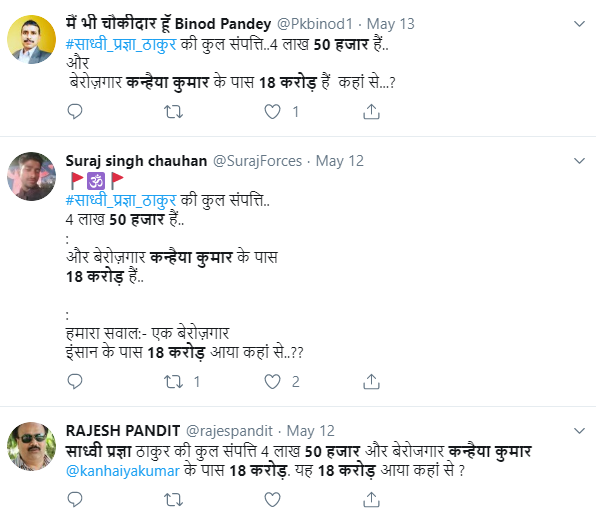 Fact-check
Alt News found that the claim about Kanhaiya Kumar having assets worth Rs 18 crore, is false, based on his nomination affidavit. In the affidavit filed for his nomination from Bihar's Begusarai Lok Sabha constituency, Kumar had declared biannual income of Rs 8.5 lakh with assets over Rs 5.5 lakh. The figure stated in his affidavit is nowhere close to the exorbitant number cited in the social media claim. The information about a candidate's total assets declared at the time of filing his nomination is easily available on MyNeta database. NDTV reported, "In his affidavit, the former student leader — a sedition case against whom had triggered student protests across the country – describes himself as an unemployed man who does some freelance writing and appears as a guest lecturer in various universities for a living. His income, he said, comes mostly from the sale of his book "Bihar to Tihar".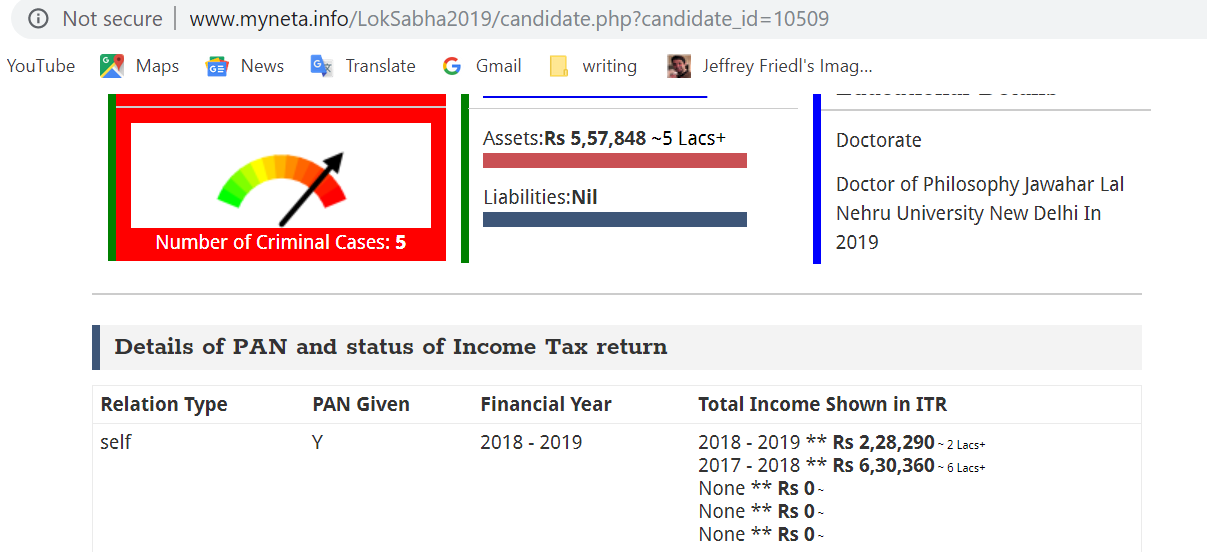 Insofar as Sadhvi Pragya Singh Thakur's nomination affidavit is concerned, she has declared assets close to Rs 4.5 lakh with zero income.
According to Kanhaiya Kumar's nomination affidavit, the figure with regard to the assets owned by him is false. Based on this figure, the post attempted to question the transparency in Kumar's public life and also raised doubts over the source of his supposed assets. Kanhaiya Kumar has often been found in the crosshairs of purveyors of misinformation. During the election campaign, a photo of Kumar's campaign vehicle was photoshopped with the image of Afzal Guru, and a video of his speech was clipped to falsely claim that he said, "Hanuman burnt Lanka as another man's wife was insulted".
Donate to Alt News!
Independent journalism that speaks truth to power and is free of corporate and political control is possible only when people start contributing towards the same. Please consider donating towards this endeavour to fight fake news and misinformation.