Several educational institutes in Karnataka have barred women who adorn a hijab from entering college premises on the account of not following the dress code. The matter is now sub judice in Karnataka High Court. Meanwhile, reports of violence have emerged from Karnataka. While Muslim students are protesting to demand their right to wear hijab, right-wing Hindu mobs have been holding counter protests.
In the backdrop of this, multiple images of a woman named Najma Nazeer have been shared on social media. The photos show her both with and without a hijab. Viral claims allege that Nazeer usually does not adorn a hijab but wears it to college to push an 'agenda'.
Indian Air Force veteran and IIM Lucknow alumni Anoop Verma shared three images of Nazeer and made the claim. This tweet gained over 7,000 retweets.
She is Nazma Nazeer from Karnataka

She goes to Ice Cream Parlour & Pizza Shop without Hijab & Burqua

But in School, Agenda Must Run? pic.twitter.com/WoUeLMmuHM

— Flt Lt Anoop Verma (Retd.) 🇮🇳 (@FltLtAnoopVerma) February 8, 2022
Several Twitter and Facebook accounts have shared this claim. Using the social media monitoring tool, CrowdTangle, we found that at least 60 verified accounts posted this claim on Facebook and several of them are pro-Hindutva pages or groups.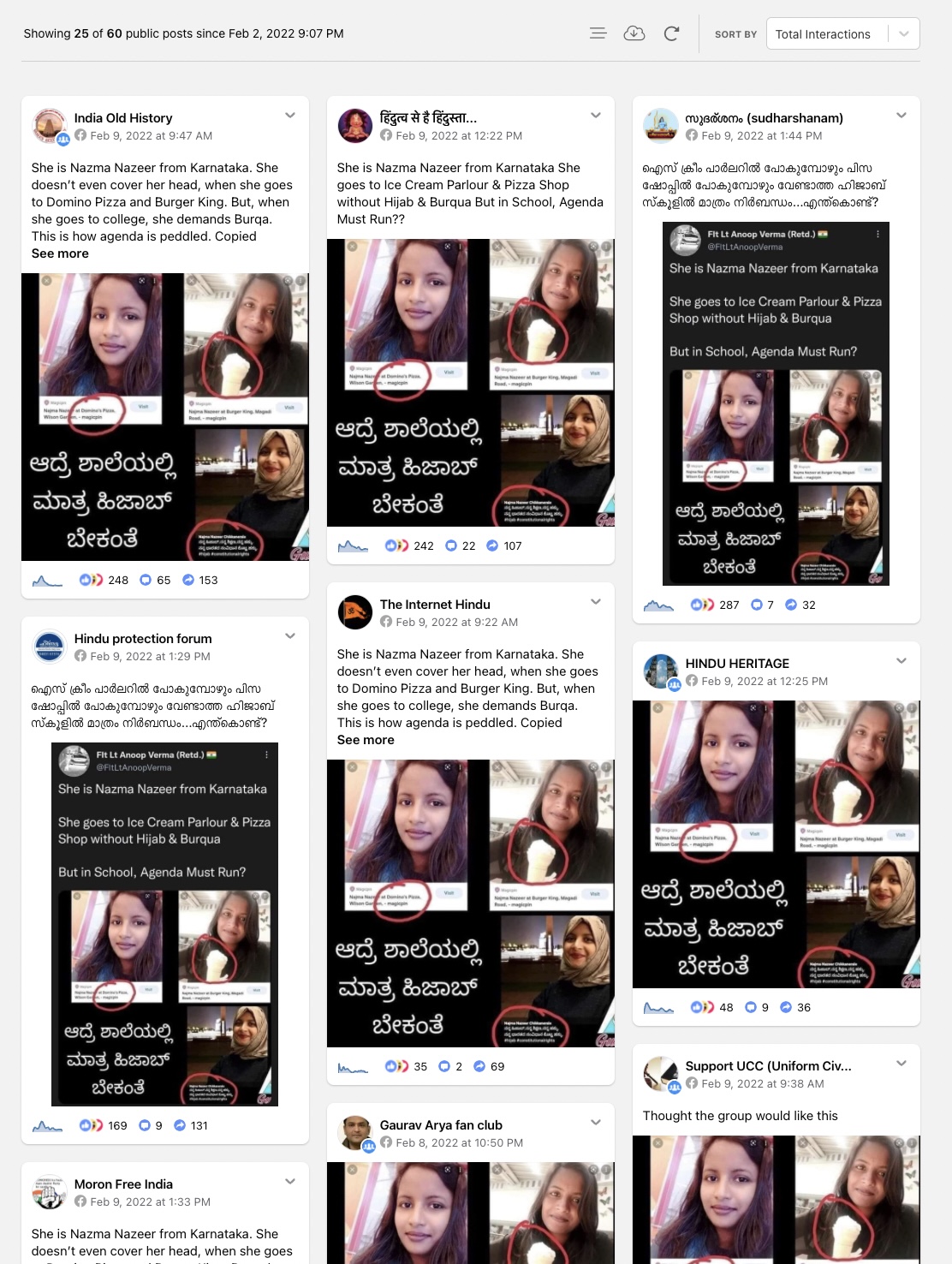 Fact-check
The woman in the photos is Janta Dal (Secular) Karnataka member Najma Nazeer. She is not a college student. Nazeer became a social media personality two years ago after a video of her and her friends confronting Mahesh Vikram Hegde, founder of the fake news website Postcard News, and asking him to sing 'Vande Mataram' went viral.
Nazeer, 24, told Alt News that the viral images of her were taken at different time periods in the past eight years. The photo of her in hijab is her current display picture on Facebook.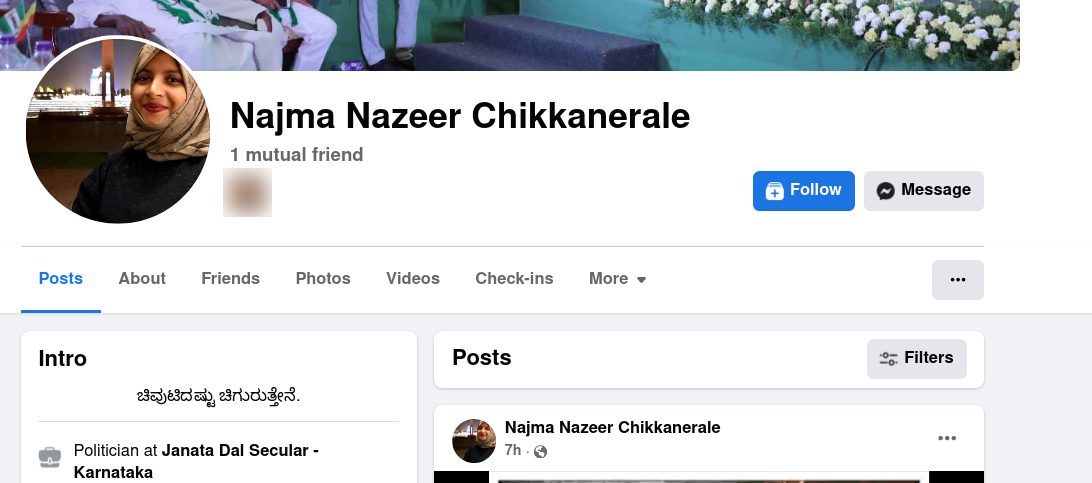 "The viral social media post is misleading because it creates an impression that I am still in school or college. That is not true, I graduated in 2018," she said.
Nazeer is a State Committee Observer at JDS Karnataka.
She also added, "I am in touch with the students who are protesting (against the hijab ban). However, to paint me as the face of the protest is a disservice to those who are leading this fight."
A morphed photo of Nazeer also being shared

A morphed image that shows Nazeer posing against a wall was shared by the Facebook page 'Namma Tulunadu Troll's'. It was later deleted but the graphic is circulating on WhatsApp. Twitter user @AmansurajGuru posted the graphic.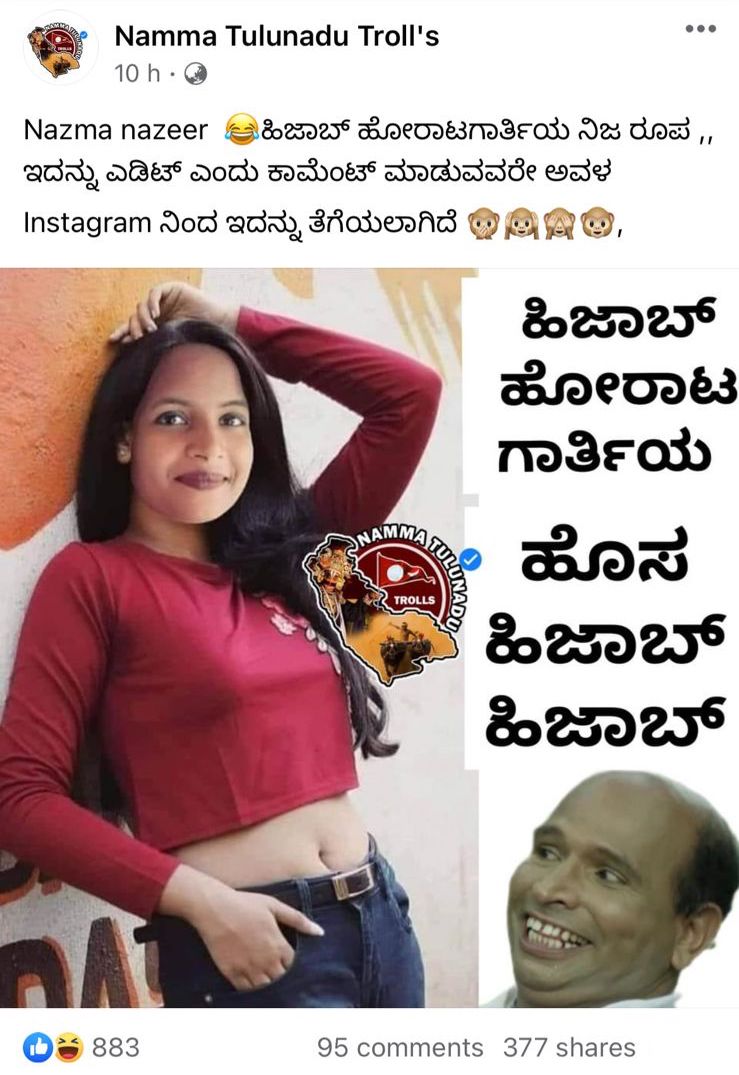 It was also shared by Gaurav Sharma, among other pictures of Nazeer.
Pic 1: Alleged Sherni In Burqa & Hijab
Pic 2: She is not part of Tukde Tukde Gang
Pic 3 & 4: Ofcourse she is not politically Motivated#HijabBan pic.twitter.com/5kcbfgDSyM

— Gaurav Mishra 🇮🇳 (@IamGmishra) February 9, 2022
Nazeem told Alt News, "This image is photoshopped. I reported this post on Facebook and it seems like they have taken it down."
We performed a reverse image search and found a tweet by @beauty19smale that carries the original image. The tweet said that the woman photographed is Tanya Jena, a social media personality. Alt News performed a keyword search on Instagram and found that Jena had posted the image in 2019 on Instagram.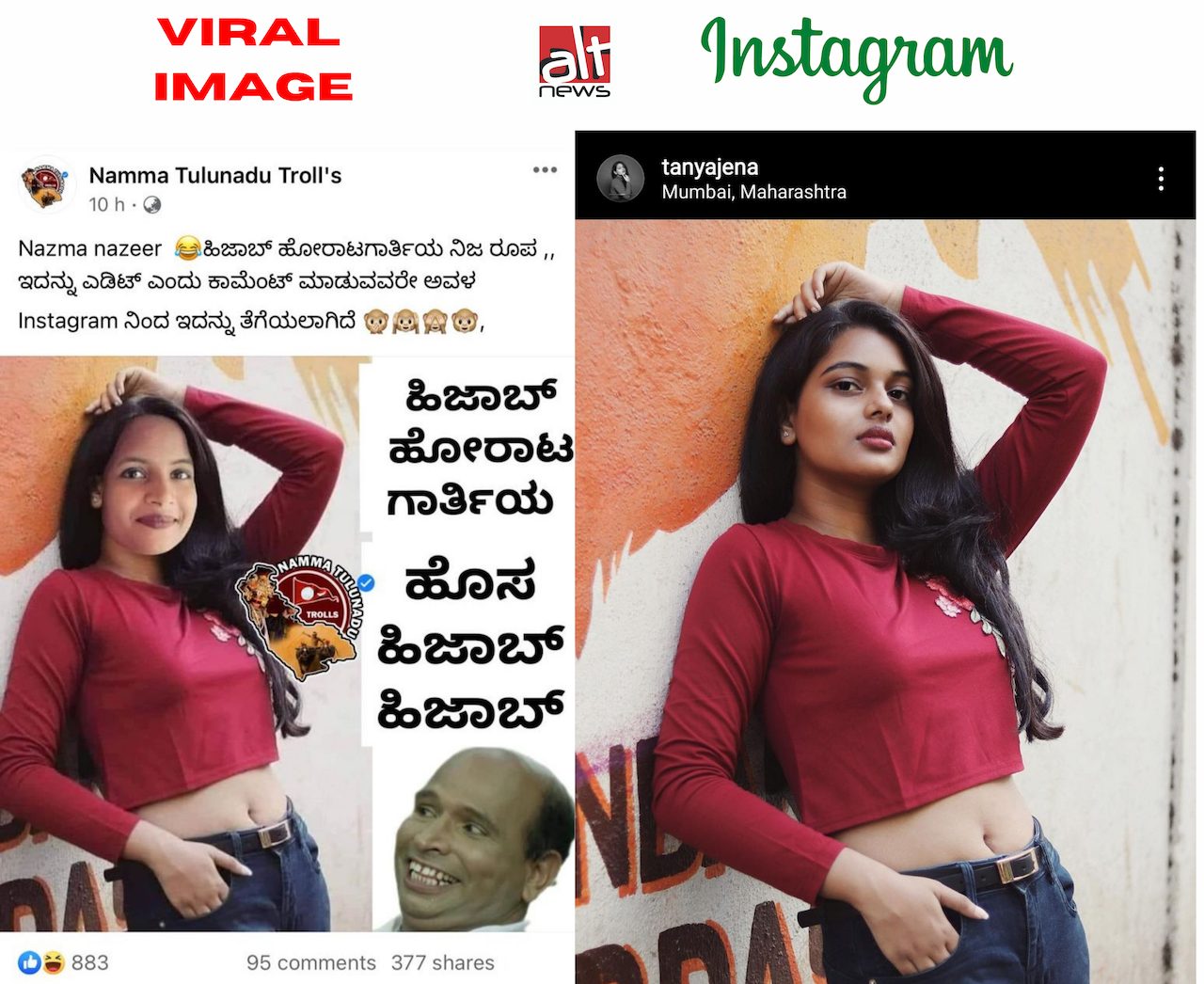 Pictures of JDS Karnataka member Najma Nazeer were, therefore, shared with misleading claims. Alt News had earlier debunked a claim that portrayed Nazeer as the student of PES college, Mandya who stood up against a saffron-clad mob heckling her for wearing a hijab.
Donate to Alt News!
Independent journalism that speaks truth to power and is free of corporate and political control is possible only when people start contributing towards the same. Please consider donating towards this endeavour to fight fake news and misinformation.