Violence has spread to several districts in Karnataka amid colleges prohibiting students to attend classes wearing hijabs and the government backing the ban. As Muslim students protest against the ban and Hindu students, several instigated by right-wing outfits, organise counter-protests, the violence has intensified.
After multiple videos depicting Hindu students heckling and harassing Muslims amid chants of 'Jai Shri Ram' came to light, a 27-second clip of a young woman in a half-conscious state being attended by a group of people has been shared online. It has been claimed that she was a "victim of stone-pelting clashes" that took place in Karanataka over the Hijab row.
The video is extremely viral on Twitter with various captions.
Leftists are showing you a video of girl student in niqab & boys students in saffron scarves and they're shouting religious slogans to each other.

They won't show you video of this girl student who injured in violence over hijab row.

Stone pelting, clashes reported in Karnataka pic.twitter.com/Eix3i3r4iZ

— Anshul Saxena (@AskAnshul) February 8, 2022
Several people have alleged that the young woman sustained injuries during stone-pelting by a Muslim mob.
One girl sustained injuries during stone penting by muslim mob in support of #Hijab in Karnataka today pic.twitter.com/yhnoJxH3Mj

— Live Adalat (@LiveAdalat) February 8, 2022
It has been claimed that she belongs to the Hindu community.
Since everyone is busy covering how a 'M' girl was allegedly heckled today .. no one will bother to cover what happened to 'H' girl when peacefuls were Stone pelting 😡 pic.twitter.com/wuSxPMGrGZ

— Vikas Chopra (@Pronamotweets) February 8, 2022
The video was also tweeted by right-wing propaganda media outlet Sudarshan News and OpIndia.
हिजाब के समर्थन में हुई पत्थरबाजी में घायल हुई छात्रा
हिजाब के समर्थन के नाम पर कर्नाटक को कश्मीर बनाने की कोशिश, बरसाए पत्थर ! pic.twitter.com/QoGZo7hy25

— Sudarshan News (@SudarshanNewsTV) February 8, 2022
View this post on Instagram
The video is viral on Facebook with the same claim.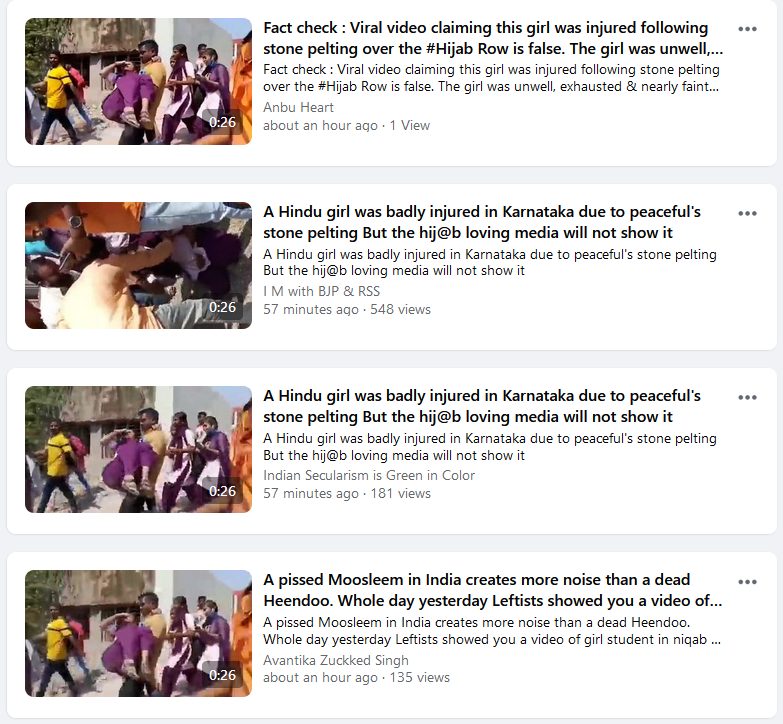 Misleading
The video is from a government college in Rabkavi Banhatti, a small town in Bagalkot city, Karnataka. According to journalists on the ground, the girl was unwell, exhausted and had nearly fainted after which she was carried out of the campus by people present in the vicinity.
Fact check : Viral video claiming this girl was injured following stone pelting over the #Hijab Row is false.

The girl was unwell, exhausted & nearly fainted after which she was helped out of the govt college campus in Bagalkot's Rabkavi banhatti while protests ensued outside. pic.twitter.com/EBG9KVgFJX

— Deepak Bopanna (@dpkBopanna) February 9, 2022
We performed a Twitter keyword search to check for reports of stone-pelting in Banhatti and found that 10 people were arrested for pelting stones on cops and students at a government college. As per a report by The Hindu, a male student had sustained minor injuries when unidentified miscreants started pelting stones at the college.
#KarnatakaHijabRow 10 people have been arrested for pelting stones on cops and on students who were wearing #saffronshawls at govt college in Banhatti #Bagalkote. Charges are rioting, attempt to murder,disrupting peace. #Karnataka #HijabRow #hijab pic.twitter.com/GeieIBdqOJ

— Imran Khan (@KeypadGuerilla) February 9, 2022
Alt News spoke with the principal of the government college in Rabkavi Banhatti who told us that no students were injured within the campus. He further added that the college started at 7:30 am and she (the student in the viral video) was attending classes purportedly on an empty stomach. She fainted on the campus ground. The teacher present at the time informed the principal that she had fainted due to hunger and dehydration.
We also reached out to the SP of Bagalkot who told us that there was no stone-pelting at the girl. She was in her class and the college had declared a holiday due to the ongoing protests. She fainted as she was leaving possibly due to the overwhelming conditions on the campus, said the doctors to the police.
The video has thus, been shared with an anti-Muslim narrative. The student wasn't injured in stone-pelting but fainted due to exhaustion, as stated by ground reporters and the principal of the college.
Donate to Alt News!
Independent journalism that speaks truth to power and is free of corporate and political control is possible only when people start contributing towards the same. Please consider donating towards this endeavour to fight fake news and misinformation.