In the evening of April 17, as Kolkata was still soaking in the 'Naboborsho' (Bengali New Year) mood in spite of an already unforgiving summer, a video started to go viral on WhatsApp. The 42-second clip showed a handful of men inside what looked like a shopping mall. A luxury watch store could be seen. Some of the men were in jeans and T-shirts, some in lungis and vests. One person lay asleep in one corner, his slippers neatly placed next to him, as others took his photo. Some men were huddled together engrossed in their phones, apparently playing a game of Ludo. Others were chatting among themselves. Most of them could be in their 30s and 40s. At least one in the group seemed to be a teenager. A security guard, his uniform giving away his profession, stood watching them.
This correspondent received the video in a WhatsApp group late on April 17 night. The conversation that followed can be seen below:

[Translation:
Person 1: It is so warm that people entered a mall. This happened in a Kolkata mall.
Person 2: Are you sure this is in Kolkata? Then it's pretty bad.
Person 1: No. Hence I wrote 'forwarded as received'.
person 2: But writing that doesn't end your responsibility. However, you are right. That is Quest Mall.]
The readers should note that the Quest Mall is an upscale shopping mall in Central Kolkata's Park Circus area built by the Sanjiv Goenka-led RP Sanjiv Goenka Group, which also runs CESC, the public limited company that supplies power to most of Kolkata and Howrah.
Video Goes Viral with Communal Twist
Over the next couple of days, the video went viral with captions that claimed/insinuated the incident was communal in nature.
Bengal BJP activist Keya Ghosh, whose Twitter bio says 'Honoured to be followed by Prime Minister of India, Shri @narendramodi', was one of the first users to share the clip on the micro-blogging site. She wrote: "This is the much hyped Quest Mall; Sanjeev Goenka's dream project which showcases London high street brands. Currently taken over by lungis. Question is can Goenkas do anything about it?" (Archive)
This is the much hyped Quest Mall; Sanjeev Goenka's dream project which showcases London high street brands. Currently taken over by lungis.
Question is can Goenkas do anything about it? 🤔🤔 pic.twitter.com/N2QldSjcjZ

— Keya Ghosh (@keyakahe) April 17, 2023
Another user, @vishnuguptuvach, whose bio says he is thankful to his forefathers for keeping him a Hindu while fighting against the Mughals and Christians, shared the video claiming that it was a case of 'goondaism' and 'extortion' He added the claim that the men 'demanded free food from Food Court, Eid free gift from Armani/Gucci etc stores'. He was retweeted close to 600 times and the video shared by him received close to 1 lakh views. (Archive)
Kolkata:
Today in Quest Mall at 10:30 am, 200-250 local peaceful goons barged into the mall "because it is too hot outside". And then they demanded free food from Food Court, Eid free gift from Armani/Gucci etc stores.

Laughing & joking, they do not seem to be in any distress. A… pic.twitter.com/porqE2slnJ

— विष्णुगुप्त उवाच (@vishnuguptuvach) April 19, 2023
Quote-tweeting filmmaker Vivek Agnihotri, the national in-charge of BJP's information technology cell Amit Malviya shared the video. He wrote that neither Goenka (referring to the mall owner) nor the police could do anything about it. (Archive)
Not surprising. Earlier this week, local Muslim residents barged into Sanjeev Goenka's fabled Quest Mall with London high street brands, demanding they be allowed to take 'shelter' in the mall as Kolkata was reeling under a heat wave. Goenka could do nothing. Police did nothing… https://t.co/htL9oqF2Ow pic.twitter.com/B1Wyo3XJ4x

— Amit Malviya (@amitmalviya) April 20, 2023
A user named Meera Singh tweeted the clip while asking rhetorically if Bengal had already been lost. She said in the caption that about 250 slum dwellers from a specific community entered the mall and demanded free food at food plaza, and Eid gifts from shops. "Owner of the mall Sanjeev Goenka is helpless as police has rufused to lodge the FIR. Sonar Bangla?? Really?" she added. She was retweeted close to 3000 times and her tweet was viewed over 4.7 lakh times. (Archive)
Are we losing #Bengal or have already lost it?

In Kolkata, about 250 slum dwellers from a specific community entered Air-conditioned 'Quest Mall' because temp outside was very high.

They barged into d mall demanding dt they be given permission to stay as Kolkata is reeling

— Meera Singh (@meeraremi11) April 20, 2023
Other users who made similar claims while tweeting the video include Amitabh Chaudhary, @siingh777 and @PaapiPunyatma.
Alt News received requests for fact-checking the video on WhatsApp. The forwarded message had a longish caption. It said: "Today in Quest Mall at 10:30 am … about 250 local slum dwellers from a particular religion (jihadis) barged into the mall demanding that they should be given permission to stay as the city of Kolkata is reeling at 43°C. The video taken by a guard was objected to by the trespassers who wanted free food from the food court after sun down and free gift 🎁 for Eid ☪ from Armani, Gucci, Paul Smith etc. The squatters have even threatened the mall manager of Quest Mall and the owner of the mall Mr Sanjiv Goenka of CESC. He was helpless as police was not registering FIR and not cooperating with him. 👆🏻Isn't that great !! End result of secularism..Today it's shopping mall.. tomorrow it shall be your residence."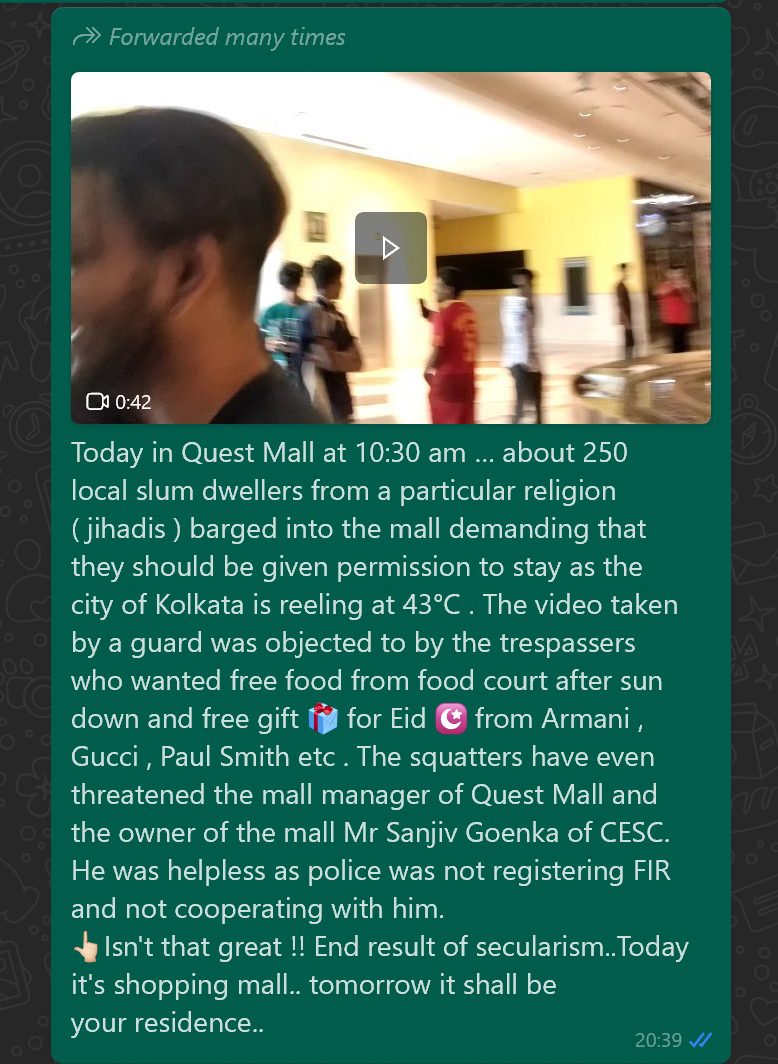 Reports in Local Media
To find out what actually transpired, we first looked at available news reports, and found that several media houses reported on the issue. On April 18, The Telegraph did a story on power cuts across Kolkata caused by electricity 'usage beyond sanctioned load'. The report carried a collage of two screenshots of the viral video. The incident was narrated in the caption.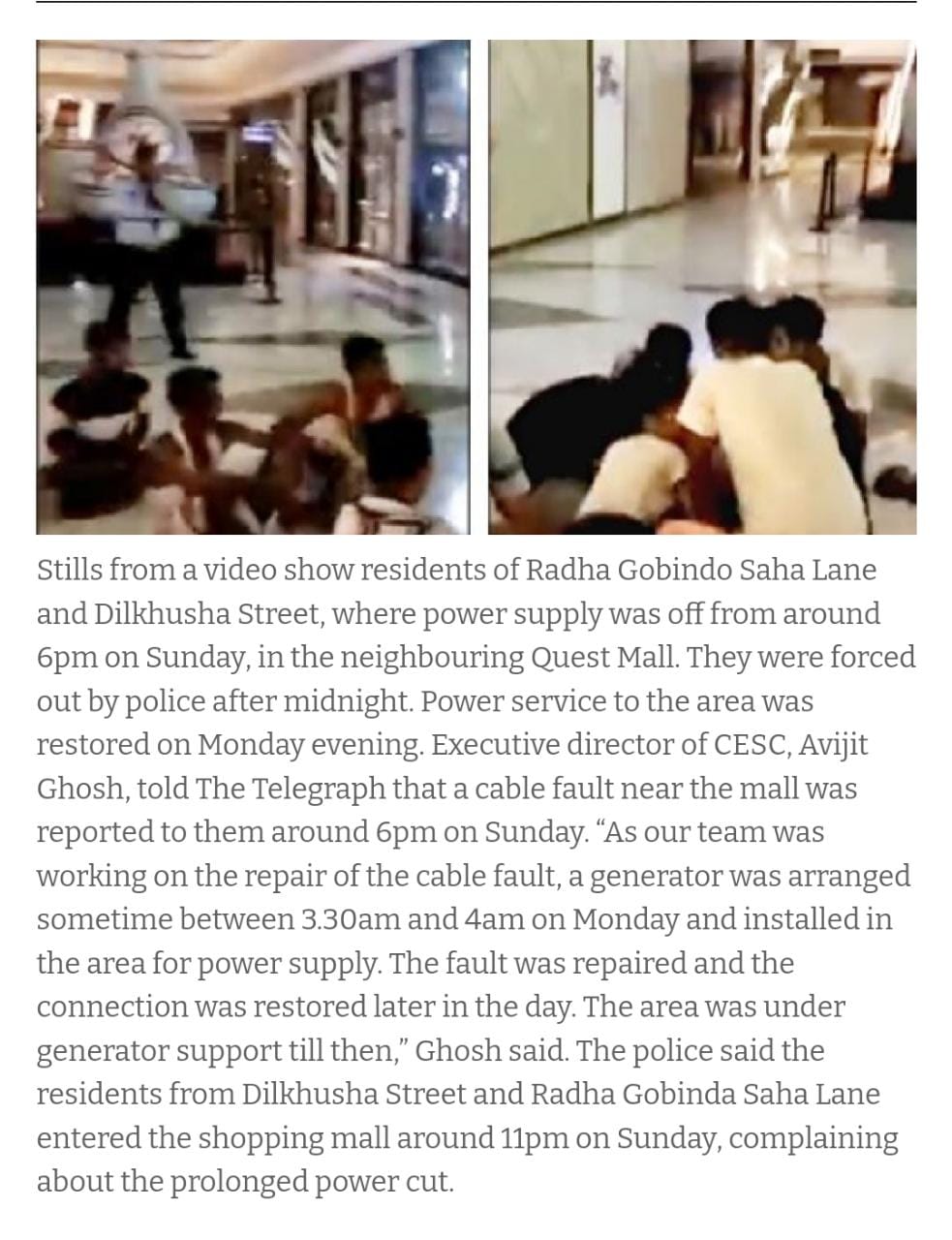 According to The Telegraph, Radha Gobindo Saha Lane and Dilkhusha Street were without electricity for over 12 hours from the evening of April 16. This led the residents of these areas to go inside the mall.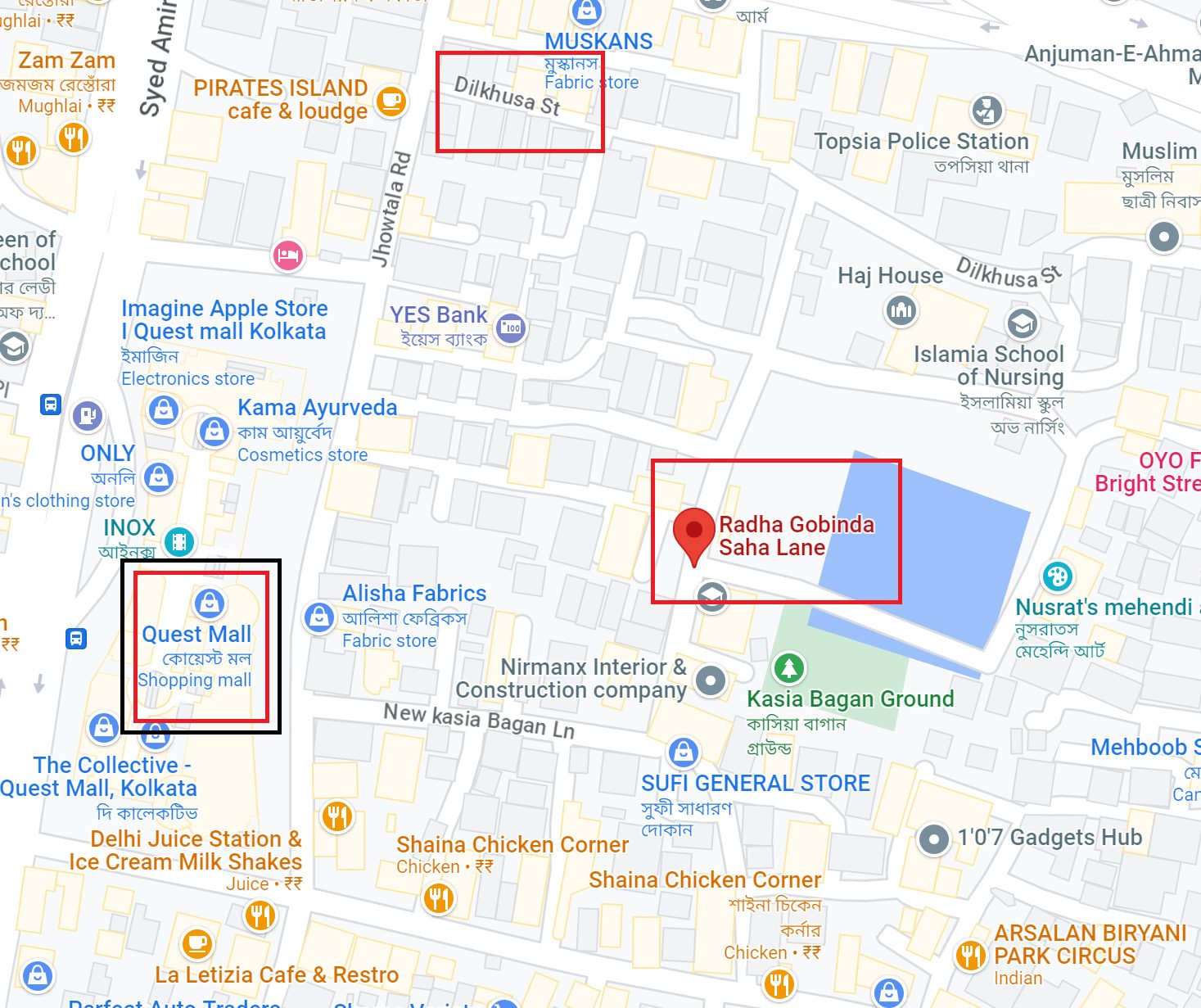 The Telegraph report quoted Avijit Ghosh, the executive director of the Calcutta Electric Supply Corporation, as saying that the area surrounding the Quest Mall for over 12 hours. "As our team was working on the repair of the cable fault, a generator was arranged sometime between 3.30 am and 4 am on Monday and installed in the area for power supply. The fault was repaired and the connection was restored later in the day," he told the paper.
Gangetic West Bengal was reeling under a heatwave in the second and third week of April. On April 16, chief minister Mamata Banerjee ordered educational institutions to be shut for one week in view of the severe heat. The official order can be seen here.
Claims Absurd, False and Malicious: Quest Mall Vice-President
Alt News reached out to Quest Mall vice-president Sanjeev Mehra to find out what exactly transpired on the intervening night of April 16 and 17.
"About 25 locals entered the mall around midnight. Their area was without power for hours. They just wanted us to hear their grievances. They left at 1.10 am," he said.
"There is no question of them demanding anything as gifts or free food because every outlet in the mall was closed way before that time. This is an absurd claim. Only the multiplex was running. The entry gate was closed. The exit gates were open. They entered by removing the barricades at the entrance."
"After they entered, the mall security, the mall manager and a few policemen talked to them and asked them to leave. They left after about 40 minutes. There was no confrontation. We have everything on CCTV recording," he added.
"There is no report of them causing any damage to the mall or anything else."
"They are locals. It was about 42 degrees that day. there was an electrical fault. You need to have some empathy," Mehra added.
Mehra said the next day he had gone and spoke to elders of the local community. "I told them this can not happen everyday. And they agreed. All of it ended amicably," he added.
"Most of what is being claimed on social media is false and malicious. We have lodged a complaint with the cyber cell of Kolkata police. It is now up to them," he concluded.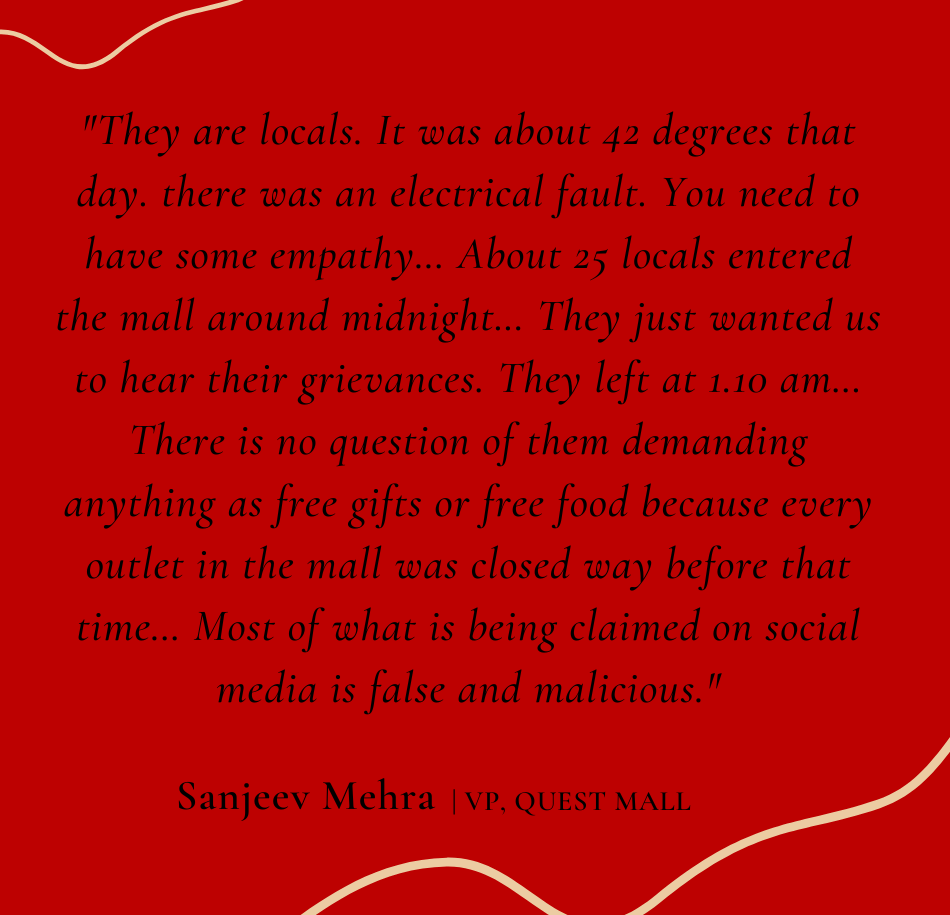 In a statement put out on Facebook and Instagram, the Quest Mall authorities described the viral narrative as 'exaggerated', 'misleading' and 'motivated'.
Alt News spoke to a local stationery shop owner whose establishment is in the lane behind the mall. "My shop was closed at that time, so I am not a witness. But what I heard the next morning was that some local youths entered the mall at night after everything was shut. They left after the mall management and police asked them to. One must realize that many of the security and sanitation staff members of the mall are locals. So, almost everyone knows everyone. There was no clash or anything," he told us.
Alt News could not independently verify if all the 'intruders' hailed from the Muslim community.
The Indian Express reported on April 22 that a police complaint was filed "against alleged attempts to spread false information regarding an incident wherein it was claimed that some youths from the neighbourhood demanded food and gifts from shops in the complex on April 16." The Times of India said the viral claims were a "deliberate misrepresentation of an incident… to stoke tension." A report in news outlet ETV Bharat quoted a top police officer as saying that those who shared misinformation regarding the incident would be identified.
How the Narrative Changed
If one pays attention, one would notice that the viral claims on social media left out the part that the area was hit by a prolonged power cut, which apparently caused the locals to enter the mall. In stead, words and phrases like 'taken over by lungis', 'jihadis', 'are we losing Bengal?" were used. To make the incident look menacing, sentences like 'today it's shopping mall, tomorrow it can be your residence' were added.
More importantly, from the words of the Quest Mall management, media reports, police statements and our on ground investigation, it became clear that most of the claims made around the incident were false and baseless. The false claims and actual facts have been presented here in a table: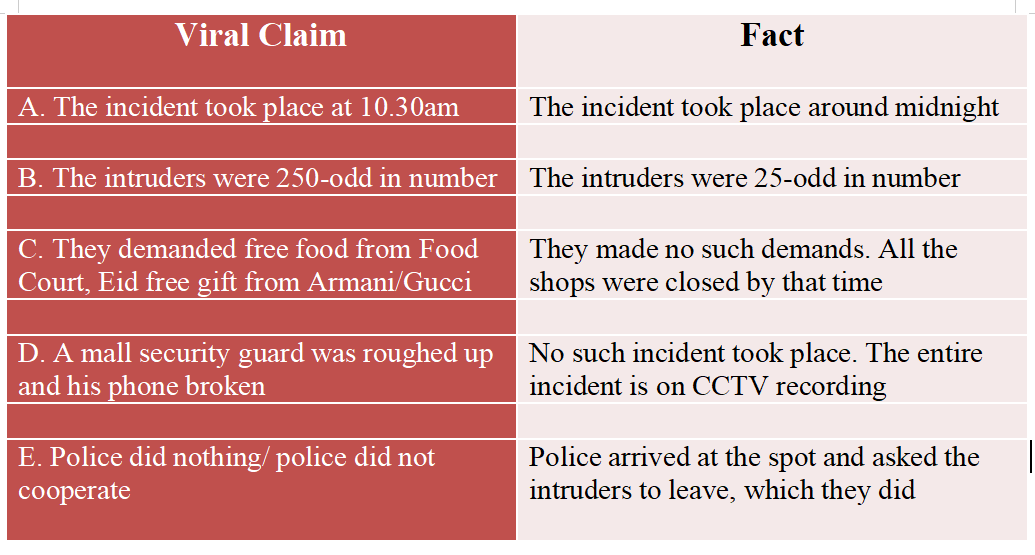 To sum up, around 25 people residing around Kolkata's Quest Mall had entered the mall on the intervening night of April 16 and 17 after their area was without electricity for several hours and the city was already reeling under severe heat. They left after about an hour on being requested by the mall management and local police. On the basis of some unfounded claims and a communal spin, the social media posts around the incident took on a hateful, Islamophobic tone.
Donate to Alt News!
Independent journalism that speaks truth to power and is free of corporate and political control is possible only when people start contributing towards the same. Please consider donating towards this endeavour to fight fake news and misinformation.