In a rather shocking move, a journalist who had called for genocide of Kashmiris, had justified the massacre of Sikhs during 1984 and is notorious for posting hateful tweets has been apparently been appointed by the Government run channel Lok Sabha TV. Jagrati Shukla who has gained notoriety for her rabid tweets claimed on her Twitter bio (@JagratikShukla29) that she's now a consultant with Lok Sabha TV.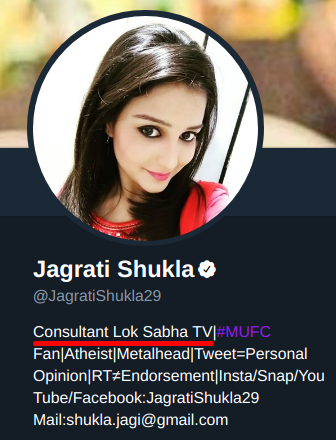 On Twitter, she was seen thanking people who were congratulating her for her new position.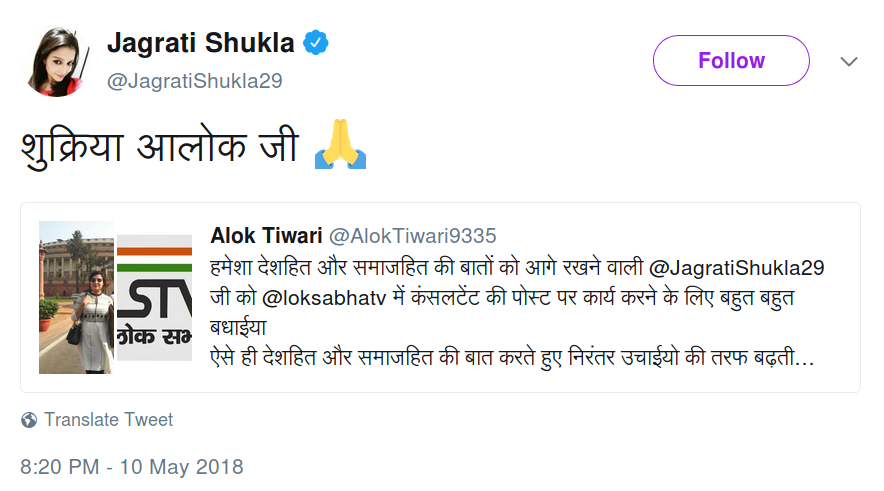 A couple of tweets were also found regarding her participation in a Lok Sabha Mother's day special program called 'Bharat ki Aawaj'.
Do watch "Bharat ki Aawaj" this Sunday 10pm @loksabhatv special program on "Mother's Day" with @pratibimbsharma @JagratiShukla29 .

Can watch Repeat telecast (next week) on :
Monday @ 11:00
Wednesday @ 15:00 pic.twitter.com/V8pQV7fcvR

— Geeta sharma🇮🇳 (@BeingGeetaS) May 11, 2018
Special program on "Mother's Day" @loksabhatv for "Bharat ki Awaaz". It was lovely to meet @JagratiShukla29. Had a good time and series of selfies.#Fun #Masti #MothersDay pic.twitter.com/Ae0fLHClUV

— Geeta sharma🇮🇳 (@BeingGeetaS) May 11, 2018
Her name appears on the provisional selection list on Lok Sabha TV website for the post of Assistant Producer.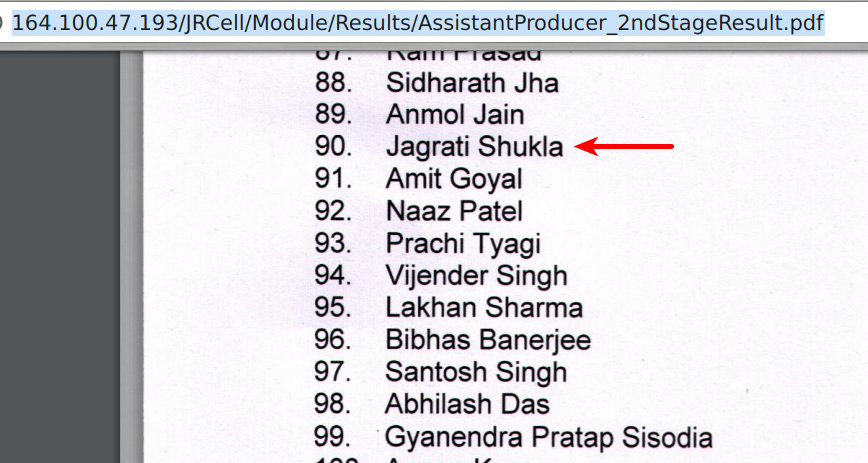 Furthermore, the Lok Sabha website also lists one Jagriti Shukla who has been selected for the post of Assistant producer. Since there's no 'Jagriti Shukla' in the provisional list, it seems to be a typographical error and the person selected is Jagrati Shukla. This bit of information was pointed to by InUth.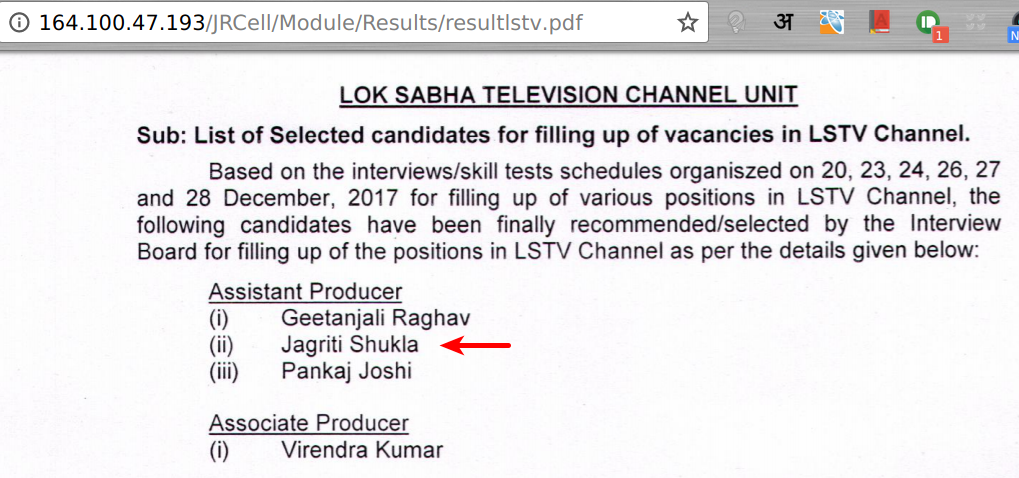 Jagrati Shukla has a significant presence and fan following on social media. In 2016 when unrest had peaked in the Kashmir valley leading to clashes between security forces and Kashmiris, Jagriti Shukla had tweeted, "If we need to commit genocide in Kashmir valley to get rid of all these terrorists and their aides, then lets do it."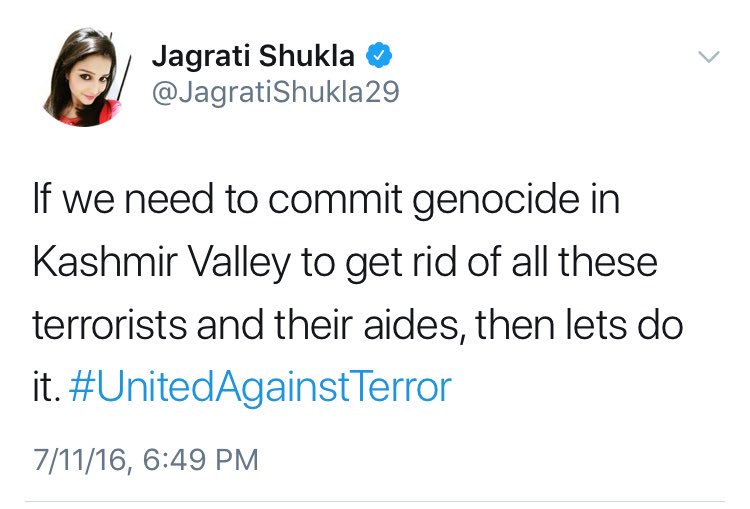 The tweet may have created a furore, probably because of which it was deleted by Shukla, but the content which she regularly posts and/or shares on her Twitter and Facebook accounts is often laced with hatred and prejudice for Muslims, Dalits and liberals. We have posted a few of her tweets below for the benefit of readers.
In the tweet below, Shukla justifies the killing of Sikhs that took place in 1984, and says "Sikhs deserved that".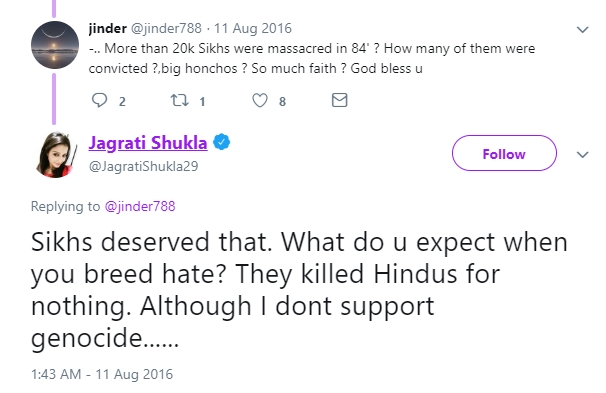 In another tweet, she justifies the murder of writer and activist Gauri Lankesh who was shot dead in Bengaluru on September 5, 2017.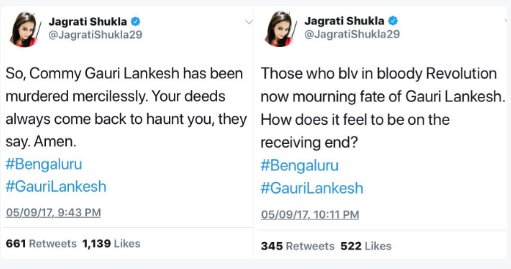 In another tweet, Shukla pins blame for Gauri Lankesh's murder on Left extremists. This tweet was posted on September 6, 2017. Lankesh was shot dead outside her home in Bengaluru a day before. Even as investigation was going on, Shukla jumped the gun declaring Leftists responsible for her murder.
Leftists' faces, after a thorough investigation reveals that #GauriLankesh was murdered by one of their own.
RED fits their bill as well 😂😂😂 pic.twitter.com/G1fIBoPf6a

— Jagrati Shukla (@JagratiShukla29) September 5, 2017
Another tweet by her of July 2016 calls for the killing of former JNUSU President Kanhaiya Kumar.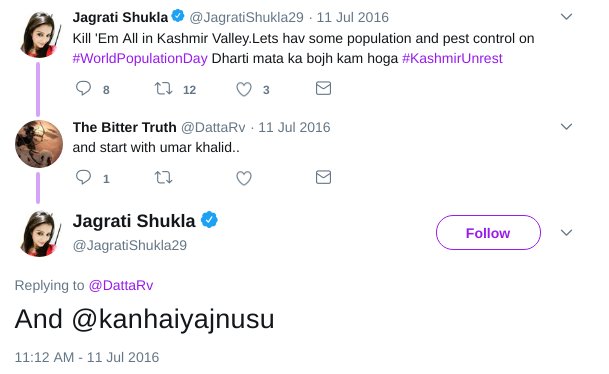 In yet another tweet, she advocates carrying of lethal arms and murder. This tweet in the context of the violence that erupted at Kasganj, Uttar Pradesh on January 26, 2018 which resulted in the death of one person due to firing. The tweet was later deleted.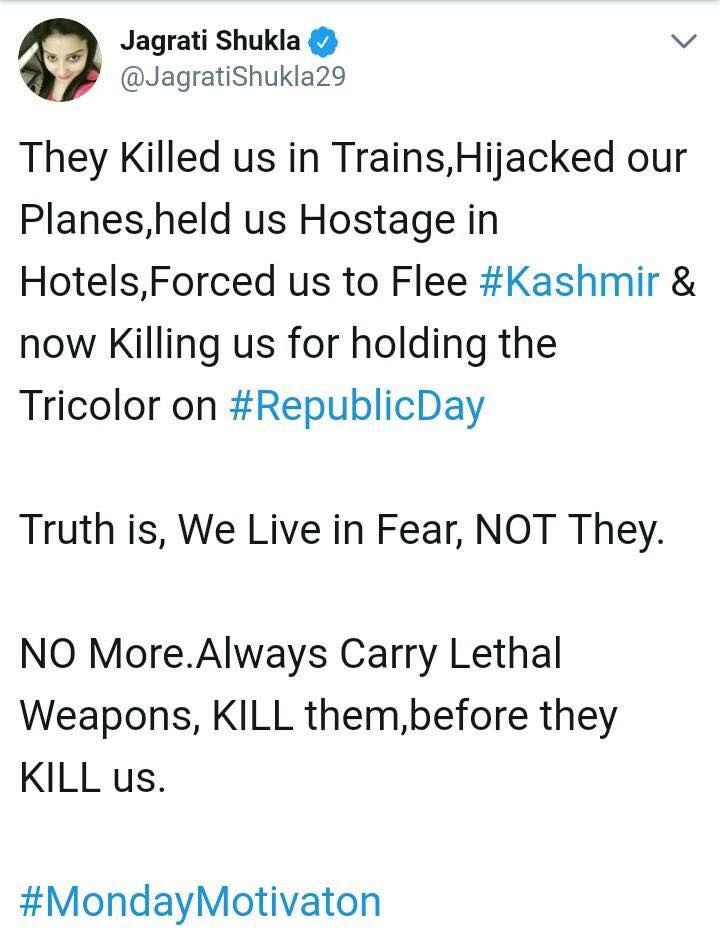 In another tweet, Shukla posted a derogatory tweets targeting the Dalit community.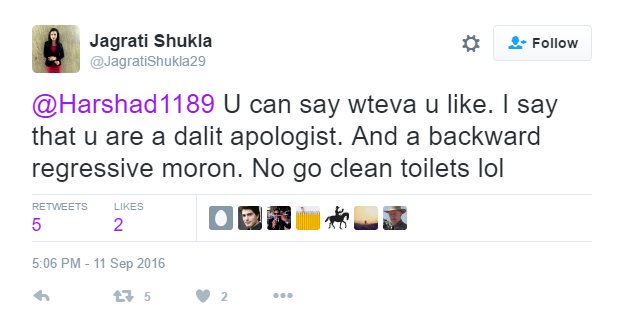 Appointment of a journalist who brazenly calls for violence and openly expresses the worst prejudices about certain social groups, as a 'consultant' by Lok Sabha TV is nothing short of appalling. While journalists world over are not known to operate in a vacuum bereft of political/ideological preferences, in this particular case, the scribe in question has unabashedly exhibited bigotry and hate on social media on numerous occasions. It is thus shocking that Lok Sabha TV which is operated by elected representatives and is an important broadcasting arm of the Government has seen fit to appoint Jagrati Shukla.
Donate to Alt News!
Independent journalism that speaks truth to power and is free of corporate and political control is possible only when people start contributing towards the same. Please consider donating towards this endeavour to fight fake news and misinformation.