Trigger Warning: Nudity, Disturbing visuals
The video clip of a man stripped naked and thrashed by a few women with onlookers capturing the incident on mobile phones is being widely shared with the claim that he is a Muslim and he was caught teasing women in Meerut, Uttar Pradesh.
A user named Raghav Chaturbedi shared the video with the caption: "A Muslim youth molested a Hindu woman in the market." (Archive)
A Muslim youth molested a Hindu woman in the market.😜😜#AdaniBackOnTrack #love #StopDrinkingAlcohol pic.twitter.com/935ZZzsdXx

— Raghav Chaturbedi (@RaghavChaturbe2) February 7, 2023
Another user, Satish Anna, tweeted the same video and wrote that the Muslim man had to pay a heavy price for teasing girls in a marketplace in Meerut.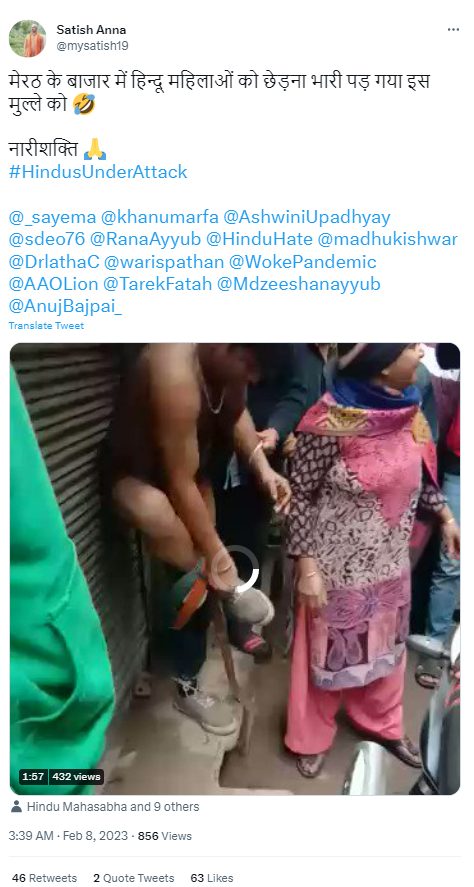 He later deleted the tweet, but an archived version can be seen here.
The same video was also tweeted by a user called 'Kattar Hindu Bhatia' with a similar claim. He also deleted the tweet later. (Archive)
The same video was viral in 2020
On January 21, 2020, several social media users had posted the same video. As per the posts, the man had tried to rape a 5-year-old.
Twitter user @cbpunjabi tweeted, "(TTC News) In Ambala's Jain market, a Muslim tried to rape a 5-year-old girl. The women of the locality caught the man and paraded him naked. Strict legal action should be taken against men with such disgusting thoughts." The tweet was retweeted over 2,000 times.
[Translated from (TTC न्यूज़)अंबाला शहर के जैन बाजार में एक मुल्ले ने 5 साल की लड़की से रेप करने की कोशिश की जिसमें वहां की महिलाओं ने पकड़ कर उसको नंगा करके घुमाया ऐसे घिनौनी सोच वाले व्यक्ति के खिलाफ सख्त से सख्त कानूनी कार्रवाई होनी चाहिए।"]
(TTC न्यूज़)अंबाला शहर के जैन बाजार में एक मुल्ले ने 5 साल की लड़की से रेप करने की कोशिश की जिसमें वहां की महिलाओं ने पकड़ कर उसको नंगा करके घुमाया ऐसे घिनौनी सोच वाले व्यक्ति के खिलाफ सख्त से सख्त कानूनी कार्रवाई होनी चाहिए। pic.twitter.com/DK6oDylzjP

— cbpunjabi@maccanaz gold (@cbpunjabi) January 20, 2020
Several social media users posted the viral video on Twitter and Facebook, blaming a Muslim man for the alleged crime.

Fact check
Alt News performed a keyword search on Google and found a report by the Times of India published on January 20, 2020, along with the viral video. "Ambala: Eve-teaser paraded naked, thrashed by relatives of minor girls," reads the title.
According to the report, perpetrator Pawan alias Sonu was thrashed by family members of three minor girls and locals. The city police booked Pawan under Section 12 (punishment for sexual harassment) of the Protection of Children from Sexual Offences (POCSO) Act and Section 506 (punishment for criminal intimidation) of the Indian Penal Code (IPC). [The report erroneously refers to Section 506 as 56.]
Sunita Dhaka of Ambala woman police station, Chandigarh, informed Alt News, "I made the arrest and I confirm, no one was raped in this incident and the accused is not a Muslim. An FIR has been registered under Section 12 of POCSO and Section 506 of IPC."
Dhaka added, "Pawan followed and indecently exposed to three girls when they walked back home after school. The youngest girl refused to go to school on January 20 because her classes were going get over early, as a result, she would have to return home alone. Eventually, the girl told her mother about Pawan and the mother along with her friends decided to follow her daughter on her away. They caught Pawan and the rest in can be seen in the video."
The viral video is being circulated with false narratives which amplify the crime and falsely identify the perpetrator as a Muslim.
Donate to Alt News!
Independent journalism that speaks truth to power and is free of corporate and political control is possible only when people start contributing towards the same. Please consider donating towards this endeavour to fight fake news and misinformation.