A photograph of India's first Prime Minister Jawaharlal Nehru with his daughter Indira Gandhi and two unidentified men is being shared with the claim that they are with Indira Gandhi's husband 'Firoze Khan' and her father-in-law 'Barkat Ali'.
इंदिरा गांधी अपने शौहर फ़िरोज़ खान और ससुर बरकत अली के साथ । पर देश को बताया गया कि ये कश्मीरी पंडित परिवार है 🤔🤔

Posted by Aditya Mishra on Friday, 14 May 2021
The image is quite widespread on Facebook.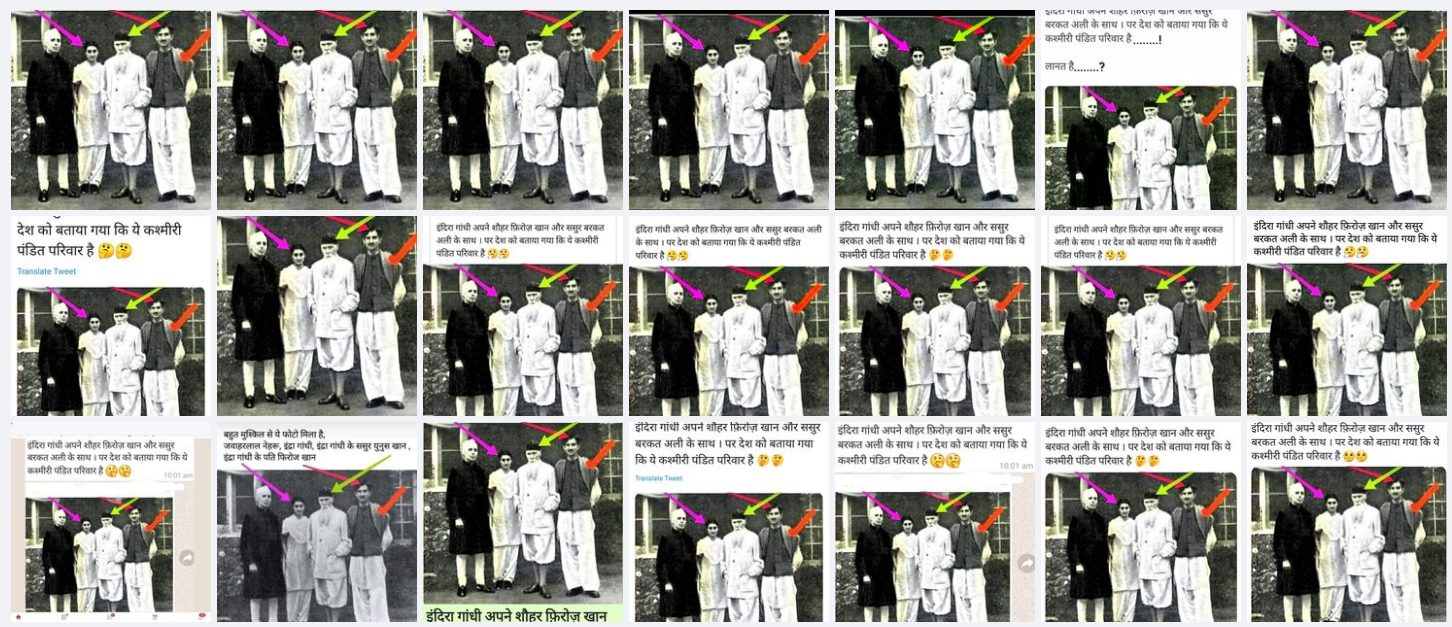 It has also been shared on Twitter.
इंदिरा गांधी अपने शौहर फ़िरोज़ खान और ससुर बरकत अली के साथ ।
पर देश को बताया गया कि ये कश्मीरी पंडित परिवार है 🤔
और ये कारनामा किया उस महान व्यक्ति ने जो नोट पर छपा हुआ है pic.twitter.com/m0UNRxrSIj

— माखन सिंह तंवर🚩RSS 💥 उपखंड प्रमुख🚩🇮🇳 (@MakhanSinghTan1) May 16, 2021
Viral since 2020 with a slightly different claim
The claim, shared by Facebook user Sukhie Rajput, last year in January is posted below. It said that the man marked in red is Indira Gandhi's father-in-law and Feroze Gandhi's father "Yunus Khan".
"बहुत खोजने के बाद ये चित्र प्राप्त हुआ है। चित्र में बायीं ओर खड़ा शख्स (लाल निशान) कोई और नहीं जवाहरलाल नेहरू का समधी और इंदिरा नेहरू का ससुर यूनिस खान है, इंदिरा के पति फिरोज खान का पिता। सोचा इन दत्तात्रेय ब्राह्मणों के दर्शन आपको भी करा दूं [Found this picture after a long search. The person standing on the left in the picture(with a red mark) is none other than is Indira Gandhi's father-in-law Yunus Khan, the father of Indira's husband Feroze Khan. Thought you should also see the Dattatreya brahmins -translated]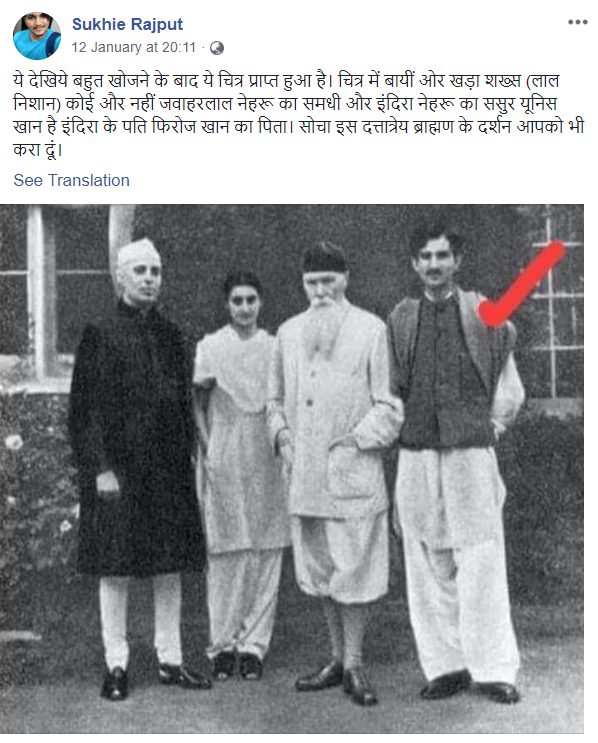 The image was circulated by multiple users on Facebook and Twitter alike.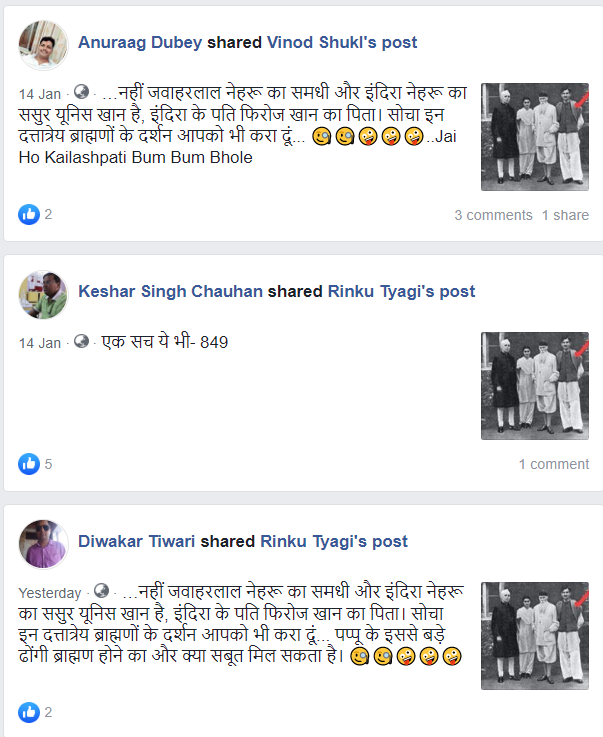 Twitter user Kapil Gupta posted the same photograph with a claim that the bearded man is Yunus Khan, the father-in-law of Indira Gandhi, whereas the man right next to him is her husband "Firoz" Khan.
Nehru, Indra, Yunus Khan (father-in-law of Indra)& Firoz Khan (Indira' s Husband).
Save it. It's a rare photos of mixture khandan later turned to Christian. pic.twitter.com/tuJgYz0CaZ

— Kapil Gupta (@kapilkm20) January 12, 2020
Fact-check
With a reverse image search on Yandex, Alt News found that the photograph is doing the rounds on social media with a false claim. In the image, the people standing from left to right are Jawaharlal Nehru, Indira Gandhi, Russian artist (with beard) Nicholas Roerich and Indian diplomat Mohammed Yunus. It was clicked at Roerich estate in Kulu, India in the year 1942.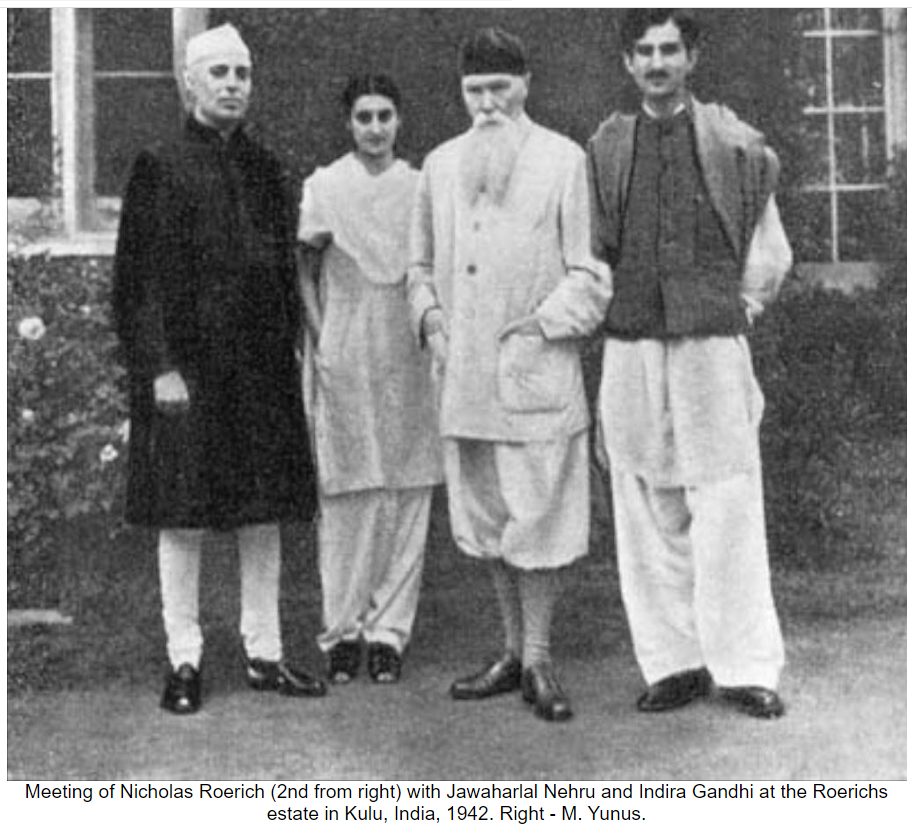 With a keyword search on Google, we found the same image posted on Wikipedia. The source cited for the image was a book with the ISBN number (978-5-86988-179-3). A Google search of the number revealed that it pertains to the seventh volume of letters of Elena Roerich (Helena Roerich), the wife of Nicholas Roerich.
In the book, Alt News found a photograph of Nehru, Roerich and Gandhi with the same man (extreme right). He has been identified as M. Yunus. An obituary published in The Tribune identified Mohammed Yunus as "a veteran freedom fighter, a distinguished diplomat and a close friend of the Nehru family." He was the nephew of Frontier Gandhi Khan Abdul Gaffar Khan, and not Indira Gandhi's father-in-law. It is a well-documented fact that Indira Gandhi's father-in-law, Feroze Gandhi's father, was Faredoon Jehangir Ghandy.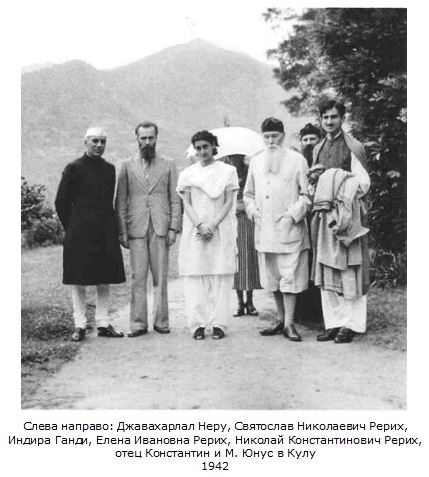 The bearded man in the photograph is Nicholas Roerich, an eminent 20th-century Russian painter. Roerich estate is located in Naggar, Himachal Pradesh. The estate houses the Nicholas Roerich Art Gallery. This author independently visited the Gallery in Naggar. ROERICH Nikolai Konstantinovich aka Nicholas Roerich was born in St. Petersburg in 1874. He died in Naggar in the year 1947. According to a document available in the gallery, he was a Russian artist, an archaeologist, a philosopher, a traveller and a writer, who also started a world movement to protect cultural monuments embodied in the international Roerich Pact signed in 1954.
This slideshow requires JavaScript.
The gallery houses several photos of Jawaharlal Nehru and Nicholas Roerich including the one viral on social media.
This slideshow requires JavaScript.
The description in multiple photographs asserts that Nehru and Indira Gandhi visited the Roerich estate in 1942.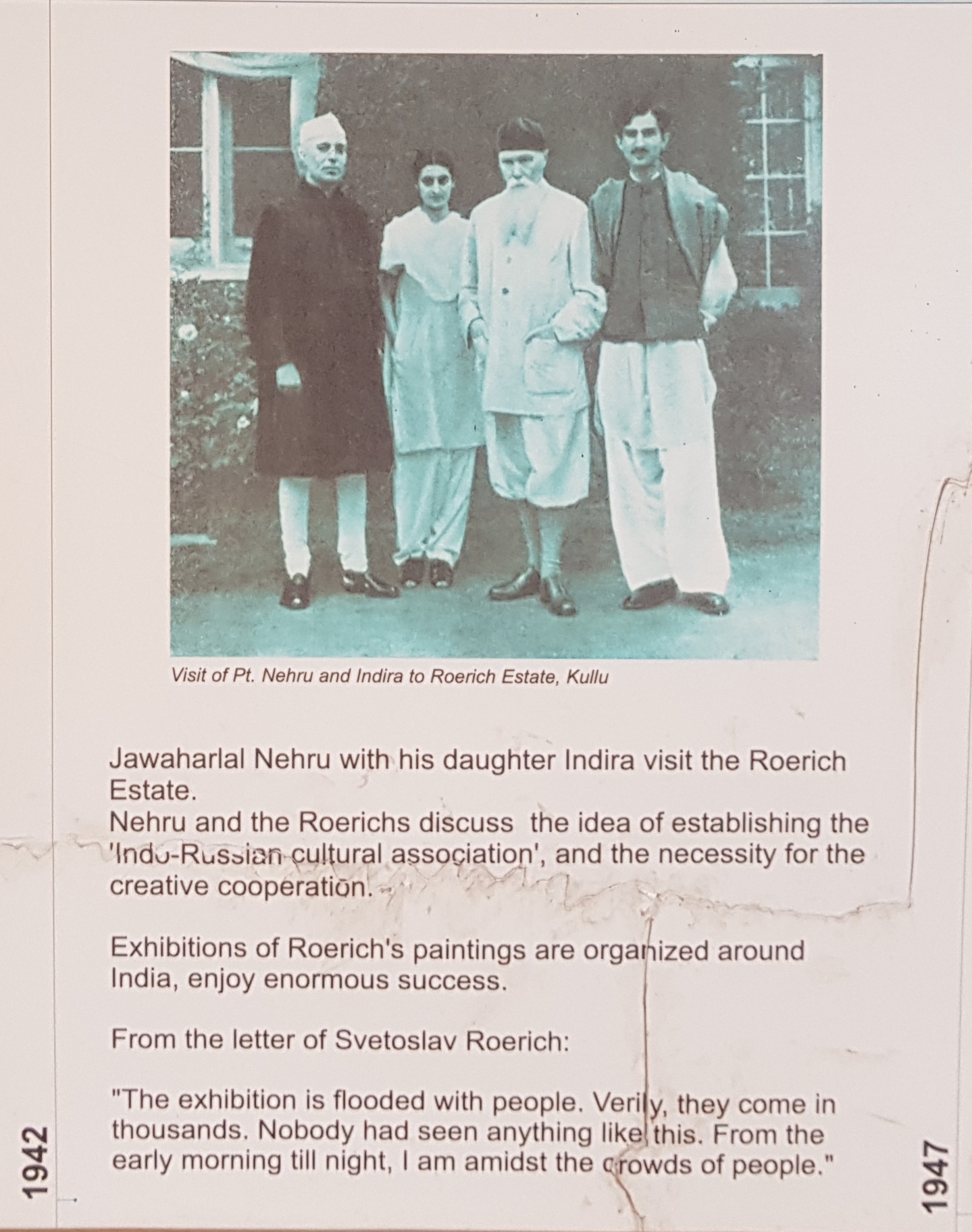 In conclusion, a photograph of Indira Gandhi and Jawaharlal Nehru with Indian diplomat Mohammed Yunus and Russian painter Nicholas Roerich was shared with a false claim. The Nehru family wasn't photographed with Indira Gandhi's father-in-law "Yunus Khan or Barkat Ali". In fact, her father-in-law, Faredoon Jehangir Ghandy, isn't in the picture and neither is his son and Gandhi's husband Feroze Ghandy.
Donate to Alt News!
Independent journalism that speaks truth to power and is free of corporate and political control is possible only when people start contributing towards the same. Please consider donating towards this endeavour to fight fake news and misinformation.