A video of a man allegedly offering namaz in a temple in Prayagraj has gone viral on social media. UttarPradesh.org, a regional news portal in Uttar Pradesh, describes how a bearded young man with a 'gamcha' (cotton towel) on his shoulders could be seen bowing and gesturing in prayer (offering namaz).
#प्रयागराज:प्रयागराज के सिविल लाइंस स्थित हनुमत निकेतन, हनुमान मंदिर में युवक के कथित तौर पर नमाज पढ़ने का दावा करने वाला वीडियो सोशल मीडिया पर #Viral हो रहा हैं।वीडियो में दाढ़ी रखे हुए एक युवक पीठ पर गमछा लपेटे हुए हाथों को कान तक ले जाते और फिर सजदा करते हुए देखा जा रहा है। pic.twitter.com/Zi1kvAiMpS

— UttarPradesh.ORG News (@WeUttarPradesh) September 19, 2022
The official Twitter handle of Panchjanya, a weekly national magazine published by the Rashtriya Swayamsevak Sangh (RSS), shared the video stating a young man can be seen offering namaz at the Hanuman temple in Civil line.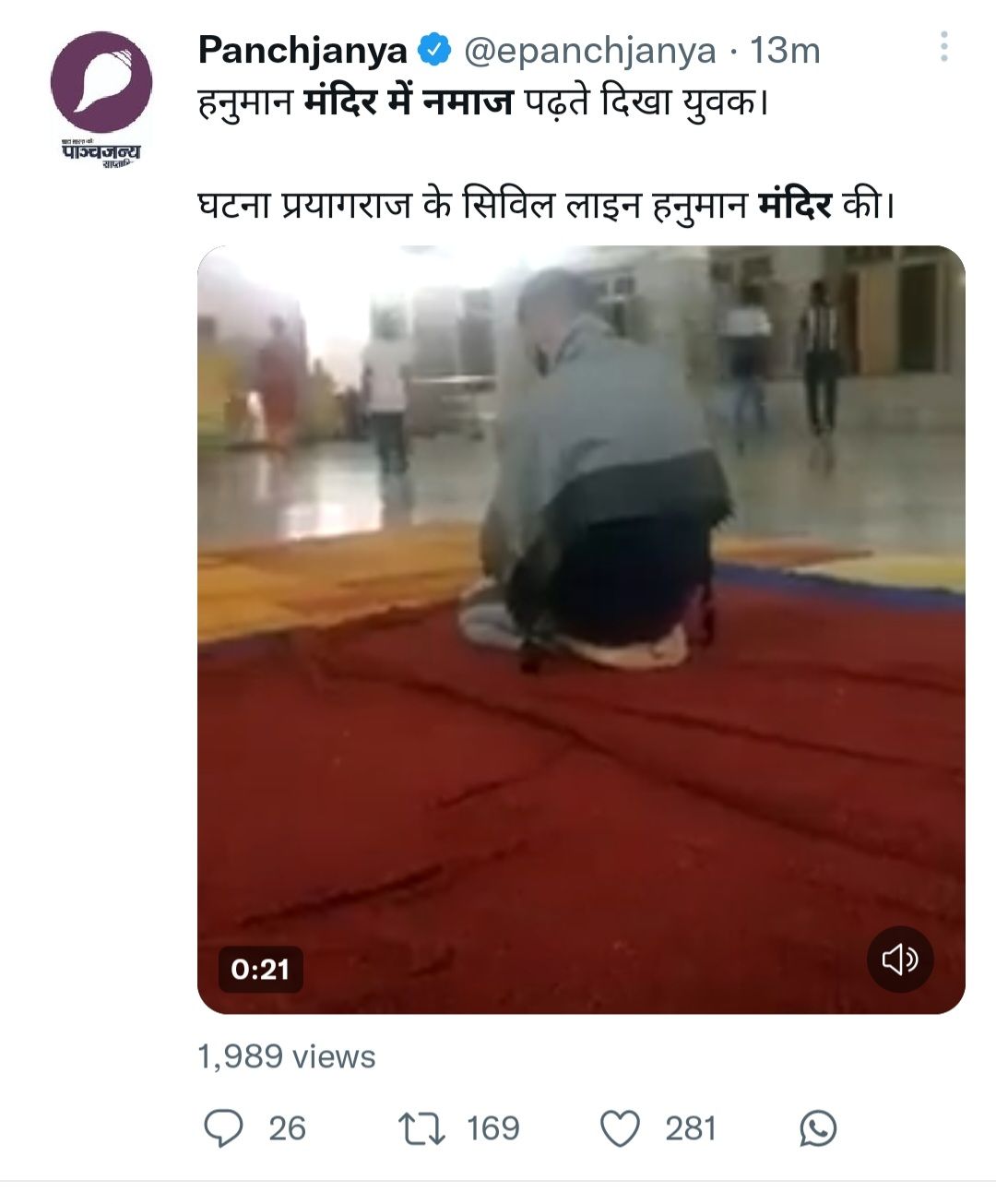 Special correspondent at Panchjanya @kashmirashwani also shared the video. The tweet, translated to English reads, " Prayagraj: A man spotted offering namaz inside the famous Civil Line Hanuman temple. The police, beginning the investigation, stated that such miscreants will be dealt with firmly."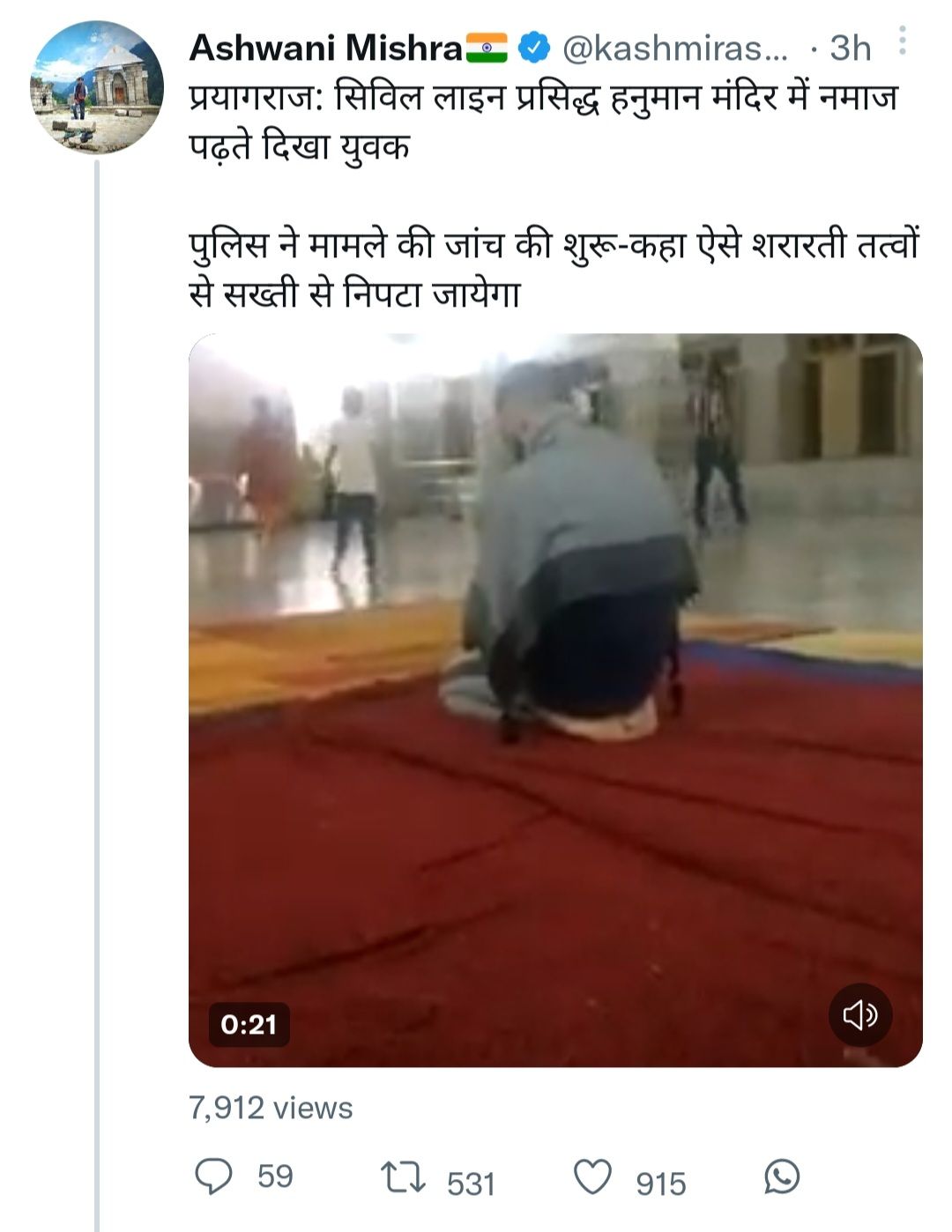 User @TheDeepak2022 posed a rhetorical question as to how long such people will keep toying with the sentiments of Hindus.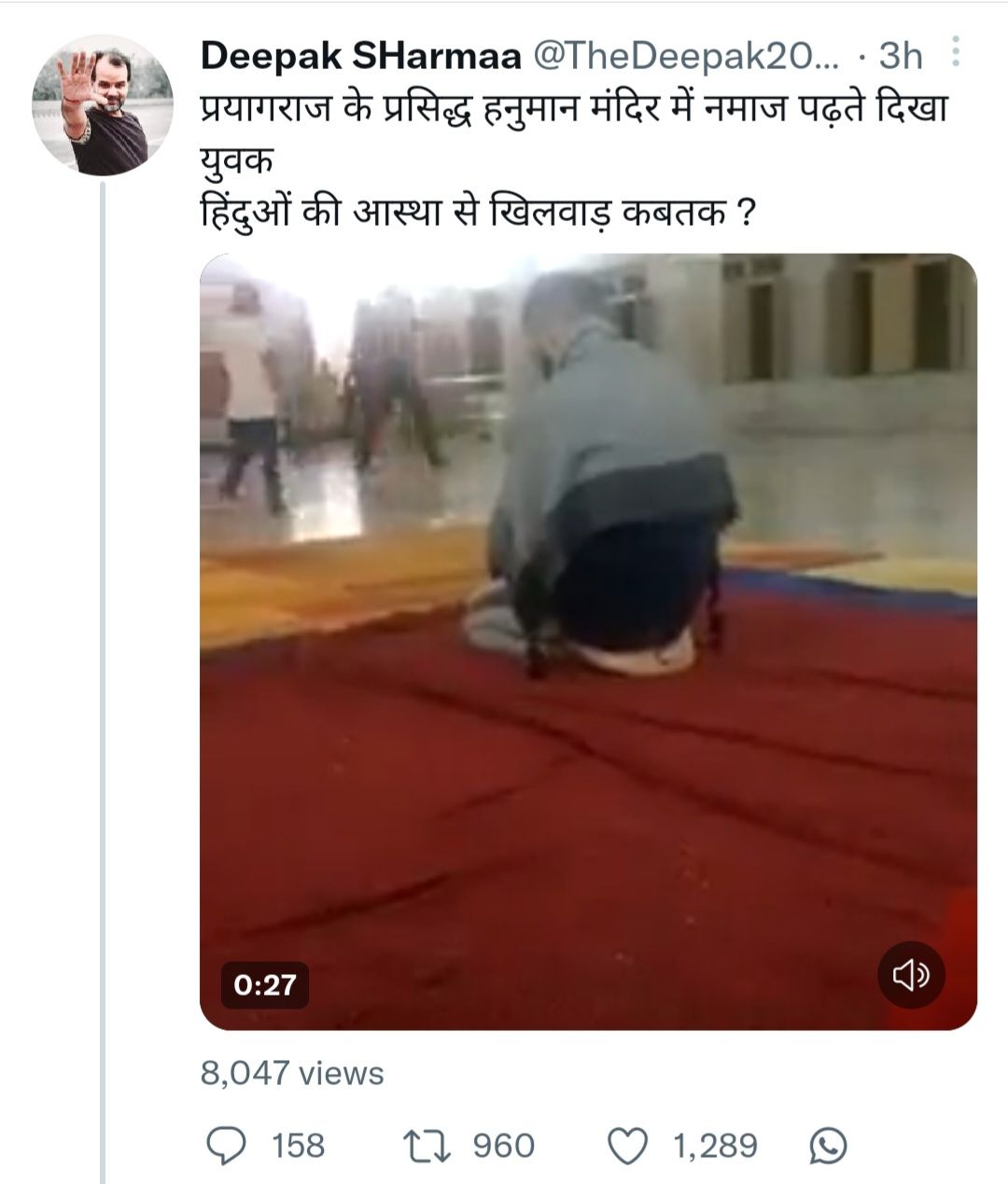 Fact-check
The official Twitter account of Prayagraj Police has identified the young man. Police have released a statement and a video clarification by the man in question. In the video, the man says he comes to the temple often. He was offering prayers while seated in 'Vajrasan', a posture commonly adopted by Hindus during yoga or during prayers. He claims that from his appearance some people misconstrued his religious identity and have given it a contentious spin.
The police have confirmed that the name of the young man is Vaibhav Tripathi and the allegations of namaz being offered inside Hanuman temple are false. The police have appealed to the public to refrain from spreading such rumours which could affect peace in society.
@Uppolice @ADGZonPrayagraj @igrangealld @CommissionerPrg @DM_PRAYAGRAJ @dgpup @ShaileshP_IPS pic.twitter.com/bQnNZHzsVT

— PRAYAGRAJ POLICE (@prayagraj_pol) September 19, 2022
Shailesh Pandey, Senior Superintendent of Police of Prayagraj, in his interaction with the media has refuted the claims of namaz being offered at the temple. He assured that strict measures will be taken against those spreading such rumours.
थाना क्षेत्र सिविल लाइन्स के हनुमान मंदिर प्रांगण के वायरल वीडियो के सम्बन्ध में वरिष्ठ पुलिस अधीक्षक @ShaileshP_IPS द्वारा दी गयी बाइट:-@Uppolice @ADGZonPrayagraj @igrangealld @dgpup @DM_PRAYAGRAJ https://t.co/v2dmB22gud pic.twitter.com/22zKoHQWtN

— PRAYAGRAJ POLICE (@prayagraj_pol) September 19, 2022
The official statement from law enforcement authorities makes it evident that the viral video and the claim shared on Twitter by RSS mouthpiece Panchjanya and its staff journalist and many others are misleading.
Donate to Alt News!
Independent journalism that speaks truth to power and is free of corporate and political control is possible only when people start contributing towards the same. Please consider donating towards this endeavour to fight fake news and misinformation.