The Ram Janmabhoomi-Babri Masjid controversy is at the heart of the Hindu-Muslim communal feud in India. The issue gained further prominence recently with the Supreme Court rejecting a plea to reconsider its 1994 judgement, and the trial being pushed to the future.
Last week, the controversy again made headlines after certain news organisations reported that "Muslim women" were supporting the cause of Ram Mandir in Ayodhya. Reporting from Meerut, Amar Ujala published an article on November 25 titled – "We swear on God, Mandir will be built there: Muslim women come forward, men's stance unclear (translated)."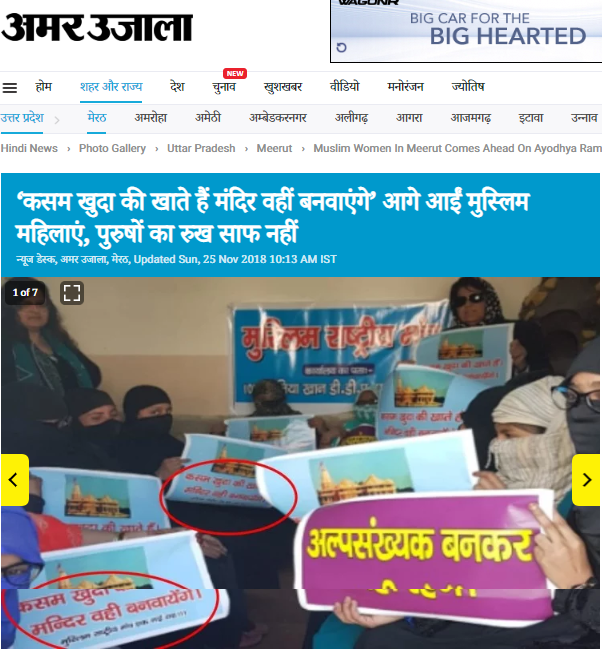 Giving the impression that members of Meerut's Muslim women community came forward in support of Ram Mandir, Amar Ujala further reported – "अयोध्या में राम मंदिर निर्माण को लेकर देश में जबरदस्त हलचल शुरू हो चुकी है। हिंदू संगठनों के साथ मुस्लिम महिलाओं ने भी राम मंदिर निर्माण को लेकर आवाज उठानी शुरू कर दी है। (There is an immense bustle in the country regarding the issue of Ram Mandir in Ayodhya. Along with Hindu organisations, Muslim women have also begun to raise their voices vis-a-vis its construction)."
Subsequently, the media outlet mentioned the names of two women spearheading the campaign – Shaheen Parvez of 'Muslim Rashtriya Manch' and Sadya Subuhi of 'Rashtriya Ekta Mission'. However, an essential aspect regarding the identity of these women (and their organisations) was omitted by Amar Ujala. 
Leaders of RSS-affiliated Muslim organisations
Both Parvez and Subuhi pioneered the 'Ram Mandir' campaign under the banner of Rashtriya Swayamsevak Sangh (RSS)-affiliated organisations. This vital information was left out in Amar Ujala's report, giving the impression that a mass of Muslim women from Meerut extended their support to the cause of Ram Mandir.
Muslim Rashtriya Manch and Rashtriya Ekta Mission have been in media reports earlier. In 2016, NDTV reported the recruitment of BJP's Sanjay Joshi, a vocal critic of PM Modi, for appeasing members of the Muslim community for the party. The news outlet said, "जोशी लखनऊ में सात जून को संघ के आनुषांगिक संगठन मुस्लिम राष्ट्रीय मंच और राष्ट्रीय एकता मिशन के बैनर तले इस्तखबाले माहे रमजानुल मुबारक कार्यक्रम में मुख्य अतिथि की हैसियत से शामिल होंगे। (Joshi was due as a guest at a Ramzan event in Lucknow organised under the banner of RSS-affiliated Muslim Rashtriya Manch and Rashtriya Ekta Mission)."
Last year, the RSS had floated a new affiliate Shri Ram Mandir Nirman Sahayog Manch (SRMNSM) to build mass support for Ram Mandir in Ayodhya. The Caravan reported earlier in October 2018 that this outfit was directly placed under the supervision of Muslim Rashtriya Manch or MRM. Senior RSS leader Indresh Kumar is associated with both these organisations. The Caravan further reported that the national co-convener of MRM said that the outfit is supported by other "like-minded" organisations and among these was the Rashtriya Ekta Mission.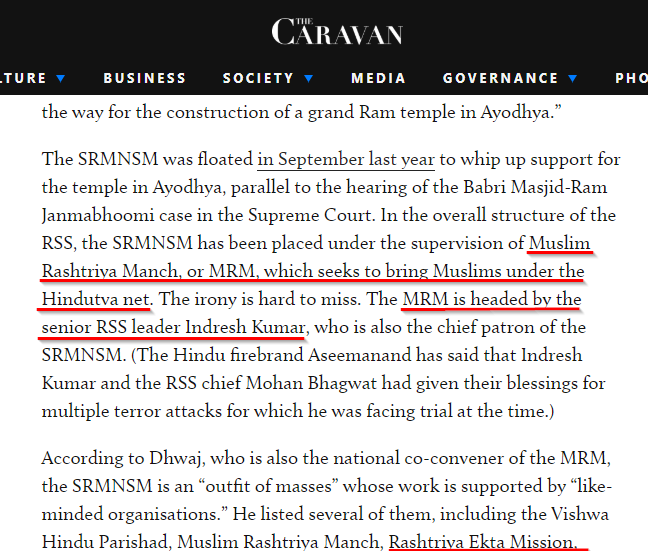 Moreover, MRM's Shaheen Parvez distinctly terms herself as "advocate BJP" on Facebook; her display picture and her photograph at the 'Ram Mandir' event are both with Kumar.

Despite the clear link, RSS had previously denied connection with the Muslim Rashtriya Manch, calling it an "independent organisation."
MuslimRashtriyaManch(MRM), organising Iftar Party, is an independent Muslim organisation to create national awareness. Dr Vaidya 2/4

— RSS (@RSSorg) June 30, 2016
However, the outfit itself mentions on its website that it is a part of RSS.

Furthermore, Kumar's continuous presence in their events and earlier media reports terming the organisation as an "RSS affiliate" point to the connection.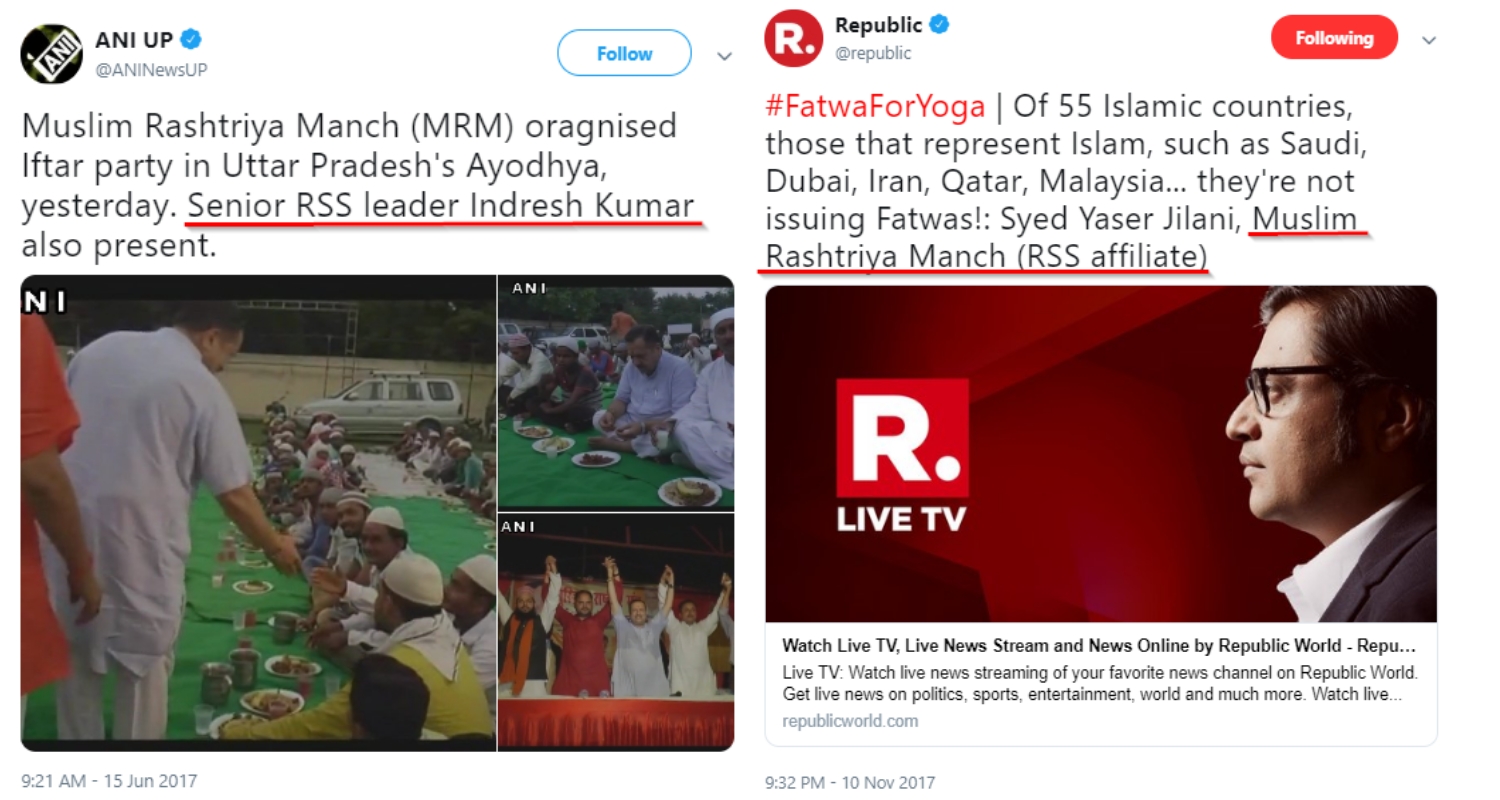 Other misleading reports
Several other media outlets also carried out misleading reports, excluding the identity of the Muslim women who took part in the 'Ram Mandir' event.
News18 UP tweeted as 'breaking news' – "Meerut: Big statement by Muslim women on the Ram Mandir construction issue. Swear on God, Mandir will be built there. Everyone's faith is attached with Shri Ram's birthplace and Muslims have nothing to do with Babri Masjid. Even Muslims were enslaved by Babur (translated)."
#BREAKING
मेरठ- राम मंदिर निर्माण के मुद्दे पर मुस्लिम महिलाओं का बड़ा बयान. कसम खुदा की खाते हैं मंदिर वहीं बनाएंगे. श्री राम जन्मभूमि में सभी की आस्था है बाबरी मस्जिद से मुस्लिमों का कोई लेना देना नही. बाबर ने मुस्लमानों को भी गुलाम बनाया था.@myogiadityanath @narendramodi

— News18 Uttar Pradesh (@News18UP) November 25, 2018
Similarly, Patrika also carried out a misleading report titled – "Muslim women who provide religious education took such an oath regarding Ram Mandir that everyone will be stunned, watch video (translated)." Even though this article mentioned that the event was held was 'Rashtriya Muslim Manch', it was devoid of its affiliation to the RSS.
Citing Patrika as the source, Catch News also carried out an erroneous story titled – "Amid Dharam Sabha in Ayodhya, Muslim women pledge open support for Ram Mandir, say 'Kasam Khuda ki khaate hai, mandir wahin banayenge."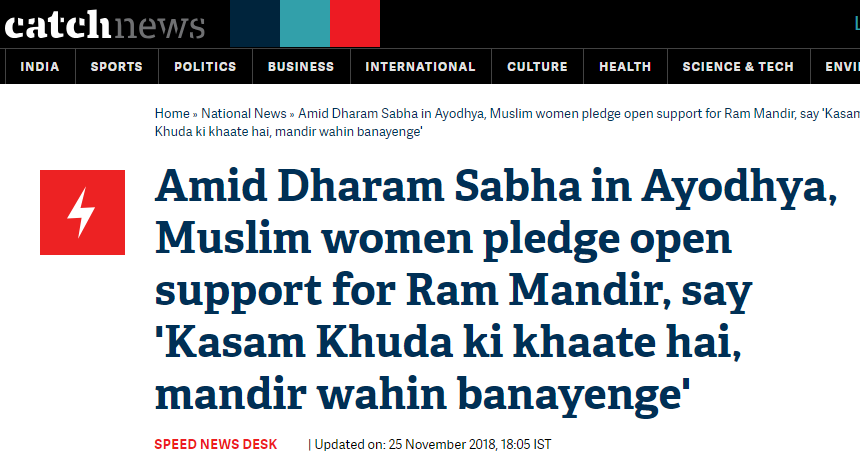 However, the outlet included later in the article that the event was organised by RSS and Vishwa Hindu Parishad.

OpIndia also joined the bandwagon of misleading reportage. With its report titled – "'Kasam Khuda ki khaate hai, mandir wahin banayenge', Muslim women pledge support for Ram Mandir" – the outlet gave the impression that an excess of Muslim women backed the cause of the temple. Moreover, not only did OpIndia omit the RSS connection, the image used by the outlet was that of Nazneen Ansari, leader of a separate Varanasi-based RSS offset Muslim Mahila Foundation (MMF). Alt News had reported about MMF in an earlier article.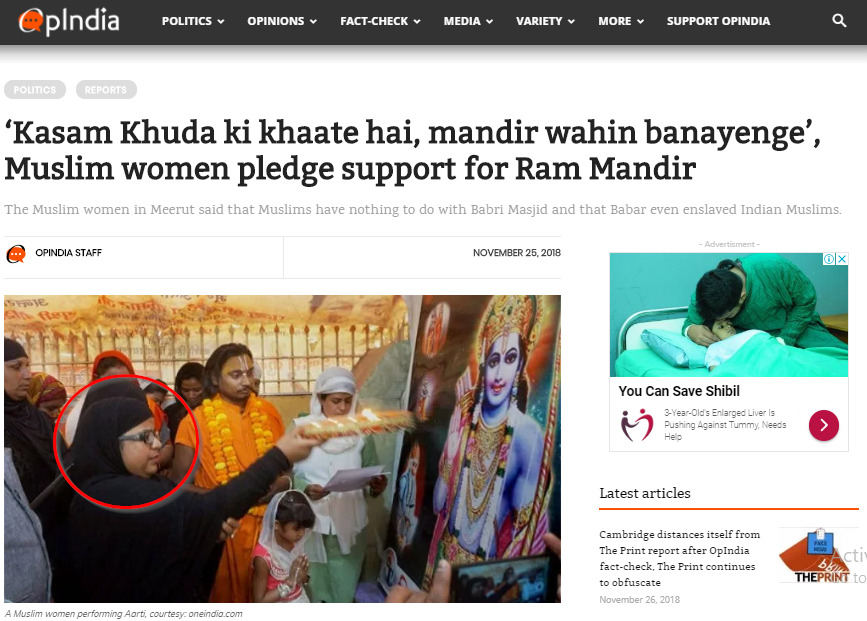 We have often observed in the past that RSS-affiliated Muslim organisations are reported as "Muslim women" or "Muslims" espousing Hindu causes or rituals. For instance, ANI and News18 had in June misreported members of an RSS affiliate as "Muslims in Lucknow" celebrating Bakrid by cutting a cake. The recent example only adds to how misleading reportage gives readers a wrong impression that members of the Muslim community are backing the construction of Ram Mandir in Ayodhya.
Donate to Alt News!
Independent journalism that speaks truth to power and is free of corporate and political control is possible only when people start contributing towards the same. Please consider donating towards this endeavour to fight fake news and misinformation.To make an instant donation, click on the "Donate Now" button above. For information regarding donation via Bank Transfer/Cheque/DD, click here.