On August 28, India defeated Pakistan by five wickets in the 2022 Asia Cup. Against this backdrop, media channels aired a video of a group of young men destroying a TV set on the street, connecting it to this recent match. Media outlets claimed that the video featured Pakistani fans' reaction after the team lost to India in the Asia Cup.
ABP News aired the visuals during its 'Bharat Ki Baat' program on August 29, 2022, at 7:30 PM. Describing it as a recent incident, the channel claimed that fans were smashing a television set over Pakistan's loss against India in the 2022 Asia Cup. (Archived link)
Times Now Navbharat also made a similar claim while airing this video. (Archived link)
India TV also ran the viral clip as the aftermath of India's victory against Pakistan in the 2022 Asia Cup. (Archived link)
Ind Vs Pak: पाकिस्तान में टीवी तोड़ने का सिलसिला जारी है..!

कल के महामुकाबले में भारत ने पाकिस्तान को पांच विकेट से हराया था, जिसके बाद पाकिस्तान से टीवी तोड़ने के वीडियो सामने आ रहे हैं..#INDvsPAK #India #Pakistan #PAKvsIND pic.twitter.com/UQWWKse59n

— India TV (@indiatvnews) August 29, 2022
Several other users also amplified the video as recent.
Fact-check
Due to the poor quality of the video, we suspected that it was likely very old. Alt News performed a keyword search on YouTube to find out whether the video was authentic. We came across the full clip uploaded on YouTube on June 6, 2019. This makes it evident that this incident could not have occurred after the recent match.
In addition, the video features a sound byte from one of the Pakistani fans who smashed the TV. He states, "They didn't play well against Afghanistan either. We kept losing to India till today, and now to a weak team like Bangladesh. We are deeply sorry for this." In other words, it is evident that this is a video of Pakistani cricket fans breaking TVs in anger after their team's loss to Bangladesh, and not India.
Alt News also performed a search on Facebook to find more information on this video. This led us to a report by Pakistani news channel ARY News dated September 28, 2018, carrying the video. Here, while talking to the anchor, the reporter says that fans destroyed the TV after their team lost the match to Bangladesh.
Pakistani news channel Samaa TV also aired the video on September 27, 2018, on Facebook.
پاکستان کی شکست پر شائقین کرکٹ کو غصہ آگیا، ٹی وی ہی توڑ ڈالا
https://bit.ly/2N5VdK3

Posted by Samaa TV on Thursday, 27 September 2018
It is worth noting that on September 26, 2018, the Bangladesh and Pakistan cricket teams went head to head during the 2018 Asia Cup with the former defeating the latter by 37 runs.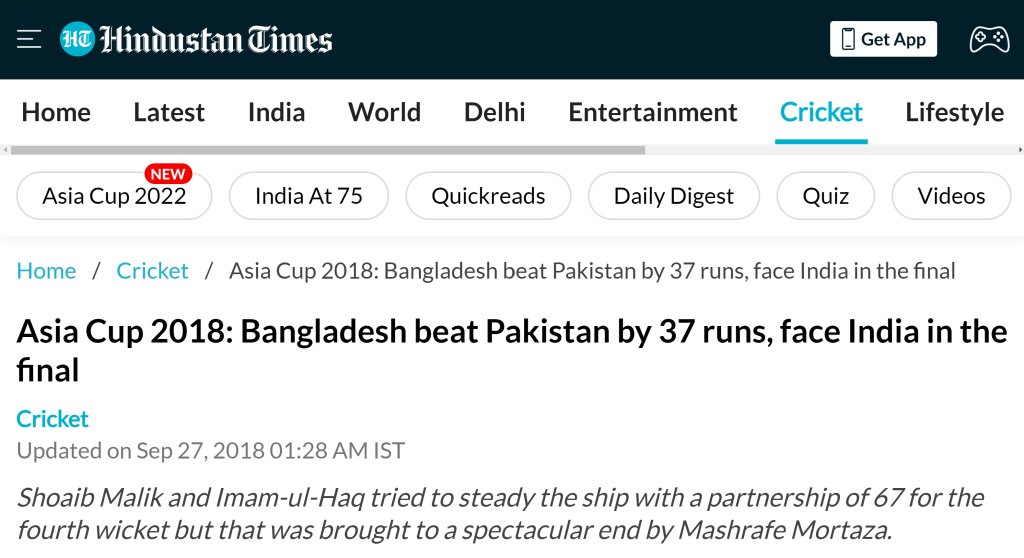 To sum it up, media channels aired a 2018 video taken after the Pakistan-Bangladesh cricket match, in which Pakistani cricket fans destroyed a TV set in anger due to their team's loss to Bangladesh as a video of their reaction after a recent Asia Cup 2022 match.
Donate to Alt News!
Independent journalism that speaks truth to power and is free of corporate and political control is possible only when people start contributing towards the same. Please consider donating towards this endeavour to fight fake news and misinformation.