Actor Deepika Padukone has become the cause célèbre after diverting mainstream media's attention from Rhea Chakraborty in the Bollywood 'drug cartel' probe. In a similar WhatsApp chat 'leak', Padukone was found allegedly talking about procuring drugs. The actor was summoned by the Narcotics Control Bureau (NCB) following which Republic published an 'exclusive' report claiming her husband Ranveer Singh requested the NCB to let him join Padukone during interrogation as she suffers from 'anxiety'.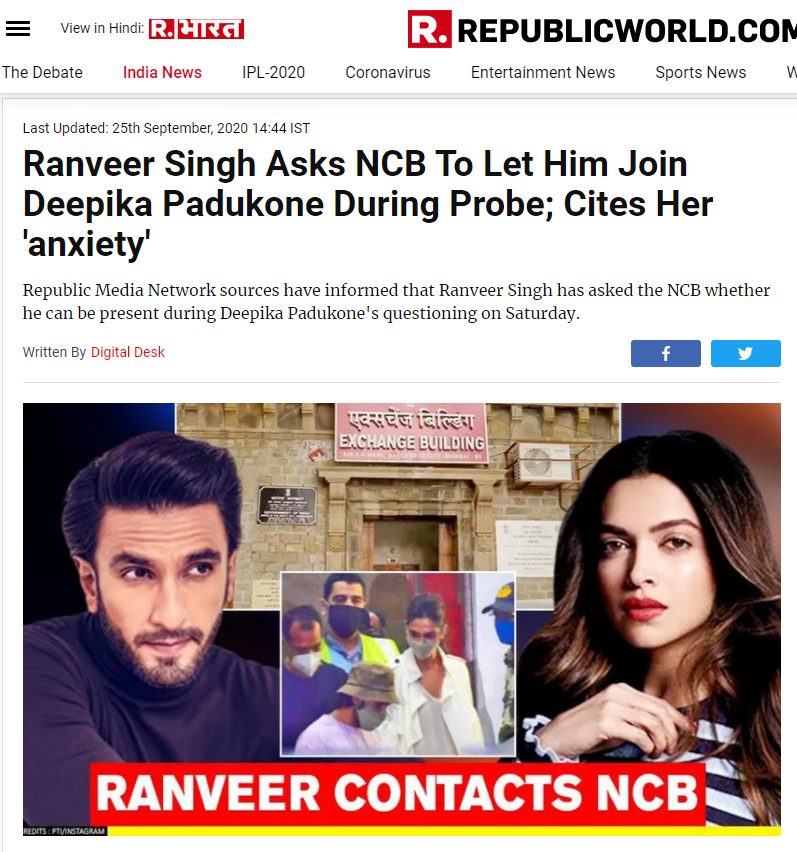 "In his application to the NCB, Ranveer Singh has stated that Deepika Padukone sometimes suffers from anxiety and gets panic attacks, and hence he should be granted permission to be with her, top sources said. The actor has stated that he is a 'law-abiding citizen' and knows that he cannot be present at the time of Deepika Padukone's questioning but is understood to have requested that he be allowed inside the NCB office, sources confirmed," read Republic's report. The outlet has taken down its tweet on the same 'news'.
Several media organisations led by the channel also claimed Singh sought permission from the NCB to accompany his wife during interrogation due to her 'anxiety'. ABP News, Hindustan Times and DNA were among these outlets.
This slideshow requires JavaScript.
Pinkvilla, a prominent website reporting on Bollywood, and right-wing propaganda website OpIndia, also jumped the gun and published the story.
This slideshow requires JavaScript.
The 'news' expectedly roused misogynistic comments mocking an independent woman for requiring her husband's 'assistance'.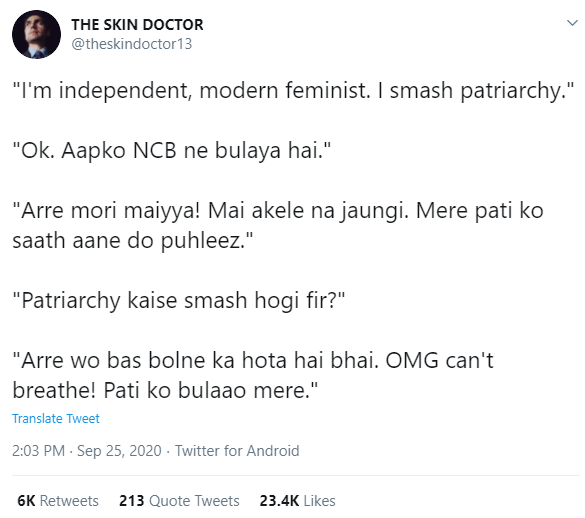 Media misreport
Republic's story did not carry any comments from the NCB but was entirely based on the channel's own 'sources'. Following its publication, the Narcotics Bureau denied receiving any written or verbal request from Ranveer Singh or Deepika Padukone to allow him to join the latter's interrogation.
NCB officials told India Today, "There are questions whether Ranveer Singh is joining the investigation with Deepika Padukone. We confirm that we have not received any such request from any summoned person. The last email received from the concerned summoned person is only regarding joining the investigation."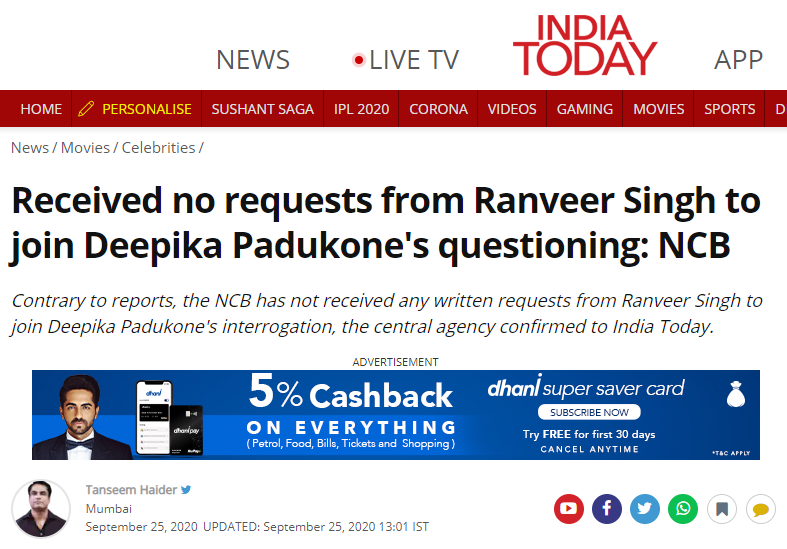 Hindustan Times later updated its report with the NCB's clarification, however, did not acknowledge its error. OpIndia added an update at the end sans any correction to the story. None of the other outlets made any changes as of this writing.
The death of actor Sushant Singh Rajput has given rise to a media circus where more often than not developments are reported without verification. This includes the media falling for a plethora of fake accounts of the late actor's family members in the race to bring 'exclusive' updates to viewers.
Donate to Alt News!
Independent journalism that speaks truth to power and is free of corporate and political control is possible only when people start contributing towards the same. Please consider donating towards this endeavour to fight fake news and misinformation.