The Taliban's takeover of Afghanistan is a blow to women's rights in the country. Many women have taken to the streets to protest against the hard-line regime. Afghan women leaders have also claimed threat to life.
However, the rise of the Taliban to power has also given rise to misinformation.
On October 20, several media outlets reported that Mahjabin Hakimi, an Afghan women's national youth volleyball player, was beheaded by the extremist organisation. Among the Indian news outlets that carried the alleged story were IANS, The Times of India, Zee News, The Tribune, News18, ABP Live, India Today, India Times, Inshorts, India.com, North East Now, DNA, The Bridge, Asianet News and One India Kannada.
Telugu news website Sakshi, Tamil news website Daily Thanthi, The Indian Express group's Marathi language news website Loksatta and Lokmat, Bengali news website Sangbad Pratidin, Latestly Bangla, Kannada language news platforms News BTV, Udaya Vani, Punjabi language news website Punja Kesari, Kanak News, Odia language website Kanak News, RSS mouthpiece Organiser and pro-BJP propaganda outlet OpIndia also reported the same.
This slideshow requires JavaScript.
Many of these reports sourced the news to Independent Persian that claimed the coach of the volleyball team (addressed by the pseudonym Soraya Afzali) said that Mahjabin was killed likely in early October but the incident remains under the covers because her family has received threats.
This was also claimed by multiple Afghanistan-based journalists including Massoud Hossaini (cited Independent) and Nadia Nayaab, a journalist at Afghanistan's ToloTV. France-based Mostafa Hazara, journalist and Secretary-General of Afghanistan Culture Foundation, also made the same claim.
This slideshow requires JavaScript.
Several Indian Twitter users shared the news reports, including Bollywood actor Raveena Tandon (cited TOI), Madhu Purnima Kishwar (cited India Today), Israeli columnist Emily Schrader (cited Independent), Vivek Ranjan Agnihotri (cited India Today) and UK-based Dr Jessica Taylor (cited India Times). Some Twitter users shared the claim without attributing it to any reports such as @abdullah_0mar and @TrulyMonica. Similarly, many Facebook users also made this claim.
This slideshow requires JavaScript.
Media misreports
Several social media users questioned media reports about Mahjabin Hakimi's death. They pointed that she died in the first week of August before the Taliban had taken control of Kabul.
Journalist Deepa Parent wrote that she spoke with Hakimi's family and they said that the news of her death is "misleading".
Guys, spoke to a family member of Ms. Hakimi and have deleted the tweets about her death. Please consider the family's request and delete them too. The news about the cause of her death is misleading. Please do pray for her peace. RIP

— Deepa. K. Parent (@DeepaParent) October 19, 2021

Alt News contacted an Afghanistan-based journalist who informed, "The Indian media reports about Mahjabin Hakimi's death are false. Nonetheless, the circumstances of death are complicated. As per her family, she was killed by her fiance's family – a case of honour killing. While Mahjabin's in-laws claim that the death was caused by suicide." The journalist said that Mahjabin hailed from Toghai village in Jagjoori district of Ghazni province but she was living in Kabul.
Among those who claimed that Mahjabin's death was caused by suicide include former head of Tolo News Miraqa Popal, Afghan women's rights activist Wazhma Frogh and Zaki Daryabi, a reporter at Etilaatroz. Popal wrote that Mahjabin died 10 days prior to the Taliban's takeover of Kabul. Readers should note that the Taliban took over Kabul on August 15.
This slideshow requires JavaScript.
However, Twitter user Raihana Hashimi, who claims to have known Mahjabin personally, replied to Hossaini and said, "She was a member of Afghan National Army Commando and was killed by her in-laws 10 days before the Taliban [took over Kabul]."
She was a member of Afghan National Army Commando and was killed by her in laws 10 days before The Taliban… I knew her personally

— Raihana Hashimi (@RaihanaHashimi) October 20, 2021
Alt News spoke with an individual who coached Mahjabin in 2015. The coach said, "In the year 2015, she was a part of my team. This team played inter-city games in a non-competitive league. In 2016, I left Afghanistan. Until then she had not played for the national team." Alt News reached to Afghanistan Women's Volleyball Association. The article will be updated if they respond.
Family's statement
Alt News located the Facebook profile of Skandar Hakimi, Mahjabin's brother. On August 7, Skandar changed his display picture to a black image which received over 100 comments offering condolences written in the Persian language. One of the comments read, "My heartfelt condolences on the death of your dear sister." On August 9, he posted an image of Mahjabin in military gear along with the caption, "I will always be proud of you dear sister." Alt News has contacted Skandar and this article will be updated if he responds.
After rummaging Skandar's profile, Alt News managed to connect with a family member of Mahjabin over a telephonic call. Canada-based Afghanistan activist Farishta Barez helped us communicate by interpreting Dari Persian, one of the prominent dialects in Afghanistan. The relative also confirmed that Skandar is Mahjabin's brother.
The family member informed that Mahjabin was engaged to one Majid Khan in 2020. Since then she was staying in her fiancé's home in a joint family setup in Kabul. Mahjabin was due to get married shortly prior to her untimely death. The relative further revealed that Mahjabin had a scholarship from the US and this became a cause of conflict with her in-laws. Alt News has reached out to Mahjabin's fiancé. This article will be updated with his statement in case he responds.
"She was not killed by the Taliban in October. Mahjabin's death occurred on August 6 and her body was found in her fiancé's bathroom in Kabul. He claimed Mahjabin suffocated herself to death. However, our family suspects foul play by her in-laws."
The relative shared an image of Mahjabin tombstone where the inscription gives her name [highlighted in blue], the date of her death as per the Persian calendar: 15-5-1400 [highlighted in green], name of her father: Mohammad Sarwar [highlighted in pink], and her age: 25 years [highligted in red]. The date of death according to the Persian calendar converts to August 6 as per the English calendar. This tombstone is in Kabul, informed the relative.
The first three sentences of the grave state, as translated by the relative, "Tomb of the late Mahjabin Hakimi daughter of Mohammad Sarwar Hakimi who joined the mercy of God on Friday night, 5/15/1400 at the age of 25."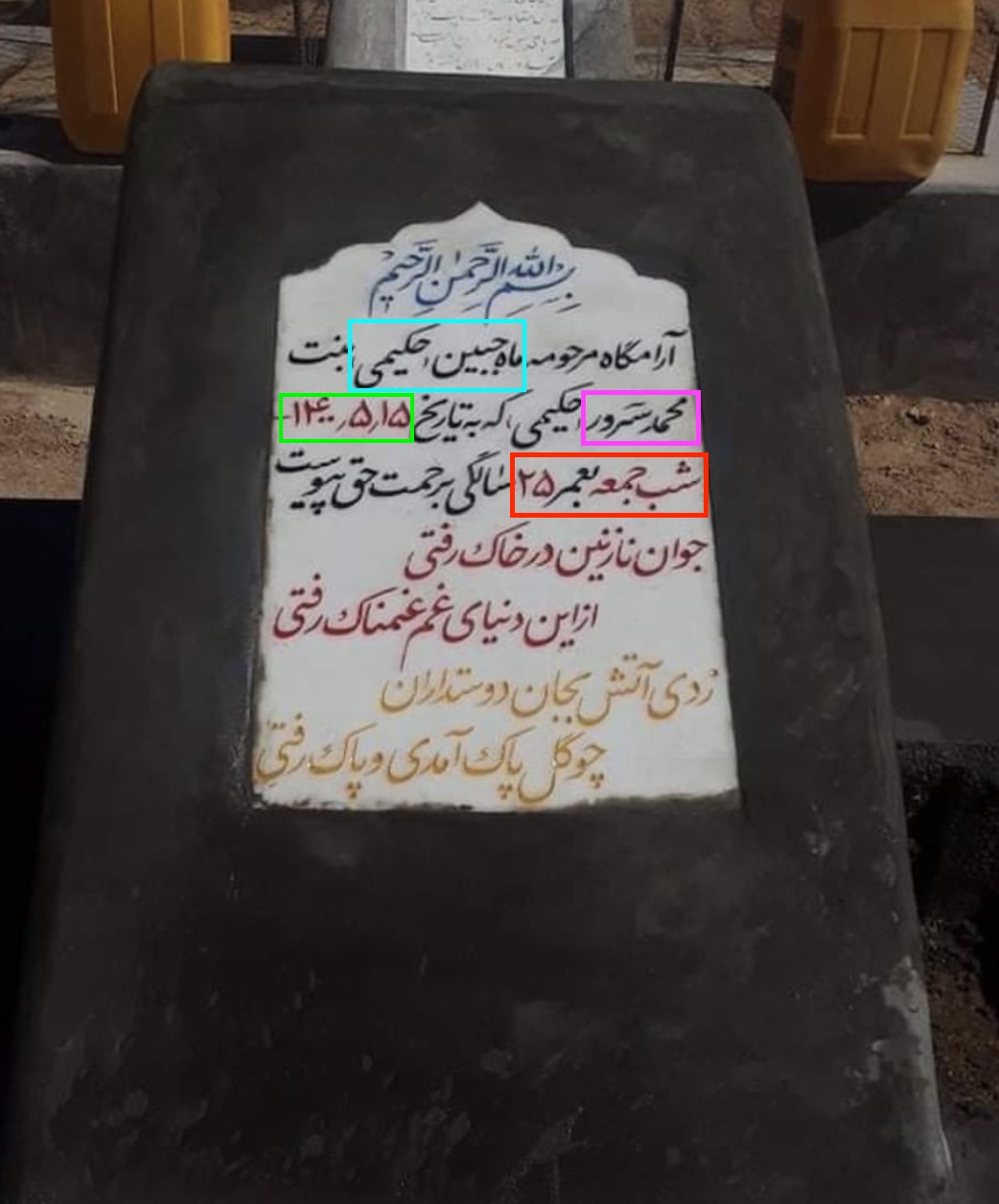 Facebook user Zarmina Alizada, who appears to have been friends with Mahjabin, had posted a condolence message on August 7 along with the identical date of death, 15-5-1400.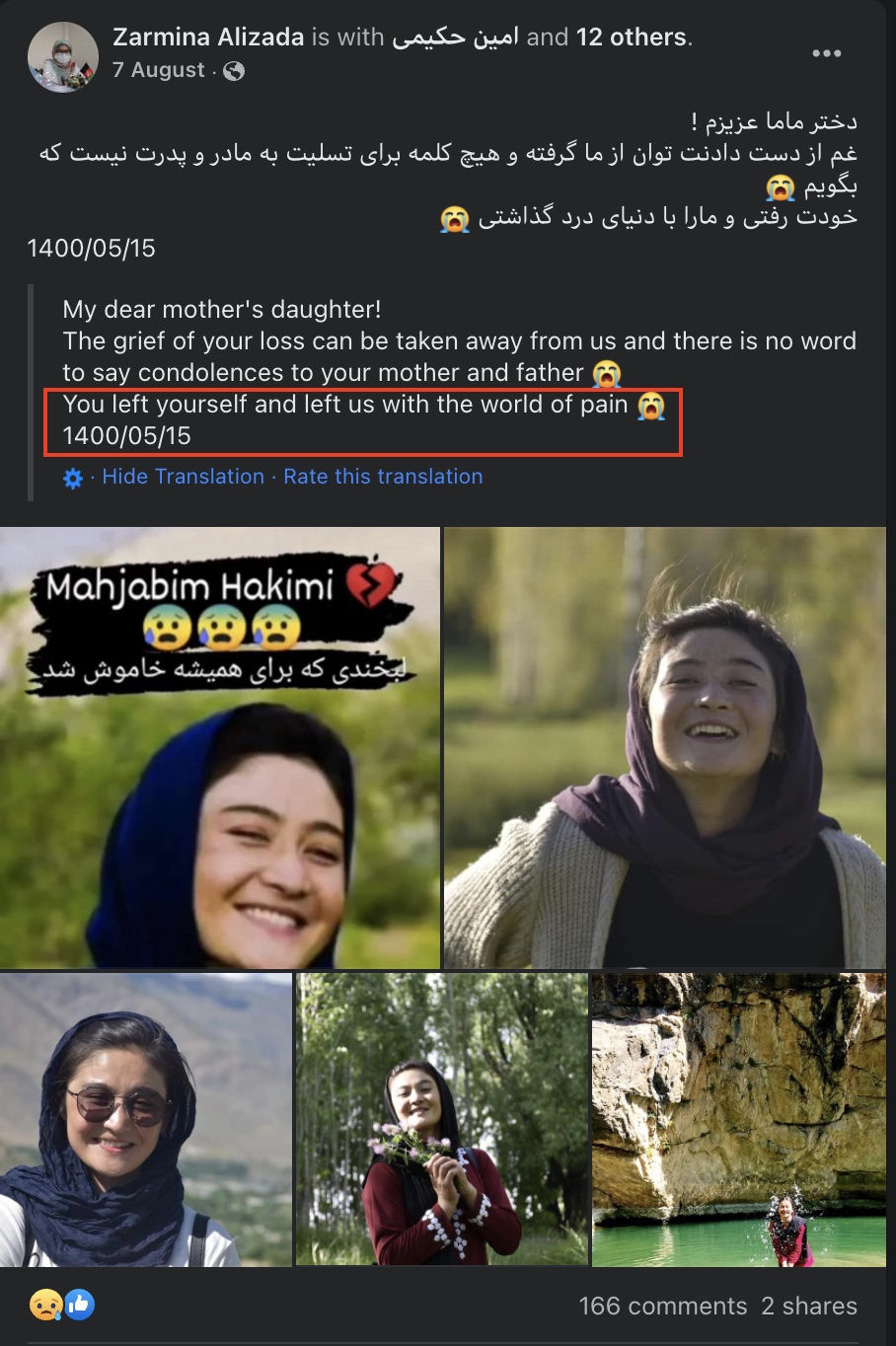 Two days later, on August 9, Alizada made a post after returning from Mahjabin's funeral.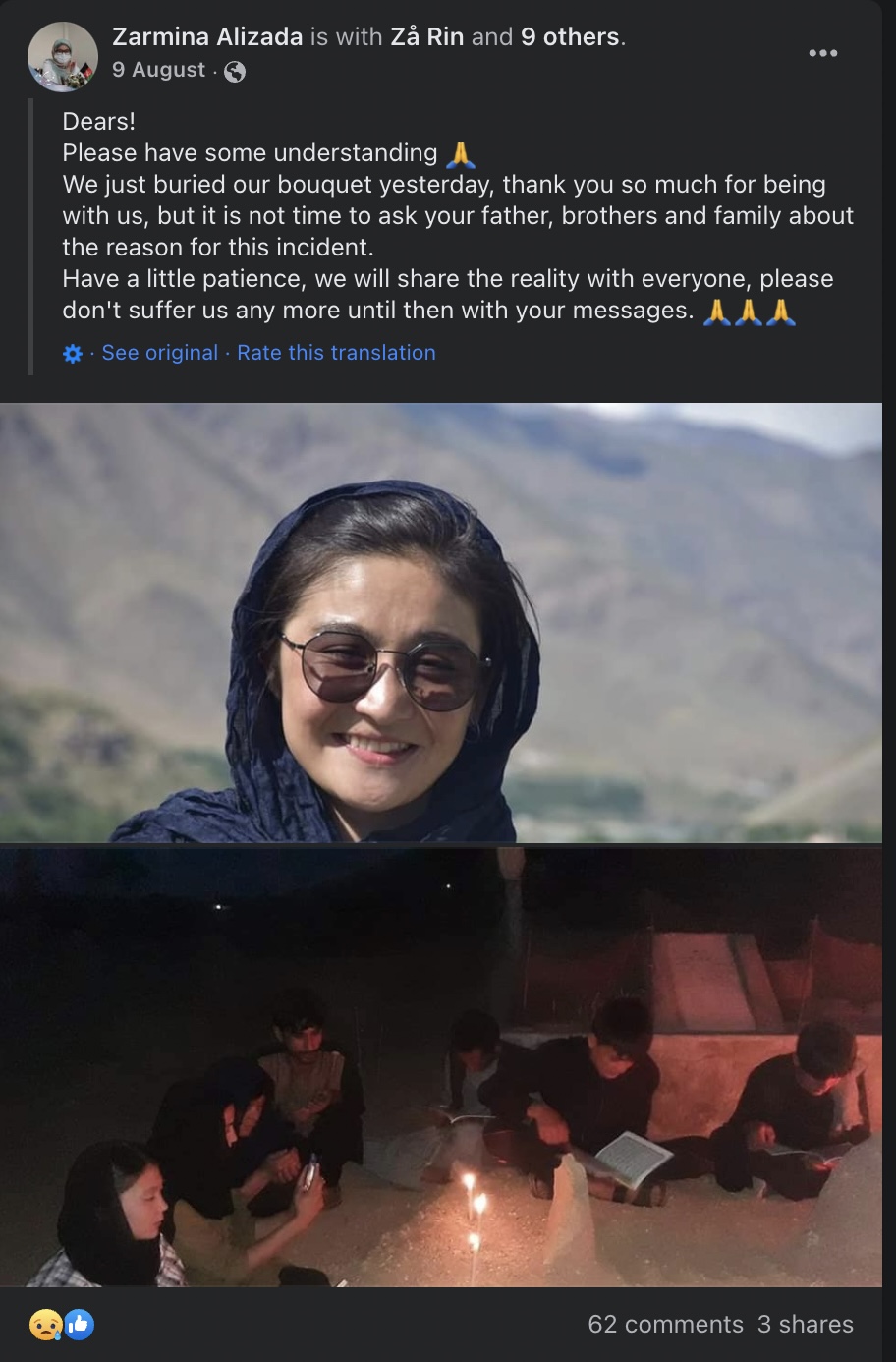 Speaking about Mahjabin, the relative said, "Mahjabin was a role model for both young girls and women. Just like her father, Md Sarwar Hakimi, she was interested in sports like volleyball and basketball. Since 2015, Mahjabin was working at the Ministry of Interior Affairs," and shared a screenshot of a Facebook post by Sarwar about his daughter's death. We cannot view the post because it is not public. But Sarwar shared a picture of Mahjabin's dead body. She has a visible red mark on her throat. Alt News reached out to her father on WhatsApp and the article will be updated if he responds.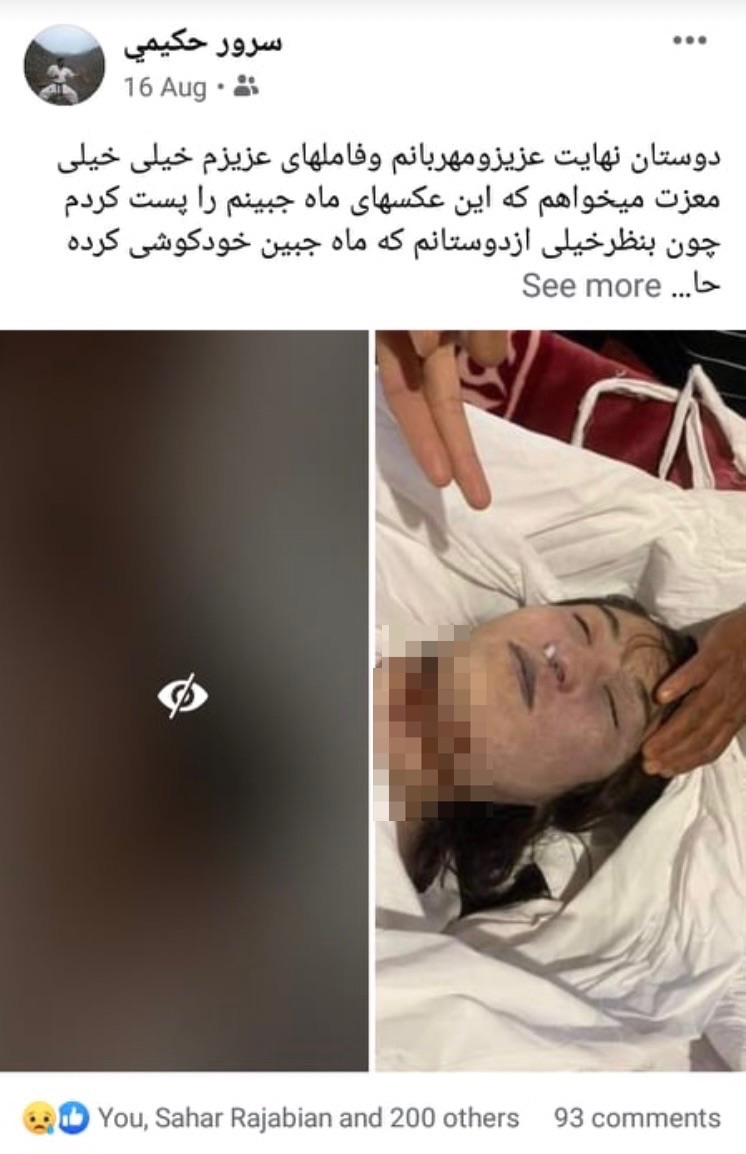 Below are a few pictures of Mahjabin that the relative shared with us.
This slideshow requires JavaScript.
We also gained access to an image of her remembrance ceremony invitation card made by her family. The ceremony took place on August 22. Mahjabin photo on the card matches one of the pictures shared by her relative.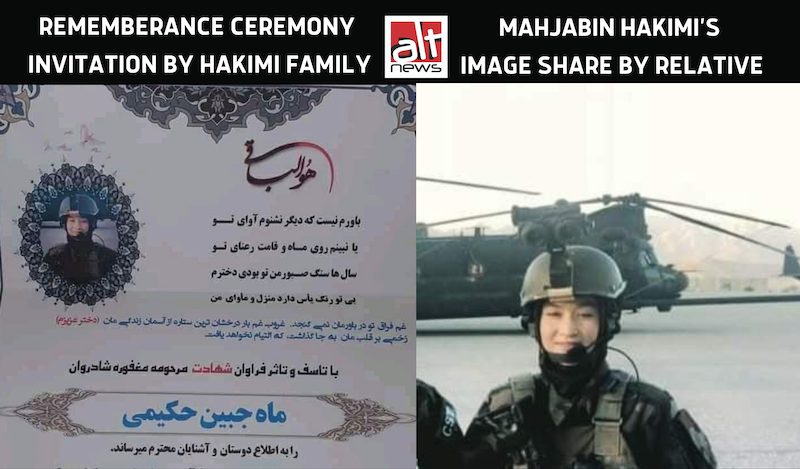 Alt News has thus, found in its investigation that Mahjabin Hakimi's death was either caused by suicide or her in-laws played a role in her death, as claimed by her family. The family doesn't believe the Taliban was involved. We cannot verify the cause or circumstances of her death but we can conclude that she died on August 6 and not in October as reported by Independent Persian and several Indian media outlets. Furthermore, the photograph of her dead body shared by her father proves that she wasn't beheaded.
Donate to Alt News!
Independent journalism that speaks truth to power and is free of corporate and political control is possible only when people start contributing towards the same. Please consider donating towards this endeavour to fight fake news and misinformation.