Rajya Sabha member and former environment minister Prakash Javadekar tweeted a video of a train carrying coal and claimed that a 4-km-long rack train with four engines is running on a "war footing" to supply coal to power plants.
4 km long Rack train with 4 engines being run on war footing basis to supply coal to power plants.
This is #Modigovt & @narendramodi ji's #NewIndia !@PMOIndia @RailMinIndia @CoalMinistry @BJP4India @BJP4Maharashtra pic.twitter.com/zx3S1u2fw6

— Prakash Javadekar (@PrakashJavdekar) October 20, 2021
The video was shared against the backdrop of thermal power plants facing a severe coal shortage, "with coal stocks having come down to an average of four days of fuel across an increasing number of thermal stations". The government has received flak for the crisis amid reports that Coal India had warned the adviser to the federal power ministry in February of an impending fuel shortage.
News18 published a story based on Javadekar's tweet. "The Indian Railways, for the first time, has run a four-km-long train with four engines to supply coal to power plants. The urgency to maintain supply via special trains comes in the middle of coal scarcity reported from across the country," the outlet reported.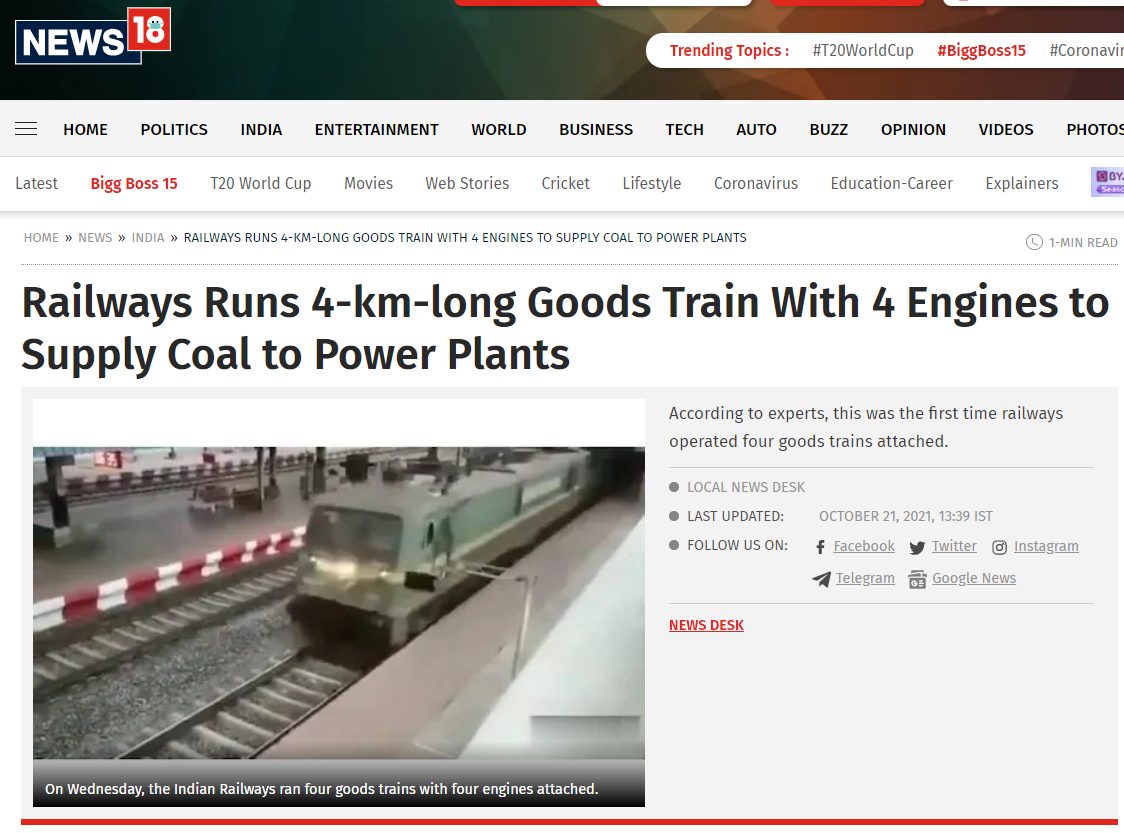 The video was shared with the same claim by BJP Delhi Gen Secy Kuljeet Singh Chahal and BJP UP spokesperson Rajesh Chaudhary.
4 km long rack train with 4 engines being run on war footing bases to supply coal to power plants .
मोदी जी हार कभी नहीं मानेंगे । @narendramodi ji pic.twitter.com/jbb8PnynKv

— Kuljeet Singh Chahal 🇮🇳 (@kuljeetschahal) October 20, 2021
Actor Vindu Dara Singh also tweeted the video.
Among the pro-BJP handles that garnered thousands of views for the clip were @RenukaJain6, @PAlearner and @KharkhariAmit.
The video has also been shared on Facebook. The post below, made by Funclovita, has close to 60,000 views as of this writing.
4 km long Rack train with 4 engines being run on war footing basis to supply coal to power plants.
Indian railway 🔥

Posted by Funclovita on Wednesday, 20 October 2021
Eight-month-old video
IRTS Association had tweeted the video earlier on January 6, 2021, identifying the train as 'Vasuki'. An Alt News reader emailed us the tweet, informing us about Prakash Javadekar's misleading tweet.
VASUKI, 4 loaded goods train connected for the first time in Korba, Bilaspur Division.

Carrying 16000 tonn of coal equivalent to 500 trucks, it ran from Korba to Bhilai.

Commendable job done by the entire Operations team led by Shri Ravish Kumar Singh #IRTS#IRTSMovingIndia pic.twitter.com/08RUn1F6aj

— IRTS Association (@IRTSassociation) January 6, 2021
This was also reported in the media. According to an article in Nai Dunia published on January 7, Vasuki completed the first run of 280 km between Korba to Bhilai, setting a new record for the Railways. The train had four coal-loaded rakes that distributed coal to different power plants. One of the rakes was sent to Mauda NTPC near Jabalpur under Nagpur Division, two were sent to TPHS and ESWS in Gujarat and the remaining was sent to BRD Dahanu Road in Maharashtra.
A longer version of the video was later tweeted on the same day by the railway ministry but this identified the train as 'Super Sheshnag'.
Another feather in its cap:

After successful running of 'SHESHNAG' now, Bilaspur Division of SECR operated 'SUPER SHESHNAG'- First ever long haul of 4 loaded trains from Korba with total load of 20906 tonnes. pic.twitter.com/fjihbjzmNM

— Ministry of Railways (@RailMinIndia) January 6, 2021
The video tweeted by Prakash Javadekar is exactly the same as the January videos, and if one notices carefully, the time on the platform clock (6:35) is also identical.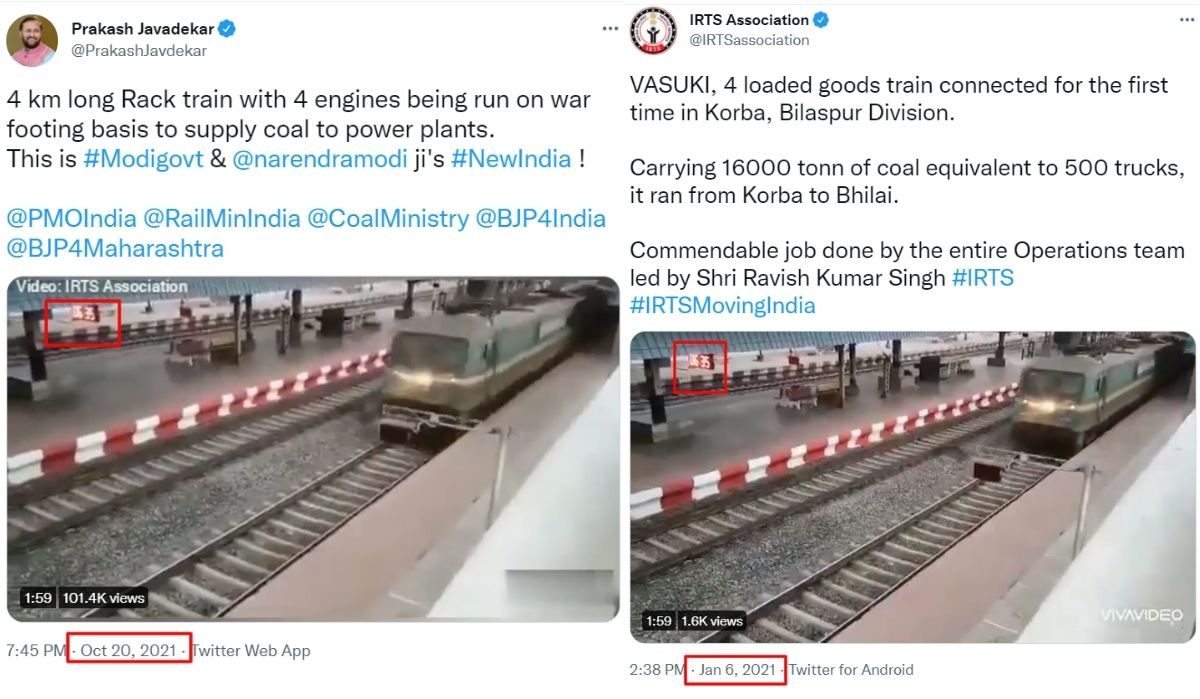 An eight-month-old video of a freight train carrying coal was tweeted by BJP leader Prakash Javadekar as recent to portray that the government is supplying coal to power plants amid the ongoing shortage.
Donate to Alt News!
Independent journalism that speaks truth to power and is free of corporate and political control is possible only when people start contributing towards the same. Please consider donating towards this endeavour to fight fake news and misinformation.