An image of a billboard showing Prime Minister Narendra Modi as the most popular world leader is being shared on social media. Some users claim that the billboard is a recent installation in New Delhi, where the G20 meeting is to be held on September 9 and 10. Several journalists and politicians have shared the image stating that it is disrespectful toward world leaders who are coming to India for the summit.
Congress MP Shashi Tharoor shared the image on September 7 with a caption in Hindi that can be translated as: "Someone should explain to them that for us Indians it's "Atithi Devo Bhavah" and not the sycophancy of any BJP leader. Keep in mind, that this is not a poster of the big engine with a small engine. This is an insult to our guests." The Congress leader later deleted his tweet.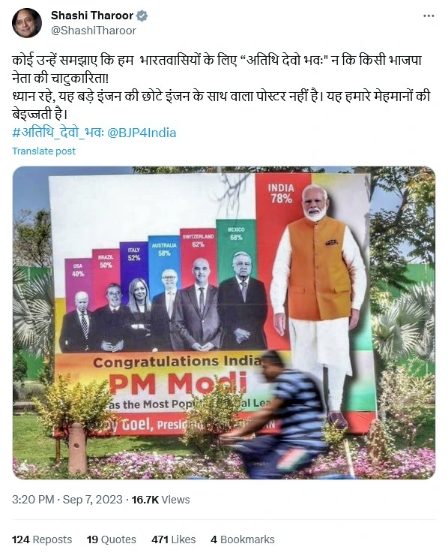 Senior advocate Pradeep Rai also shared the same image on X (formerly Twitter) and journalist Rohini Singh quote-tweeted him with the caption: "There is a complete arrangement to humiliate the guests".
This slideshow requires JavaScript.
American daily newspaper, Washington Post also carried the image in question in a recent report of theirs published on September 7.
This slideshow requires JavaScript.
Fact Check
We ran a reverse image search on the image of the billboard and that led us to a report by the news outlet The Christian Science Monitor on April 6, 2023. Hence, it is clear that the image or the billboard isn't recent as claimed by social media users.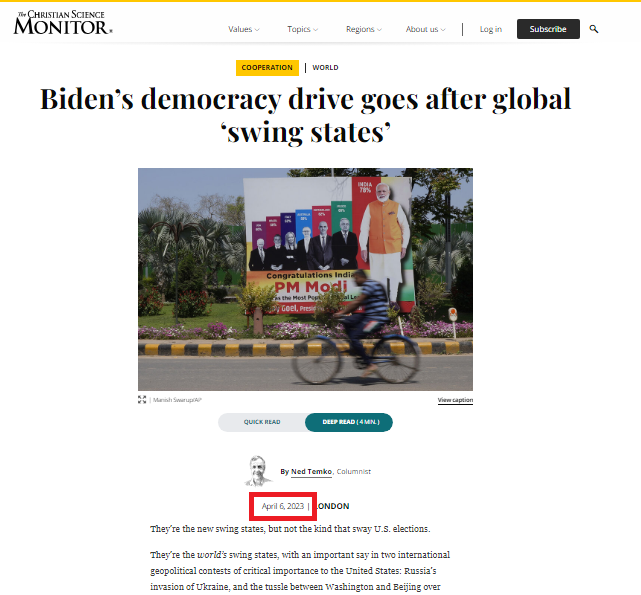 A keyword search led us to several news reports from April this year that reported on PM Narendra Modi being the most popular global leader in the world. The survey was conducted by Morning Consult based on the data the organisation collected between March 22 and 28, 2023, for 22 global leaders. PM Modi ranked first with the highest approval rating of 76%. This data is updated every week.
In February 2023, as well, PM Narendra Modi was in first place in the global approval ratings. It can be seen that the billboard also displays the rating of Modi as 78%. This makes it likely for the billboard was installed before April 2023.
Therefore, it is clear that the image of the billboard of PM Narendra Modi as the most popular global leader is old and not a recent installation made in the run-up to the G20 Summit in New Delhi.
Donate to Alt News!
Independent journalism that speaks truth to power and is free of corporate and political control is possible only when people start contributing towards the same. Please consider donating towards this endeavour to fight fake news and misinformation.