A clip depicting what appears to be a procession by Muslims in New Delhi is viral on social media with users raising concerns about the prevailing situation in light of the G20 summit on September 9 and 10 and with foreign dignitaries arriving in the city from the 8th. The inherent implication of these tweets is that the procession was taken out without adherence to due process. Some users wondered if the rally was a preparation for something else.
Verified user @MrSinha_ tweeted the clip and wrote, "If true, it's a matter of deep concern because foreign guests have already started reaching India for G20. Hope Delhi police is prepared this time..". He deleted his tweet. (Archive)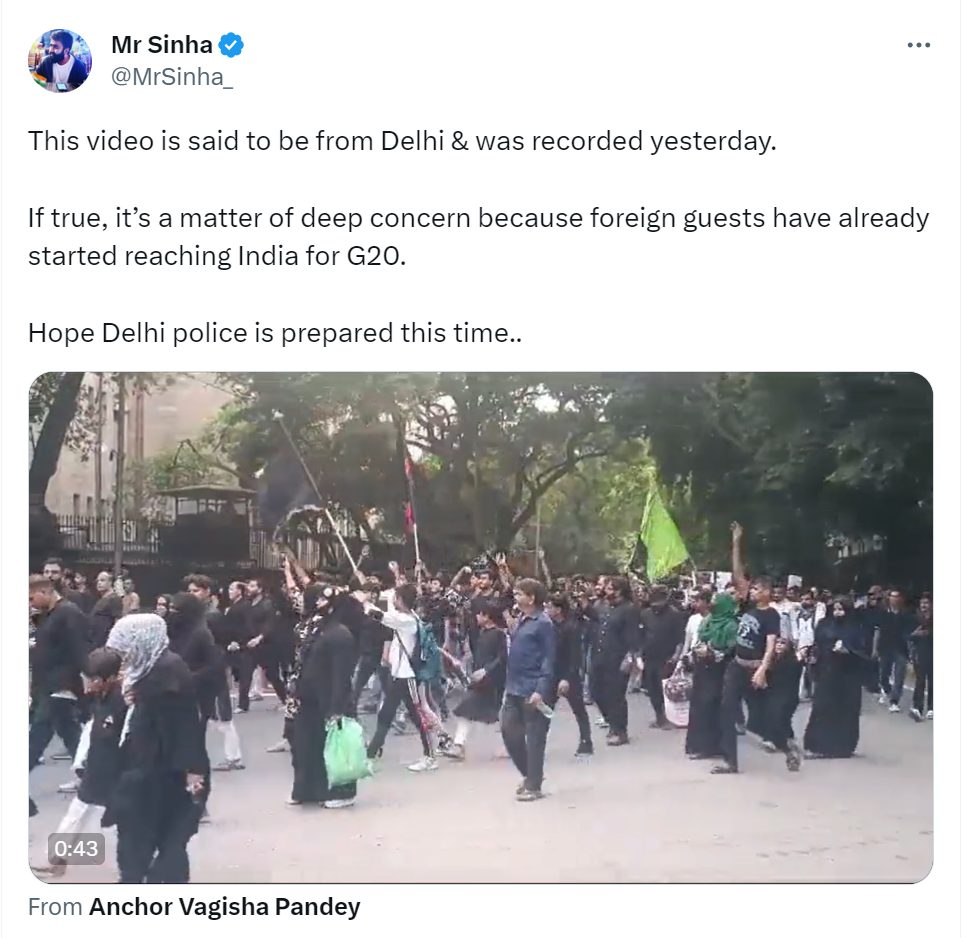 Sagar Kumar, a journalist affiliated with Right Wing propaganda outlet Sudarshan News, claimed that 'these people' had mlocked the road for 20 minutes. He additionally claimed that women 'were made to walk on the streets raising religious slogans'. "Today, when the Janmashtami procession of Hindus is cancelled, how did these people take to the streets?", he asks. (Archive)
जिस बात का डर था वही हो रहा है।

कल इन लोगो ने नई दिल्ली डिस्ट्रिक्ट को घंटो जाम रखा था।

20 मिनट का रास्ते को इन लोगो ने घंटा जाम रखा था।

मज़हबी नारे लगाते महिलाओं को सड़को पर उतारा गया था।

आज हिंदुओ की जन्माष्टमी की शोभा यात्रा तक कैन्सल है तो ये लोग कैसे सड़को पर उतर गये…?… pic.twitter.com/LTkACCl8SK

— Sagar Kumar "Sudarshan News" (@KumaarSaagar) September 7, 2023
Verified Right Wing handle @rightwing_guy tweeted the video and wrote, "This video is from Sansad Marg, Delhi… Large group of peacefools taking out procession chanting religious slogans…All this just 2 days prior to G 20 summit… What's this preparation for..??". (Archive)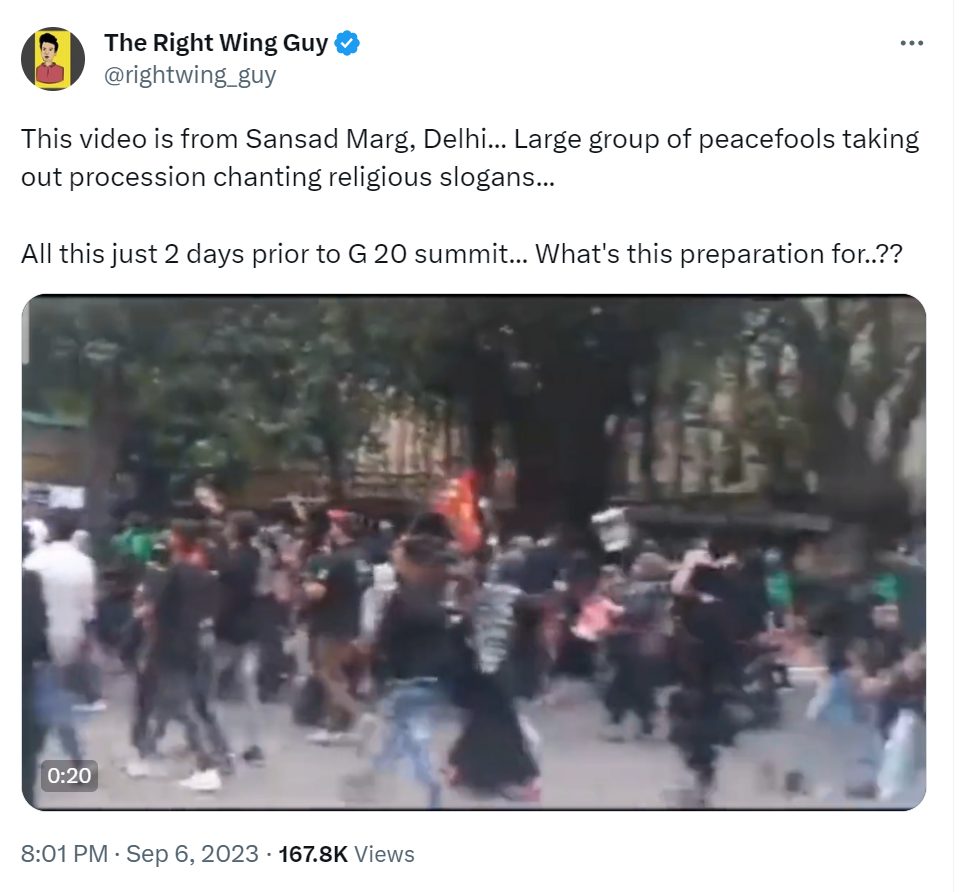 Several other users, including verified users, tweeted the video expressing concerns over the state of affairs. (Archives- 1, 2)
This slideshow requires JavaScript.
The video is also viral on Facebook.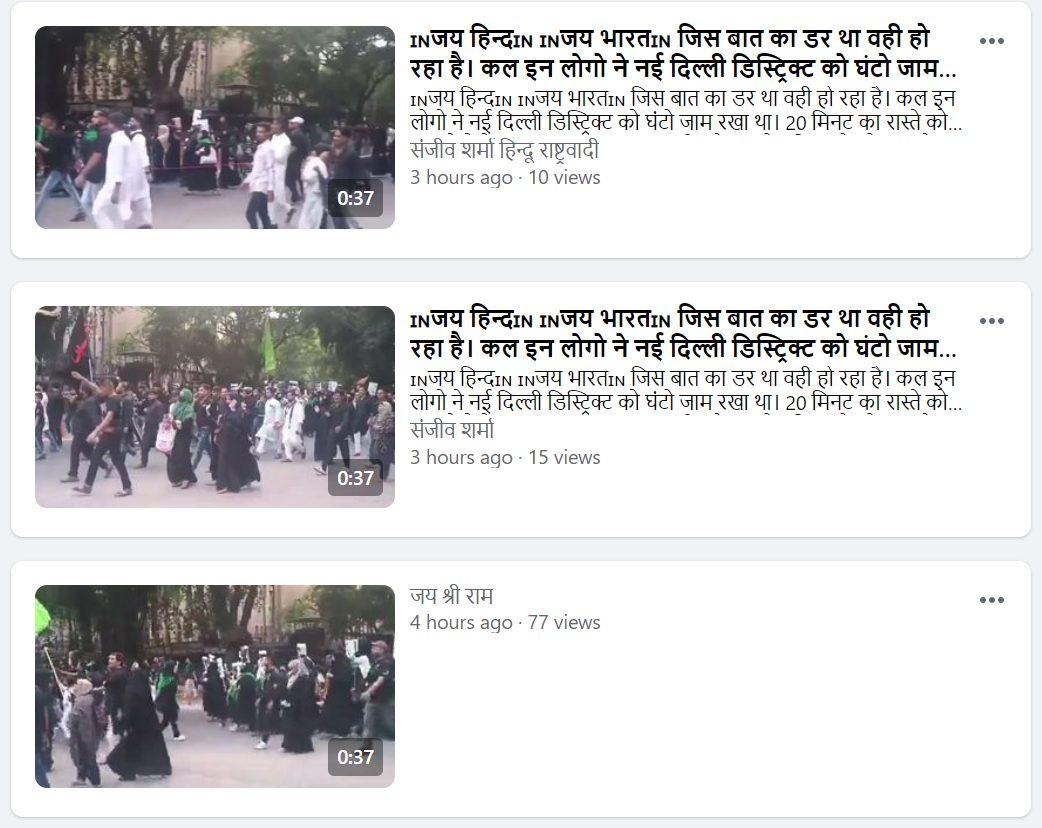 Fact Check
On September 5, the official handle of Delhi Traffic Police took to Twitter to issue an advisory in view of the Shia Muslim community observing Chehlum in Delhi. Chehlum is a traditional programme observed on the 40th day after Moharram which commemorates the martyrdom of Imam Hussain (grandson of Prophet Hazrat Mohammad).
According to the advisory, the main Chehlum procession including Tazia, Alam etc (5000/6000) would start from Pahari Bhojla, Delhi on September 6 at 08.30 am (due to the forthcoming G20 Summit) and would proceed to Dargah Shah-e-Mardan and later on to Karbala, Jor Bagh (PS Lodhi Colony) via Bazar Chitli Qabar, Bazar Matia Mahal, Chowk Jama Masjid, Chowk Hauz Qazi, Ajmeri Gate, Pahar Ganj Bridge, Chelmsford Road, New Delhi Railway Station, Outer Circle Connaught Place (wrong carriageway), Sansad Marg, Patel Chowk roundabout, Sansad Marg, Rafi Marg, Rail Bhawan roundabout, Kartvya Path/Rafi Marg crossing, Sunehri Masjid, Sunehri Bagh Road, Krishna Menon Marg, Gol Methi roundabout, Tughlak Road, Aurobindo Marg, Jor Bagh Road and Karbala, Lodhi Colony for burial.
Traffic Advisory

In view of Chehlum procession tomorrow, certain roads and stretches will experience traffic regulations and diversions. Please follow the advisory to avoid inconvenience.#DPTrafficAdvisory pic.twitter.com/5l3nzmuQn1

— Delhi Traffic Police (@dtptraffic) September 5, 2023
We also geo-located the spot where the viral clip was shot. It was around the Sansad Marg Area. According to the traffic advisory, the procession was permitted to pass through the said area. Below is a comparison between a keyframe from the viral clip and the street view of the same location on Mapillary. Additionally, we have also outlined the route on the satellite view of Google Maps.
This slideshow requires JavaScript.
After clips of the procession went viral, the official handle of Delhi Police refuted the viral claims on Twitter and clarified that the Chehlum procession was carried out with due permission from the law-enforcing agencies.
FALSE NEWS:
Some social media handles are wrongly projecting videos of Chehlum procession,as communal protest before G-20 Summit.The Chehlum procession is traditional one and carried out with due permissions from the law enforcing agencies.
Please do not Spread rumors.#DPUpdates

— Delhi Police (@DelhiPolice) September 7, 2023
Thus the Chehlum procession video is being shared with false communal insinuations. It is a traditional event and the procession was taken out with due permission from Delhi police.
(with additional inputs from Kalim Ahmed)
Donate to Alt News!
Independent journalism that speaks truth to power and is free of corporate and political control is possible only when people start contributing towards the same. Please consider donating towards this endeavour to fight fake news and misinformation.