This article uses as its source Kajal Shingala aka Hindusthani's Facebook/Twitter activities, videos posted on her YouTube channel and other platforms and our telephonic conversation with her.
On August 8, 'entrepreneur, research analyst, social activist' and Right Wing influencer Kajal Hindusthani addressed the students of UKA Tarsadia University in Gujarat. The speech, which oozed hate for Muslims, touched upon most of the tropes frequently used by Hindutva ideologues.
At the 54:40-minute mark, Kajal states, "There is an agenda to make India a systematically Islamic country. They say 'We took Pakistan by fighting and will take Hindustan smiling'… They will make India an Islamic country in the same way. Through Love Jihad, illegal encroachment, religious conversions, capturing Hindu temples, consuming cows which are sacred to Hindus, and corrupting the minds of Hindus so much that they can no longer fight for their religion. And if someone like me steps up to fight, they are sent to jail."
In the same video, at the 56:55 mark, she states, "Hindu land spanned from the Indian Ocean to the Himalayas, from Afghanistan to Indonesia. And today our condition is such that only a handful of us are left in India. Hindus have become the minority in nine states and 200 districts."
At the 58:36 mark, she picks up the Maharana Pratap vs Akbar debate that is often found in Hindutva discourse, and mocks Akbar for his apparent physical features, to the thunderous applause of the students.
At the 1:02:00-minute mark, Kajal targets the Muslim community and says, "I told you, we left education in the hands of the Christians, history in the hands of the Leftists and we left our films in the hands of jihadis." Next, she connects a number of films with 'Love Jihad'. She also asks the students to watch three films, namely, 'Kashmir Files', 'The Kerala Story' and 'Ajmer 92'. It has been conclusively proved that the basic premise of the movie, The Kerala Story, and the filmmaker's repeated claim that 32000 Kerala women had joined ISIS was based on misquotes, flawed calculations and imaginary figures.
At 1:07:00, she turns her focus to the Nehru-Gandhi family and claims that they ruined the country. According to Kajal, this is because from 1947 to 1977, five of India's education ministers were from the Muslim community. She questions how a Hindu child would recall 'Jai Shri Ram' and not 'Ali Maula' if the people who divided the country were made education ministers. It is important to mention here that from 1947 to 1977, India had nine education ministers, out of which four were Muslims and five were Hindus.
On August 18, Kajal shared a part of her speech on X (formerly Twitter). In it, she claims that the minds of Hindu daughters are being corrupted through films. She states, "Daughters, if you want a Maharana Pratap or Chhatrapati Shivaji Maharaj to be born from your womb, you will have to become Jija Bai and Jaivanta Bai. If you ape Kareena Khan, you will only give birth to a Taimur and Jahangir. It's your son, you can name him whatever you want, be it Pappu, Taimur, Jehangir or Ibrahim. But the name Taimur is a wound on the chest of India and every Indian. Taimur massacred lakhs of Hindus, and under his reign, lakhs of Hindu women were raped. Kareena Khan descended from the Prithviraj Kapoor family, but she chose to name her son Taimur. She is telling us that while the Mughals may have left India, this mentality will not go away any time soon. That mentality is flourishing among us and we happily laugh and give them our good wishes. Every Gauri feels that she should find some Shahrukh. Every Kareena Kapoor feels that she should find some Saif Ali Khan. My daughters, the life they live is not real. This is propaganda. They are receiving money from the Middle East to corrupt the minds of the daughters of India."
देश में एक बहुत बड़ी ताक़त काम कर रही है जो है #बॉलीवुड, सॉफ्ट पॉवर के माध्यम से #लव_Gहाद का एजेंडा पूरा करने और भारत को इ-स्लामिक देश बनाने के षडियंत्र का एक माध्यम बॉलीवुड है और इसका कैनेक्शन आतंकवाद से है।

यही बात गुजरात की उका तरसाडीया यूनिवर्सिटी की छात्राओ को हमने बताई।… pic.twitter.com/vQixcBx7Av

— Kajal HINDUsthani (@kajal_jaihind) August 18, 2023
We reached out to the university authorities to know their reaction to the content of Kajal Hindusthani's address to the students. While the deputy registrar asked us to contact the registrar, the latter did not respond to our repeated calls. This story will be updated if there is a response.
A Regular at Hate Spewing Hindutva Rallies
We found that Kajal Hindusthani frequently took part in meetings organized by Hindutva outfits where hate speeches were delivered. Earlier this month, on August 13, Kajal was involved in a program organised by Hindu Seva Parishad. There too, she gave an incendiary speech against the Muslim community. Some excerpts from this speech are given here: "They say 'We took Pakistan by fighting, and will take Hindustan smiling'. How can they take it with a smile? They are taking it smilingly through Love Jihad, by illegal encroachments. Under the guise of the Waqf Board, they are encroaching and occupying our property. No one is safe, not our daughters, not our lands and not our mother cows."
On August 12, at a rally organised by the Hindu Sena, she issued a provocative speech against Muslims. "You must ensure that Love Jihad and illegal encroachments do not happen in your Lalpur nor in areas containing Hindu temples or where the mother cow is worshiped…. Ensure there are no Rohingyas and Bangladeshis moving in. The situation is so bad that all the hawkers I saw in Daman, in Gujarat along Vapi, are Bangladeshis and Rohingya Muslims. Now think about it: A shopkeeper sells bindis for Rs 20 and the hawker on the street, who doesn't have any shop, has no rent or electricity bill to pay, sells bindis for Rs 10. Would our sisters buy it for Rs 10 or Rs 20? (Audience answers Rs.10). This means, my sisters, you are contributing to a nexus of terrorism, as those who pelt stones at Hindu processions in Mewat take your money and then use it to do so."
After this she calls for an economic boycott of Muslims. "Therefore, only three things have to be done: Be Hindu, buy from Hindu, employ Hindu. Be a Hindu, take your business to Hindus, employ Hindus and create a Hindu economy." Understand the difference between the Jihadi killing you and the because you are a Hindu, and the Hindu army saving you for the same reason.
Journey from Kajal Shingala to Kajal Hindusthani
A resident of Jamnagar, Gujarat, Kajal Shingala aka Kajal Hindustani is today a prominent name in the Hindutva ecosystem. Her website describes her as 'a fearless lioness from Gujarat'. On Twitter, where she is followed by Prime Minister Narendra Modi and pother senior BJP leaders, she describes herself as an entrepreneur, research analyst, social activist and nationalist.
The 'About' section of the website gives the reason behind her change of name: She "gave up her surname Shingala on social media and adopted a nationalistic approach by using HINDUsthani with her name. She did this to spread a message to unite Hindus and HINDUsthanis." (sic)
On examining her Facebook page, we discovered that till 2014-15, Kajal would only post pictures with the family. In 2016, she wrote if there had been no Gandhi-Nehru family, India would have been a rich country. In 2017, she started talking in support of PM Modi and against Rahul Gandhi and the Congress. She used to present her views in the form of videos. In 2018, she started writing and speaking fiercely against the Opposition parties including Congress. She spoke out against Hardik Patel, who was the only Patidar leader at that time. Along with this, Kajal described the incident of rape and murder in Kathua as a well-planned conspiracy in one of her Facebook Live sessions. A number of social media users saw this video and it became somewhat popular.
It is noteworthy that during these years, Kajal did not post or say anything anti-Muslim. In 2019, she suddenly started speaking against Muslims by calling them 'jihadi' and 'peace-loving' and became very active on social media. She called those speaking out against CAA anti-Hindu. She also claimed that Hindus were being persecuted in West Bengal. In the same year, she also started participating in many programmes and events organised by the BJP. For example, Kajal participated enthusiastically in PM Modi's birthday programme.
Kajal had heavily campaigned for the BJP in the 2019 Lok Sabha elections. She campaigned in rallies with BJP workers in support of BJP MP and current Lok Sabha Speaker Om Birla. Along with this, she upped the ante against the Congress.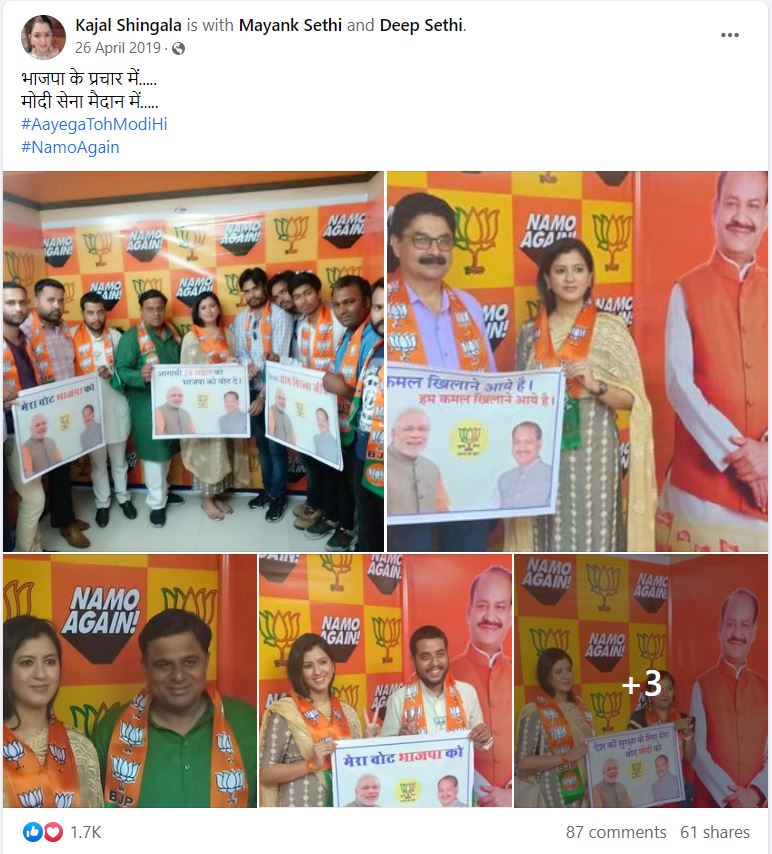 Kajal's online presence grew further in 2020, as she started building her own set of supporters. She started taking on Congress on every issue. In 2021-22, she started going from place to place giving speeches against Muslims. Describing herself as a Modi supporter and Hindutva protector, she also says that she works at the grassroots level against 'Love Jihad', 'Land Jihad' and religious conversion. With time, Kajal also started receiving invites to events organised by the Vishva Hindu Parishad and Bajrang Dal. Kajal Shingala was also a part of the Digital Hindu Conclave organised by Bharat Niti which saw the participation of Right Wing influencers like Anshul Saxena and Pradeep Bhandari, and BJP leaders like Kapil Mishra.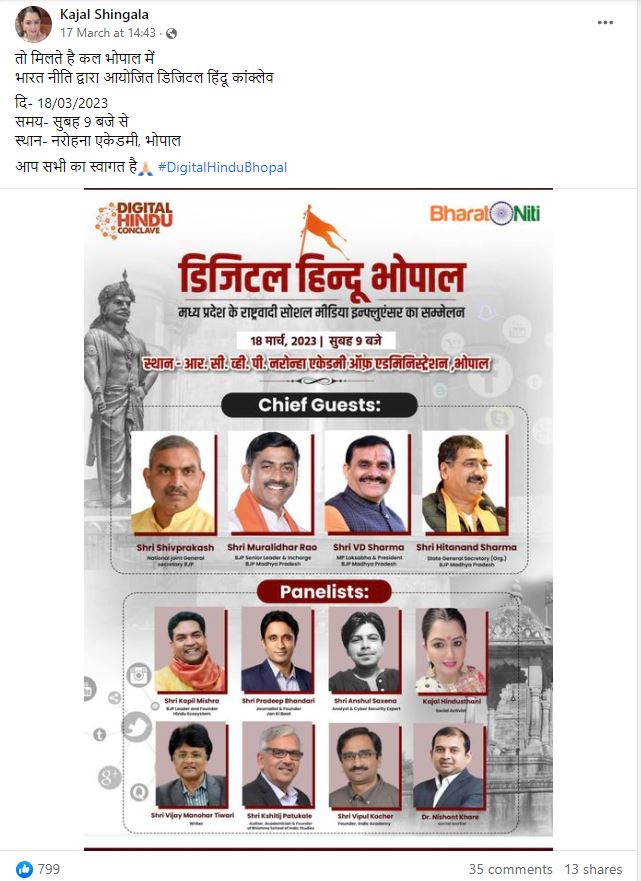 Arrested in April 2023 for Hate Speech
The name 'Kajal Hindusthani' made headlines for the first time in April 2023. She was arrested on April 9 for delivering hate speeches which reportedly caused communal violence in Gujarat's Una on Ram Navami. Coming out on bail on April 13, she thanked 'the entire Hindu society and all the Hindu organisations of India' in a tweet. She wrote, "Our struggle against #Love_Ghad, #Land_Ghad and #ReligiousConversion will continue." The rally in Una, Gujarat, after which Kajal was arrested, was organised by the Vishva Hindu Parishad. In the speech she made the following points:
The benefits of Muslim women marrying Hindu men
"If a Muslim woman marries a Hindu man… the first benefit is that she will not have to face three step-brothers… they will not have dozens of children. If a Muslim sister becomes a daughter-in-law in a Hindu family, the men in the house will give you protection and respect. No uncle or older male family member will be able to touch you. You will not have to wear a burqa in 45 degrees. You will have the freedom to wear the clothes of your choice. The fifth benefit for my Muslim sisters of marrying a Hindu man is that you will be referred to as the daughter, and not daughter-in-law or mistress of the house. Your daughter will also get the same share in the ancestral property as your son. Along with this, you will not have to marry any cousins. If you marry a Hindu man, no one will try to leave you through triple talaq. No Maulana, Maulvi, Abbu, elder brother, or younger brother would embarrass you. The eighth benefit of marrying a Hindu man for a Muslim woman is that there is no marriage contract like a nikah, because it is considered a bond lasting seven lifetimes here. And the ninth and final benefit of marrying a Hindu is that your children will not become victims of jihad, terrorism, separatism, fundamentalism, or stone pelting in the name of religion. Your child will be known as a patriot."
After this, she told the crowd that men in the audience should be ready to save Muslim women. She claimed this was a responsibility of Hindus because of the 'Vasudhaiva Kutumbakam' (The world is a family) philosophy. (Archived link)
"Don't test our patience"
On the same occasion, she also warned Muslims saying, "Hindus will come together and end 'Love Jihad' and 'Land Jihad' for good… These people (Muslims) will learn only when we face them unitedly like Lord Ram's army. I tell them there is still time, they should not test our patience. Because if you eat like a son (?), we will feed you, but if you try to punch above your weight, you will be thrown out of here."
Power of Hindu women against Abdul or Aftab
"In this struggle, each and every sister will have to come out of the house to do their part. And 'Love Jihadis' will not have the gall to abduct our daughters. Where is the women power of India? Women power will show them that when some Abdul or Aftab abducts our daughter, he will be beaten and buried in a 10-ft hole. This is women power. You cannot allow some Aaliyah, Malliy, Mullo or Thullo to come and seize control of your temples. Our country is in our hands…. The mistake we made in 1947 is coming to haunt us now. Wake up, otherwise the coming generation will think what kind of a country have we inherited."
"Non-violence is an illusion: Muslims can't be our brothers or sisters"
"This non-violence is just an illusion, this is a trap of enemies, you accept my words, this is the time of Hindus."
"Drop this 'Hindus and Muslims are brothers' slogan. A Muslim man could not be a brother to his own sister, how will he be one to you? Start chanting 'All Hindus are brothers' instead. There were four big mistakes of our independent India. We left our history to the Leftists. We left our education to the Christians. We left our films in the hands of Jihadis. And we left our country in the hands of the Nehru-Gandhi family. These four mistakes are haunting us, that is why today when we take out the Shobha Yatra, these Abduls are pelting stones at us."
"I came to know that stone pelting had taken place in Baroda. What kind of brotherhood is that? One Kishan Bharwar was killed because of a simple Facebook post. What brotherhood are you talking about? In the last one month, six Hindu brothers have been murdered. There have been six murders between January 18 and February 18. Is this brotherhood?" Here, she makes this claim without any context.
"Today there was stone pelting in Bengal, in Rajasthan there was an incident of stone pelting at our procession. It also happened in Kaleem, Gujarat. Yet, there has been no stone pelting in UP, because Baba (chief minister Yogi Adityanath) is in power in the state…"
"I will exorcise the ghost of Hindu-Muslim brotherhood"
"These people cut their own Nikita into 35 pieces. Is this brotherhood? Rubika was cut into 52 pieces. What kind of brotherhood is this? Last year slogans were raised in Una, about heads being separated from bodies. Is this brotherhood? Is calling our Lord Shiv idols fountains brotherhood? Today I have come to drive out the ghost of brotherhood. I am an exorcist. Kajal Hindustani does the work of exorcising the ghost of brotherhood among these Hindus…. When Jihadis openly wave swords and stones are thrown during our marches, when their horns shout five times a day while those who recite the Hanuman Chalisa are put in jail, when Shiv Shankar is made fun of on-stage, and those who protest are beheaded. I would reveal the pain faced by every Hindu, I will call our every Jihadi act. To hell with brotherhood, I will only tell the truth."
'Love Jihad', 'Land Jihad', Conversion: Three Focus Areas
On April 2 of this year, Kajal delivered an incendiary speech from the platform of 'Hindu Jagriti Manch'. While narrating the story of a conversation with a Maulana, she recites a poem about the Tricolour and saffron flag being her pride and identity. At the eight-minute mark in the video embedded below, she says, "I work on three topics: Love Jihad, Islamic land encroachment, also known as Land Jihad, and religious conversion."
In the same video, at the 10-minute mark, she says, "In the country, Tukde Tukde gang, Khan Market gang, Freedom of Expression gang, Big Bindi gang, Candle March gang all set a narrative. They even stand in support of a nobody who is pelting stones. I call these people Chandal Chaugri. This includes Bollywood, Communists, the Left Media and some politicians. This Chandal Chaugri group works to save Abdul, to protect him, to help frame as the son of a poor headmaster and to make him a superstar through films. On the other hand, our group comes in defence of their narrative. I always say 'how long will we keep playing defence?'. My guru tells me that offence is the best defence."
At the 14-minute mark she says, "We know that the Jihadi is our enemy but it is difficult to identify Jaichand."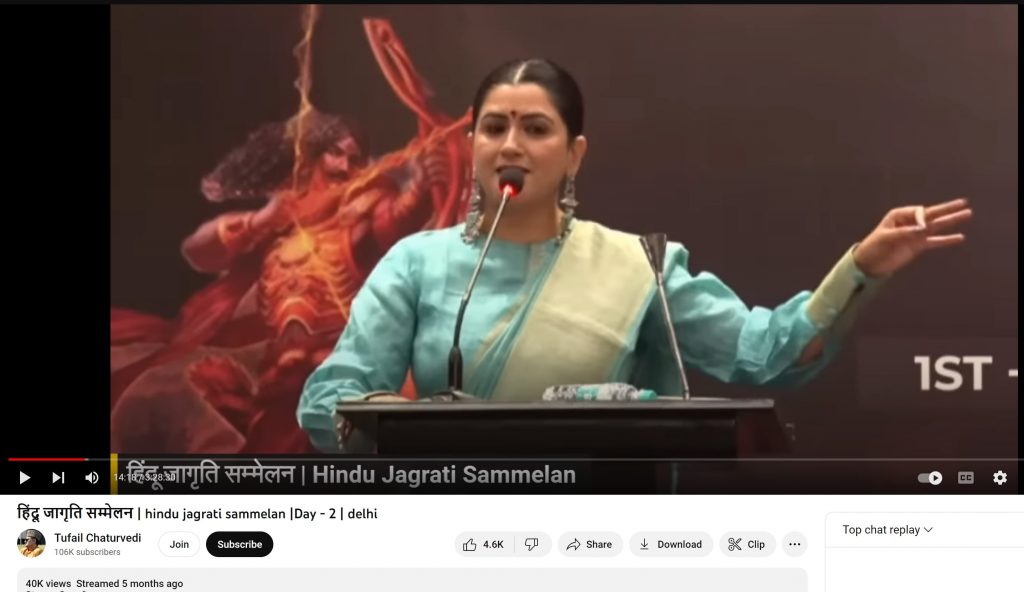 "Abduls are Trained in Madrasas to Trap Hindu Girls"
Kajal Shingala aka Hindisthani uploaded a video of a speech delivered by her in Maharashtra on her YouTube channel on January 5 this year. In it she says:
"When we go to explain this to Hindu women, they say their Abdul is not like this. I say, be it Abdul or Aftab, he has read only one book. And all of them get their training at the same place. They receive training in their mosque and their madrassa on trapping Hindu girls. And the girls are sold. What are the prices? Rs 7-8 Lakh for Brahmin girls, Rs 6 Lakh if you bring the daughter of a Baniya, Rs 5 Lakh for a Rajput, and Rs 5-6 Lakh for Dalits. And these uneducated fellows are not even worth Rs. 100. They have a garage business. These people ride the bikes we give them to get repaired."
It is worth noting that here, Kajal Hidusthani is talking about a 'rate card' for Hindu women, a claim which has been debunked several times in the past. This fake information has been used for years to incite hatred against Muslims. Hindutva leaders have often been seen repeating this in the crowd. T Raja also mentioned this supposed rate card during his speech at the Hindu Jan Aakrosh Morcha in Mumbai on January 29.
Next, while mocking Muslims, Kajal says, "Our girls think that bike belongs to them. The bike worth Rs 1.5 lakh does not belong to that Jihadi. They repair punctures. When we go to get air filled or a puncture fixed, there are bikes lying there. These fellows pick up the same bike and use them to loiter and stalk girls. This is Abdul's work and for this it, Abdul gets Rs. 50,000 every month and receives proper training. Some religious teachers even tell their students 'Use this line of Sufi poetry on the girl, she will fall for you."
"Terrorists Sitting on Waqf Boards"
Earlier this year on February 26, Kajal delivered a similar speech at a rally organised by the Sakal Hindu Samaj. A video from this day was also uploaded on her YouTube channel. In this video, at the 3:30 mark, she states, "Terrorism is linked to Love Jihad, terrorism is linked to Land Jihad. These haters sitting under the guise of the Waqf Board, all of them are terrorists."
"You all need to wake up, you have to save your daughter, save your land. You have to save your temple. You also have to save the land of the mother cow." The video was later taken down by YouTube for violated its community guidelines.
In December 2022, a channel named Mahalaxmi Studio uploaded a video of Kajal Hindustani's speech on YouTube. This video is 38-minute long. Here, she speaks in Gujarati. At the 18:50-minute mark, she again gives misleading information and talks about India having 5 Muslim education ministers within 20 years of its independence.
At the 20:30-minute mark, she remarks, "Islamic aggression has increased and this impacts women the most. Women are raped, our young girls are abducted and taken away by heretics. Who is exploited most in this? Women."
After this, she eggs on the crowd while stating, "Friends, we only have two options in this religious war. Win or die, there is no option to lose. And if you lose, there will be no more such gatherings, no more Ram temples. You will be in a burqa and your children would have been circumcised."
At 24:20, she talks about imminent danger to her life. "They will kill me too, and I know I go out only with a bodyguard. Four people are always with me. It has been a year and I don't go out without a bodyguard. We do not go to theatres, hotels, or public places. My children do not go to play alone. These are the arrangements I had to make, that too in our Gujarat."
At the 25:00-minute mark, she states, "This illegal occupation, this is Islamic aggression, our Somnath temple belongs to Gujarat, these heretics, these Muslims have encroached upon the trust site of the Somnath temple. They encroached on 52 bighas of land, made themselves a graveyard and made a dargah… Wherever the Waqf wants to put its flag, let's say where the Ram Temple is being built, it just becomes theirs and it does not have to prove it. All our saints and religious leaders will have to prove it if they make the same claim, they will have to show a piece of paper. Similarly, in our Dwarka temple, Bet Dwarka, there are 15% Hindus, while 85% are Muslims. Out of this 85%, 70% have erected illegal shops and houses in place of Hindus. And in Bet Dwarka, our brothers and sisters live in huts while these Muslims have big bungalows."
"What's the point of saying 'Jai Sri Krishna' when we could not save Krishna's land in Pure (Krishna Bhoomi) which was looted by Jihadis?… After this, heretics took over the entire property of the Jagannath Temple in Ahmedabad. And the trustees have some role to play in this…"
At the 35:27-minute mark, she takes a pledge and says, "I, a woman from Gujarat, from the land of Botad, with Lord Ram as my witness, pledge that I will protect the Hindu religion, I will protect the Hindu caste, remove the poison of casteism from Gujarat. I will work to unite all Hindus, stay away from casteist thugs, free them from illegal occupations, save Hindu temples from Muslim aggression, save Hindu girls trapped in Love Jihad from Muslims and bring Hindu girls back into Hindu society to protect my religion. For the protection of my future generation, I will not buy a single item from these Muslims. I will not buy vegetables from them, will not buy fruits from them, will not buy clothes from them, will give business only to Hindus, will give money and for the Hindu nation. I appeal to the government that India should be declared a Hindu nation as soon as possible. If you are concerned about our sisters and daughters, declare India a Hindu nation."
"Glory to the Hindu Nation. Who does India belong to? Hindus."
Alt News Spoke to Kajal Hindusthani
Alt News reached out to Kajal Shingala aka Hindusthani over telephone. Excerpts from the conversation are given below.
Some of your photos on Facebook suggest that you were into modelling. Then you developed an inclination towards politics, and now you work against 'Love Jihad' and 'Land Jihad'. Please tell us about your work in detail. What inspired you?
Kajal: "I don't know where you got this information from but I was never into modelling. I have never done professional modelling or anything like that. I was always a businesswoman. From 2016, I began working to create social awareness. I have never been in politics. Yes, I definitely make my political views known, I have never been directly associated with any political party. Since 2016, I have been working toward building social awareness. On the ground, I have been working on Love Jihad, illegal Encroachment and religious conversion for many years. It's been almost eight years."
There was a riot in Una following a public gathering where you had spoken. There were allegations that your speech led to the riots. Your speeches are against a particular community. What would you like to say about this?
Kajal: "Let me clarify the first point. Even in the police FIR there is no mention of the riot taking place as a result of me or my speech. It is called a riot when Hindus and Muslims riot among themselves. When stones move in one direction then it is called Islamic Jihad, which you can call Islamic Riots or Anti-Hindu Riots. Let me inform you that the demography has changed in Una. 40% of those living there are Muslims. Something or the other happens on every Ram Navami. I had an event there on this Ram Navami in which I was giving a speech. Stone pelting occurred 3 days after the speech. However, certain media houses ran a media trial on me due to their personal agenda. And I have become the victim of a media trial. Neither has the police accused me of rioting nor is there any mention of it in the FIR in it. And even the charge sheet has not been filed yet. Because there is no evidence."
In your speech, you listed nine benefits for a Muslim woman of marrying a Hindu man…
Kajal: "People's religious sentiments get hurt when we take a jibe at their religion. Neither did I mock their religion, nor Allah nor Mohammad. The whole argument on March 30 was that I said that these people were opposing the Uniform Civil Code. This particular society does not talk about the uplift of women. It has been 75 years since India's independence, but Muslim women in India still have not got the right to equality. If these people do not give them this right, it is the same lobby which was against triple talaq. And even today the same lobby is protesting. So what are the benefits of marrying a Hindu man as a Muslim woman? Because Halala is happening, Mutah Nikah is happening, Triple Talaq is happening, all these evils are happening. Muslim men marry four times, and their wives are forced to give birth to dozens of children. These are social evils. Being a woman, it is my responsibility to tell others that if their society is not giving them justice then another society is ready to accept them. And even in that case we have not used the word conversion anywhere. Marriages take place under the Special Marriage Act, they can live in their own identity but they will get rights as per the Indian Constitution, which they are not getting right now due to the existence of Sharia Law or Personal Law Board. So this was the complete context. The video that went viral was only about those 9 points that I made, but the entire content that I was saying before did not go anywhere. This was basically the complete point."
You cite the case of Shraddha and Aftab everywhere but there are many such incidents in which the accused are Hindus. Only this year, there has been three such cases in which women were killed and dismembered by their partners and their bodies kept in a refrigerator. The accused in two of these cases were Hindus. So why is this crime being linked to a particular community using just a single example?
Kajal: "That's not what I'm saying. Justice KT Sankaran of Kerala High Court had given a judgement in 2009 that 'Love Jihad' is taking place in the state among Christian and Hindu girls. There is a group which is forcing women to convert. In response to this, the Special Task Force of Kerala had submitted a report, according to which, so many girls have been converted and these do not appear to be ordinary cases… A Maharashtra BJP minister stated that there had been more than 1 Lakh cases of Love Jihad. And there was a debate there to make a law regarding this as well. And a complete draft is being prepared to introduce a Love Jihad law…"
What is the Kerala HC Judgement Kajal Mentioned?
On September 29, 2009, Kerala high court Justice K T Sankaran passed an order rejecting the anticipatory bail pleas of two Muslim men, Shahan and Sirajuddin, accused of converting a Christian and a Hindu woman under the pretext of marriage.
He directed the Kerala DGP to file an affidavit seeking answers to eight questions on whether a movement named Love Jihad or Romeo Jihad existed, which organisations in India and abroad were involved in it, its source of funding, whether it operated nationally, how many students were converted to Islam in the last three years, and whether there was any connection between the 'Love Jihad Movement' and counterfeiting, smuggling, drug trafficking and terrorist activities.
The DGP of Kerala filed a detailed affidavit on October 18, 2009, based on 14 reports from SPs and four reports from the heads of CID, police intelligence, special cell and crime branch.
The court was told that the answers to all the eight questions were in the negative. It was clearly stated that there was no organised activity or conspiracy, and this was the only case in Kerala where such an allegation had been made in the last three years. However, Justice Sankaran rejected the anticipatory bail plea and directed the Centre to file an affidavit stating what action it proposed to take.
On November 9, 2009, the DGP filed the 18 reports and an affidavit stating that there was no concrete evidence for the 'source information' and the 'allegations'.
Donate to Alt News!
Independent journalism that speaks truth to power and is free of corporate and political control is possible only when people start contributing towards the same. Please consider donating towards this endeavour to fight fake news and misinformation.