Recently, the Indore Bench of the Madhya Pradesh high court delivered its verdict on an appeal made by a rape convict and reduced his life sentence to 20 years' rigorous imprisonment. The court noted that he was "kind enough to leave the girl alive". Following this, Sudarshan News' Santosh Chauhan posted a tweet on October 23 claiming that the death sentence of Mohammed Firoz, a rape convict in Madhya Pradesh, had been commuted to life imprisonment. This post was retweeted by more than 276 handles at the time of the writing of this article. (Archived link)
मध्यप्रदेश हाई कोर्ट ने रेप के दोषी मोहम्मद फिरोज की मौत की सजा को उम्रकैद में बदला।

कहा , "दयालु था मोहम्मद फ़िरोज , लड़की को जिंदा छोड़ दिया।"

— Santosh Chauhan Sudarshan News (@Santosh_Stv) October 23, 2022
Journalist Ashish Vyas of Sudarshan news also posted a tweet promoting the same claim. (Archived link)
मध्यप्रदेश हाई कोर्ट ने रेप के दोषी मोहम्मद फिरोज की मौत की सजा को उम्रकैद में बदला!

कहा , "दयालु था मोहम्मद फ़िरोज , लड़की को जिंदा छोड़ दिया!"

— Ashish Vyas (@ashishvyas__) October 23, 2022
RSS mouthpiece Panchjanya also followed suit, though the tweet was later deleted. An archived version of the post can be accessed here.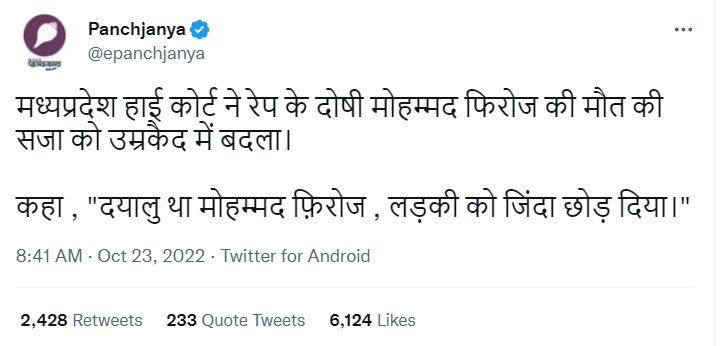 The claim is widespread on Twitter and Facebook.
Fact-check
Alt News began its investigation and we came across an October 24 report by The Hindu. The article states that the Indore Bench of Madhya Pradesh reduced the life sentence of a rape convict to 20 years' imprisonment. The bench said that the offender was kind and did not leave the four-year-old girl to die.
The Hindu has identified the assailant as Ramu alias Ram Singh. According to the outlet, Ramu raped the girl by luring her with Re. 1 on May 31, 2007. Following the investigation, Ramu was sentenced to life imprisonment in 2009.
Next, we conducted a search using time filter, which led us to a copy of the judgment made by the court in the matter. The name of the accused is also listed as Ramu alias Ram Singh here. It also states that Ramu had appealed against the life imprisonment sentence pronounced by the Additional Judge of Indore on April 25, 2009 under IPC Section 376(2)(F).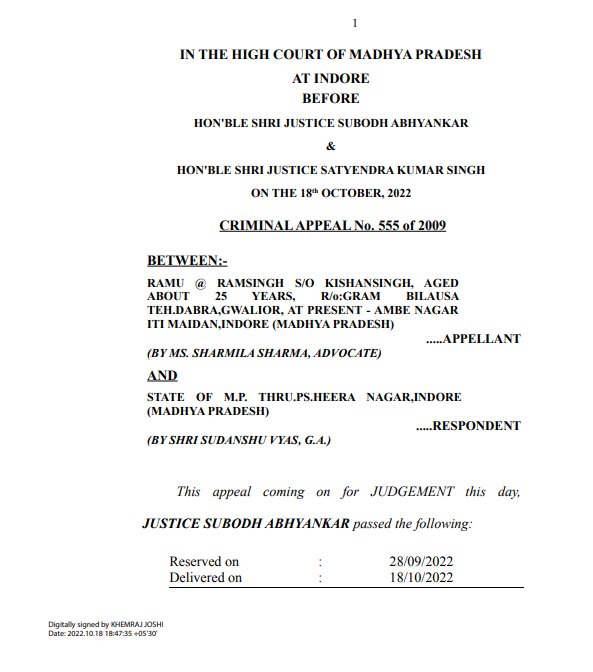 According to a report by Live Law, "The appellant submitted before the court that he was falsely implicated in the case. He further stated that the FSL report was not brought on record by the victim. It was also argued that this is not a case in which he deserved life imprisonment. Thus, he appealed that his sentence be reduced to the time he had already spent in jail." The Court argued in this case that the appellant was not eligible for leniency in any way, and his appeal should be rejected. However, keeping in mind that he left the girl alive, the Court reduced his sentence to 20 years' imprisonment.
Outlets like Aaj Tak, Hindustan Times and Indian Express covered this development. However, none of them listed the name of the criminal as Mohammad Firoz.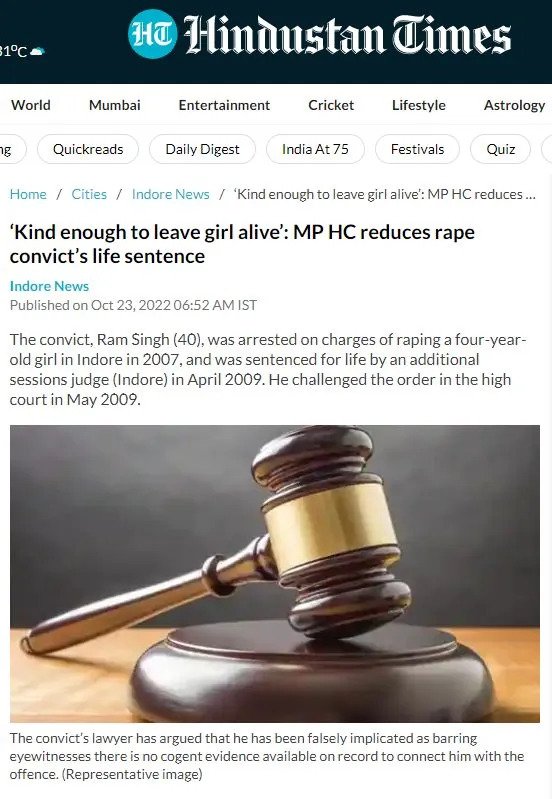 To sum it up, right-wing media outlets and supporters circulated a false claim that the Madhya Pradesh High Court commuted the death sentence of a rape convict named Mohammad Firoz to life imprisonment. In reality, the name of the convict who raped the four-year-old girl in the said case is Ramu alias Ram Singh.
Donate to Alt News!
Independent journalism that speaks truth to power and is free of corporate and political control is possible only when people start contributing towards the same. Please consider donating towards this endeavour to fight fake news and misinformation.