Several mainstream media channels have telecast the CCTV footage of a man in a white shirt claiming that he is Guddu Muslim, an accused in the high-profile Umesh Pal murder case.
Lawyer Umesh Pal was a prime witness in former BSP MLA Raju Pal's murder in Uttar Pradesh in 2005. He was killed in February 2023 outside his home in Prayagraj in broad daylight while he was accompanied by two armed policemen. Guddu Muslim, an aide of slain gangster Atiq Ahmed who allegedly hatched the murder plot, is one of the 10 accused in the case. He is on the run.
While running the CCTV footage, several news anchors said that the video was captured in Odisha on April 11, 2023. They also said Guddu Muslim's last known location was Odisha.
Aaj Tak shared a clip of its bulletin on its Twitter handle showing the viral video. The anchor, Subhankar Mishra, can be heard saying "This is the latest video of gangster Guddu Muslim". The video was shared with a caption in Hindi that translates to "New CCTV picture of notorious Guddu Muslim surfaced".

ABP News and ABP Ganga showed the video on their Live television broadcast and shared a part of the bulletin on Twitter with a caption that translates to "New video of Guddu Muslim surfaced, shooter was seen in Odisha".

News18 India, too, ran this clip and the anchor, Anand Narsimhan, explained to the audience that the video was of Guddu Muslim from his last known location in Odhisa. The same was shared on their social media pages with a caption that can be translated to "New video of Guddu Muslim, Guddu Muslim seen in Odisha, video of April 11 2023, as per reports". They later deleted the tweet.

On NDTV India, the clip was aired as 'exclusive CCTV footage' and the anchor was heard saying, "Guddu Muslim was seen in a CCTV video, and was last seen in Bargarh district of Odhisa."

Other news agencies, including Punjab Kesari UP/UK, Zee Delhi-NCR-Haryana, News Outlook, Bharat 24, TV9 Bharatvarsh, News 18 Uttar Pradesh, and News Nation, ran the same video claiming Guddu Muslim was spotted in Odisha. Screenshots of their tweets can be seen in the gallery below:
This slideshow requires JavaScript.
Fact Check
After the video and the news went viral, a man named Hamid Mohammad from Sohela village in Odisha's Bargarh district came forward to identify himself in the viral clip. He said that the man in the CCTV footage was he himself and not the wanted gangster, Guddu Muslim.
Journalist Ashok Pradhan, who is the chief of The Times of India's Bhubaneswar bureau, shared a clip of the man identifying himself, on Twitter. Asked about the viral video, Hamid says in Odia, "My name is Sheikh Hamid Mohammad… We used to come here for Namaz. We came here… Showing my photo on camera, they identify me as Guddu Muslim… They are spreading rumours… Got to know about it when I saw it on TV… Some boys informed me that my face was on TV and shown as that of a Guddu Muslim."
Hamid Mohammad of Sohela village in Bargarh district was shown was #GudduMuslim by section of news channels. pic.twitter.com/xnHSUbcLm0

— Ashok Pradhan (@AshokPradhanTOI) May 9, 2023
Sohela is a gram panchayat on the national highway connecting Sambalpur in Odisha with Raipur in Chhattisgarh. It is the last locality on the Odisha side of the inter-state border. The area has a sizable Muslim population and there is a mosque right on the national highway.
A local source privy to the developments told Alt news, "A special task force (STF) of UP police had come to Sohela looking for Guddu Muslim. They got hold of a local goon named Raza Khan whose phone records showed he had been in touch with Guddu Muslim's driver and possibly the gangster as well. They took him to the mosque and got hold of the CCTV footage. The national media got the footage from the UP STF."
In another video shared by Ankit Mishra, a journalist at India TV, Hamid can be heard saying in Hindi, "I am Sheikh Hamid Mohammad from Sohela district. I was offering prayers during the month of Ramzan. Some boys came up to me and showed me a video that many news channels have shared by saying it is Guddu Muslim, It is actually me in the viral video. All the people (news channels) who shared this misinformation to defame another person must be held accountable."
बंबाज गुड्डू मुस्लिम का एक वीडियो आज सबके सामने आया जिसकी लोकेशन ओडिशा बताई गई…
और उसके बाद ये एक आदमी सामने आया जो कह रहा है कि गुड्डू मुस्लिम नही वो खुद था देखना ये होगा कि सच कौन बोल रहा है…..#GudduMuslim #गुड्डूमुस्लिम pic.twitter.com/2ZgUGMzUkC

— Ankit Mishra (@journeyapr3) May 9, 2023
Here is a side-by-side comparison of the faces of the two concerned individuals: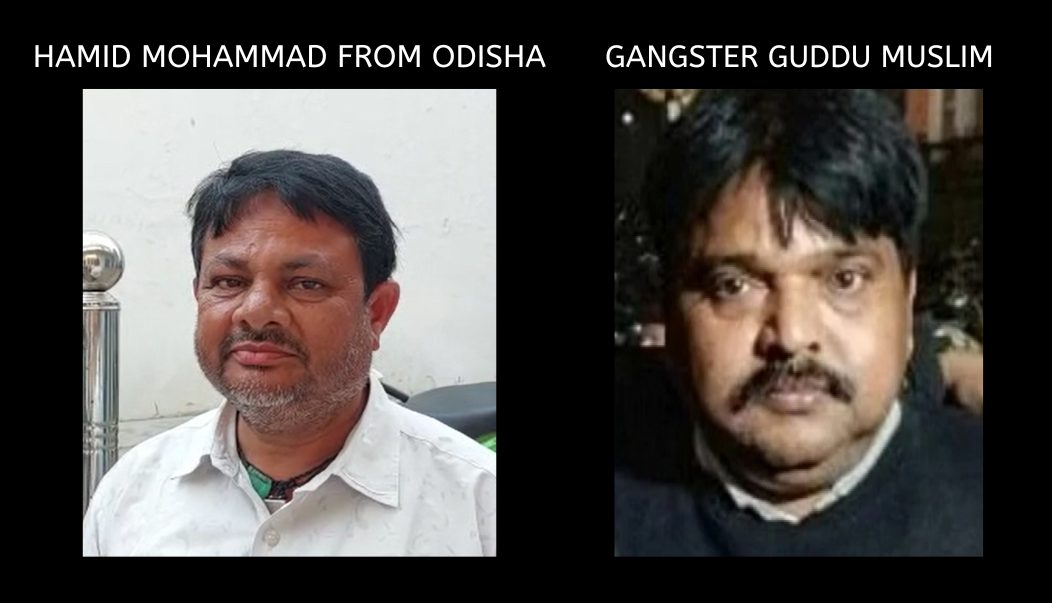 To sum it up, an unrelated CCTV footage was falsely shown by several mainstream news channels in their bulletins with the claim that the individual in the video was wanted gangster Guddu Muslim. The man in the clip is actually Sheikh Hamid Mohammad from Sohela in Western Odhisa's Bargarh district. He was captured on CCTV camera when he had gone to a mosque to offer prayers during the month of Ramzan.
Vansh Shah is an intern at Alt News.
Donate to Alt News!
Independent journalism that speaks truth to power and is free of corporate and political control is possible only when people start contributing towards the same. Please consider donating towards this endeavour to fight fake news and misinformation.