Ever since the alleged murder of Bharatpur residents Nasir and Junaid by cow vigilantes came to light in February 2023, 'gau rakshaks' affiliated with Right Wing outfit Bajrang Dal functional in Haryana and its adjoining areas have been under unprecedented media attention. The families of the victims accused Bajrang Dal leader Monu Manesar, who is the face of cow vigilantism in Haryana, and a few others, of murder. One of the accused, Rinku Saini, who had direct links to Bajrang Dal Haryana, was arrested on February 17, a day after the bodies of Nasir and Junaid were found in a charred SUV.
A few days before this, the family of 22-year-old Waaris, too, accused Monu Manesar and his team of murder, after Waaris had been killed in an accident in Haryana's Nuh region while being chased by cow vigilantes.
While profiling Monu Manesar for this Alt News report, we noticed that Monu and his team had a penchant for sharing their achievements on social media, particularly Facebook, often with videos of high-speed chases, and pictures of the team involved in the operation and the alleged cow smugglers nabbed by them. While going through these, we noticed that apart from Monu, another person shared updates about these operations frequently, and at times, blessed the cow vigilantes. He is sometimes seen in the pictures after a successful operation, smiling, clad in all white with a gun holstered at his waist. He, however, does not take part in the said operations and rarely appears in photos with the bloodied 'culprits' held captive by Monu's men. His name is Acharya Azad Singh Arya.
Monu Manesar himself has been pictured with Azad Singh Arya on several occasions. At numerous Hindu Mahapanchayats, he can be seen speaking in support of the cow vigilantes. At one such gathering held after Monu Manesar and his team were accused of Nasir and Junaid's murder, he called for the Haryana government to 'use the bulldozer on cow smugglers' in the same way that Yogi Adityanath had done in Uttar Pradesh.
"Mai manniya Khattar saab se ek nivedan karna chahunga: Aap ekdin ke liye Yogi bann jao. Mewat mein gaaye kya, ek gaay ka baal bhi koi ukhar nahi sakta. Chala do bulldozer jo gau hatyare hai, jo innke sangraksh mein jale hue hai. Yaha gaaye kya kuch bhi nahi kar sakta. Lekin 8 saal beet gaye hai Khattar saab, kab Yogi banenge mujhe toh samajh nahi aa raha."
[I would like to make a request to respected Khattar Saab: Please become Yogi for a day. Forget cow slaughter, no one would even dare to touch a hair on any cow. Bulldoze the cow slaughterers and those who cannot stand the protection of cows. But eight years have passed Khattar saab; I don't understand when you will become Yogi.]
According to a Dainik Bhaskar report dated April 8, Bharatpur police had identified some individuals, including Acharya Azad, who could have been protecting the accused in Junaid and Nasir's alleged murder. Legal notices were issued to them.
In a Facebook post, Monu Manesar describes Acharya Azad as 'the soul of Gau Raksha Dal Haryana, our ideal and our identity' and their 'guru'.
Who is Acharya Azad Singh Arya?
According to his Facebook profile, Acharya Azad is the chief of Vishwa Hindu Parishad Haryana. He is based in Panipat and is the founder of Arya Adarsh ​​Senior Secondary School and Arya Kanya College.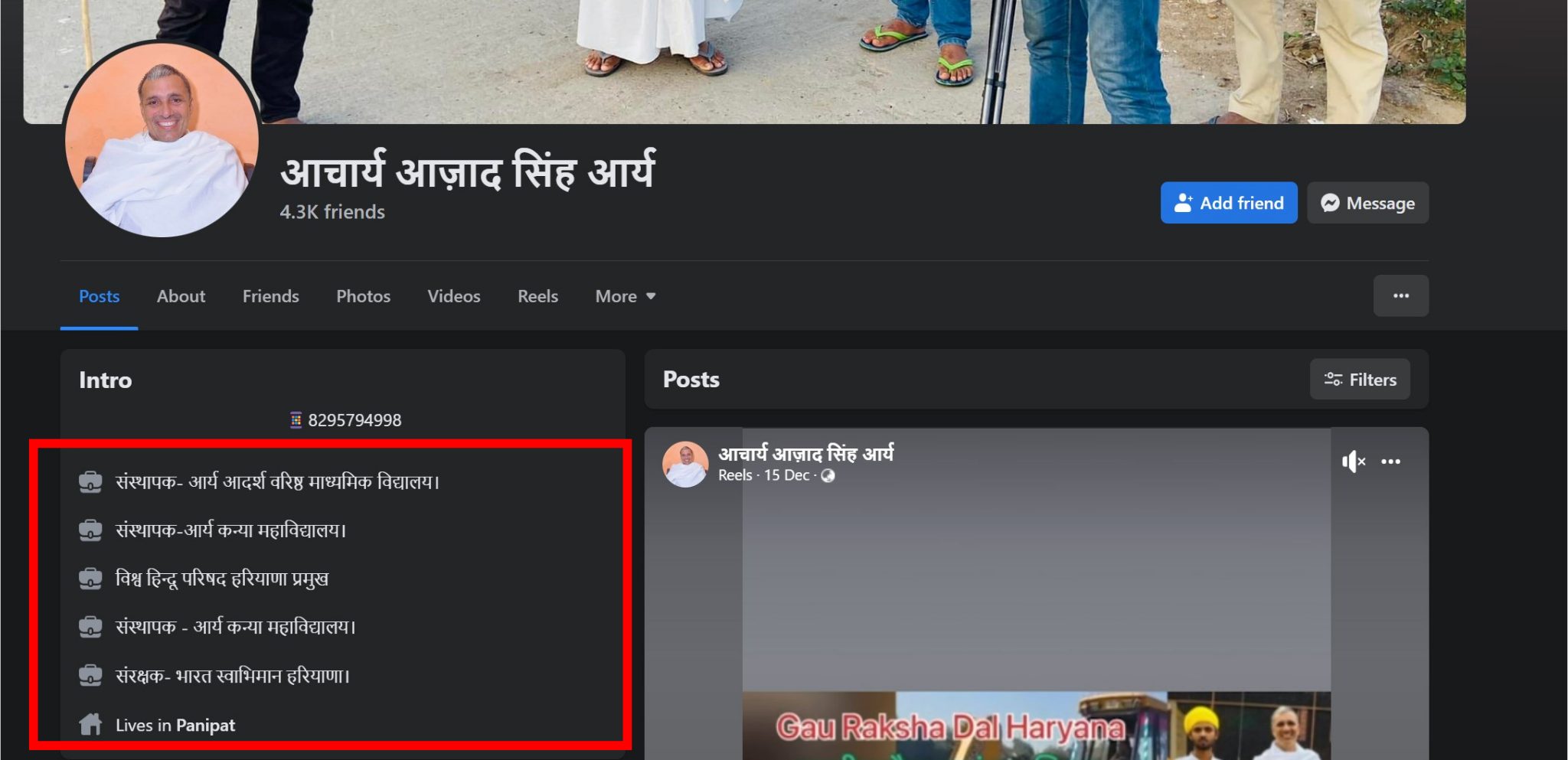 A scroll down his Facebook profile, however, suggests that he is also a senior and respected member of the 'Gau Raksha Dal' in Haryana. He updates his social media profiles after a successful 'operation' by the team of cow vigilantes in Haryana which typically involves high-speed chases and capturing of alleged cow smugglers. He is also often seen posing with the team.
Acharya Azad addresses meetings and events organised by the 'Gau Raksha Dal', Haryana. He is designated as the vice-president of the organization, with Acharya Yogendra Maharaj as president. Incidentally, Acharya Yogendra Maharaj was also served a legal notice in Nasir and Junaid's case according to the Dainik Bhaskar report.
This slideshow requires JavaScript.
One such meeting addressed by Acharya Azad was the 'Gau Raksha Mahapanchayat' on March 26 where he repeatedly criticized the Rajasthan Police accusing them of ill-treatment towards Shrikant Pandit's family. Shrikant Pandit is one of the accused in Nasir and Junaid's alleged murder and kidnapping. Shrikant's family accused the Rajasthan Police of a violent raid at his house and assault on his family which led to Shrikant's pregnant wife allegedly losing her child.
The gau-raksha ideologue goes on to urge the Haryana government to appoint Yogi Adityanath as chief minister for a day, implying that Haryana should adopt the same approach towards Muslims as Yogi does in Uttar Pradesh. Acharya Azad also encourages his audience to resist the "pressure created by Muslims". "Hindu samaj ab bardaasht nahi karega" he is heard saying. He also says that if he is made the SP of Mewat for a day, not a single cow will be slaughtered.
In the following video, Acharya Azad is seen shouting the slogan, "Jab tak todenge nahin tab tak chhodenge nahi" with a large group of cow vigilantes, including Monu Manesar. Rinku Saini, who was arrested in Junaid and Nasir's alleged murder, is also present at the scene.
YouTuber Ankur Arya's 30-minute interview with Acharya Azad is available on his channel, Satya Sanatan. In the video, Acharya Azad justifies vigilante violence quite a few times. At the 6:54 minute mark of the interview, Acharya Azad says, "All the great men of our faith ('mahapurush') have served 'Gau mata'. Many people pass remarks about cow vigilantism and accuse cow vigilantes of being hooligans. They say things like, "Nobody has the right to take anyone's life". I want to tell them that if someone resorts to violence, they must be answered with violence. Desh mein ya puri duniya mein jab shanti aayi hai, toh woh kranti ke baad hi aayi hai".
At the 11:40-minute mark again, Acharya says, "If a criminal who slaughters cows and has killed hundreds of cows in their lifetime faces retaliation from the police, a mob, or cow vigilantes, and dies as a result, it is dubbed as mob lynching and a drama ensues. But no one looks into the criminal's background…". Towards the end of the interview, Ankur Arya provides instances of Hindu gods and past leaders who, according to him, used violence to protect 'gau mata'. He then poses a rhetorical question, asking why the present generation of 'gau rakshaks' cannot use weapons to defend 'gau mata' too. Acharya Azad is seen smiling in agreement.
It is pertinent to note here that the use of guns is a common feature in this circuit of 'gau rakshaks'. The vigilantes frequently shoot at 'suspicious' vehicles, often aiming to puncture the tires, while live-streaming their actions. In some instances, the vehicle is a truck carrying a person in its open back. Monu Manesar and his allies also show off their firearms in pictures and videos of themselves with guns, accompanied by upbeat songs playing in the background.
Acharya Azad is also seldom seen without a clan of civil-dressed men carrying arms, seemingly 'gau rakshaks' themselves. He is revered in the circuit and carries security almost everywhere he goes. He also carries a gun himself.
This slideshow requires JavaScript.
We obtained a video that showed Acharya Azad firing a pistol in the air, surrounded by armed individuals cheering him on. He is then handed a rifle, which he also fires in the air. Monu Manesar, present at the scene, is seen recording the episode on his phone.
In another video, Acharya Azad is seen being ushered into a room followed by a group of men with firearms.
Azad's Patronization of Violent Cow Vigilantism
With Nasir and Junaid's alleged murder by Haryana's cow vigilantes, the harrowing treatment meted out to suspected cow smugglers by the 'gau rakshak' circuit in Haryana came into the limelight. Monu Manesar, the chief instigator, was among the first accused in the case. During our research, we came across several Facebook profiles of similar vigilantes in the Haryana circuit who use the same modus operandi as Monu. A common link between these self-styled cow vigilantes in the Haryana circuit is Acharya Azad Singh Arya.
Acharya Azad's participation in the activities of the 'Gau Raksha Dal' is quite evident from his posts on Facebook. However, there aren't many instances of Azad actively taking part in an 'operation' of chasing or capturing alleged cow smugglers or shooting at their vehicles. He sometimes poses with the team after an 'operation' and often shares images and videos on Facebook.
Below are pictures from a Facebook post by Acharya Azad where he gives an update about one such operation in which one alleged cow smuggler had been captured by the team. The accused (pictured in a red t-shirt) has a bloody lip. Acharya Azad is seen posing proudly with the entire team.
This slideshow requires JavaScript.
In a similar Facebook post, Acharya Azad blesses Monu Manesar and his team upon carrying out yet another 'successful operation' of capturing alleged cow smugglers and salvaging the cattle. The accused have swollen and bloody faces which indicate signs of a possible assault.
This slideshow requires JavaScript.
Acharya Azad has been pictured with several influential people like Haryana chief minister Manohar Lal Khattar, Baba Ramdev and editor-in-chief of Sudarshan News Suresh Chavhanke.
This slideshow requires JavaScript.
In an incident dated September 2014, Acharya Azad, who was then the president of Arya Dal, was injured in a police lathi-charge in Panipat. A group of people were protesting against the registration of a case against nine persons accused of extorting money from people transporting cows to slaughterhouses in Uttar Pradesh. Acharya, who was leading the protesters, was taken to a local hospital.
The White Scorpio
On February 22, that is about a week after Nasir and Junaid's alleged murder, Bharatpur Police released a statement revealing that a piece of key evidence — the vehicle that was used to kidnap Junaid and Nasir, a White Scorpio — had been located. Based on the technical evidence available to them, police claimed that the Scorpio had moved from Rajasthan to Jind. The vehicle was retrieved from a 'gaushala' in Jind. It had traces of blood on the seats.
Bharatpur Police released a video revealing the license number of the White Scorpio to be HR 70 D 4177.
Alt News discovered that the Scorpio vehicle had been spotted in multiple videos alongside Acharya Azad. In one particular video posted by his son, Narayan Arya, the text "आचार्य आज़ाद सिंह आर्य" (Acharya Azad Singh Arya) is imposed at the top, showing Acharya Azad standing near the car accompanied by several men (one of whom is carrying a firearm) and police officials. A police car can also be seen accompanying the Scorpio. The video was posted on February 3, 2022.
In another video, Acharya Azad is seen walking across while surrounded by armed guards. The same Scorpio with the same license number is parked in the background.
In a video, said to be shot in Mewat in April 2022, a man can be seen being violently dragged into a White Scorpio by armed men. The license plate of the car reads HR 70 D 4177, the same one that had been used to abduct Junaid and Nasir.
Jamia shooter out on bail Rambhakt Gopal uploaded this video on his Instagram with the caption "Taking away the cow smuggler". Men with pistols can be seen taking away a man. They have full freedom to violate law every day and still remain free.

Insta link: https://t.co/2ydAyjWY6Z pic.twitter.com/wWHImXQbFF

— Kaushik Raj (@kaushikrj6) April 24, 2022
The same car was again sighted in a photo uploaded by Narayan Arya (Acharya's son) on Facebook (now deleted) in August 2022. Firearms can be seen placed on the bonnet of the car.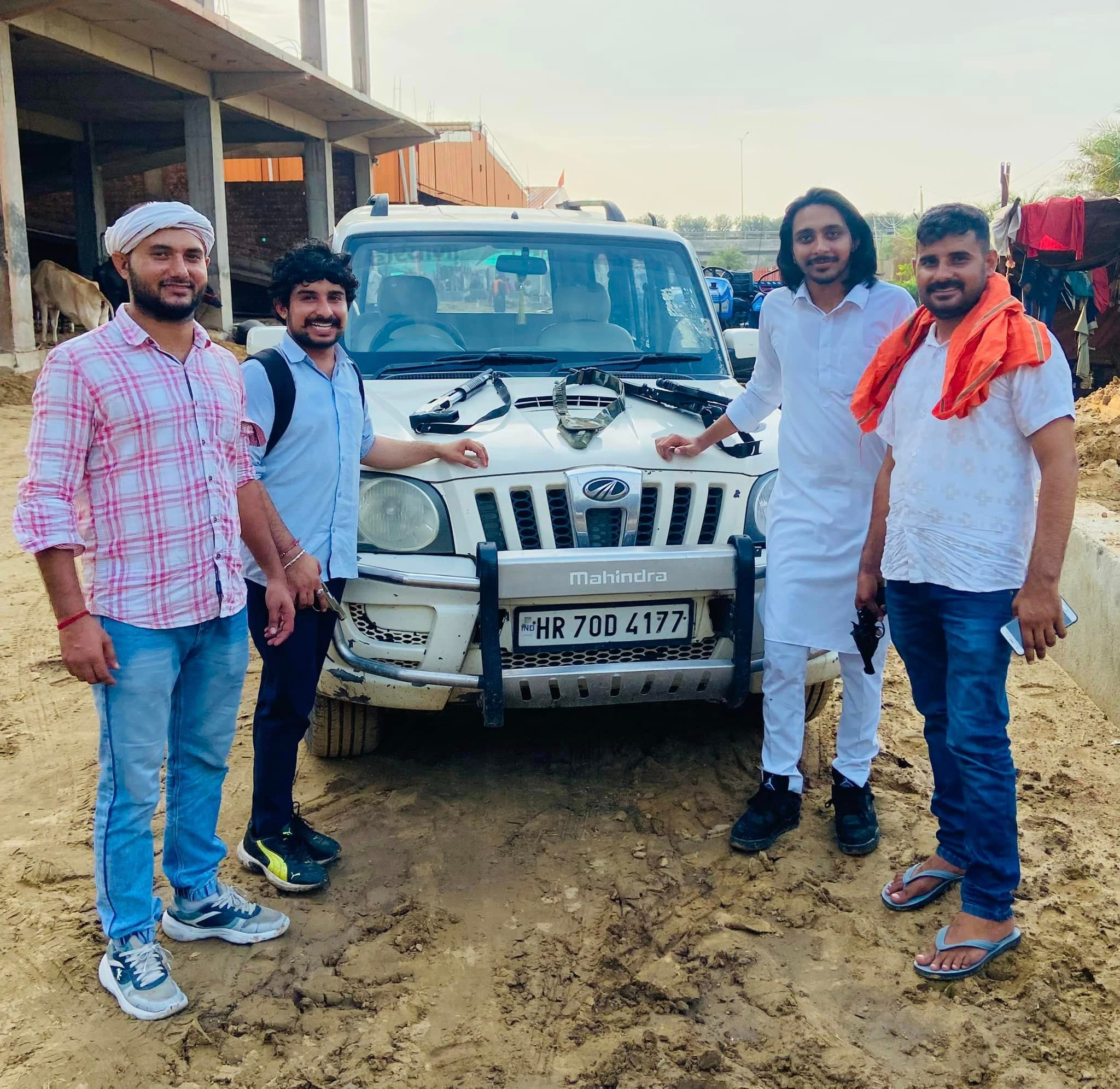 While looking into the details of the car, Alt News found online records that showed it was a Haryana government vehicle. The 'Haryana Head Office' in Chandigarh is listed as the registration authority of the car.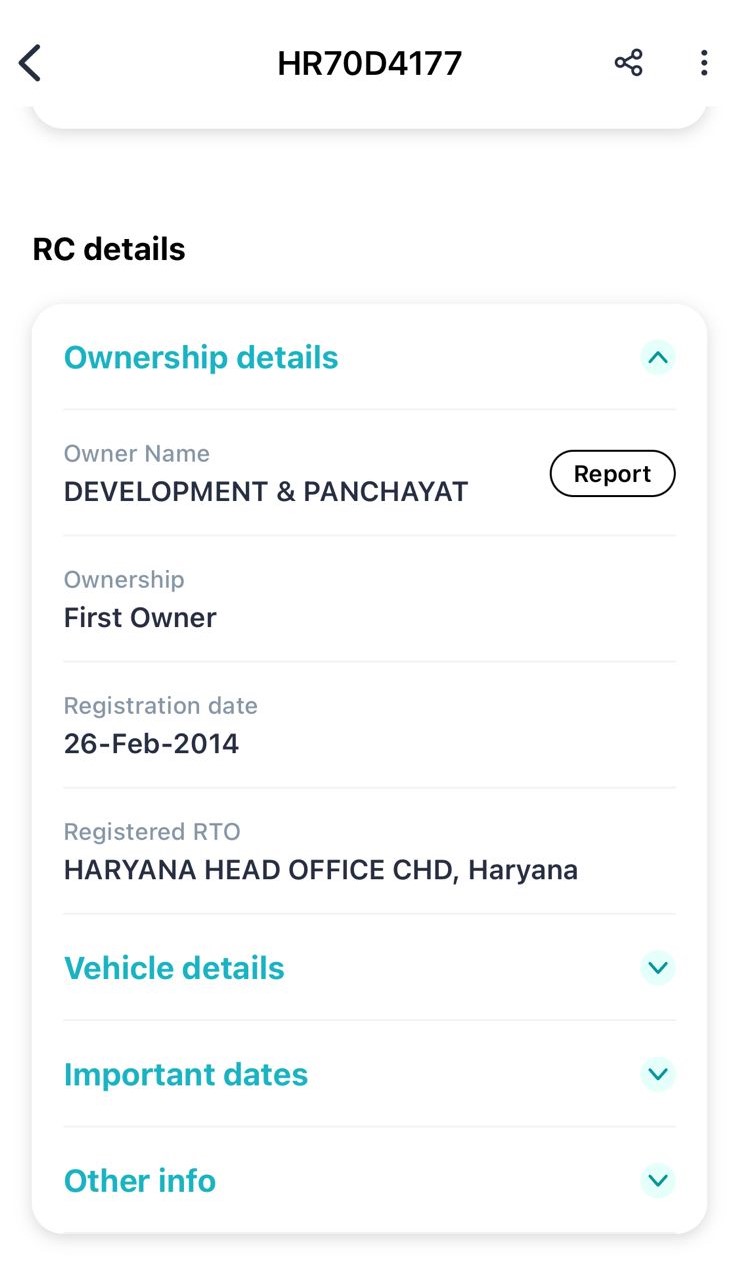 The Wire had reached out to Ram Naresh, Gopalgarh station house officer, in February to know the details of the car's ownership. He said, "The car belonged to the Haryana government's panchayat and development department, but it was auctioned off." When asked if he knew who the car's new owner was, SHO Naresh said he did not have any information.
Acharya's Inner Circle
Pardeep Panchal
The numerous images of Acharya Azad with cow vigilante Pardeep Panchal on his profile indicate a deep and personal relationship between the two. For Pardeep's birthday, Acharya Azad extolled him saying "Introducing Gau Bhakt Pradeep Bhapra ji can be compared to showing a lamp to the sun. He has dedicated his entire life to the service of the cow, such a devoted cow protector. Heartfelt birthday wishes to Pradeep ji!" on Facebook. The pictures show what looks like seized meat, Azad posing with Panchal with a memento in the shape of a cow and posing with other gun-toting men.
This slideshow requires JavaScript.
Acharya Azad's cover photo on Facebook also shows him standing alongside Pardeep Panchal and other men armed with guns. In an image uploaded by son Narayan Arya, Monu Manesar and Pardeep Panchal are seen posing alongside Acharya while he cuts his birthday cake with a sword.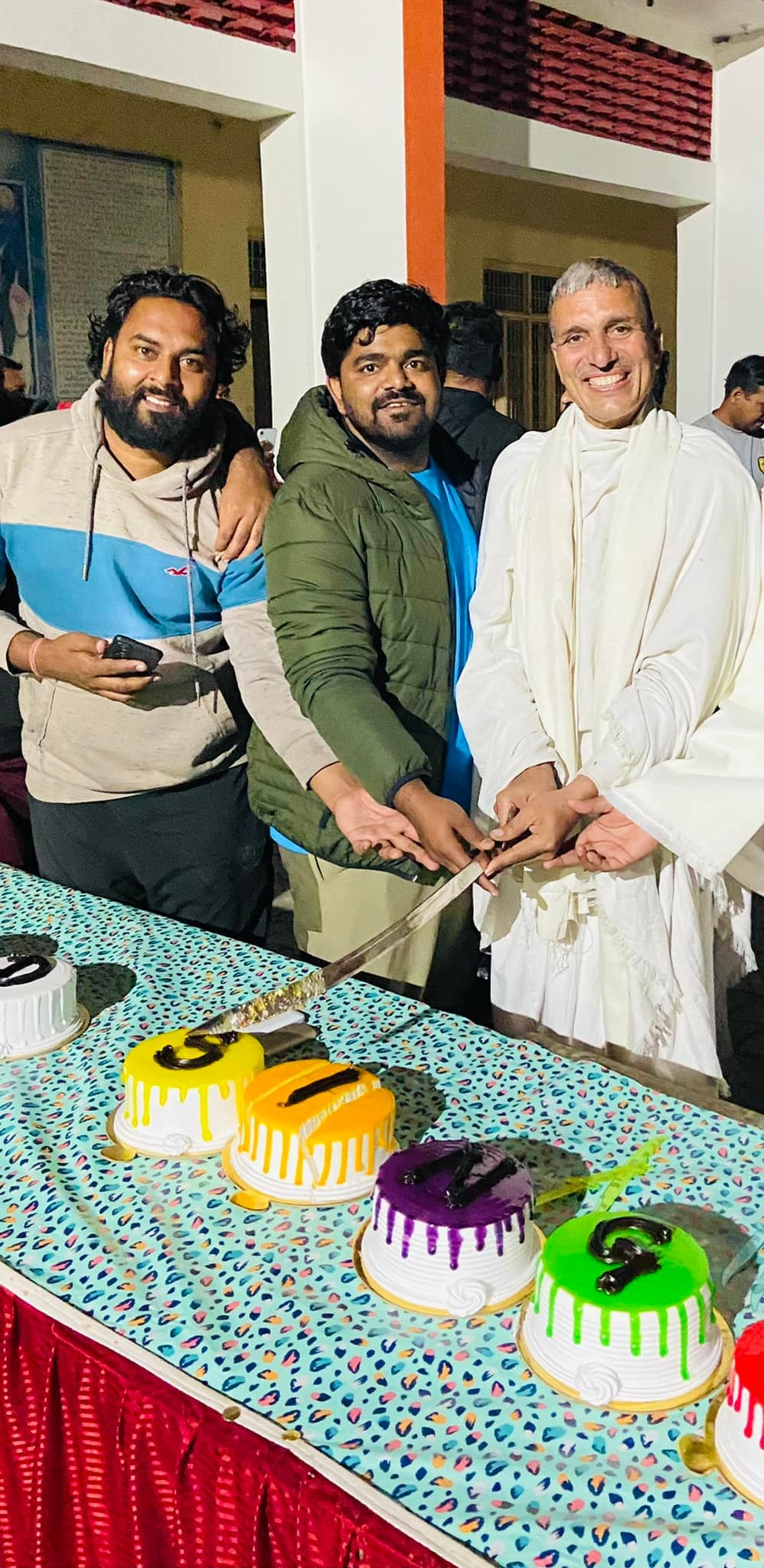 Azad's association with Pardeep, which is portrayed through images and videos on Facebook, however, only shows one side of Pardeep's vigilantism. What Acharya Azad doesn't mention is Pardeep's violent acts as a cow vigilante.
In the following reel uploaded through one of Pardeep's Facebook pages, a person, possibly an alleged cow smuggler, is seen being dragged through the streets and being assaulted repeatedly. The caption reads, "गाये बचेगी तोह देश बचेगा" (Translation: If cows are saved, then the country will be saved.).
In an incident on April 10, Pardeep Panchal posted an update about an 'operation' in which 12 cows were salvaged. The alleged cow smuggler was pictured with some police officials, fully clothed and with no visible injuries. Pardeep can be seen posing with the team.
This slideshow requires JavaScript.
Pardeep later shared a graphic on April 12 related to the same incident, with the text "Jab Tak Todenge Nahi Tab Tak Chhodenge Nahi" (Translation: Until we break them, we won't let them go) imposed on it. The image also includes a picture of the alleged smuggler, who now has a bloody face and blood spewed all over his shirt. This indicates that the smuggler was assaulted after the first image had been taken.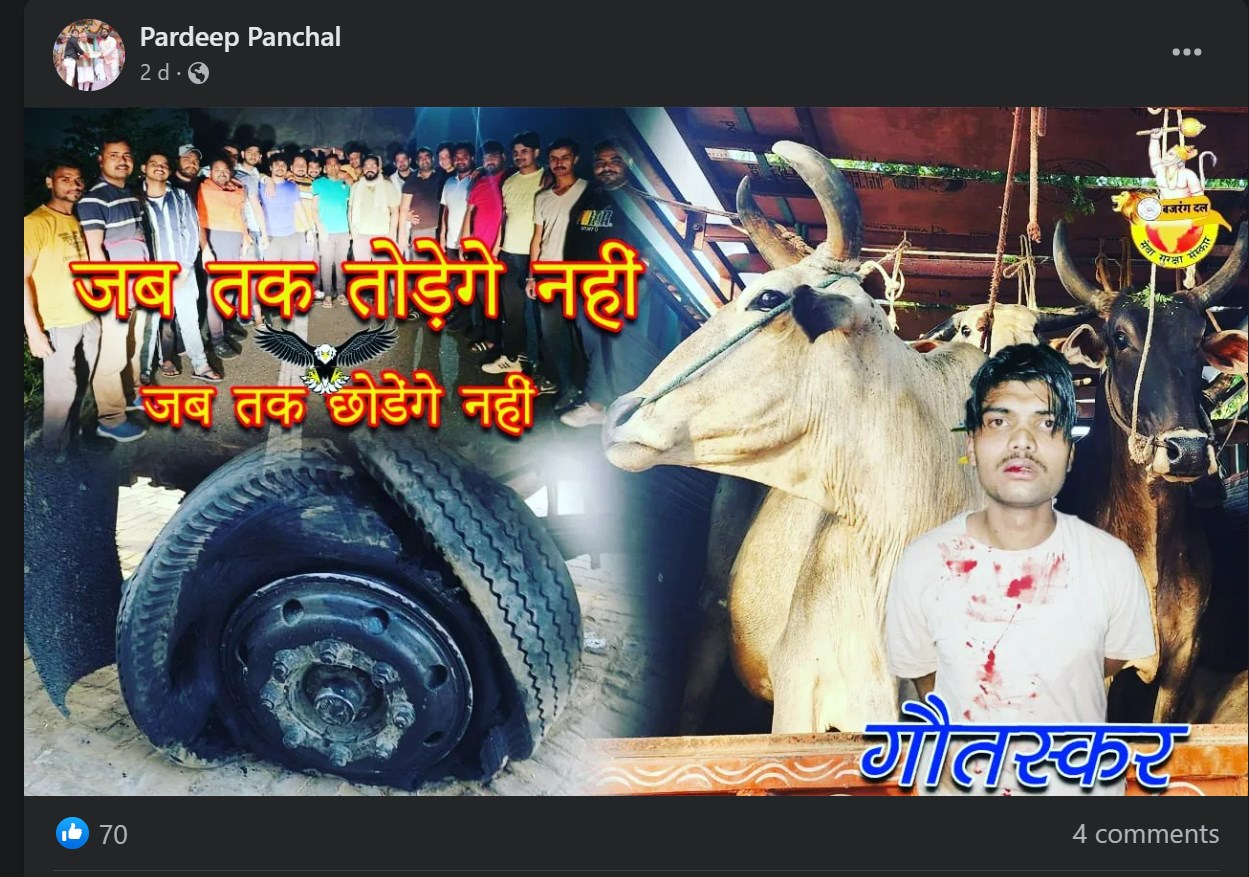 Monu Manesar
As pointed out earlier, Monu Manesar is the face of violent cow vigilantism in Haryana. He was one of the first accused in the alleged murder of Junaid and Nasir. He was also accused of murdering Waaris Khan by Khan's family. In our profile of Monu Manesar, we highlighted several videos where Monu and his team were seen chasing suspicious vehicles while brandishing firearms and shooting at them. We also highlighted how the accused were often pictured in a wounded (even unconscious) state after being captured by his team.
Monu Manesar's violent vigilantism is implicitly backed by Acharya Azad, who does not directly share any videos depicting violence or high-speed chases, but often praises Monu and his team for their 'efforts' in combating cow smuggling. Through birthday posts and speeches at Hindu Mahapanchayats, Acharya Azad has made his tacit support for Monu's vigilantism abundantly clear.
This slideshow requires JavaScript.
Monu Manesar's reverence for Acharya Azad is also quite evident from his posts on Facebook. For Acharya's birthday in November 2021, Bajrang Dal Manesar wished him on Facebook and uploaded several pictures of Monu and Acharya Azad. The caption reads, "Wishing a very happy birthday to our esteemed #Guruji_Acharya_Azad ji, who is the soul of Gau Raksha Dal Haryana, our ideal and our identity. May our Guruji always be happy and may his blessings be with our team forever.".
This slideshow requires JavaScript.
In a video interview of Monu Manesar and Acharya Azad uploaded by YouTube channel Ashu Chind vlogs, Monu is heard saying, "….gau taskar ko toh hum maarenge aur zinda katenge bhi. Unka kaam hum karenge aur aarop pratirop ko kaam karne wale pe lagte rehte hai. unme hume koi dikkat nahi hai. Hume pata hai aur hamari aatma ko pata kamari gurujan ko pata aur humari sabse priya gau mata ko pata, isse zyada hume kisiko batane ki zaroorat nahi hai ki hum karte ya hai.." while Acharya Azad remains silent, indicating his support for Monu's openly violent threat. This particular instance is representative of the backing that is provided by Acharya, while the vigilantes under his leadership continue to harass and assault alleged cow smugglers and make calls for violence.
Alt News tried reaching out to Acharya Azad and his son Narayan Arya over the phone multiple times over a week. Initially, they responded to our calls, but later both of them went unreachable. This story will be updated if we are able to get a response to our questions from either of them.
Donate to Alt News!
Independent journalism that speaks truth to power and is free of corporate and political control is possible only when people start contributing towards the same. Please consider donating towards this endeavour to fight fake news and misinformation.