On Friday, April 17, Hindi media outlet News24 shared a video on Facebook titled, "कोरोना ने बदला इबादत की तरीका,दिल्ली के जामा मस्जिद का माहौल क्या है?" This translates to – "Cororna has changed the ways of worship, what is the atmosphere in Delhi's Jama Masjid?"
The broadcast started with the anchor informing that the coronavirus scare has caused Islamic nations across the world to alter the ways of offering prayers. "People are being advised to offer namaz at home. But today we are at Delhi's Jama Masjid and here Friday namaz is being offered as usual." The channel gave its viewers the impression that worshippers gathered at the mosque on Friday despite the lockdown imposed due to coronavirus pandemic.
News24 took down the video after it was pointed out that the broadcast was over a month old. It was first aired on March 13. In its response, the channel claimed that an "old video was shared by mistake" and that it can assure its users that this was "totally unintentional".
Dear Zubair, this old video was shared by mistake and was taken down as soon as the mistake was realised. We can assure you and all our followers that this was totally unintentional.

— Corona Warrior News24 India (@news24tvchannel) April 17, 2020
However, several people downloaded the video and shared it on social media, believing that it is recent.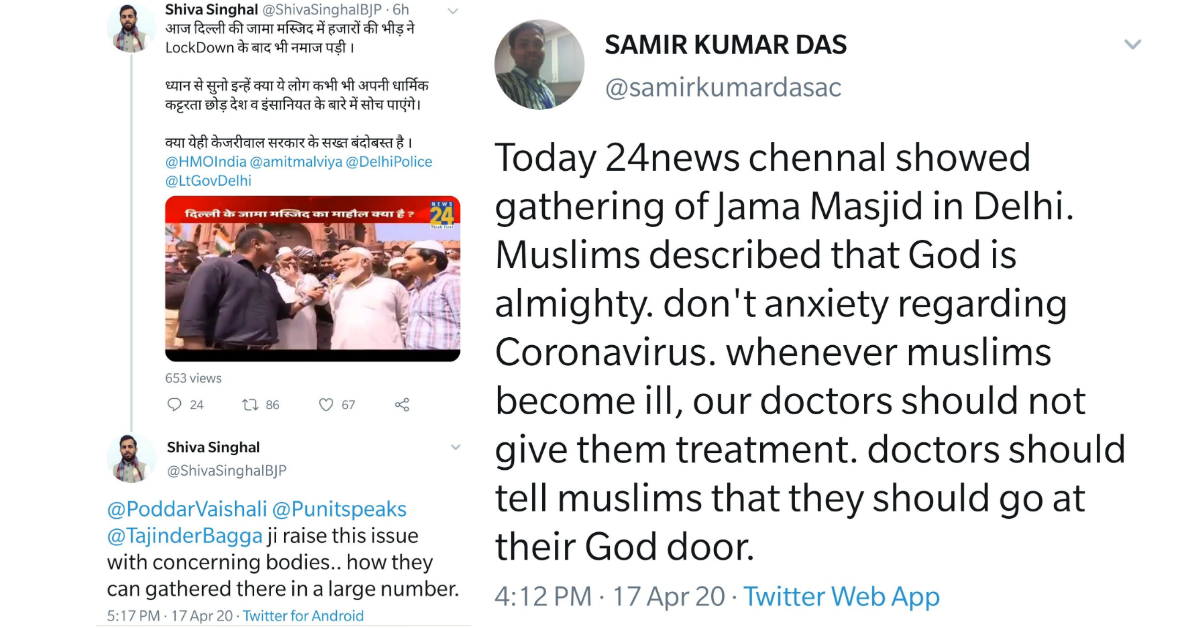 The channel claimed that it made a genuine mistake. But did it really?
"Fool me once, shame on you. Fool me twice, shame on me. Fool me three times…"
News24 wasn't lying that the broadcast was first aired on March 13. However, it is difficult to believe that sharing the clip on April 17 was an inadvertent error when this was the third time that the same broadcast was uploaded after its initial airing.
The channel had also shared the broadcast on March 19 and on April 1. News24 conveniently misled its audience that worshippers unfazed by the coronavirus outbreak were gathering in large numbers at Delhi Jama Masjid, putting themselves and everybody else at risk.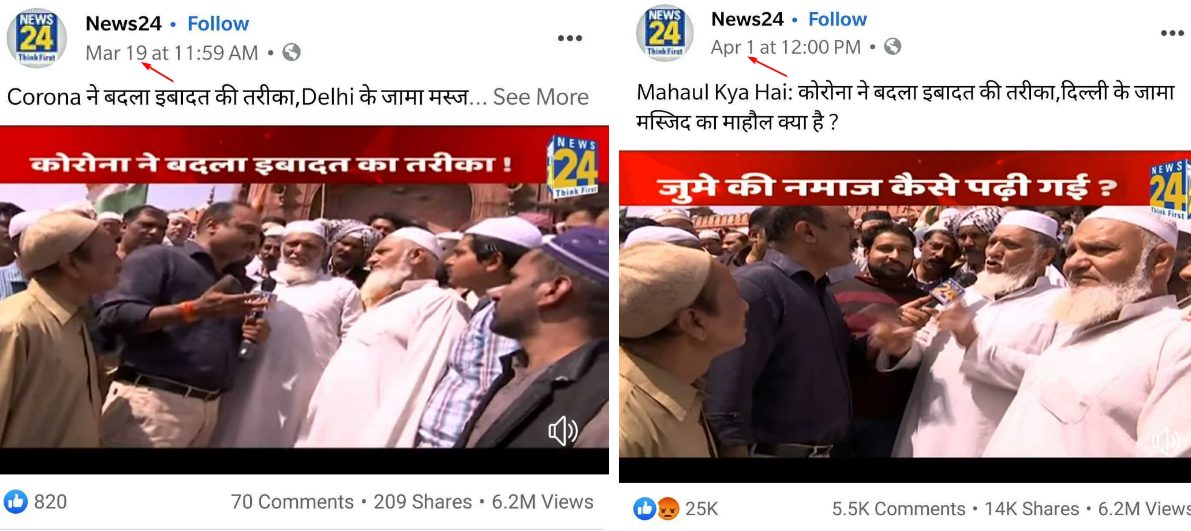 Below is the broadcast in question.
On the initial date of upload – March 13 – coronavirus had not gained centre stage in mainstream media reports. In fact, the Union Ministry of Health had declared that it wasn't a health emergency. However, by March 19, when the channel reuploaded the broadcast for the first time, the Delhi government had banned all social, political and religious gatherings of more than 50 people. On April 1, when the video was reshared for the second time, the centre had announced a nationwide lockdown to tackle coronavirus. On April 17, as the channel uploaded it once again (and later took it down), the discourse around coronavirus had already taken an anti-Muslim shape after Nizamuddin Markaz was identified as a hotspot. News24's broadcast has a cumulative view count of over 6 million.
News24 has put out a clarification for the April 17 'mistake' (sans an apology). But it would be interesting to find out its justification for reuploading the video on the two previous occasions.
Donate to Alt News!
Independent journalism that speaks truth to power and is free of corporate and political control is possible only when people start contributing towards the same. Please consider donating towards this endeavour to fight fake news and misinformation.