During the closing ceremony of the International Film Festival of India (IFFI) in Goa on November 28, jury head Nadav Lapid, an Israeli filmmaker, described the film 'The Kashmir Files' as a vulgar, propaganda movie that had disturbed and shocked the entire jury.
#Breaking: #IFFI Jury says they were "disturbed and shocked" to see #NationalFilmAward winning #KashmirFiles, "a propoganda, vulgar movie" in the competition section of a prestigious festival— organised by the Govt of India.
🎤 Over to @vivekagnihotri sir…
@nadavlapi pic.twitter.com/ove4xO8Ftr

— Navdeep Yadav (@navdeepyadav321) November 28, 2022
Lapid's remarks received a lot of media attention. Israeli Ambassador to India Naor Gilon wrote an open letter to Lapid saying that he should be ashamed of his comments. Fellow jury member Sudiptio Sen, the director of the soon-to-be-released film 'The Kerala Story', issued a statement saying that Lapid's comments were 'completely his personal opinion'. In a series of tweets, pro-BJP media personality Shefali Vaidya used abusive words against Lapid due to his remarks.
The maker of the film, Vivek Ranjan Agnihotri, himself issued a statement the next day saying that if any 'intellectual' managed to prove that a scene or a dialogue in the film was not true, he would stop making films.
Terror supporters and Genocide deniers can never silence me.
Jai Hind. #TheKashmirFiles #ATrueStory pic.twitter.com/jMYyyenflc

— Vivek Ranjan Agnihotri (@vivekagnihotri) November 29, 2022
As expected, various media houses rushed to interview Lapid following the controversy. He spoke to media houses including India Today, CNN-News18 and The Wire. In the context of these interviews, reports started floating on social media that Lapid has apologized for his remarks about the film. One report claimed that Nadav Lapid has walked back from his comments and called 'The Kashmir Files' a 'brilliant movie'.
Anupam Kher, who acted in the film, tweeted a graphic featuring the alleged quote of Lapid. Kher wrote, "Ultimately Truth always triumphs!" The graphic is based on a news report by Hindustan Times that claimed that during an interview, Lapid had called the film a 'brilliant movie'.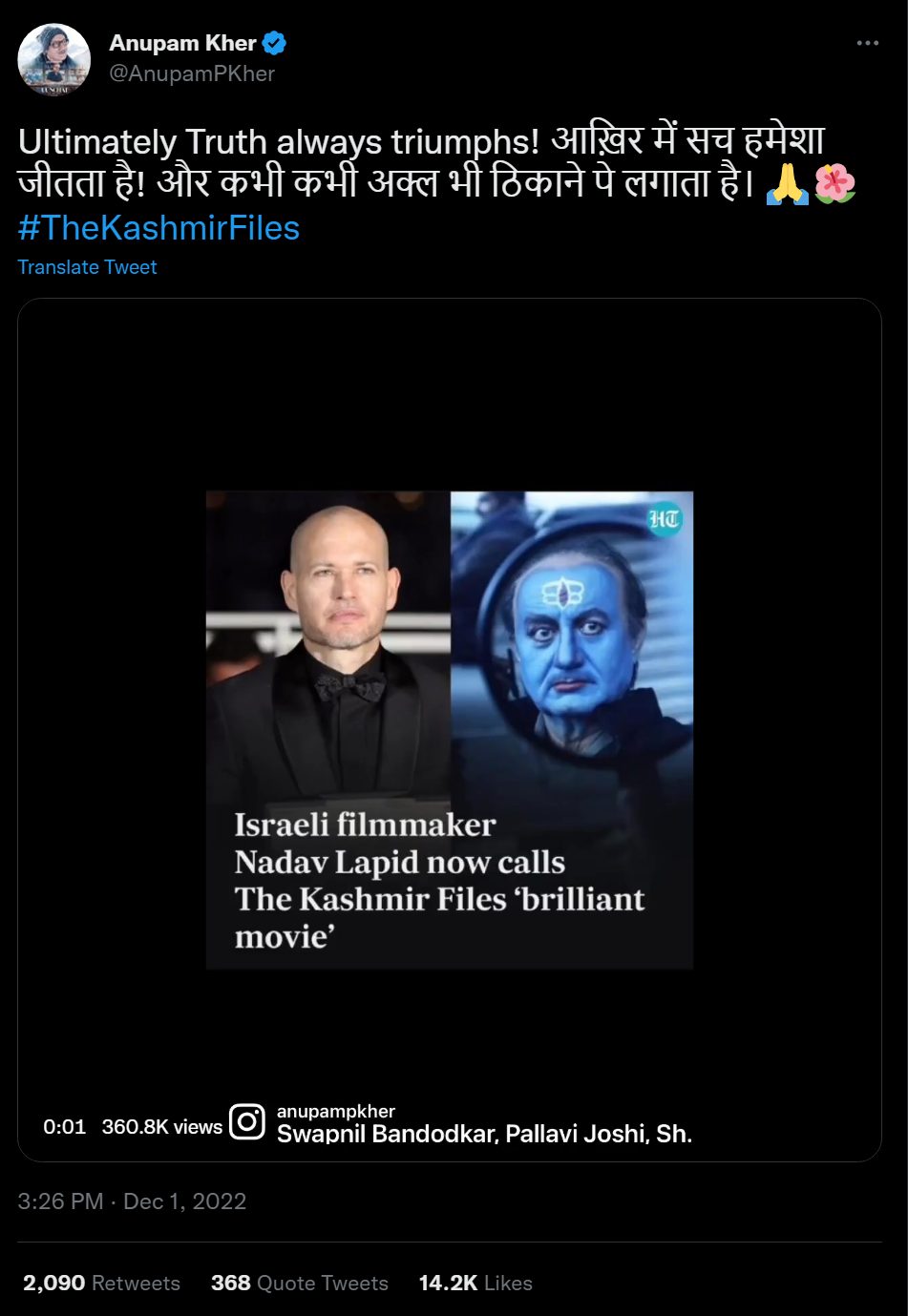 Others who have reported this include editorji, HT Entertainment, itimes, Times of India, and RVCJ Media.
This slideshow requires JavaScript.
The maker of the film, Vivek Ranjan Agnihotri quote-tweeted a tabloid report and wrote, "Most honest man of the world." The caption of the report said Lapid had apologized for his remarks.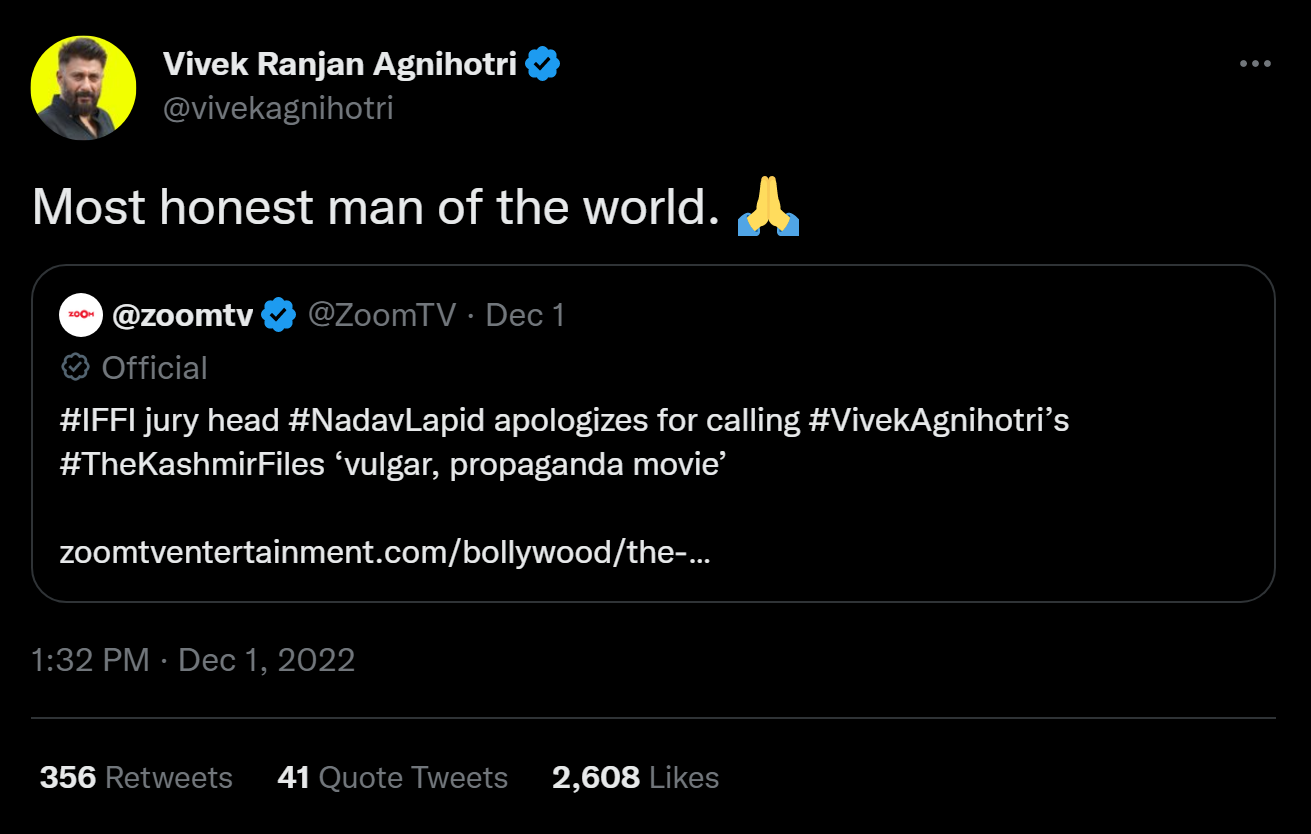 Additionally, NDTV shared a tweet along similar lines. It read, "Totally Apologise': Israeli Filmmaker On 'The Kashmir Files' Comments"… ANI Digitial wrote, "Israeli filmmaker Nadav Lapid apologises for remarks on 'The Kashmir Files', deets inside."
This slideshow requires JavaScript.
Fact-check
When we read the reports of NDTV and ZoomTv, it became quite clear that Nadav did not apologize for his remarks on the film. He said if his comments were insulting for the relatives of the sufferers, he apologized for that. His exact words were: "I didn't want to insult anyone, and my aim was never to insult people or their relatives, who have suffered. I totally totally totally apologize if that's the way they were interpreted."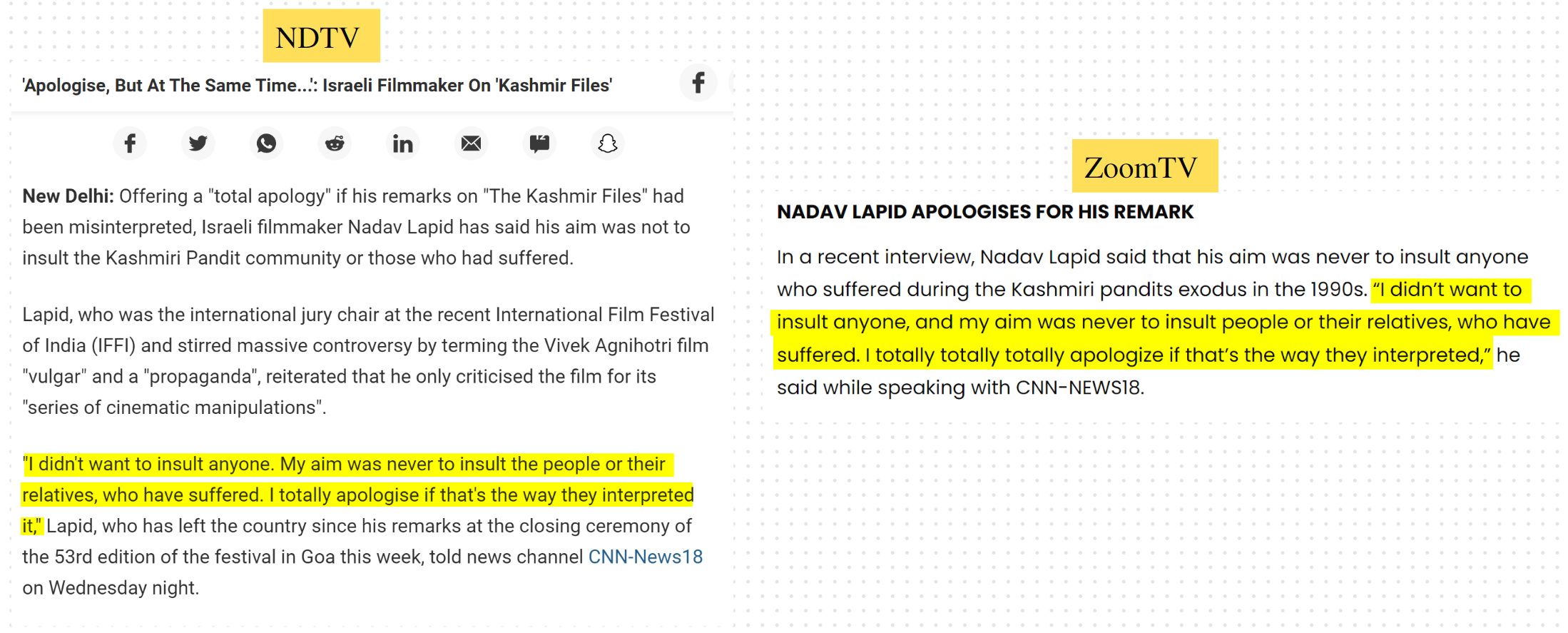 An article published by News18 based on the CNN-News18 interview also read the same.

An interview given by Lapid to The Wire published on December 1 touched upon these news reports. At 10:30 minutes, interviewer Karan Thapar brings up the CNN-News18 interview. To which Nadav responded, "as I said if they [relatives and victims] were manipulated to think that I disrespect the memory of their dear ones, of themselves, or the terrible things that happened I'm truly sorry. Afterwards, I'm not taking back one word that I said about the movie.
"I read somewhere that I claimed that the movie is brilliant. I mean I should be totally crazy and schizophrenic in order to say that. I mean I believe completely and I stand completely behind my statement," he added.
Alt News also watched the India Today interview of Nadav Lapid, based on which Hindustan Times published a report claiming that Nadav called 'The Kashmir Files' a 'brilliant movie'. At no point in this interview did Lapid change his stance. He never called the film a 'brilliant movie' during this interview.
He says,"…I totally respect and accept the fact that there are many people who love this movie, who think that it is a brilliant movie. As well as I respect the fact that there are people who think terrible things about my movies. But I, this year was invited to Goa as the president of the jury because of my achievements as a filmmaker. In order to express my opinion, my view and the view of the jury about the movies. So, exactly as much as the people who love the movie. Of course, with full right, it goes without saying to claim that it's a brilliant, unbelievable movie, I have the right to claim the opposite…" [watch from 6:00-minute mark].
To sum it up, misleading news reports and misleading captions gave the impression that filmmaker Nadav Lapid had changed his stance regarding his criticism of the film 'The Kashmir Files'.
Donate to Alt News!
Independent journalism that speaks truth to power and is free of corporate and political control is possible only when people start contributing towards the same. Please consider donating towards this endeavour to fight fake news and misinformation.