There are several channels on YouTube known to peddle political propaganda, whether in support of the government or against it. In the past, Alt News has intimated the video platform about channels that have been using hate speech and inflammatory language in their videos in a bid to incite unrest. Taking cognizance of the matter, YouTube suspended these channels. You can read more about our impact in this regard in this detailed report.
One such YouTube channel is Nation TV. With around 5 lakh subscribers, this channel regularly amplifies misinformation of the most outrageous kind, often against the BJP. Multiple videos released by this handle have been viewed by lakhs of users. Their popularity is also in part due to the sensational titles and thumbnails they use, which serve as clickbait for viewers.
Case 1
Nation TV uploaded a video on September 11, titled, 'Hema Malini comes to support Congress' Bharat Yatra and rips Modi to shreds'. It is worth noting that the Congress' Bharat Jodo Yatra, which kicked off from Kanyakumari on September 7, will conclude in Srinagar after passing through 12 states and two union territories in the next five months. The channel claimed that BJP MP Hema Malini came out in support of the yatra. In the video, which has received more than 5 lakh views, Hema Malini has been quoted as saying, "This Bharat Jodo Yatra will end the efforts being made to spread hatred and increase mutual hatred in the society." Neither does the video contain a sound bite featuring the actor-politician making the remarks, nor does it mention when and where she did so. In addition, the video also states that Hema Malini launched a scathing attack on Modi-Shah.
Before the video was deleted, it had amassed more than 12 lakh views.
Alt News discovered that the muted clip of Hema Malini used in the Nation TV video was from an old rally held in February 2022. In the original clip, she is singing praises for the Modi administration. In the same speech, she also appreciates the Prime Minister's efforts toward ending the conflict between Russia and Ukraine.


Furthermore, we could not find any credible news source corroborating Hema Malini's reported support for the 'Bharat Jodo Yatra'. This confirms that Nation TV used an old muted video to make this false claim.
Case 2
Nation TV outrageously claimed in another video that PM Narendra Modi's wife Jashodaben came out in support of the 'Bharat Jodo Yatra'. It was titled, 'Modi's wife Yashodaben attacks him after joining the Bharat Yatra?!'
This video garnered over 12 lakh views before it was deleted. However, Alt News managed to download the footage before it was wiped from the page.
Alt News could not find any news report on Jashodaben's participation in the 'Bharat Jodo Yatra'. Therefore, it is safe to conclude that this claim too was baseless.
Case 3
The channel also claimed that Nitin Gadkari participated in the 'Bharat Jodo Yatra'. The title of this video is, 'Nitin Gadkari joins Congress' Bharat Yatra and criticizes Modi?!'
This clip was viewed by more than 4 lakh users.
Just like the misleading claims about Hema Malini and Jashodaben, this one too is a piece of misinformation. Alt News performed a keyword search, but could not find any report of Nitin Gadkari's involvement in the Congress rally. Nation TV used a 2011 video of the senior BJP leader and carried it out of context. In 2011, the UPA government was in power and BJP leader Nitin Gadkari was issuing statements in their opposition.
Case 4
Nation TV claimed in a video that senior journalist Ravish Kumar also joined the Bharat Jodo Yatra. This clip was titled, 'Senior journalist Ravish Kumar joined the Bharat Yatra and ripped Modi to shreds?'
Alt News found that this claim was false as well. In this case, the video carried a two year old muted clip of Kumar, which had been taken from a Facebook post. Alt News reached out to the journalist, who clarified that he had not participated in the march led by Rahul Gandhi.
False claims linked to Bharat Jodo Yatra
Alt News noticed that the channel has circulated false claims not just about BJP MP Hema Malini, but several other members of the BJP supporting the Bharat Jodo Yatra as well.
The screenshot below shows such instances. The personalities about whom false claims were shared include Amitabh Bachchan, Union agriculture minister Narendra Singh Tomar, former President Pratibha Devisingh Patil, former IT minister Ravi Shankar Prasad, former CJI Ranjan Gogoi, former Rajasthan chief minister Vasundhara Raje and Vice-President Jagdeep Dhankhar. Many of these videos have since been taken down by the channel.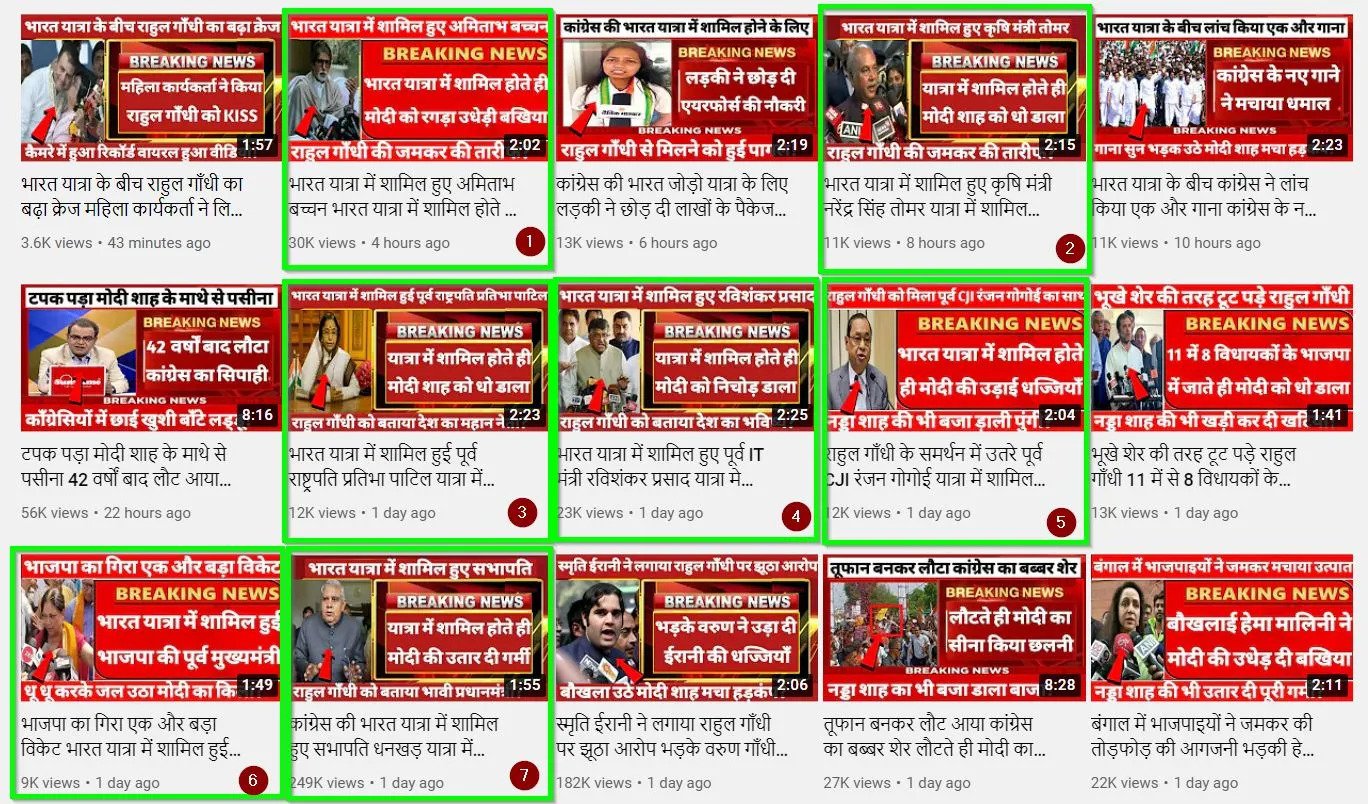 The list is seemingly endless. Nation TV peddled false claims about others attending the Bharat Jodo Yatra, including BJP MP and actor Sunny Deol, Subramaniam Swamy, Satyapal Malik, former President Ram Nath Kovind, Mulayam Singh Yadav, President Draupadi Murmu, Anupriya Patel of Apna Dal, Lok Sabha Speaker Om Birla , and Ghulam Nabi Azad.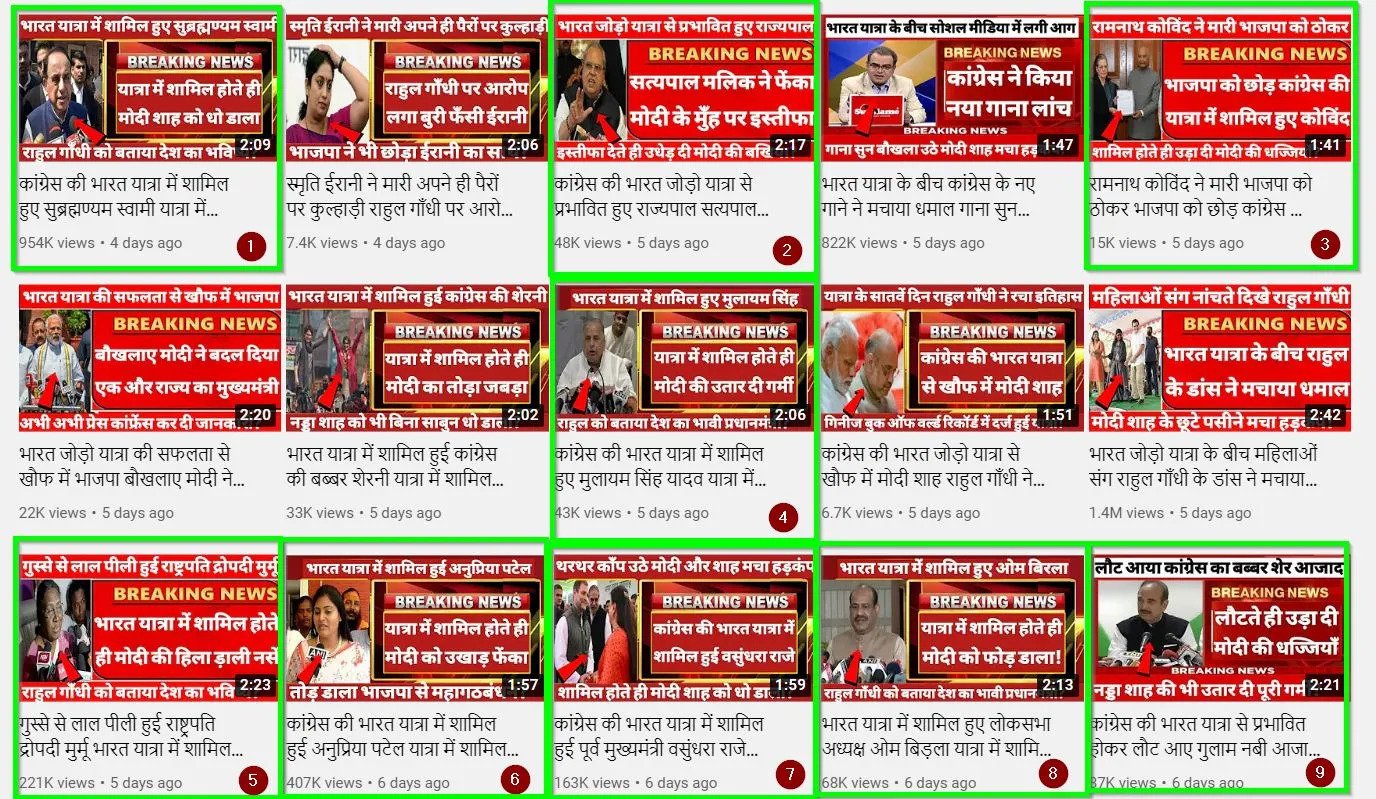 In addition, Nation TV falsely claimed that Bahujan Samajwadi Party leader Mayawati, RJD chief Lalu Prasad Yadav and defence minister Rajnath Singh too came out in support of the Bharat Jodo Yatra.
This slideshow requires JavaScript.
Alt News found that the claims made in these videos by Nation TV are completely baseless. None of the leaders or celebrities mentioned by the channel have supported or participated in the Congress march.
In fact, almost every video posted by the channel follows the same script. There is a random photo of the public figure in question alongside a 'Breaking News' ticker and a few silent clips of them from older public appearances.
Morphed visuals circulated to attack PM Modi
The channel posted another video with a thumbnail that reads, 'Prime Minister in hot water ahead of Gujarat elections, Modi's secret video leaked, Modi shamed all over the country?' The visual used in the thumbnail is a morphed image of women and child development minister Smriti Irani with PM Modi. The breaking news in question is that a secret video featuring the prime minister had surfaced recently.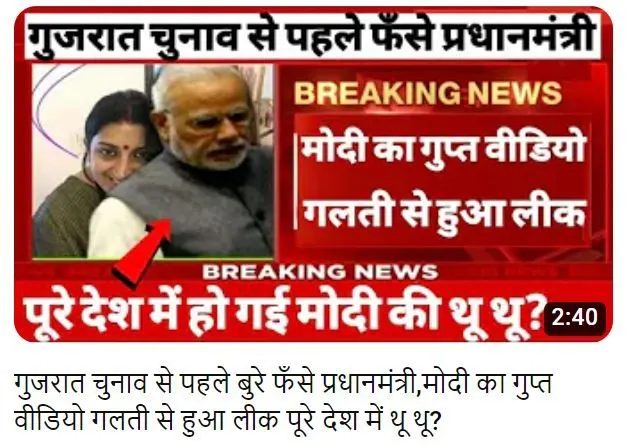 However, the actual report contains no mention of what has been claimed in the thumbnail. This channel made this video using a 2013 statement issued by the prime minister. Moreover, there is no mention of Smriti Irani anywhere in this. Thus, we can conclude that the channel is resorting to such wrongful tactics in a bid to garner views.
Given below is a side by side comparison of Nation TV screen-grabs on the left, and graphics from other Hindi media channels on the right. From this, it is evident how Nation TV has used graphics like 'Breaking News' to make itself appear like a mainstream media outlet.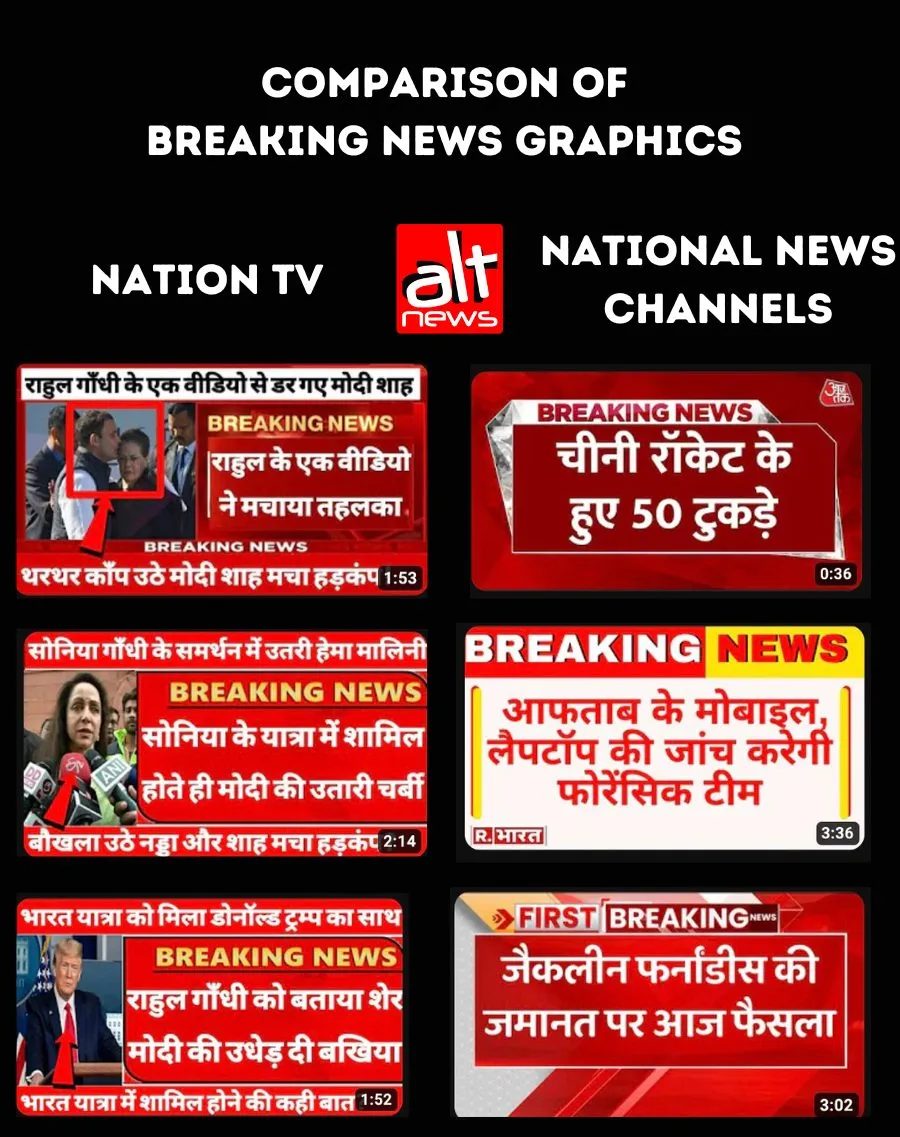 Who is behind this propaganda channel?
Alt News performed a Google search using the email address mentioned in the channel's 'About' section, which led us to a second channel titled 'Samvad TV'. This is a verified channel with more than 1 million subscribers. Nation TV is listed in the 'Featured' section of this channel. This means that the same individual runs Samvad TV, Samvad News, Nation TV and Bharat TV.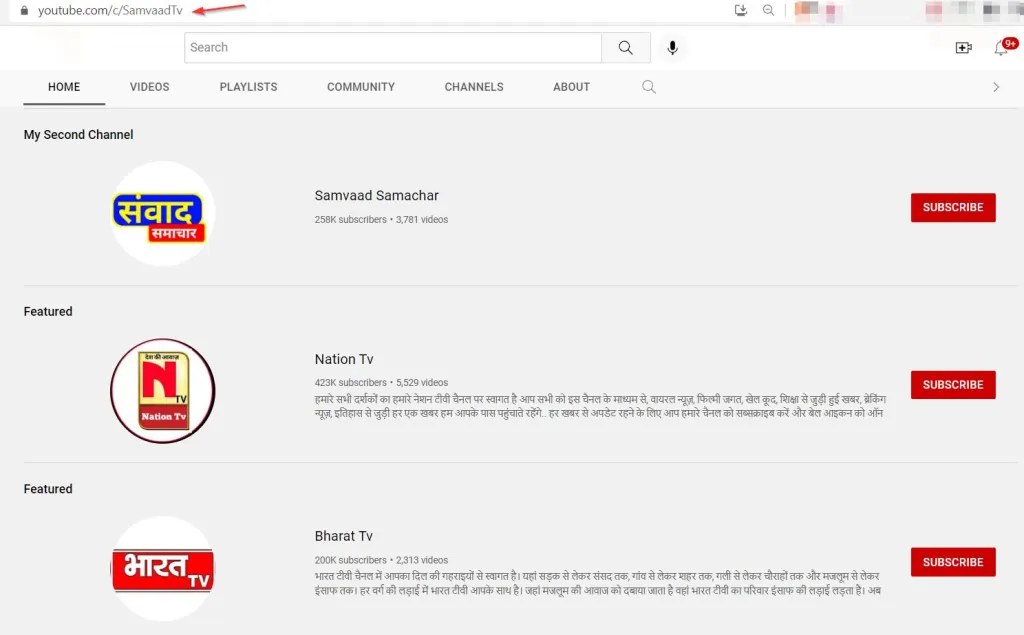 We have noticed that channels like Nation TV and Samvad TV also spread misinformation by posting false propaganda videos. Here are the titles of some of the recent videos uploaded by this channel:
Rahul Gandhi speaks at Bharat Yatra, tears Modi to shreds
Rahul Gandhi crushes the BJP, Modi-Shah feeling the pressure
Manmohan Singh creates a stir, criticizes Modi on stage
Watch out! A 60 year old female Congress supporter rattles Modi
A staunch Hindu predicts the end of BJP during Bharat Yatra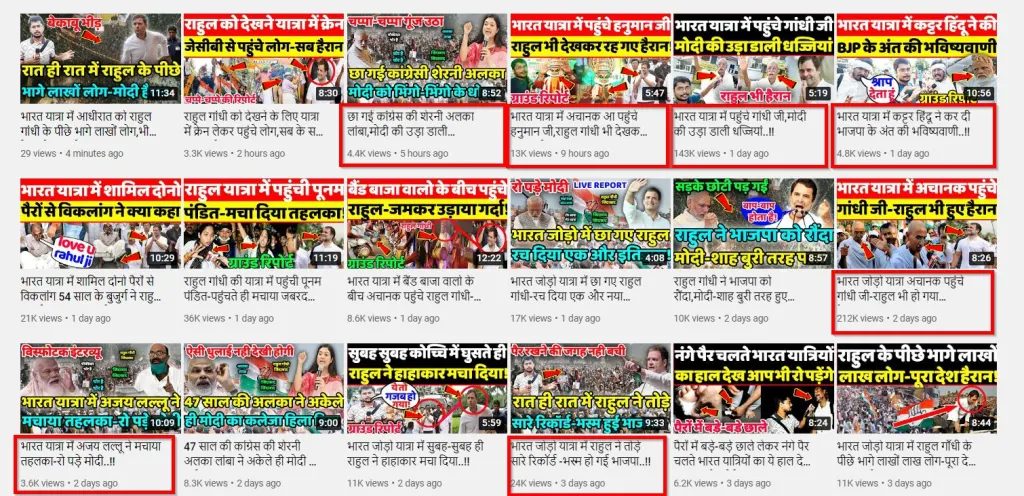 Upon further investigation, Alt News found the Twitter handle of Samvad TV, which has only 74 followers on Twitter. One of the users in this list is named Neeraj Tiwari, who identifies himself as a proud reporter of 'Nation TV'. It is worth noting that the name of his handle is @neerej693, just like the Nation TV's username (@nationtv693). Tiwari's bio also contains a link to the Nation TV YouTube channel. (Archived link)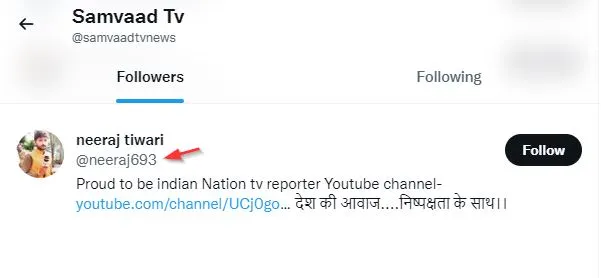 We also noticed that Tiwari often shares Nation TV's videos to different groups on Facebook. Among them are 🇮🇳 Congress. Party 🇮🇳, with 45,000 members), Indian youth Congress, with 19,000 members, I m back Congress …. Rahul Gandhi, 27,000 members, along with Indore Vidhan Sabha-2 IT Cell Youth Congress, 788 members.
This slideshow requires JavaScript.
In view of this, Alt News can conclude that both Nation TV and Samvad TV are being run by an individual named Neeraj Tiwari, who posts anti-BJP and anti-Modi propaganda. Alt News reached out to Nation TV. Tiwari admitted to using clickbait titles to maximize views and his earnings from YouTube. When asked why he spreads misinformation, he claimed that if something misleading was posted by his team by mistake, it was rectified or deleted later.
It is significant to note that the content hosted by the channel violates YouTube's community guidelines in multiple ways, most prominently, YouTube's Misinformation Policy and Thumbnails Policy. After Alt News wrote to YouTube in this regard, the platform responded on November 28 saying that "we have removed a video from Nation TV for violating our misinformation policies with misattributed content, and issued a strike to the channel in accordance with our long standing three strike system."
Donate to Alt News!
Independent journalism that speaks truth to power and is free of corporate and political control is possible only when people start contributing towards the same. Please consider donating towards this endeavour to fight fake news and misinformation.