Inter-faith relationships between Hindu women and Muslim men have been a sore point for the Indian Right Wing for decades. The alleged defiance of traditional norms and customs by Hindu women has often led to moral policing and vigilantism. With the idea of 'love-jihad' making entry into public discourse, such vigilantism has seen exponential growth in recent years. The Shraddha Walkar murder case has added fuel to the fire as accused Aftab Ameen Poonawala is a Muslim.
The heinous act was met with widespread condemnation from all spheres of society. As more and more details of the gruesome murder became public, several prominent personalities took to social media platforms to express their shock. We first came to know that Shraddha and Aftab met on an online dating app and despite their parents' disapproval, pursued the relationship and moved to Delhi. Subsequently, there were reports quoting Shraddha's father where he said that he had disapproved of his daughter's relationship with Aftab because the latter was a Muslim. As a result, Shraddha walked out of his home in Mumbai and they hadn't been in touch for over a year. Since this piece of information came out, Aftab and Shraddha's religious identities and political beliefs, and invasive scrutiny of their lifestyle and life choices became the focal point of much of the discourse — both in social and mainstream media.
Several news media outlets relentlessly reported on the incident. Much of the reportage sought to sensationalize the crime with unpleasant details, communal undertones, and victim blaming and shaming.
Setting the Narrative
Interestingly, instead of focusing on violence against women in domestic spaces, from the very outset, the conversation veered towards a collective protest seeking surveillance and sanctions on inter-faith relationships. The accused in this case is a Muslim man and the victim is a Hindu woman. Hence the incident was lapped up by the love-jihad theorists who oppose such relationships to target Muslims.
Rishi Bagree, for example, tweeted an image with the text, "श्रद्धा के जिंदा रहते उसको समझाते तो वह अंधभक्त बोल के ब्लॉक कर देती..". (If somebody talked to Shraddha about this when she was alive, she would have blocked them calling them an 'andh-bhakt'). Bagree implied that even if someone explained to Shraddha the inherent risks in getting into a relationship with a Muslim, she wouldn't have listened because of her sociopolitical ideology.
आज का कड़वा सच pic.twitter.com/ps7nS7eQMF

— Rishi Bagree (@rishibagree) November 18, 2022
Bagree has 2.5 lakh followers on Twitter. When such opinions get amplified, they eventually facilitate collective hatred, often with real life consequences.
The most common narratives of social media vigilantes were twofold:
First, the accused, being a Muslim, is intrinsically a criminal. This is what is expected of him. Within hours of the case hitting the headlines, 'Abdul' and #lovejihaad started trending on social media. Several Twitter users (noticeably aligned with the Right Wing) tried to demonize the Muslim community by implying that being involved with a Muslim man or 'Abdul' would result in a fate similar to Shradhha's. Editor-in-chief of OpIndia, Nupur J Sharma tweeted, "Aapka Abdul bhi waisa hi hai" (Archive). The implication is that all Muslim men would mete out the same treatment to their respective spouses as Aftab did to Shraddha.
"Aapka Abdul bhi waisa hi hai"

— Nupur J Sharma (@UnSubtleDesi) November 14, 2022
Second, a Hindu woman is at fault if she chooses a Muslim partner going against her family, transgressing her faith and ignoring the 'obvious' dangers. For example, @dr_vee95 tweeted:
Always listen to your parents. You'll be dead otherwise and people won't even realise for over 6 months.#Shraddha pic.twitter.com/evWuGFaJke

— dr_vee (@dr_vee95) November 15, 2022
The tweet implies that the deceased is as responsible, if not more, as the perpetrator since she was the one who defied her parents and walked out. The subtext of such a comment is that it is unethical for a woman to choose personal aspirations over the sanctity of institutions like the family. Hence, her death is, in some sense, justice for such an act of transgression.
Apart from the obvious communal angle, these opinions also reflect a major part of the national sentiment, unveiling the ugly side of this nation's tryst with gender sensitivity. The tweets and comments on social media are not only deeply sexist and degrading to the victim and women in general, but also lie on the fringes of gender-based hatred.
Lying underneath the victim blaming and shaming, there is a deep rooted conception in the collective psyche of who a woman can be or cannot be, in other words, the stark differences between an ideal woman and a fallen woman. One of Alt News projects has been to document hate speech in various forms, and to document this constant struggle with moderation of speech; hanging between the right to free speech and right to dignity. It is in this context that we are trying to analyse the nature of outrage over Shraddha's death. We have taken the liberty to categorize the hateful content into three themes: Misogyny, The ideal woman versus the fallen woman, politics and practice. Most of the hateful tweets fall at the intersections of these themes.
Misogyny
Some of the tweets are plain misogynistic. Misogyny is a deep-seated hatred for women stemming from the belief in their inferiority, and the acceptance of prejudice against women as natural and just. The understanding and practice of misogyny varies from culture to culture. The proliferation of social media platforms has played a role here. For example, although the social role of women is no more confined to domestic spaces, but a vocal assertion of their freedom is treated with disdain.
In a statement to Hindustan Times, cyber-psychologist Dr Nirali Bhatia says, "Only cyberspace offers a platform to say exactly what you feel without being bound by societal norms or codes of conduct… The internet lets you get away with it".
We found some of the most vile misogynistic comments on Shraddha's Instagram and Facebook profile.
Examples:
Right Wing columnist Shefali Vaidya tweeted a screenshot of an OpIndia tweet which stated that "all of Aftab's 20 girlfriends would be questioned. Some of his girlfriends even visited the house where Shraddha's body was present". Vaidya's tweet was captioned, "I bet all 20 of them were stupid woke HINDU girls desperate for s€x! All of them could have been #ShraddhaWalkar! #AftabAminPoonawalla #MeraAbdulAisaNahiHai". (Archive)
I bet all 20 of them were stupid woke HINDU girls desperate for s€x! All of them could have been #ShraddhaWalkar! #AftabAminPoonawalla #MeraAbdulAisaNahiHai pic.twitter.com/IlRNTRYgAA

— Shefali Vaidya. 🇮🇳 (@ShefVaidya) November 17, 2022
Most of the tweets imply or overtly reflect a tendency to naturalize misogyny. Tweets implying Shraddha deserved the treatment that was meted out to her because she did not abide by traditional Hindu norms are very common. For example, the following tweet by user @Saffron_Nik (Archive)
We should not have any sympathy with those Hindu girls who leave their religion/community & marry Abdul.

Shraddha jaisi girls yahi behaviour deserve karti hai…

— Mini 🇮🇳 (@Saffron_Nik) November 14, 2022
Memes and jokes about this case have also flooded social media. Dehumanizing memes involving 'fridge' and 'suitcase' have been shared in abundance. Personal images of inter-faith couples are being arbitrarily circulated on social media with users asking questions like 'Fridge or Suitcase?' These memes have the power to visually evoke and provoke deep seated prejudice. Below are some of the tweets seek to hammer into the public imagination a sense of resentment towards inter-religious relationships.

This slideshow requires JavaScript.
Ideal Woman versus Fallen Woman
It is a common practice to stereotype women as either ideal or notorious. The Right Wing often subscribes to that and amplifies such classification. These binaries capture the collective psyche pretty easily. The ideal woman conforms to the proverbial mother-figure who abides by traditional familial values. For example, the tendency to link 'nation' to 'motherland'. When Assam CM Himanta Biswa Sarma, commenting on Shraddha Walkar's murder says, "If today the country does not have a strong leader, a govt that respects nation as a mother, such Aftabs will emerge in every city and we will not be able to safeguard our society:.", he symbolically puts women on a pedestal, to be protected at all costs, thus stripping them of their agency to be human.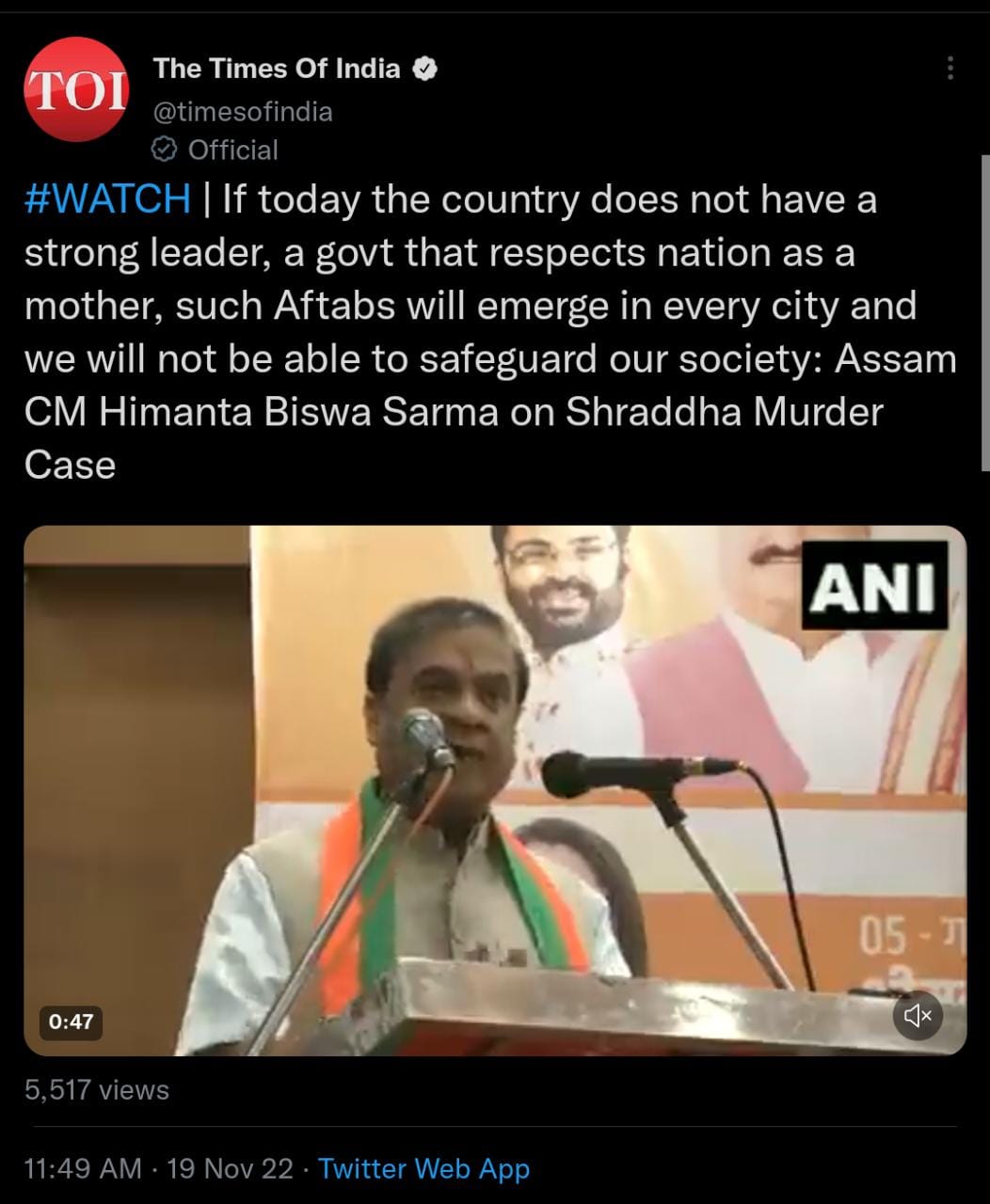 In a thoughtless tweet about the murder, BJP supporter and vocal Hindutva activist Shefali Vaidya sarcastically commented on Shraddha's defiance of her father's disapproval. This comes from the notion of an ideal woman as someone who obeys her parents and does not assert her own choices. Not only does her tweet have a patronizing tone, but she also described the gruesome details of the murder by using phrases like "…only to find her REALLY dead and chopped in 35 pieces!".
When her father opposed her relationship with Ola ka Banda #AftabAminPoonawalla, #ShraddhaWalkar told him, 'I am 25, I can do what I want. If you don't like it, consider me dead for you'. The same father tracked her down, only to find her REALLY dead and chopped in 35 pieces!

— Shefali Vaidya. 🇮🇳 (@ShefVaidya) November 15, 2022
In yet another hate-filled tweet, Vaidya attempted to put the blame for the murder on Shraddha. She felt the victim had lost her moral compass when she decided to "trample all over her parents feelings" by walking out on them to live with her partner. She also asked why Shraddha couldn't walk out of her abusive relationship insinuating that the victim is to be blamed for what happened to her. Here is an insightful article by 'Women Against Abuse' on why it is often difficult for the survivor to walk out of an abusive relationship.
What beats me about this whole sordid #ShraddhaWalkar #AftabAminPoonawala saga is how easily she could trample all over her parents' feelings and desert them but lacked the guts to walk away from an abusive partner! This is peak feminism I suppose?

— Shefali Vaidya. 🇮🇳 (@ShefVaidya) November 15, 2022
Right Wing columnist Madhu Kishwar tweeted, "One more martyr who valiantly crushed her parents with the heady slogan: My Body, My Right! Forget I am your daughter': Shraddha Walkar told parents. Today, none left to even mourn her death except the same parents she humiliated &callously cast away!".
One more martyr who valiantly crushed her parents with the heady slogan: My Body, My Right!

Forget I am your daughter': Shraddha Walkar told parents

Today, none left to even mourn her death except the same parents she humiliated &callously cast away!

— Madhu Purnima Kishwar (@madhukishwar) November 14, 2022
'My body, my choice' is a slogan that represents the idea of bodily autonomy and freedom of choice. It entails self-determination over one's own body, a basic human right. In the field of human rights, the violation of the bodily integrity of another is regarded as either unethical infringement and/or possibly criminal. In her tweet, Kishwar mocked this idea.
Kishwar is a repeat offender when it comes to hateful conduct on social media platforms. Her criticism is not just regressive, it does more. It presumes family dynamics to be neat and unproblematic in patriarchal institutions. It cleverly ignores any possible context that might have triggered a particular choice in a woman.
Former BJP member Balbir Punj asks, "did she think of her parents? Their warnings?" in a tweet. There is a direct implication here that the victim was at fault for not abiding by her parents.
SHARADDA's parents objected to her relation with Aftab.

She defied them, ignored their advice . Opted to live with him , at cost of all her relationships.

When Aftab ws strangulating her , did she think of her parents?Their warnings?Was she alive ,when he was chopping her?

— Balbir Punj (@balbirpunj) November 14, 2022
When Union minister Kishore Kaushal says things like 'girls are responsible for leaving parents for live-in relationship', 'Educated girls to be blamed' or 'Get married first, live-ins encourage crime', he is reinstating the patriarchal norm. Thus, any woman who does not fit into the narratives of the ideal woman should be prepared for the consequences of her choices.
#BreakingNews | Girls are responsible for leaving parents for live-in relationship: Union minister Kaushal Kishore insults #ShraddhaWalkar

"Educated girls to be blamed"

"Get married first, live-ins encourage crime"@kaidensharmaa | @toyasingh | #Shraddha #Vic pic.twitter.com/zoo5IZBCks

— News18 (@CNNnews18) November 17, 2022
Such narratives have an underlying implication that women who prioritize personal freedom, who do not hold on to community ideals, and who are individualistic with a mind of their own, are to be perceived as a threat to the community. In such an imagination, family is a sacred and an invincible institution which is under threat from modernity and thinking women. Such women cannot be a good judge of their choices without being guided by patriarchs and social institutions, in the process it is only just that they be stripped of ownership over their lives. Some of the tweets urge people to raise awareness so that 'gullible' Hindu women don't 'fall prey to' Muslim men. Such statements take away a women's agency to choose their partners, especially so in instances of inter-religious relationships.
Politics and Practice
At a time when social media enables surveillance and scrutiny of every moment of our lives, what we speak or espouse is put to test at every step. Any contradiction in speech and action is seen as a scope for trivializing a standpoint. For example, it is not enough that Shraddha believed in freedom of choice and right to dignity. For the vigilantes, her choices had to be a living proof of how she cared for her dignity. In the process, the focus of the entire discussion shifted from domestic violence — of which Shraddha was a victim — to bashing a liberal way of life, paving the path for victim blaming. This mentality is on display in tweets/comments such as the following:
This slideshow requires JavaScript.
Victim shaming also has nuances. For example, user @manasipkumar writes a long thread questioning why Shraddha Walkar did not walk out of an abusive relationship. Even though it is a valid question, the thread ends with a simplistic and naive assessment of Walkar's choices by asking if it was 'Codependency? Fear? Abandonment issues?' that made her stay back. Such remarks fail to humanize women.
In Conclusion
Victim blaming need not be directly abusive. It slowly creeps into society, trivializing the ideas of human dignity and justice, by delegitimizing constitutionally accepted constructs like secularism and liberty. Victim blaming is further accentuated when feminism and related concepts are frequently used in a pejorative sense by ridiculing a woman based on her looks. Victim blaming and shaming is considered a norm in a society where the burden of preserving the morality of a society is to be carried by the woman through their everyday choices, failing which they 'deserve' gruesome consequences.
Donate to Alt News!
Independent journalism that speaks truth to power and is free of corporate and political control is possible only when people start contributing towards the same. Please consider donating towards this endeavour to fight fake news and misinformation.