Hateful conduct can be grounds for suspension on Twitter and verified accounts "found to be in severe or repeated violation of Twitter rules", including but not limited to hateful conduct, may lose their verified badge. However, a verified user with two million followers who regularly shares objectionable posts targeting the Muslim community in India has not only been allowed to operate on Twitter but continues to do so with a 'blue tick' that gives her needless legitimacy.
Madhu Kishwar and her multiple Twitter policy violations
In a recently-deleted tweet, right-wing columnist Madhu Kishwar wrote that the "sexual prowess" of Muslim men allows them to entice Hindu, Christian and Sikh girls. She referred to Muslim men as "trained stud bulls" and gave the unproven "love jihad" a new name – "sex jihad".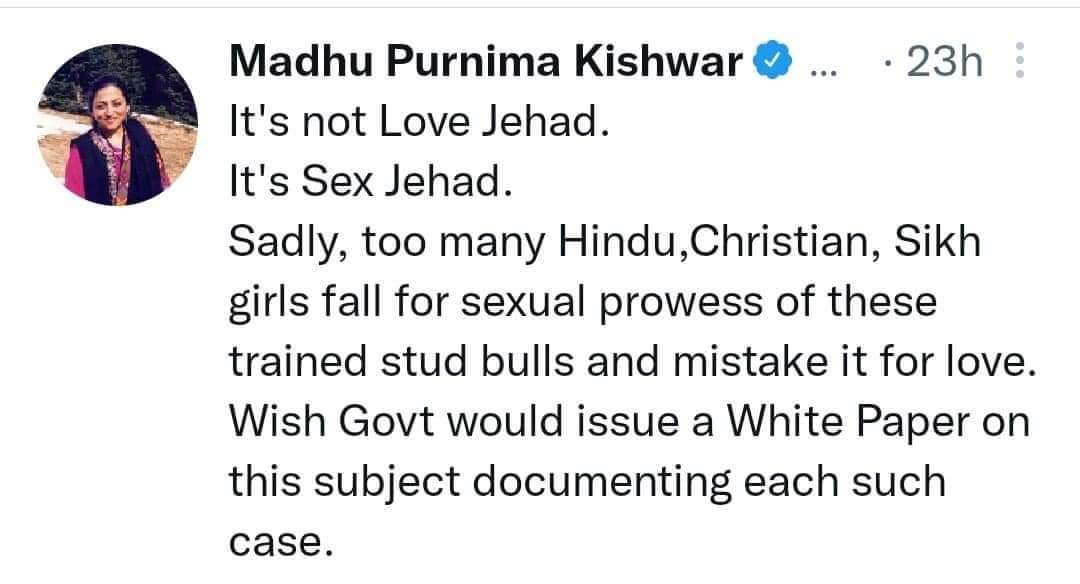 The absurdity of her words would be laughable if not for the inherent demonisation of Muslims. Kishwar is infamous for using such diatribes against the community.
She later took down her tweet after immense backlash and posted a clarification arguably viler than her initial tweet. She wrote that no animal, including "stud bulls", rapes or captures females for sex slavery and enjoys brutalising females of their own species but "Mazzabees take pride in being sexual predators". The term "mazzabees" has been used to refer to Muslims.
I deleted my tweet regarding "trained stud bulls for following reasons".
1.None in the animal world–including stud bulls- rape,capture females for sex slaves,enjoy brutalizing females of own species;
2. Mazzabees take pride in being sexual predators. Treated it as free publicity

— Madhu Purnima Kishwar (@madhukishwar) April 3, 2022
On July 23, 2022, she termed Pulitzer prize-winning Indian photojournalist Danish Siddiqui a 'jihadi'. Siddiqui was killed in an attack by the Taliban while reporting from Afghanistan. It took Twitter two days to remove Kishwar's tweet after massive public outrage and multiple reports. However, her account was not suspended.
While lone instances may not give Twitter enough reason to take down an account, how many strikes does it take? Madhu Kishwar has not violated one but multiple provisions of Twitter's policy on hateful conduct on a repeated basis.
1. Wishing, hoping or calling for serious harm to a person or group of people
On May 29, 2021, Madhu Kishwar had posted a tweet that suggested that the hands of Muslim men who engage in "love jihad" should be chopped off. "Love jihad" is a phrase coined by the Hindu right-wing that promotes an unproven conspiracy by Muslims to convert Hindu women to Islam.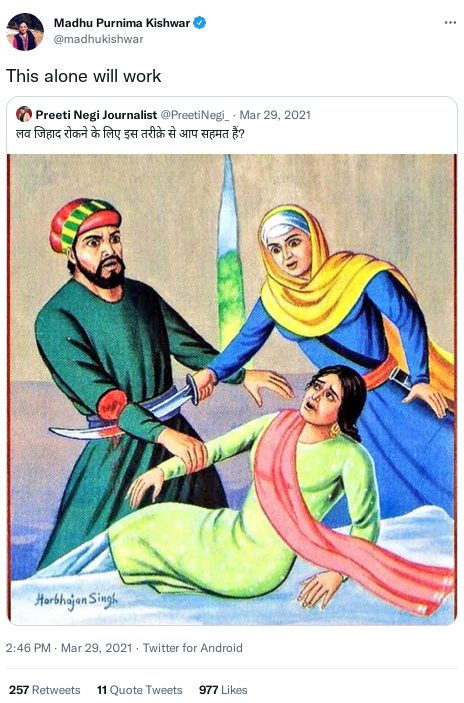 According to Twitter policy, the platform does not tolerate users "saying that a group of individuals deserves serious physical injury".
Twitter also prohibits individuals from expressing a "desire for death or serious bodily harm" against an individual or a group of people but Kishwar was not suspended for hoping that Muslims should be sent back to their "homeland as peacefully they arrived in India". She was referring to early Islamic conquests often marked with bloodshed while using the word "peacefully" in a sarcastic manner. She later took down the tweet but an archived link can be accessed here.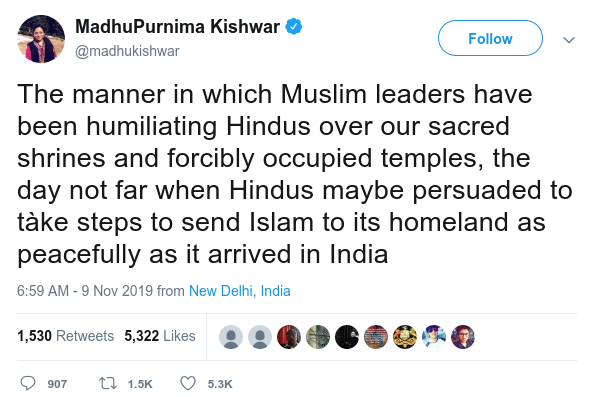 Kishwar had also celebrated Major Leetul Gogoi tying a Kashmiri voter to an army jeep when Srinagar was in polling in 2019. She wrote this is how "jihadi mobs" should be dealt with despite the fact that the man who was mistreated was a civilian.
Finally the security forces are learning to be innovative. No need to use guns for controlling jehadi mobs. This messenger of peace enough! https://t.co/vijwa7IZvF

— Madhu Purnima Kishwar (@madhukishwar) April 14, 2017
After Nizamuddin Markaz was identified as a COVID hotspot, she referred to Muslim majority areas as "mini Pakistan" and wrote that each and every resident of these areas should not be allowed to step out.
Not enough to Quarantine 2000 from #NizamuddinBasti.
@PMOIndia @drharshvardhan @HMOIndia please #Quarantine each & every #MiniPakistan in India.

They don't let police enter these Jehadi citadels even during normal times.

Don't let them step out & infect others. https://t.co/N9ca5IAY7v

— Madhu Purnima Kishwar (@madhukishwar) March 31, 2020
2. Incitement against protected categories
For this section, we have made a side-by-side comparison of Twitter's policies and Kishwar's tweets violating them.
Twitter prohibits users to "incite fear or spread fearful stereotypes about a protected category, including asserting that members of a protected category are more likely to take part in dangerous or illegal activities" yet Kishwar tweeting that the Indian army in Kashmir should not have helped a pregnant Muslim woman because her "father, husband, brothers, sisters or sons" are unlikely to "hesitate sheltering terrorists or stoning army men at command of ISI jihadis" did not warrant any consequence.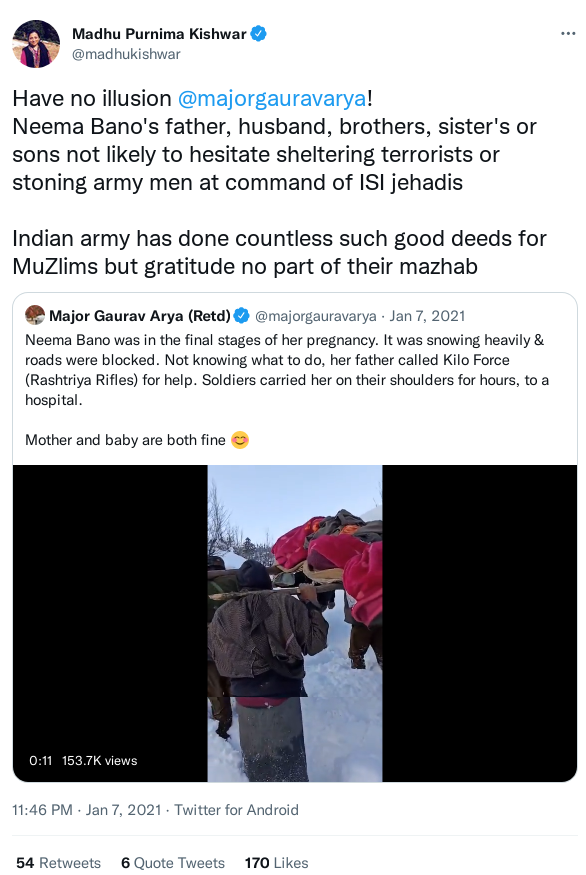 In February 2019, while replying to a user about Kashmiri shops, she tweeted that most handicraft shops in 5-star hotels in India provide cover to "jihadi" groups. She then wrote, "Strange that 10 out of 5 shops in 5 stars, 4-star hotels tend to be owned by Kashmiri Muslims. [sic]"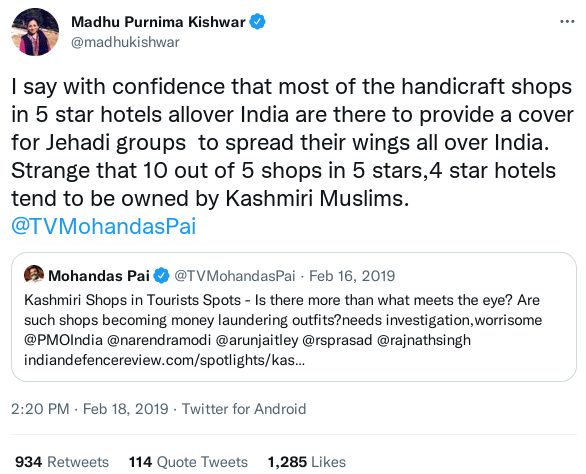 In March last year, Kishwar tweeted that she doesn't have the "heart to continue" getting Gir cow milk because the supplier's name is Rehman. Twitter prohibits users from promoting an economic boycott of an individual or a group because of their perceived membership in a protected category. Her tweet also insinuated that Muslim vendors spit and urinate on products. Similar anti-Muslim disinformation has been debunked by Alt News several times in the past.

Kishwar has called for an economic boycott based on religion or religious practices several times. In May 2020, she encouraged people to boycott all halal-certified products. In October 2021, she wrote that Hindus should boycott Christian schools and demand the withdrawal of subsidies to them.
This slideshow requires JavaScript.
She had also tweeted that "many like Shehla Rashid" should not be provided scholarships under the government's UDAAN scheme because they take admissions in universities to "spread sleeper cells for Islamist jehadis".
Many like @Shehla_Rashid are seeking admission in universities in India to spread sleeper cells for Islamist jehadis.Foolish of Govt to give them special scholarships under UDAAN scheme. @PMOIndia please stop jehadi infiltration into our campuses,that too indian taxpayers expense

— Madhu Purnima Kishwar (@madhukishwar) June 10, 2018
Recently, the Delhi government announced that the Armed Forces Preparatory School will aim to help students who are residents of Delhi prepare for entry to the National Defence Academy (NDA) and other related entrance examinations. The project did not sit well with Kishwar. She feared that "Khalistani" AAP is planning to recruit "terrorists" into the Indian army. This infers that Kishwar considers Delhi residents of a certain faith or ideology "terrorists".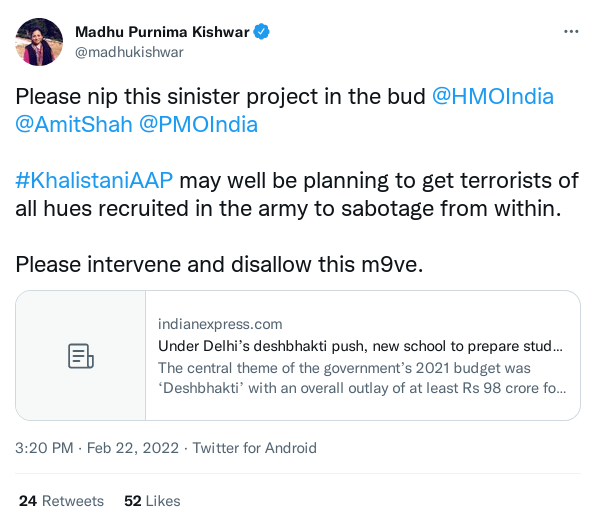 3. Repeated and/or non-consensual slurs, epithets, racist and sexist tropes, or other content that degrades someone
Madhu Kishwar uses the word 'jihadi' quite frequently to refer to members of the Muslim community. She has essentially used the term for any vocal or prominent Muslim voice – Rana Ayyub, Saba Naqvi, Danish Siddiqui, Omar Abdullah, Mehbooba Mufti, Shah Faesal and Shehla Rashid among others.
But this hostility isn't limited to Muslims. She shares similar sentiments for Christians and has referred to them as "rice bag converts".
Kishwar is also known to use derogatory and sexist language against women from minority communities. "We should be delighted to see Rehana Fathima defying the mullas. They don't dare issue fatwas against her possibly because they see in her the 73rd hoor," she'd posted in 2018.
We should be delighted to see Rehana Fathima defying the mullas. They don't dare issue fatwas against her possibly because they see in her the 73rd hoor. Why are you upset @BarkhaTrehan? Only thing outrageous about this hoor is her desire to force entry into #SabarimalaTemple. https://t.co/evxdDQh5z2

— Madhu Purnima Kishwar (@madhukishwar) October 20, 2018
She was talking about Kerala women's rights activist Rehana Fathima who stood up against a Kozhikode college teacher's sexist remark that "Muslim women are not wearing hijab properly and are deliberately exposing their breasts like sliced watermelon". Fathima ironically posed with watermelons covering her breasts in protest against the statement.
This attracted both racial and sexist commentary from Kishwar. She called Fathima the "73rd hoor", referring to the "72 virgins in heaven" verse in the Quran.
Recently, while quote-tweeting a video, Kishwar wrote that Muslims have "blood lust and insatiable desire for raped wombs". The video shows an exorcism performed in Bangladesh but Kishwar amplified the false claim that it depicts forced conversion.
According to Twitter's policy, the platform "prohibits targeting others with repeated slurs, tropes or other content that intends to dehumanize, degrade or reinforce negative or harmful stereotypes about a protected category". It further states, "In some cases, such as (but not limited to) severe, repetitive usage of slurs, epithets, or racist/sexist tropes where the primary intent is to harass or intimidate others, we may require Tweet removal."
4. Using insults, profanity, or slurs with the purpose of harassing or intimidating others
After actor Sushant Singh Rajput died by suicide, Kishwar blamed his girlfriend, actor Rhea Chakraborty, for his death. She wrote that Chakraborty's father, an ex-Indian army officer, "uses his daughter as sex bait to trap rich men and eliminate them after gobbling up their money".
More than this fortune huntress, mafia moll, #RheaChakraborty, I marvel at her father, an ex army officer–using his own daughter as sex bait to trap rich men & eliminate them after gobbling up their money!
Sadly, the glamour world is full of such sex baits. pic.twitter.com/4nkXB8uhlw

— Madhu Purnima Kishwar (@madhukishwar) August 24, 2020
This amounts to targeted harassment which is prohibited on Twitter. The platform's policy on abusive behaviour states, "We take action against the use of insults, profanity, or slurs to target others."
Twitter also says that a user may be removed in case of "repetitive usage of insults or slurs where the primary intent is to harass or intimidate others".
Kishwar has referred to Rhea Chakraborty as "sex bait" several times.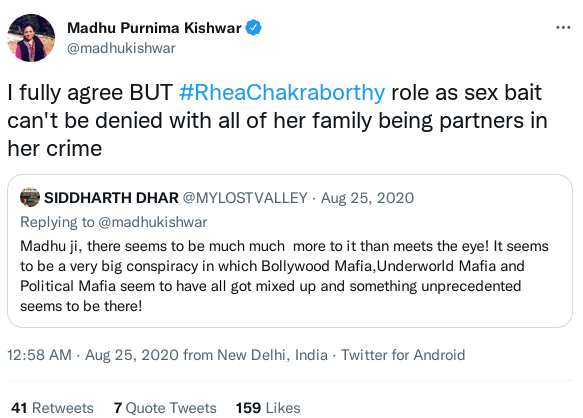 She has indulged in such targeted harassment of others as well – Shehla Rashid, Rehana Fathima and Rana Ayyub.
This slideshow requires JavaScript.
Twitter has taken no action against Madhu Kishwar's account despite its violation of nearly every provision of the platform's policy on hateful conduct. She continues to do so with no consequences. Alt News reached out to Twitter for comment on the lack of action. We sent an elaborate email carrying objectionable content and Twitter asked us to report the tweets we believe are in violation of the platform's policy on hateful conduct. Many of the tweets mentioned earlier in this article were reported by Alt News. However, none of them has been removed as of this writing. Twitter was intimated of the same but the platform has not responded to multiple follow-up emails.
It is noteworthy that Madhu Kishwar also repeatedly uses misinformation to target minorities. But Twitter does not have a specific policy that tackles misinformation. Apart from the 'manipulated media' tag applied on rare occasions, it does not even give users the option to report a tweet for false news.
Madhu Kishwar's tweets promoting misinformation against minorities
Not only does Madhu Kishwar use derogatory language for Muslims but also shares misinformation targeting them and other minority communities.
1. Depicted Sikh man as Muslim imposter during CAA protest
In February 2020, when the protest against the Citizenship Amendment Act (CAA) was at its peak, Madhu Kishwar tweeted a video of policemen removing a Sikh man's turban. She identified the man as a Muslim disguised as a Sikh.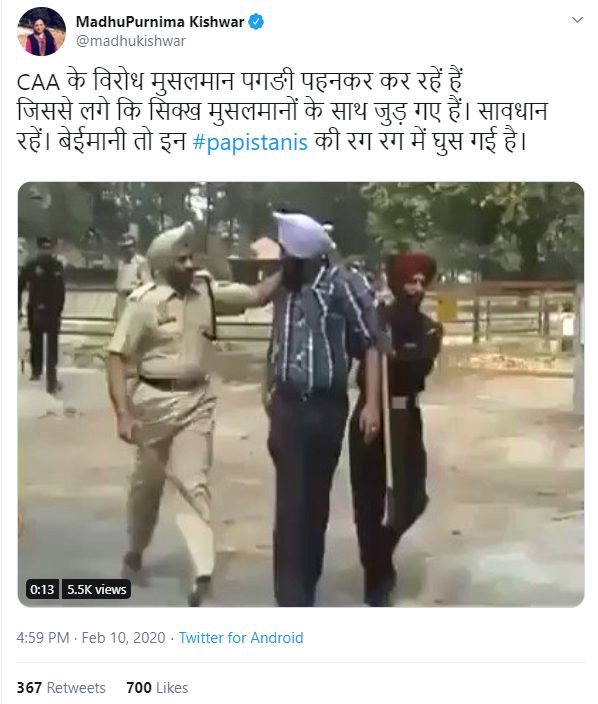 The video was shot in 2011 in Mohali after rural veterinary pharmacists were retrenched. The man whose turban was removed was a protestor and a member of the Sikh community. Alt News's fact check on the misinformation can be read here. Kishwar later took down her tweet.
2. Promoted a fictitious 'love jihad' story
Madhu Kishwar has quote-tweeted a tweet that shared a set of images. Two out of the three pictures are of a couple where the girl has adorned sindoor (vermillion) and dupatta (headscarf) in the first picture and Muslim attire in the second picture. The third picture shows a dead woman in a suitcase, surrounded by the police.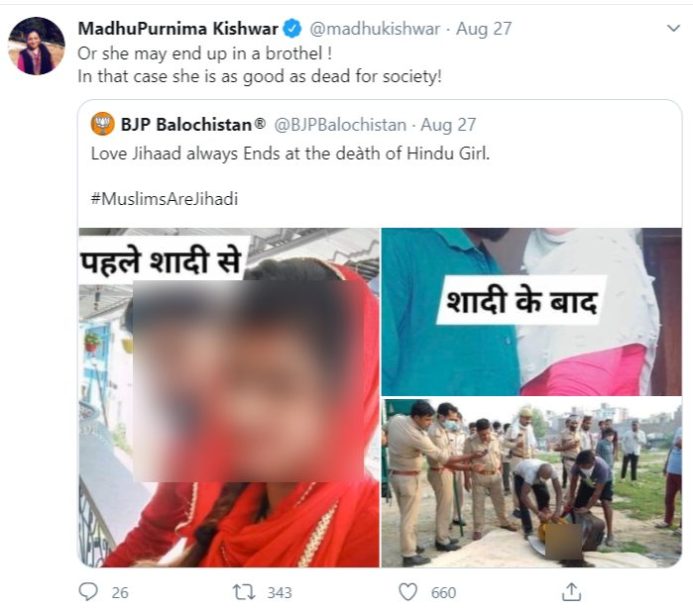 Alt News found that pictures of two separate incidents were misrepresented and used to create a false story. The dead body found in a suitcase pertains to a case from Uttar Pradesh's Ghaziabad while the other two pictures show a woman from Uttarakhand's Dehradun. Both cases have no links whatsoever and the woman seen in the photos wasn't murdered.
3. Posted old photos with the false claim that weapons were recovered from a mosque in Gujarat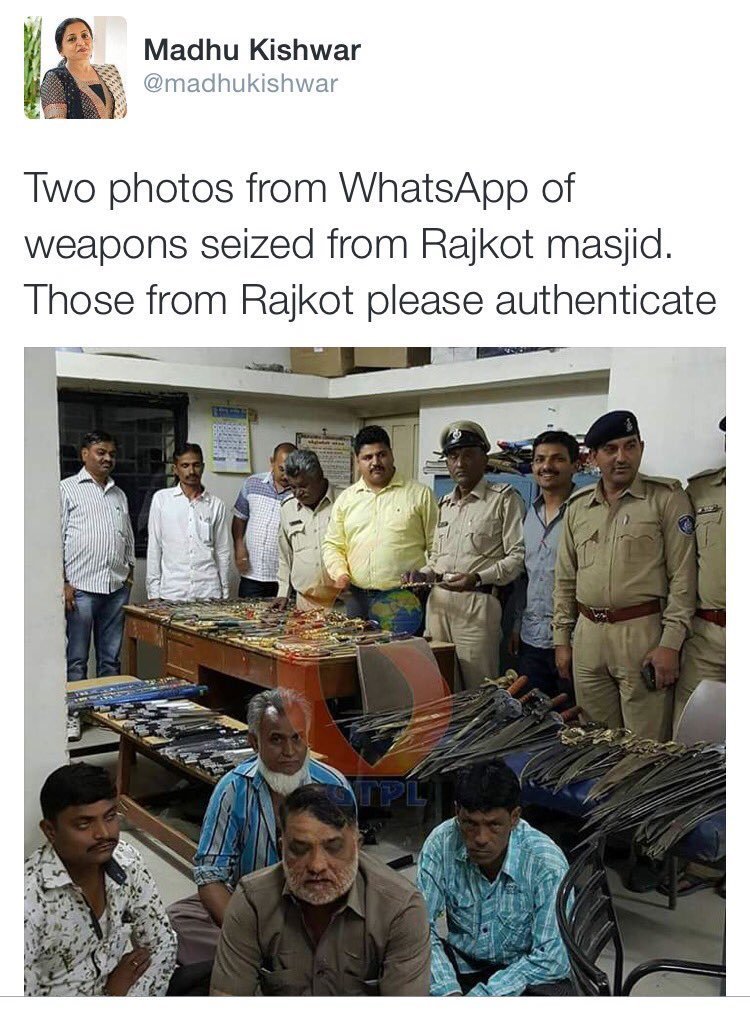 The weapons were seized from a raid on a highway hotel, not from a mosque. Alt News's fact check report can be accessed here.
4. Falsely claimed CM of Andhra Pradesh appointed an evangelist to head the Tirupati Temple Trust
In June 2019, Kishwar has alleged that Andhra Pradesh CM Jagan Mohan Reddy had appointed his uncle, allegedly "a staunch evangelist", as the chairman of the Tirumala Tirupati temple trust, displacing author and chairperson of Infosys Foundation Sudha Murthy, who was a member of the board.
How can this be allowed @HMOIndia? Sudha Murthy resigns from Thirupathi board. Jagan appoints his uncle YEHOVA VINCENT Subbareddy( YV SUBBARADDY) -a staunch Evangelist as chairman of TIRUPATI TUMALA BALAJI TEMPLE, richest Hindu shrine
He works to spread more CHURCHES in Andhra.

— Madhu Purnima Kishwar (@madhukishwar) June 11, 2019
The claim was debunked by Sudha Murthy himself.
5. Posted false claim that Cadbury sells products with beef in India
Is this true @CadburyUK?
If yes, Cadbury deserves to be sued for forcing Hindus to consume halaal certified beef products

Our ancestors &Gurus sacrificed their lives but didn't accept eating beef.
But post "independence"rulers have allowed our Dharma to be violated with impunity pic.twitter.com/Ub9hJmG8gO

— Madhu Purnima Kishwar (@madhukishwar) July 17, 2021
The screenshot shared in the above tweet is of Cadbury Australia and not India. The company does not sell products with beef in India.
6. Protest by Muslim community in Paris revived after French beheading with misleading claim
Madhu Kishwar posted a video with the claim that Muslims in Paris occupied the sidewalk to offer namaz and they were met with people singing the French national anthem in response.
French citizens protesting against muslims taking over sidewalks & road space for Namaz…..
Frenchies responded by singing the French national anthem loudly.
No surprise if these "endangered"Islamists seek asylum in India & "Sabaka-Saath-Sant" enacts special law to welcome them! pic.twitter.com/XzOnia59Kd

— Madhu Purnima Kishwar (@madhukishwar) October 23, 2020
A teacher was beheaded in France in 2020. The video shared by Kishwar dates back to 2017 when Muslims took to the street to offer prayers after a local mosque was shut down. The public offering of prayers was not taken well by politicians in France, a country where the separation of church and state is fiercely implemented. Alt News's detailed fact-check can be read here.
7. Satirical piece on Ranu Mondal shared with anti-Christian sentiment
A mischievous, satirical post on singer Ranu Mondal who rose to fame after a video of her singing at a railway platform went viral, was quote-tweeted by Madhu Kishwar with the question, "How come missionaries did not discover her while she was living on railway platforms?" Mondal hails from the Christain community.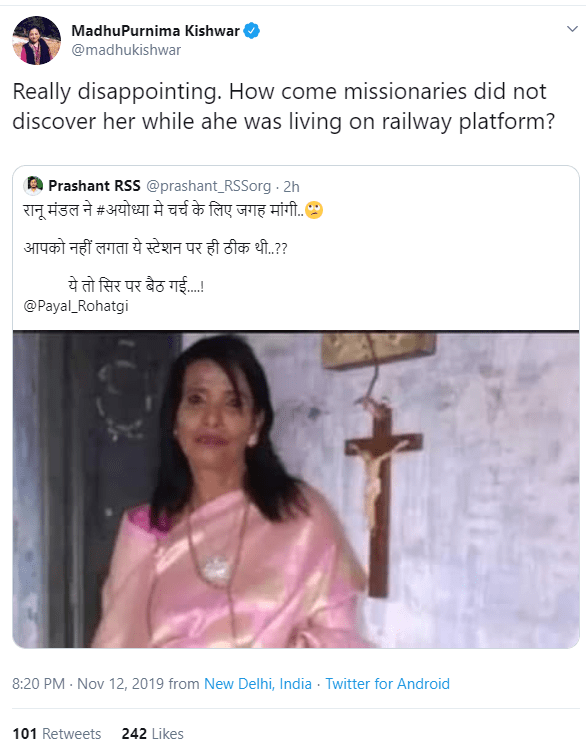 The claim was fictitious, manufactured by a website called Fauxy which identifies as a 'satirical platform.
8. Tweeted fake quote from parody account ascribed to rape accused Kerala Bishop
"Whatever happened between me and nun, it is not rape. It is the Holi Ritual of enlightenment to feel the Magical Existence of Holi Jesus at the end of the act." Kishwar had reshared a post ascribing this quote to rape accused Bishop Franco Mulakkal.
Awesome! May more & more skeletons come pouring out of the safe vaults of Christianity so people are disabused of their naive notions about the Church pic.twitter.com/PQqHmrnEsL

— Madhu Purnima Kishwar (@madhukishwar) September 17, 2018
The quote was manufactured on "breakyourownnews.com", a website used to generate such stories that look like news.
9. Quote-tweeted pictures of JDS member Najma Nazeer to build a false narrative against pro-Hijab protest in Karnataka
Amid hijab-wearing students disallowed from attending classes in Karnataka educational institutions, Madhu Kishwar quote-tweeted multiple images of a woman named Najma Nazeer that showed her both with and without a hijab. It was insinuated that Nazeer usually does not adorn a hijab but wears it to college to push an 'agenda'.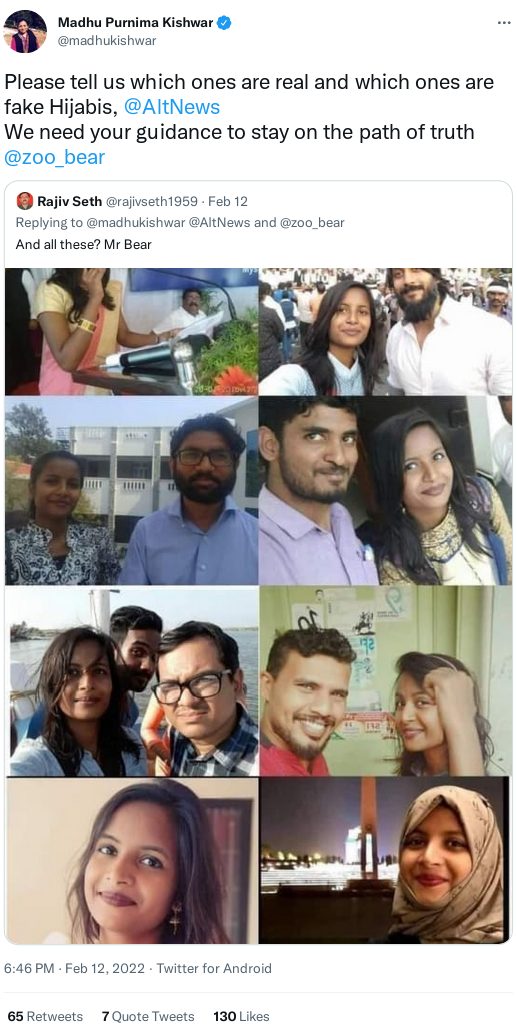 Najma Nazeer is a member of Janta Dal (Secular) Karnataka. She is not a college student but graduated in 2018. Her pictures were being misused to discredit the protests against the hijab ban.
Kishwar shared Nazeer's pictures on another occasion and hasn't taken down both her tweets despite being informed of the truth. Alt News's fact-check report can be read here.
10. Amplified the false claim that UK restauranteurs arrested in 2015 served food with excreta to "non-Muslims"
Last year, she quote-tweeted a woman who had shared a report about two Muslim restaurant owners in the UK who were arrested for serving food with excreta to customers. The woman claimed that the unhygienic food was only served to non-Muslims and Ksihwar amplified this claim.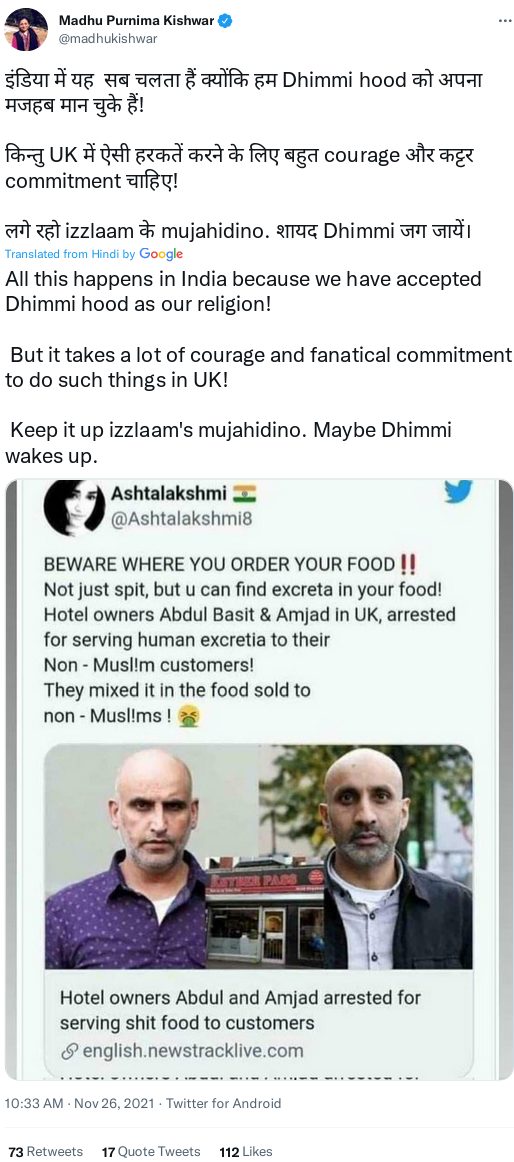 Alt News had found that while two restaurant owners in Britain were indeed found guilty of serving food contaminated with human faeces, this was neither religiously motivated nor was contamination intentional. A court found that the restaurant staff did not wash their hands properly after using the toilet.
In this case as well, Kishwar was informed of the truth but she is yet to take down her tweet.
11. Photo of the aftermath of a fire at Rohingya camp shared with hate-filled narrative
Kishwar recently shared an infographic of a Rohingya man where the infographic claimed he has no food to eat or clothes to wear but has three wives and eight children. It further claimed that the man also has a mobile phone worth Rs 29,000.
The photo was clicked in 2019 by photographer Debayan Roy. He had told us, "There was a fire in an asylum Darul Hijrat, which is run by Zakat foundation for Rohingya refugees. This place was found mysteriously burnt one morning. The entire area was completely burnt down. These people [in the picture] were sitting in a corner and the man was basically a father of two. His wife and son were hurt in the fire. The phone that you see in his hand was given to him by the Trust when they were serving food. In fact, he looked at the phone like an alien object. Whatever is claimed on social media is not true. This is a really sad turn of events."
Political misinformation
Madhu Kishwar also routinely shares political misinformation targeting opponents of the BJP. However, such misinformation also, more often than not, piggybacks on anti-Muslim propaganda.
12. Video of Qaumi Ekta Week shared with a communal spin after Maharashtra polls in 2019
A video of policemen distributing tasbih, prayer beads used by Muslims, and wishing Jummah Mubarak was shared tweeted by Madhu Kishwar with the claim that this happened after Uddhav Thackeray was sworn in as the chief minister of Maharashtra.
सेक्युलरिज्म शुरू। शपथ लेते ही महाराष्ट्र में सेक्युलरिज्म की बहार आ गई। मुम्बरा में जुम्मे की नमाज़ के बाद कौसा मस्जिद के बाहर बुला बुला कर तस्बीह बाँटते हुए पुलिस वाले ।जय महाराष्ट्र । pic.twitter.com/ME0TlUSJjc

— Madhu Purnima Kishwar (@madhukishwar) December 1, 2019
The police distributed the tasbih during the National Integration Week (Qaumi Ekta Week) held after the Friday prayers on November 29, 2019. This is an initiative of the ministry of home affairs and is celebrated across the country every year. Alt News's fact check can be read here.
13. Falsely claimed 'Pakistan Zindabad' chants were made at a Congress event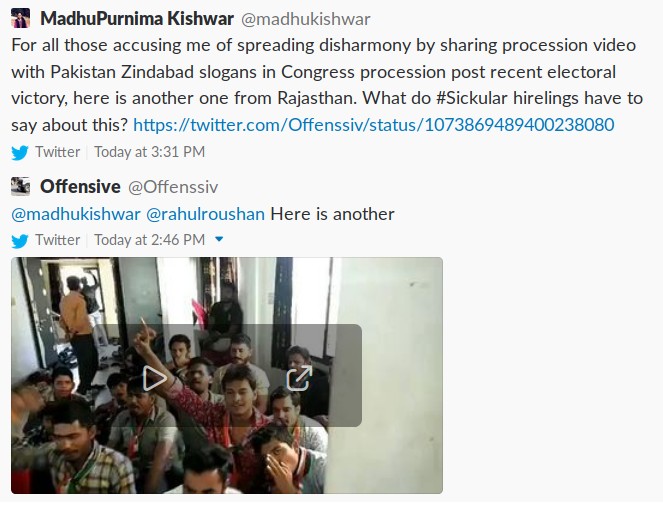 The banner placed on the stage visible in the video she shared read – 'Nagar Congress Committee Rajsamand', and the crowd of Congress workers actually chanted – "Mai lai lalkar hai, hamaki sau ke paar hai. Bhati Saab Zindabad (We have accepted the challenge. This time we will score more than 100. Long live Bhati Saab)."
Read Alt News fact check.
14. Shared a clipped video of Mamata Banerjee to portray Muslim appeasement
In 2019, Madhu Kishwar shared a video of West Bengal CM Mamata Banerjee reciting Islamic prayers. She termed her 'jihadi' in the tweet.
Time for #JehadiMamta to move to Saudi Arabia or Pakistan. pic.twitter.com/JqIXejlanr

— Madhu Purnima Kishwar (@madhukishwar) May 19, 2019
While Mamata Banerjee did chant Islamic verses, the video tweeted by Kishwar was clipped out of a much longer broadcast where the West Bengal CM could also be heard reciting Hindu and Sikh prayers. Our fact-check report can be read here.
15. Promoted a fake newspaper clipping targeting Rahul Gandhi
Kishwar quote-tweeted a fake newspaper clipping claiming that Congress leader Rahul Gandhi was detained at Boston airport for possession of drugs. Despite several people sharing fact-check reports, Kishwar is yet to take down her tweet. It has over 4,000 likes.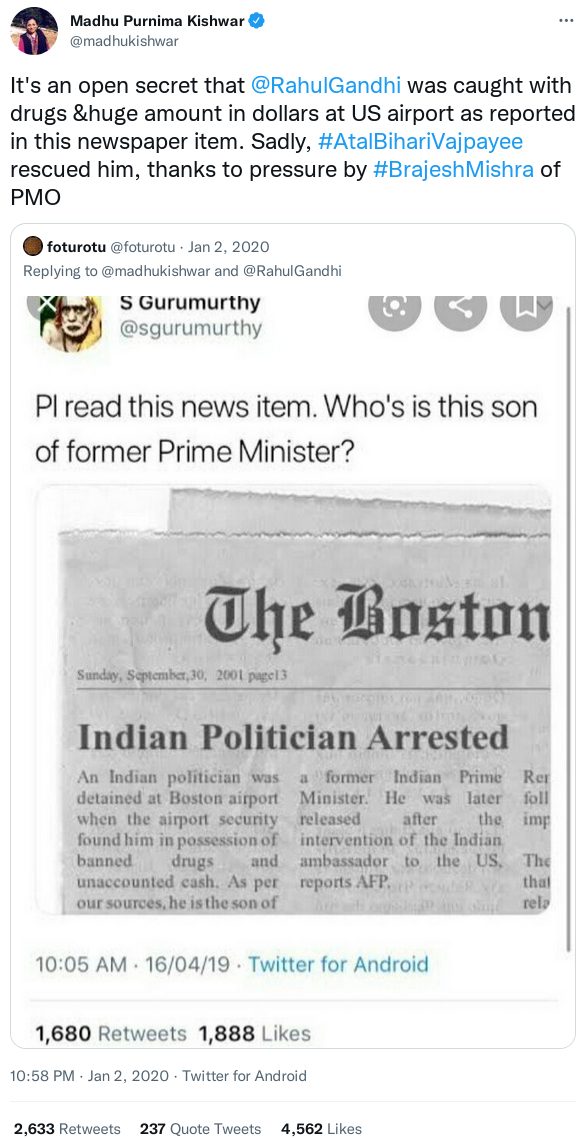 Alt News's fact-check report on the same can be read here.
16. J&K police pulled up Madhu Kishwar for sharing misinformation in 2018
Kishwar had tweeted that the SP who killed Burhan Wani in an encounter was suspended by Shesh Paul Vaid, Director General of Police of Jammu and Kashmir.
7. Shocked to learn from @neelakantha that @spvaid –the DG of J&K actually suspended the SP who killed Burhan wani in an encounter–all because @MehboobaMufti was upset at killing of Burhan. A DG playing doormat to jehadi politicians– Is this what IPS training is all about?

— Madhu Purnima Kishwar (@madhukishwar) May 28, 2018
J&K police had termed the information "concocted".
17. Quote-tweeted a fake quote attributed to Kapil Sibal
A fake quote attributed to Congress leader Kapil Sibal portrayed him saying, "If a temple is built in Ayodhya it will meet the same fate as the Babri masjid."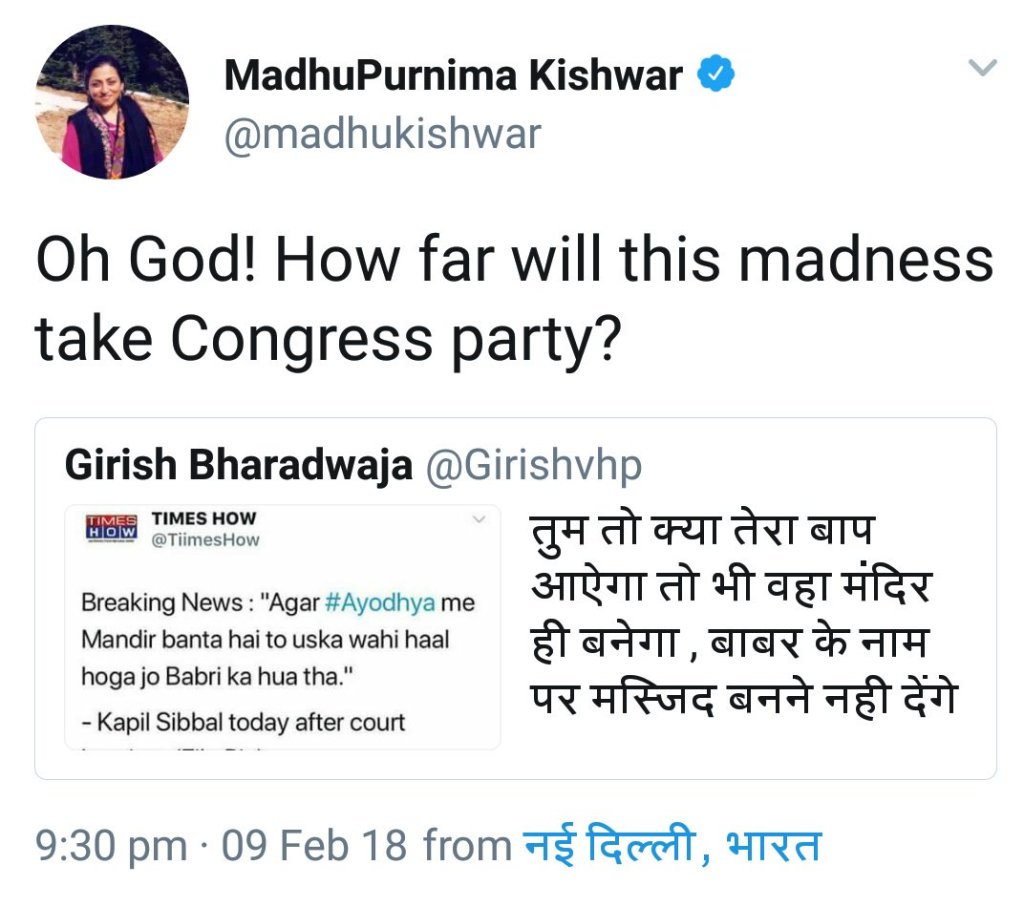 If one notices carefully, the tweet was posted by a handle named 'Times How' which was a parody account. Read Alt News fact check here.
18. Derogatory painting of Hindu deity Krishna revived after Bengaluru riots last year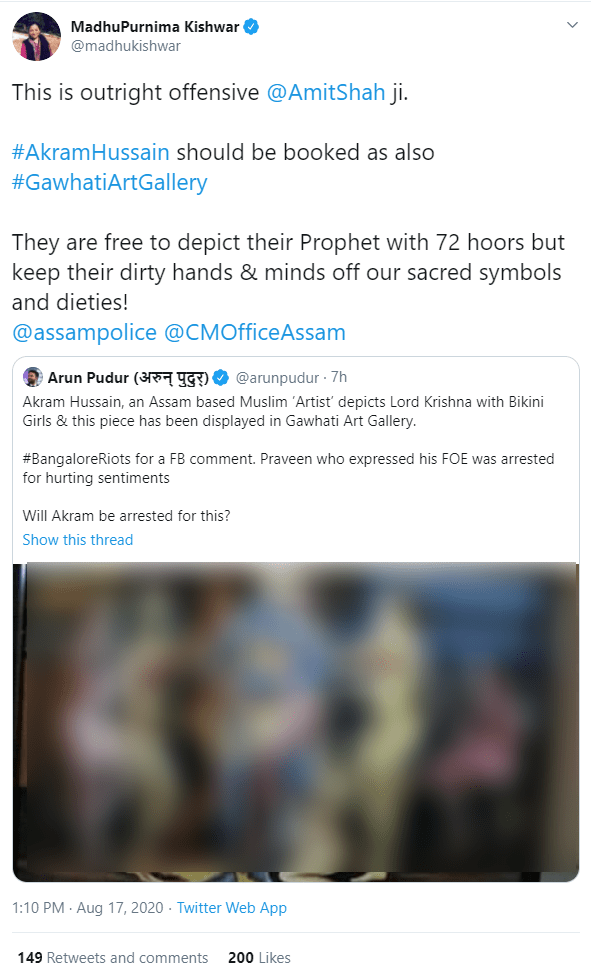 Madhu Kishwar shared an image of a painting in the aftermath of the Bengaluru riots in 2020. The riots were triggered by an inflammatory post against Muhammed, the Prophet of Islam, allegedly made by Congress MLA Akhanda Srinivasa Murthy's nephew Naveen. Three people were killed in police firing and over 300 have been arrested for the violence.
But Kishwar revived an old painting from 2015 amid a communal riot to claim that Hindu gods have been disrespected by Muslims. The painter was from Guwahati. An FIR was registered against him and he was also arrested.
19. Image of symbolic 'one eye bandaged' protest shared as CAA protesters faking injury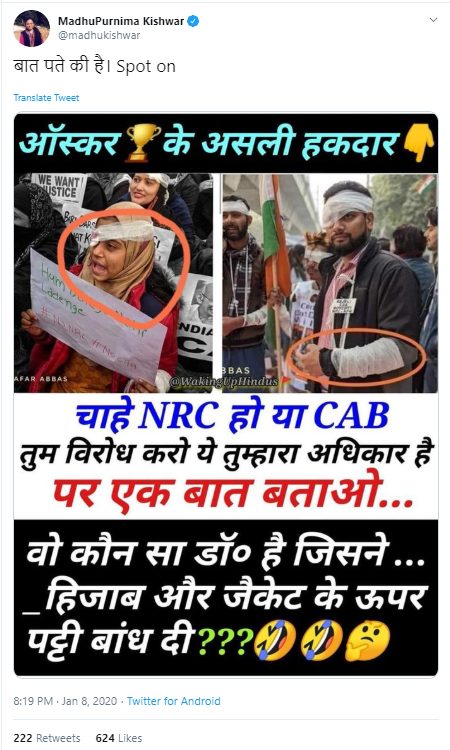 The viral image was posted by New Delhi based journalist Zafar Abbas from the 'one eye bandaged' protest on December 29. This was a symbolic agitation against alleged police brutality which caused a Jamia student to lose an eye. The students did not 'fake' injuries.
20. Old video shared as "communists" in Kerala attacked pro-CAA rally by BJP-RSS
Madhu Kishwar retweeted a video of a group of bikers attacked by a mob shared with the claim that a BJP-RSS rally, in support of CAA and NRC, was attacked by "communists" in Kerala.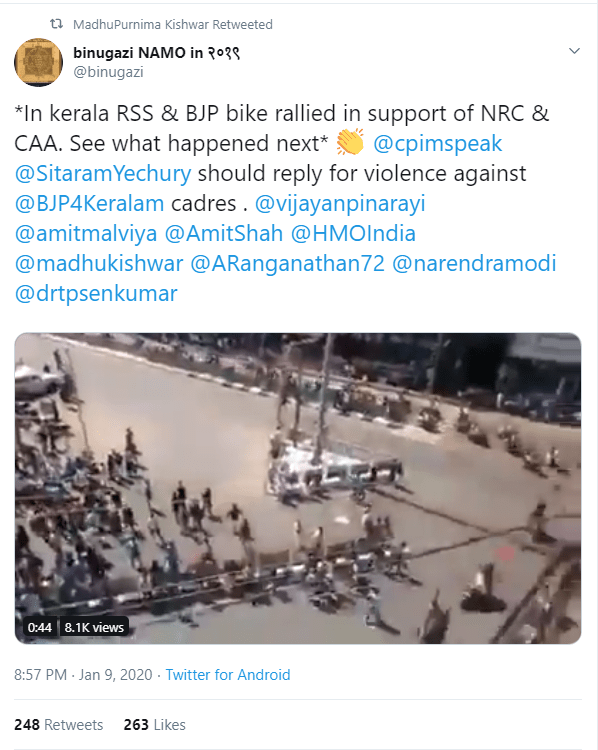 The video was from 2019 and showed a rally of supporters of hartal against the Sabarimala verdict attacked by a mob.
21. Rahul Gandhi's video during LS polls was shared as him surveying the Kerala floods
A video of Congress leader Rahul Gandhi having samosas on a flight was shared by Madhu Kishwar with the claim that this was shot when he was surveying floods in Kerala in 2019.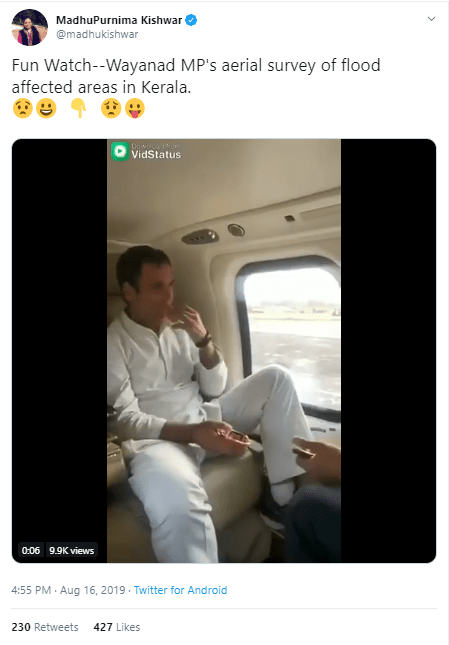 The video was from the 2019 election campaigning.
22. Tweeted a morphed image of Amul Ad targeting Gandhi family
Madhu Kishwar tweeted a morphed Amul ad that said, "Grandfather ate, Grandmother ate, Father ate, Mother ate and Sister you also eat and also call brother-in-law."
बिना कुछ कहे, सब कुछ कह दिया। pic.twitter.com/9deTgydEGj

— Madhu Purnima Kishwar (@madhukishwar) August 31, 2019
While Kishwar targeted the Gandhi family, the image was actually photoshopped. Alt News's fact check can be read here.
23. Quoted page '112' of a 76-page DMK manifesto
"DMK Manifesto Page 112..People occupying encroached Temple lands will be regularised and ownership transferred. Page 85..Encroached Waqf properties will be reclaimed and handed over to Wakf," tweeted Madhu Kishwar on March 21, 2019.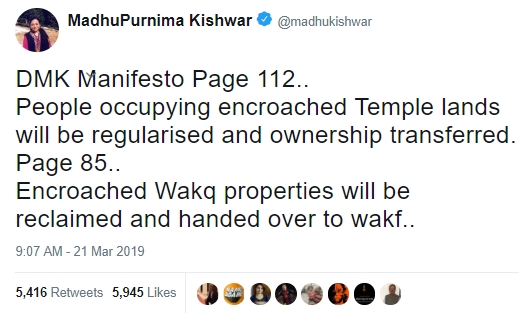 Alt News accessed the English version of the manifesto and found that the entire manifesto is merely 76 pages. There are no pages 85 and 112. Our elaborate report can be accessed here.
24. Shared video with the false claim that US students sang the Indian national anthem to thank India for HCQ
Very very moving.
Brought tears to my eyes.
Confirms my belief, 21st Century belongs to India provided it works towards #ResurgenceOfSanatanDharma https://t.co/Fy6F3SNzm6

— Madhu Purnima Kishwar (@madhukishwar) April 24, 2020
The above video was uploaded by a YouTuber in 2017 on the occasion of the Indian independence day and had nothing to do with India supplying Hydrocholoquine drug to the US during COVID-19.
25. Edited video of Chinese dance passed off as Indian performance on Hindu devotional song
Magical performance to the tune of a bhajan sung by two tiny tots–pupils of the one and only @kuldeepmpai pic.twitter.com/veDCNJD90P

— Madhu Purnima Kishwar (@madhukishwar) September 17, 2019
This dance was performed at the headquarters of the United Nations in New York in 2018. The dance form is called 'Dance of a thousand hands', and it originates in China. It was created by Zhang Jigang, an internationally acclaimed choreographer and an officer in the Chinese national army (PLA). There is no chant of the Hindu deity Ram in the original video.
This article lists several instances of hateful conduct exhibited by Madhu Kishwar but it is only the tip of the iceberg. Her profile is a gallery of derogatory, offensive and objectionable content against minority groups. But Kishwar enjoys a following of two million people, most of whom echo her views and amplify her anti-Muslim sentiments. There is no reason for Twitter to not suspend Kishwar's account or remove the verified badge that provides her with legitimacy among gullible users.
Donate to Alt News!
Independent journalism that speaks truth to power and is free of corporate and political control is possible only when people start contributing towards the same. Please consider donating towards this endeavour to fight fake news and misinformation.