Recently, Madhu Purnima Kishwar tweeted a video from UP and falsely claimed that it pertained to a Congress rally in Rajasthan where 'Pakistan Zindabad' slogans were raised. After being pointed out that the video was misleading, Kishwar retweeted another video claiming that 'Pakistan Zindabad' chants were made at another Congress event. The tweet by @Offenssiv that was retweeted by Kishwar is now deleted, but it's archived version can be accessed here and its screen recording can be viewed here.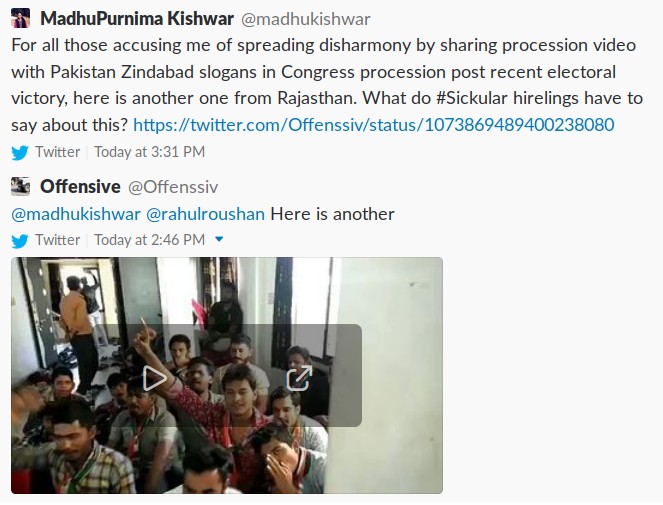 Based on the video, Kishwar appealed to Jaipur Police to take action.
Has @JaipurPolice taken action against these Pakistan Zindabad slogan shouters. From here to "Bharat Tere Tucked Honge, Insha Allah, Insha Allah" is the logical next step! No angst against such subversive elements @free_thinker ? For sure, they are good pay masters! https://t.co/4bJJFyMX0u

— MadhuPurnima Kishwar (@madhukishwar) December 15, 2018
Several other individuals circulated the same video with identical claims.
Congress Party workers in Rajasthan are shouting slogans of Pakistan Zindabad!#Shamecongressshame pic.twitter.com/7tO5lJTQin

— Aashu🚩 (@AashuSpeak) December 2, 2018
Ironically, the video shared by Kishwar to defend her earlier misleading video was also misleading.
"Bhati Saab Zindabad", NOT "Pakistan Zindabad"
The above video has been doing rounds on social media since before the start of the recent assembly elections. It has already been debunked by multiple media outlets, including BBC Hindi, AFP, The Times of India and India Today.
In one watches the video carefully, a banner placed on the stage reads – 'Nagar Congress Committee Rajsamand', and the crowd of Congress workers actually chants – "Mai lai lalkar hai, hamaki sau ke paar hai. Bhati Saab Zindabad (We have accepted the challenge. This time we will score more than 100. Long live Bhati Saab)."
Narayan Singh Bhati was the Congress candidate from Rajsmand, Rajasthan. Alt News has broken down that part of the video where the crowd chanted his name. When heard multiple times over, "Bhati Saab Zindabad" is audible more clearly.
Madhu Kishwar has been found circulating misinformation several times in the past (1, 2, 3, 4, 5). She was also pulled up by J&K police for sharing fake news. Despite the multiple attempts to point out the truth, Kishwar continues to circulate disinformation through her Twitter account.
Donate to Alt News!
Independent journalism that speaks truth to power and is free of corporate and political control is possible only when people start contributing towards the same. Please consider donating towards this endeavour to fight fake news and misinformation.