A clip of Mamata Banerjee apparently claiming that Bengali poet Kazi Nazrul Islam wrote 'The Mahabharata' is currently viral on social media. Several verified accounts have shared this clip in an attempt to taunt the West Bengal chief minister, mainly after her Rakesh Roshan goof-up. Times Now published a story with the title, "'Mahabharata Written By Kazi Nazrul Islam': Mamata Banerjee Does It Again". The report quoted Banerjee as apparently saying, "Studies alone do not make a person learn in the real sense. One has to have a big heart. Read and understand what our great men have written. Read Rabindranath, Nazrul, Vivekananda…. Mahabharat was written by Nazrul Islam". The report cited Right Wing Twitter handle @MeghUpdates, which had tweeted the viral clip.
Readers should note that the user, @MeghUpdates, shares misinformation on a regular basis on Twitter.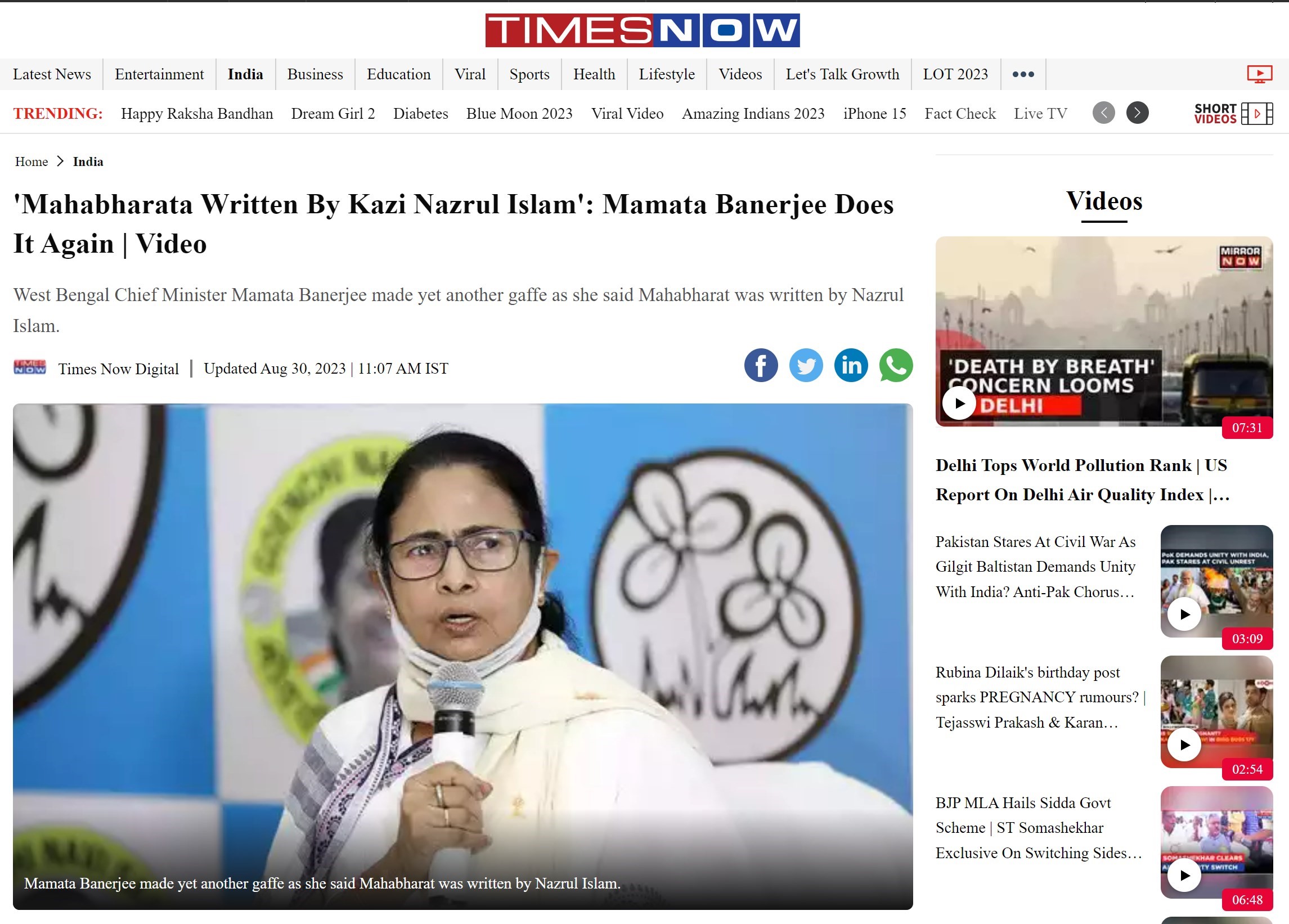 Zee News published a story about this apparent blunder titled, "After 'Rakesh Roshan' Blooper, Mamata Banerjee Now Says 'Mahabharata Was Written By Nazrul Islam' – WATCH". (Archive)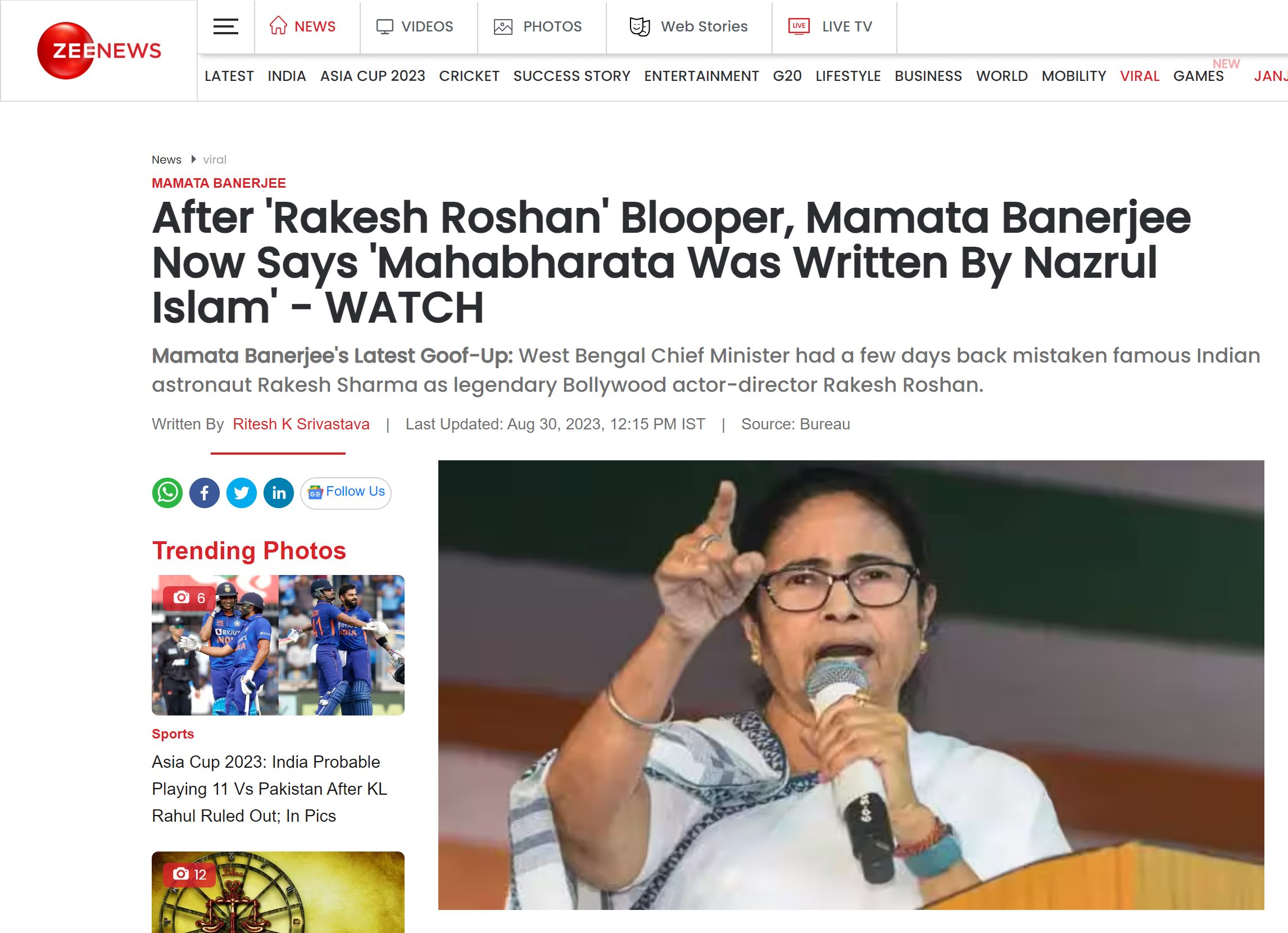 Media outlet Republic World published an article titled, "Mamata Banerjee's Slip Of Tongue Streak Continues; After Chandrayaan 3, Now Mahabharata".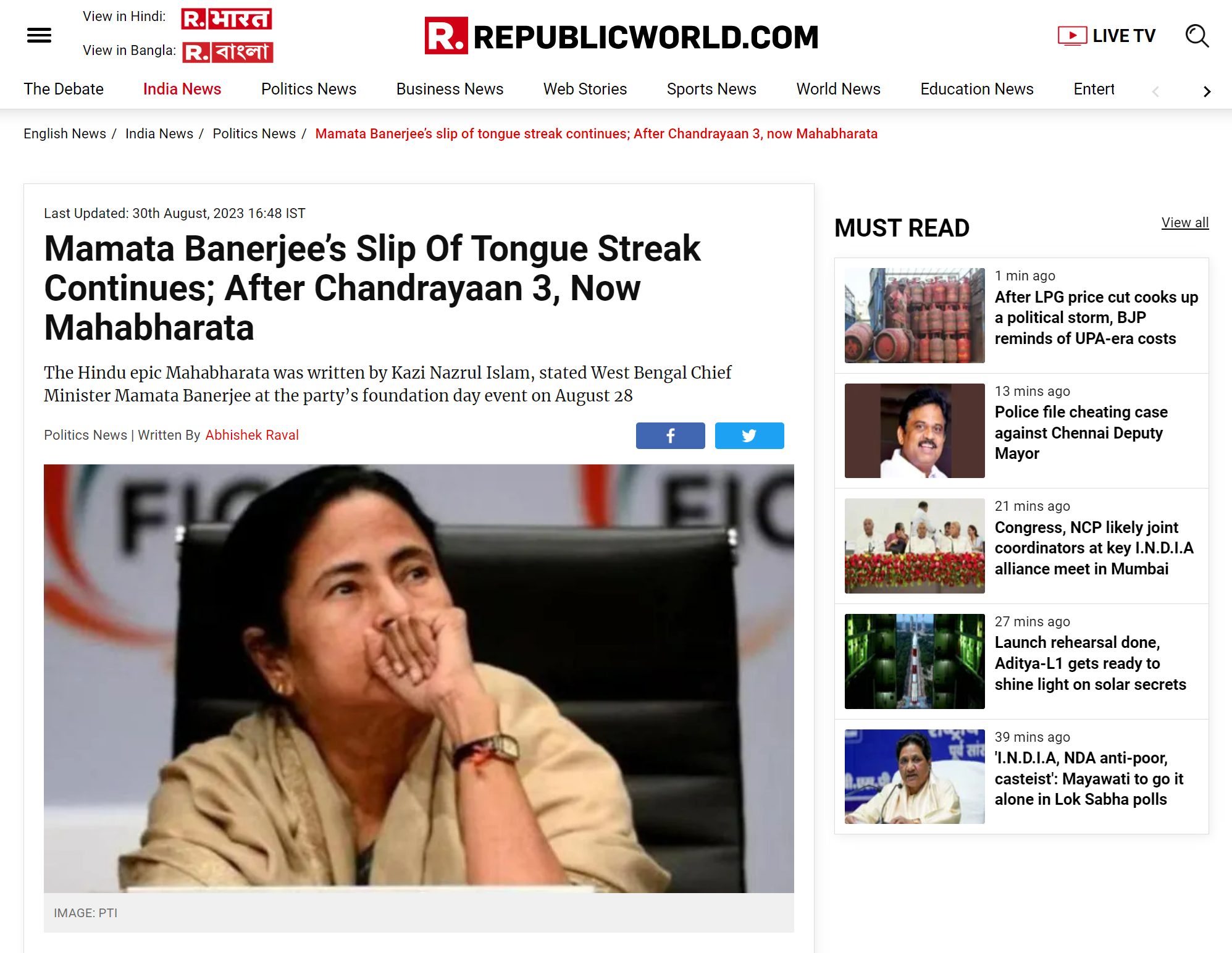 Media outlets Free Press Journal, ETV Bharat, Live Hindustan, Lokmat and propaganda outlets OpIndia and Panchjanya published similar reports.
This slideshow requires JavaScript.
BJP leader and Leader of Opposition in West Bengal assembly Suvendu Adhikari tweeted the clip and claimed that Banerjee was intentionally distorting "facts related to Hindu religion". "Yesterday, on 28th August, 2023 while addressing a TMCP rally on the occasion of their Foundation Day, she said that the greatest epic Mahabharata was penned by Kazi Nazrul Islam". he wrote. (Archive)
Mamata Banerjee's distortion of historical events is a matter of public knowledge. It generally provides comic relief to the people.
Nobody seems to be offended because everyone knows that the CM's general knowledge is really poor.

But off late she has developed a tendency to… pic.twitter.com/XwWWl93hkG

— Suvendu Adhikari • শুভেন্দু অধিকারী (@SuvenduWB) August 29, 2023
BJP spokesperson Shehzad Poonawalla also tweeted the viral clip and wrote, "From opposing Shiv Shakti point to abusing Hindu Astha to now denying Ved Vyas his due on Mahabharat to questioning existence of Prabhu Shri Ram – This is the true face of I.N.D.I alliance". (Archive)
After Rakesh Roshan & Indira Gandhi being sent to space now there is a new gem from Mamata

Kazi Nazrul Islam as per Mamata Didi has authored & written Mahabharat

From opposing Shiv Shakti point to abusing Hindu Astha to now denying Ved Vyas his due on Mahabharat to questioning… https://t.co/pi5USN5Gf3 pic.twitter.com/8Lhe5fNIQh

— Shehzad Jai Hind (@Shehzad_Ind) August 30, 2023
Several prominent Twitter handles have tweeted the same claim alongside the viral clip. (Archives- 1, 2, 3, 4, 5, 6, 7). The clip is also viral on Facebook with the same claim.
This slideshow requires JavaScript.
Fact Check
The viral clip is from the Bengal chief minister's speech at the Trinamool Chhatra Parishad's (TMCP) 26th Foundation Day event on August 28. The event took place at Kolkata's Mayo Road in front of the Gandhi statue. We found Banerjee's entire speech on her official Facebook page. The viral chain of events starts from around the 38:53 minute mark of the live stream. However, we have transcribed her speech from the 38:28 minute mark to put the viral clip into context. Below is the Bengali transcription, followed by the English translation.
রবীন্দ্রনাথ পড়ুন ও জানুন, বিবেকানন্দ পড়ুন ও জানুন, নজরুল পড়ুন ও জানুন, বিরসা মুন্ডা পড়ুন ও জানুন, রঘুনাথ মুর্মু পড়ুন ও জানুন, মতুয়া ঠাকুর পড়ুন ও জানুন, রাজবংশীদের পঞ্চানন বর্মা পড়ুন ও জানুন, মহাভারত (পড়ুন ও জানুন)…. নজরুল ইসলাম লিখেছিলেন "কোরান-পুরাণ-বেদ-বেদান্ত-বাইবেল-ত্রিপিটক- জেন্দাবেস্তা-গ্রন্থসাহেব প'ড়ে যাও, যত সখ"…
"Read and learn about Rabindranath's works, read and learn about Vivekananda's works, read and learn about Nazrul's works, read and learn about Birsa Munda's works, read and learn about Raghunath Murmu's work, read and learn about Matua Thakur's work, read and learn about Panchanan Barma of Rajbanshi, (read and learn about) Mahabharata… Nazrul Islam wrote, 'Embrace the Quran, Puranas, Vedas, Vedanta, Bible, Tripitaka, Zend-Avesta, and the sacred scriptures, read as much as you can…."
As the reader can discern from the transcription and the full video, Mamata Banerjee did not claim that poet Kazi Nazrul Islam had written 'The Mahabharata'. She mentioned the great Indian epic while urging the attendees to read literature penned by literary greats and imbibe wisdom from some of the timeless Indian classics. 'The Mahabharata' was the last work she mentioned in a long list. Then, she went on to quote a few lines from rebel poet Kazi Nazrul Islam's poem সাম্যবাদী (Transliteration: Shamyobaadi).
The official channel of All India Trinamool Congress also live-streamed the foundation day event on YouTube. The viral clip can be found at the 2:52:08 mark of the live stream.
Thus, a clipped video from West Bengal chief minister Mamata Banerjee's speech at the TMCP foundation day programme is viral with the claim that Banerjee asserted that Bengali poet Kazi Nazrul Islam had written 'The Mahabharata'. Alt News found the claim to be misleading. She was quoting a poem by Kazi Nazrul Islam and not attributing the Indian epic to him.
Donate to Alt News!
Independent journalism that speaks truth to power and is free of corporate and political control is possible only when people start contributing towards the same. Please consider donating towards this endeavour to fight fake news and misinformation.