On April 28, Twitter user Rishi Rajput posted a screengrab of Hindi news channel News Nation with the claim that over 100 nurses in Rajasthan's Jhalawar resigned because members of the Tablighi Jamaat were spitting on them. The message posted along with screengrab further claimed that Jamaatis abused ward boys at the hospital when their demand for biryani wasn't met. "राजस्थान के "झालावाड़" में एक साथ 100 नर्सों ने दिया इस्तीफ़ा… क्योंकि जमाती उनपर थूकते है, वार्ड बॉय खाना देने जाता है तो जाहिल जमाती बिरयानी की मांग करते हैं और मांग पूरी नहीं होने पर उन्हें गंदी गंदी गाली देते है." reads the message. The tweet has garnered close to 1,200 retweets so far.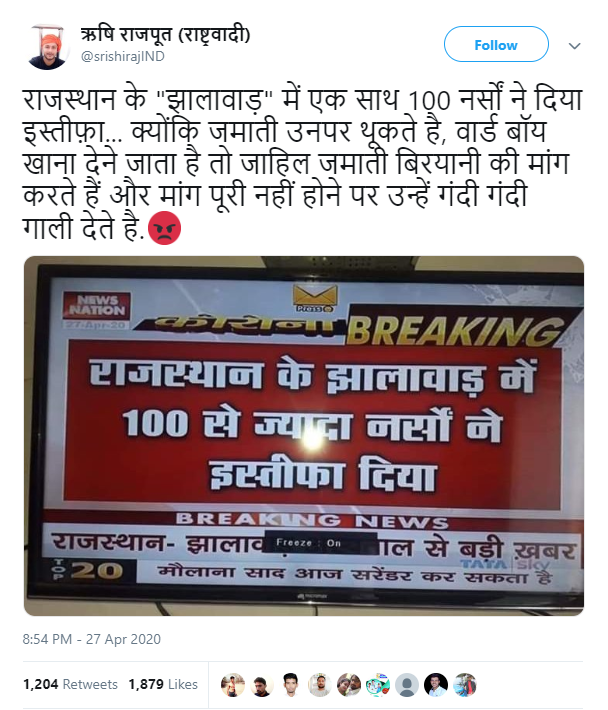 Another tweet with the same claim was posted by one Yogi Devnath and amassed over 500 retweets.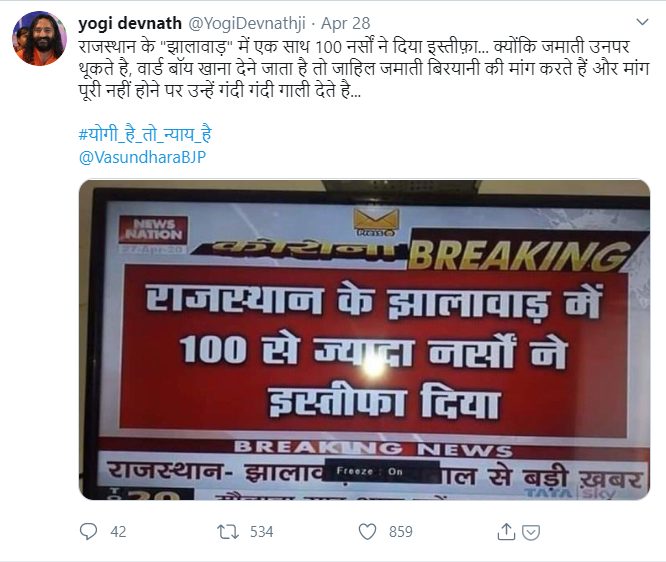 Fact-check
With a keyword search on Google, Alt News found a report published on News Nation's website on April 27, 2020. The report states that more than 100 people from the nursing staff at Jhalawar's hospital resigned due to low wages. According to the report, the staff also alleged that they were not given PPE kits. It may be noted that there is no mention of 'Jamaatis' in the report.

Local news outlet First India News Rajasthan also reported about the mass resignation of over 100 members of the nursing staff in Jhalawar hospital. The staff promised to resume work if the co-workers are tested for coronavirus and they provided with basic PPE kits. Speaking with The Lallantop, the dean of Jhalawar medical college Deepak Gupta also rubbished the social media claims of the staff resigning due to bad behaviour of 'Jamaatis'. He in fact added that the hospital has not admitted any case related to Tablighi Jamaat.
A screengrab of a news channel's report on mass resignation by staff members of a medical facility in Rajasthan's Jhalawar was shared with the false claim of the staff resigning over misconduct by members of Tablighi Jamaat.
Donate to Alt News!
Independent journalism that speaks truth to power and is free of corporate and political control is possible only when people start contributing towards the same. Please consider donating towards this endeavour to fight fake news and misinformation.