A message shared in Bengali on social media claims that Islamia Hospital has been established in West Bengal to treat Muslim patients only. A rough translation of the message reads, "No government wants to build hospitals for Hindus. If India is a secular country then Islamia is built…If they get permission, why don't Hindus? Hindus are paying taxes and making their own children insecure. The next generation will suffer the consequences of this."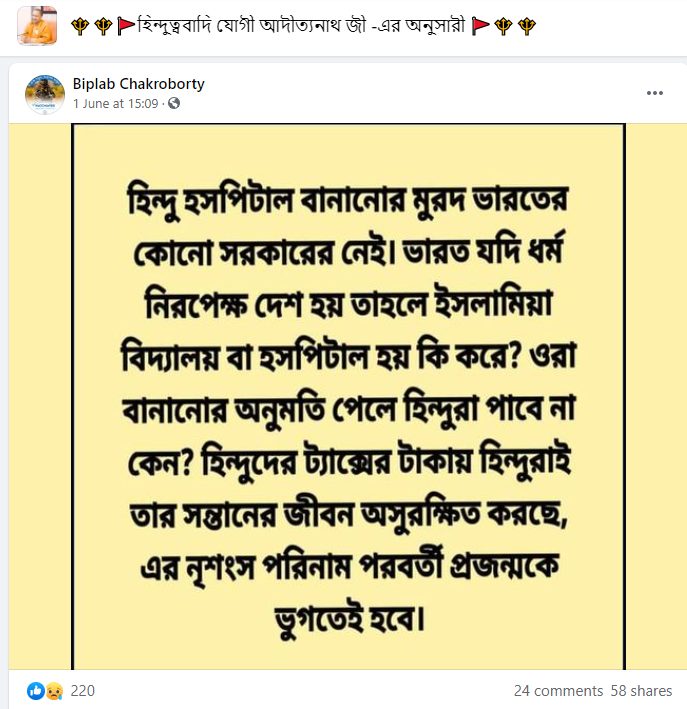 A screenshot of a news report has also been shared with the message. The report carries photographs of TMC leader Firhad Hakim inaugurating the hospital. "ভারতের কলকাতায় কতশত হিন্দু মেয়রের শাসনের অবসান হয়েছে তবু কোন হিন্দু মেয়র চিন্তা করেনি হিন্দু হাসপাতাল করার। হিন্দুরা তৈরী করেছিল সেকুলার হাসপাতাল সেই সেকুলার হাসপাতালে চিকিৎসা নিয়ে ফিরহাদ হাকিম তৈরী করলো ইসলামি হাসপাতাল । ফিরহাদ হাকিম ২ ট্রামে মেয়র নির্বাচিত হওয়ার পর ইসলামিয়া হাসপাতাল উদ্বোধন করলো," is the claim in Bengali.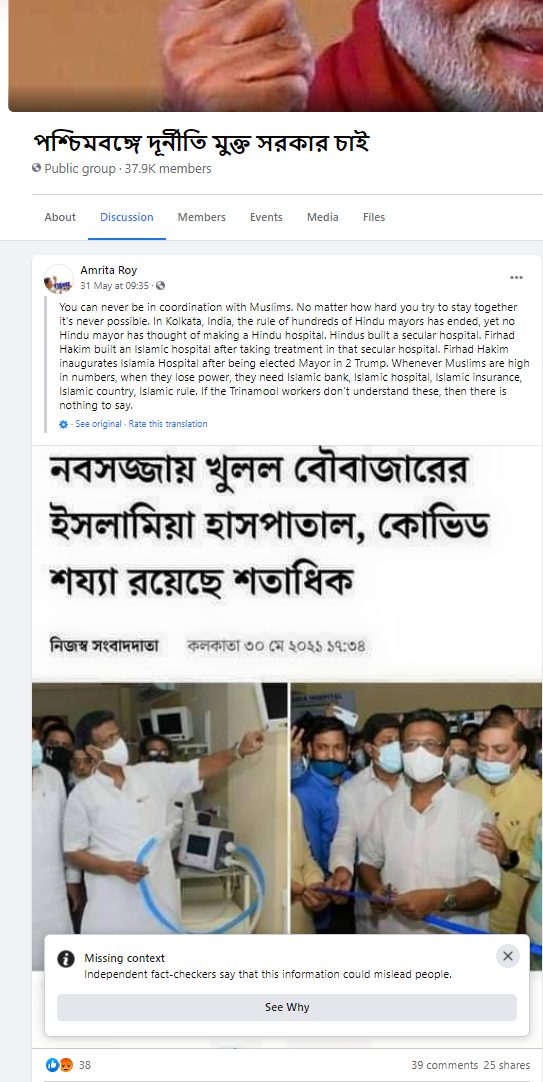 Several individual users have promoted the claim.
আরে সেক্যুলার আমার একটাই প্রশ্ন, বাংলায় কোনো হিন্দু হাসপাতাল বলে কিছু আছে কি?? তুমি কি ওই লুঙ্গির তলায় থাকবে?? আর ছেলে…

Posted by Bishwajit Saha on Sunday, 30 May 2021
False claim
The news report being shared was published by Anandabazar Patrika on May 30 and it does not say that Islamia Hospital was established to treat Muslim patients only. According to the report, the hospital had not been functional for several years. It was demolished due to poor condition. But a new building was constructed on the site and inaugurated by TMC minister Firhad Hakim. The hospital has started COVID treatment for the time being with 120 beds, including 20 ICU beds, 400 oxygen cylinders, etc. While the state government spent over Rs 365 crore to reconstruct the hospital, a private nursing home will jointly run the hospital with the government due to lack of necessary infrastructure, Hakim was quoted as saying. He added that the hospital will provide free services to all patients.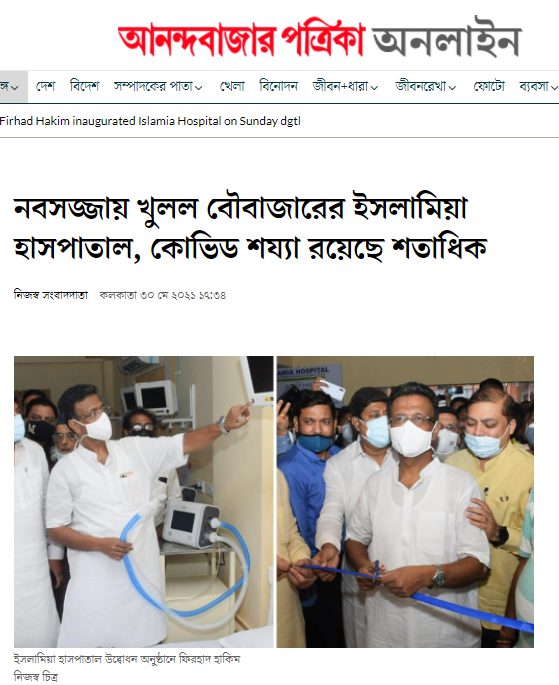 According to The Telegraph, "Islamia Hospital was set up in 1926. Since the building was in shambles, it had to be razed. Over the past five years, a new building was coming up in its place."
Amiruddin (Bobby), the general secretary of Islamia hospital and a member of the board of administrators of the Calcutta Municipal Corporation, was quoted as saying, "The hospital will be inaugurated this week. We have got all permissions and have procured life-savers such as ventilators and BiPAPs. Any Covid patient — irrespective of caste, religion or class — can seek treatment at the hospital."
The Telegraph added that the hospital has tied up with Charring Cross Nursing Home for doctors, nurses and other healthcare staff. Alt News spoke with Rahul Gandia, director of Charring Cross Nursing Home, who informed that the social media claims are false. The hospital will treat patients irrespective of religion, he said.
West Bengal transport and housing minister Firhad Hakim had tweeted pictures of the inauguration ceremony on May 30.
Today we inaugurated the revamped Islamia Hospital on CR Avenue
With an ICU facility & Covid Beds, this facility will aid in the battle against #Covid19 for Kolkata#BengalFightsCorona pic.twitter.com/hSXL9Nv1Iw

— FIRHAD HAKIM (@FirhadHakim) May 30, 2021
The hospital is located at 73, Chittaranjan Avenue.
A false claim was shared on social media that TMC leader Firhad Hakim inaugurated Islamia Hospital in Kolkata to treat Muslim patients only.
Donate to Alt News!
Independent journalism that speaks truth to power and is free of corporate and political control is possible only when people start contributing towards the same. Please consider donating towards this endeavour to fight fake news and misinformation.