A 2:20 minutes long video clip, which is a part of an ABP News broadcast, is viral on social media. According to the clip, the Malaysian government has approved the extradition of Islamic Televengilist Zakir Naik and he will likely land in Mumbai 'tonight' and will be presented in front of the court.
आया, जाकिर नाइक आया।
लिब्रांडुओ और सेकुलर गिरोह में उसके मित्रों को बज गई। pic.twitter.com/SN0ldT8RZJ

— P.N.Rai (@PNRai1) July 16, 2021
Several Twitter users have amplified the claim – @KiranSi27813888, @KamalSinghnamo.
A Hindi caption has also been edited and superimposed on the viral video. The caption reads, "Big success for the Modi government. Zakir Naik, who is famous for his provocative speeches and has been named in several cases for promoting terrorism, will be deported back to India by the Malaysian government today."
[CompleteHindi text: मोदी सरकार की बड़ी सफलता अपने भड़काऊ भाषणों से आतंकवाद को बढ़ावा देने के आरोप में नामजद ज़ाकिर नाइक को आज भारत वापस भेजेगी मलेशिया सरकार]
Some users have also tweeted a similar claim but without the video. The claim reads that the Malaysian government has handed over Zakir Naik to the Indian authorities and he will be brought back to India very soon.
This slideshow requires JavaScript.
The claim is massively viral on both Twitter and Facebook.
Fact-check
The first thing we observed in the viral video is the old ABP News logo. ABP News had unveiled a new logo for all its news channels in December 2020. Below we have added photos showing the difference between the two logos. This means that the news cannot be recent.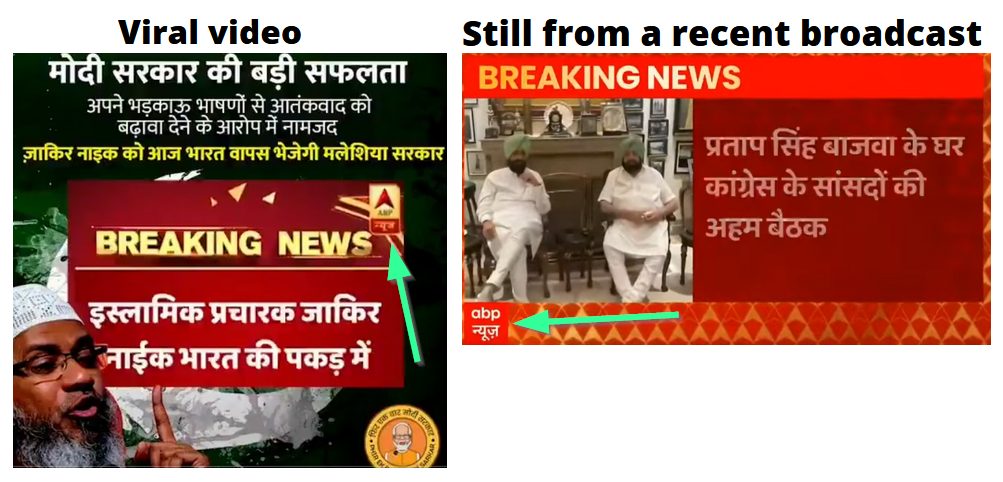 The bottom right corner of the video carries a logo of the Facebook page 'Phir Ek Bar Modi Sarkar'. The page had made the viral post on July 4, 2018. It has 3.7 million views.
We did a keyword search on Twitter and found that APB News had aired the report on July 4, 2018 based on "sources".
Breaking News- Controversial Islamic preacher Zakir Naik to be extradited to India by the Malaysian government, likely to land in Mumbai tonight: Sources. pic.twitter.com/dK9QMiteFS

— ABP News (@ABPNews) July 4, 2018
We also found the full news broadcast by APB News uploaded on Facebook on July 4, 2018.
The report was carried against the backdrop of the Indian foreign ministry sending an extradition request for Naik to Malaysia.
On July 7, 2018, two days after breaking the 'news', ABP News reported that the Malaysian PM has said that Naik won't be deported.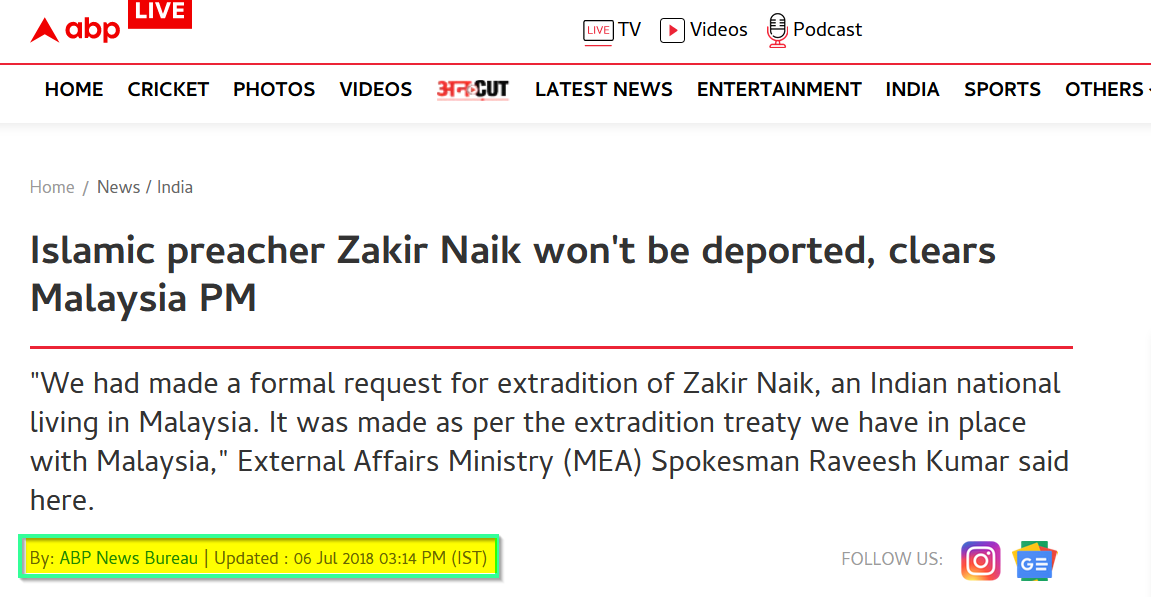 On July 7, 2018, Naik uploaded a video on Facebook criticising various Indian news channels, including ABP News, for spreading misinformation regarding his extradition. "I would like to thank Times Now channel, Republic TV, NDTV, ABP News and various other news channels and newspapers for publishing false news against me, two days before on 4 July," he said.
We noticed that around 0:44 minutes into the viral video, an ABP news correspondent claimed that based on the appeal made by the Indian authorities, Interpol had issued a Red Corner Notice (RCN) for the arrest of Zakir Naik. We checked the claim and found out that as of April 2021, Interpol has not issued any RCN for Zakir Naik. Since 2017, at least thrice, India has requested for an RCN on Zakir Naik, and Interpol has rejected each subsequent request.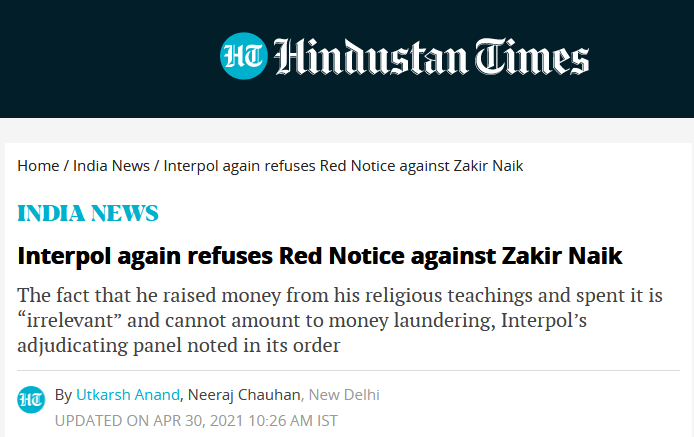 Hence, an old APB News broadcast that erroneously claimed banned Islamic televangelist Zakir Naik was arrested by Malaysian authorities and will be extradited to India has been revived on social media.