On July 18, pro-BJP propaganda outlet @KreatelyMedia tweeted a graphic that shows a screenshot of a tweet allegedly posted by one Ansar Ahmad Ali (@Ansar2Ali2) and a photograph from the wedding of Rajasthan Royals cricketer Shivam Dube and his girlfriend Anjum Khan.
Kreately claimed that Ali is a Muslim cleric who had tweeted, "Hindu men are BJP's main vote bank. I request all Muslim women that for the next six months, lure Hindu men in love and convince them to vote for Congress so that BJP loses." Kreately suggested that Anjum Khan 'lured' Shivam Dube into marriage. This tweet gained over 2,000 retweets.
मौलवी ने कहा..अंजुम खान ने किया..! pic.twitter.com/rcxuu6PcUD

— Kreately.in (@KreatelyMedia) July 17, 2021
[Alleged tweet in Hindi: बीजेपी के मुख्य वोटर है हिंदू लड़के सभी मुस्लिम लड़कियों से गुजारिश है अगले 6 महीने तक हिंदू लडको को प्रेमजाल में फसाओ फिर कांग्रेस को वोट देने के लिए मनाओ जिससे बीजेपी हार जायेगी.]
The alleged tweet in the above-mentioned graphic is massively widespread on Facebook and Twitter.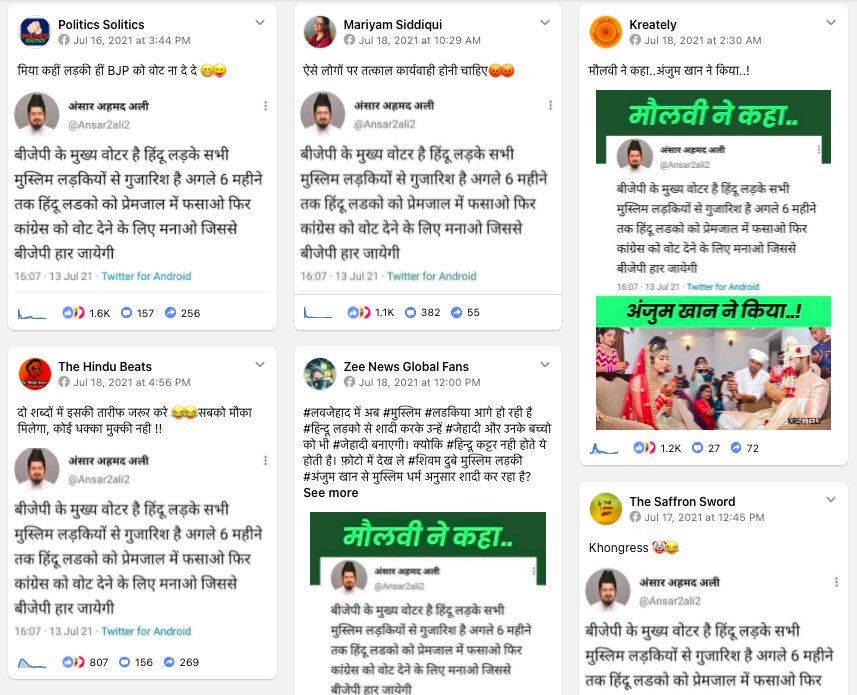 FACT-CHECK
Alt News could neither find the tweet in question nor the account. But a Twitter user had replied to @Ansar2Ali2 on July 18 which meant that the account indeed existed but has now been deleted.
We performed a reverse image search of the profile image in the viral screenshot and found a higher resolution image on Wikimedia which said that the man is Maulana Shahabuddin Razvi.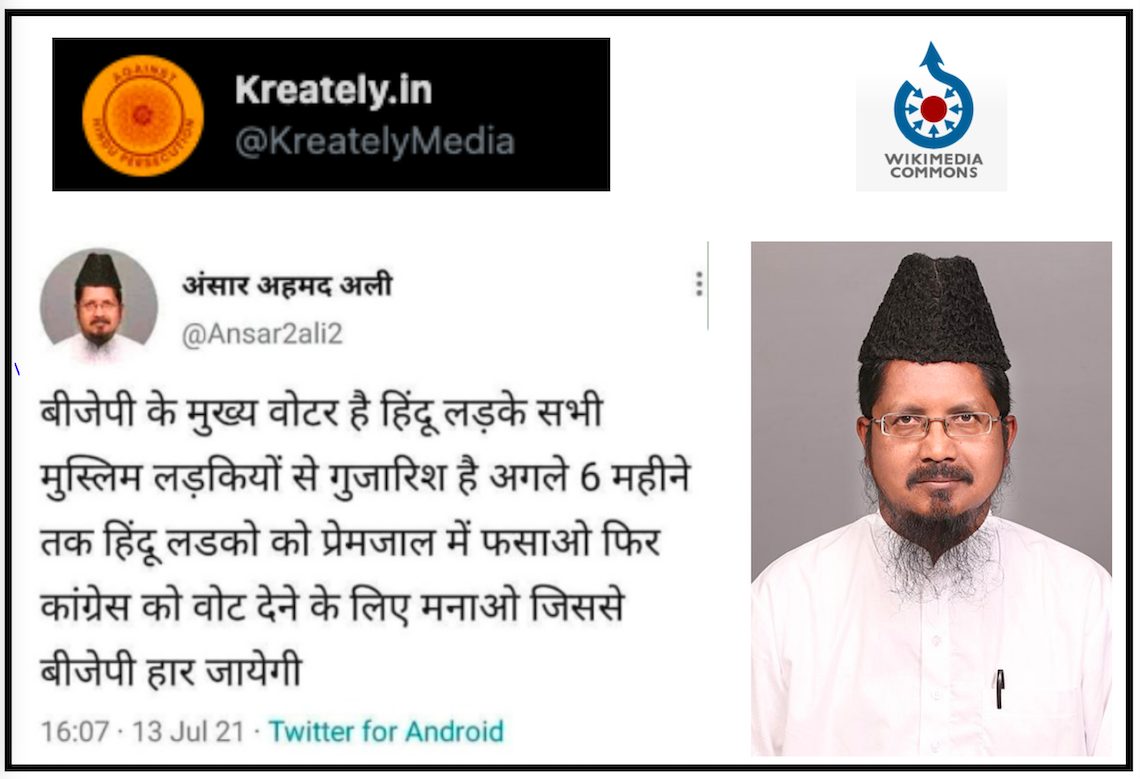 We performed yet another reverse image search on the higher resolution Wiki image and found that it was published by Rajasthan Patrika, a Hindi-language daily newspaper, in 2016. As per the article, Rizvi is the national general secretary of All India Jamaat Raza-e-Mustafa.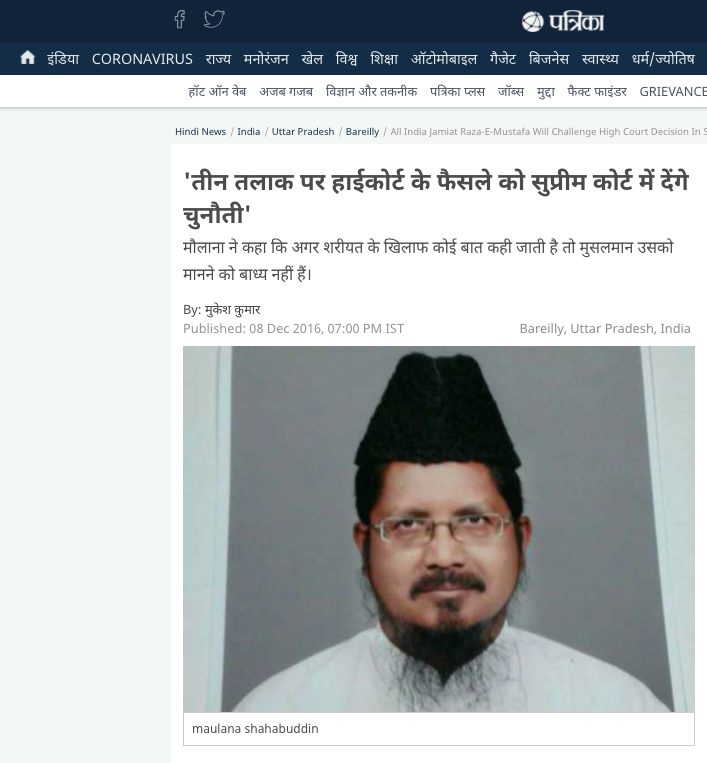 Over a telephonic call, Rizvi told Alt News that he hails from Bareilly and added, "I have been informed that my image is being shared on social media with an inappropriate statement. I am not on Twitter. I plan to legal action against this. I have already informed my advocate about the same."
He also said, "I am no longer associated with All India Jamaat Raza-e-Mustafa. I'm currently the general secretary at Delhi-based All India Tanzeem Ulama-e-Islam." This is also mentioned on his YouTube channel.
To conclude, an image of Maulana Shahabuddin Razvi was misused in a tweet that showed one 'Ansar Ahmad Ali' encouraging Muslim women to lure Hindu men to break BJP's main vote bank. We did not find any credible reference for an Islamic cleric named Ansar Ahmad Ali.
Donate to Alt News!
Independent journalism that speaks truth to power and is free of corporate and political control is possible only when people start contributing towards the same. Please consider donating towards this endeavour to fight fake news and misinformation.