Social media users have recently been sharing a video across Twitter and Facebook, claiming that it shows the Indo-Tibetan border. The original Hindi caption alongside the viral clip reads, "This photo was taken on the Kailash Mansarovar (Tibet-China) border at 3:30 in the morning, from a height of 18,600 feet. The photo is completely original and unedited. It has not been manipulated in any way. Nature has its own charm."
कैलाश मानसरोवर (तिब्बत-चीन) बॉर्डर पर सुबह साढ़े तीन बजे, अठारह हज़ार छः सौ फ़ीट की ऊंचाई से यह फोटो लिया गया है। फोटो पूरी तरह original & unedited है। इसमें किसी भी तरह की छेड़छाड़ नहीं की गयी है . . . . प्रकृति अपने आप में कितनी अदभुत है। . . . 👇👇
👌👌👌👏🙏

Posted by Kaushal Bansal on Saturday, October 17, 2020
A few users also shared the clip on Twitter with the same caption.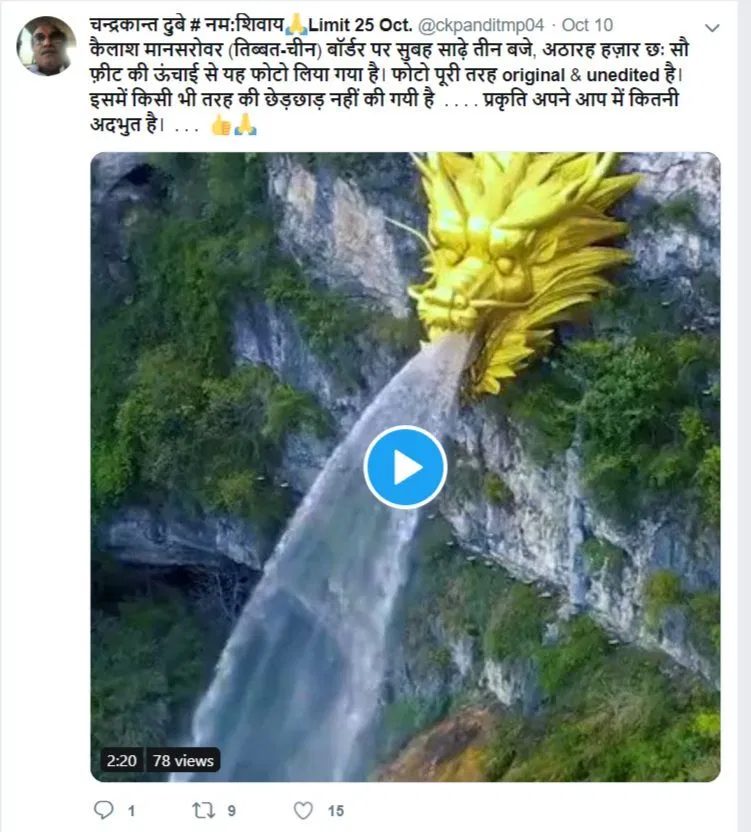 We also received a request to fact-check the video on the Alt News official Android app.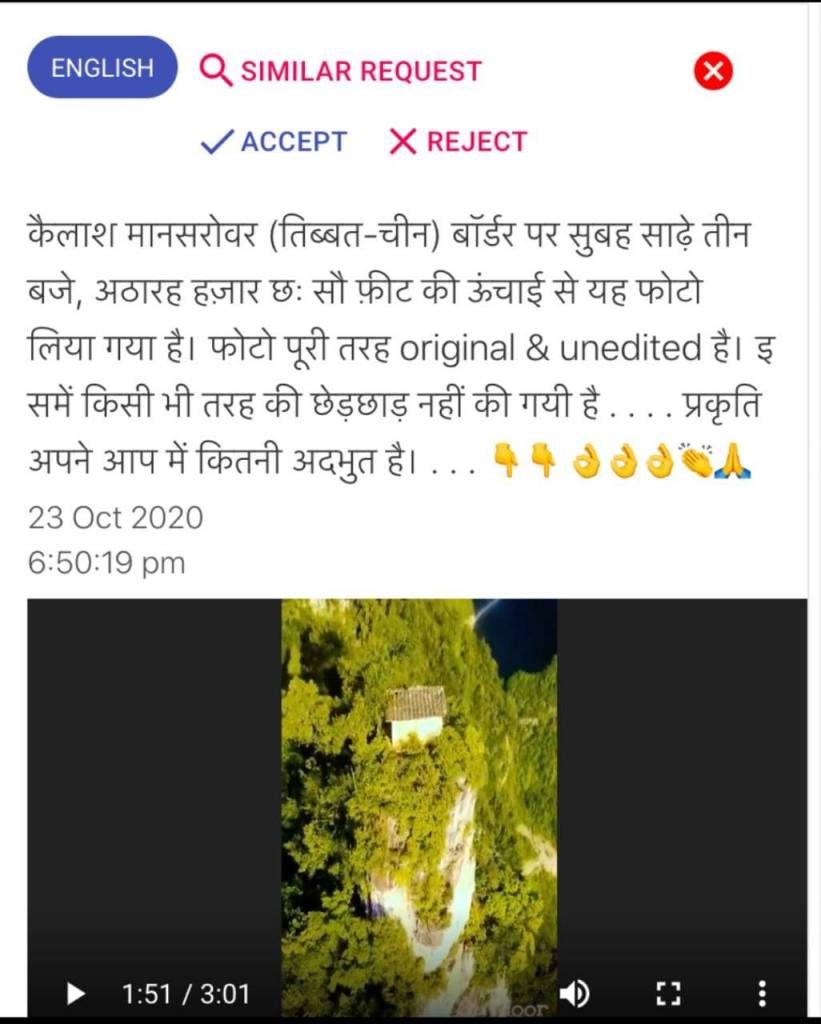 Fact-check
We noticed the video has a watermark which reads "Outdoor Kingdom". A keyword search using this led to a YouTube channel containing the source video, uploaded on February 11, 2020. However, the background music heard in the original has been changed in the viral clip.
In the comments section of the video, a user asked where it was from. The channel replied 'Thailand'.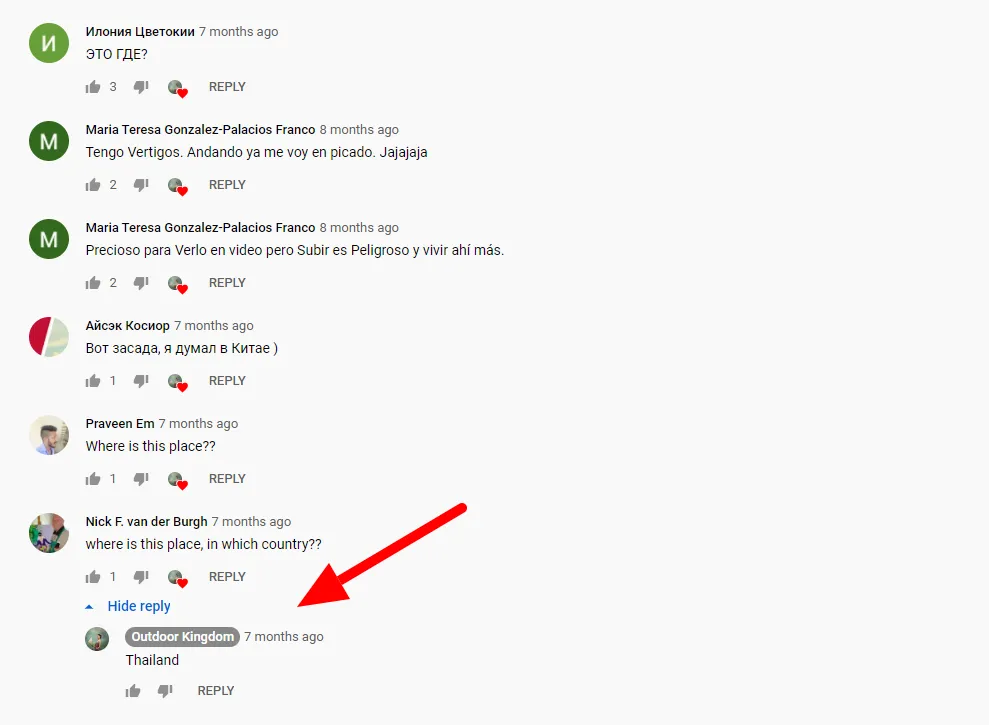 Both Tibet-China border and Thailand claims are incorrect
Alt News split the video into several frames using the video verification tool InVid. After this, we did a reverse image search of these frames.
Below are all the locations that appear in the video. The locations seen in the viral clip are on the left and pictures from the source video are on the right. We have also included links above each picture that show where the photos and videos have been taken from.
1. The first is from China's famous Gaoyi Ridge. We found this site during a reverse image search. A keyword search returns several articles and images by Wikipedia, People's Daily, Shutterstock, and Getty Images. It can also be found using Google Earth, by zooming in near the Zuojia Mountain. Google Photos also has more pictures of the place.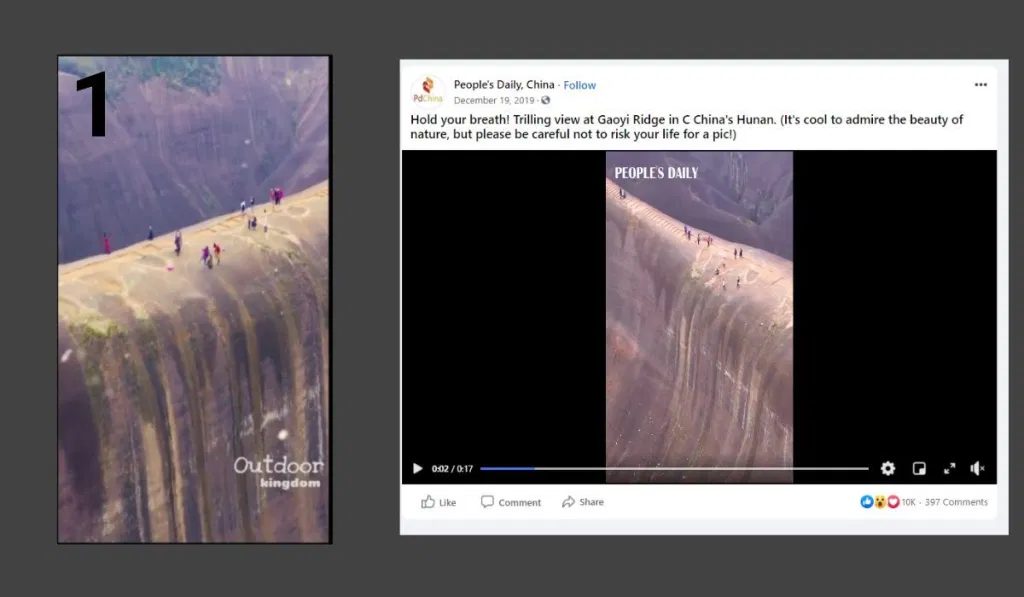 2. Qiannan in Guizhou province of China: A reverse search image of this picture leads to a Shutterstock listing, where the photographer has mentioned the location. Several websites and reports are also available online which give further details of the waterfall. These are the Yuncong Falls of Guizhou, which is in Longli County. People's Daily also uploaded a video of the waterfall on a Facebook post. Photos are also available of this location on Google Earth.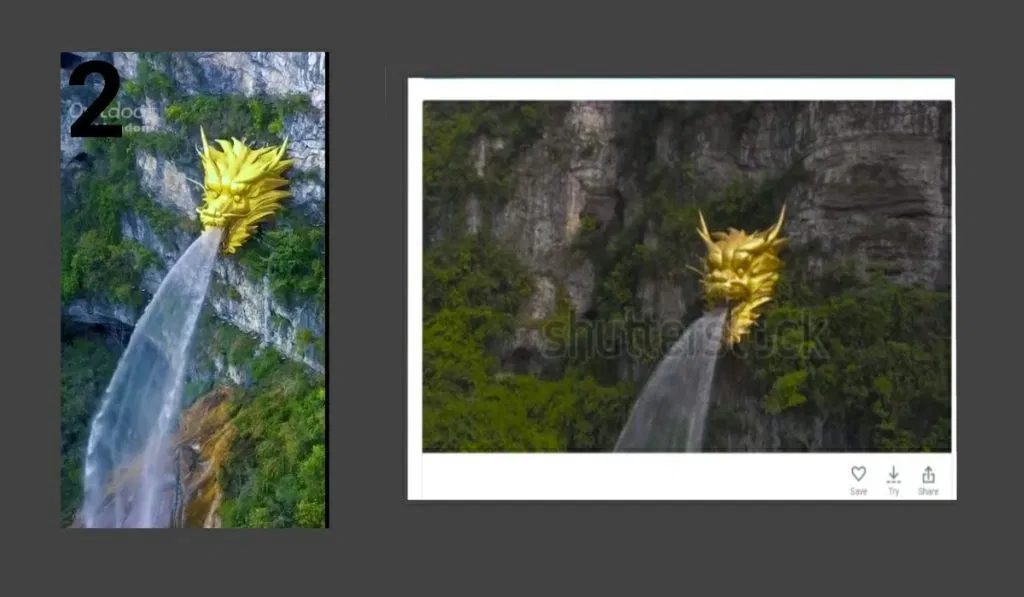 3. Zhongwudang Taoist Temple, China: Our reverse image search led us to a video where the name of the temple was visible. Using a keyword search, we found pictures and other information about the temple on the Hubei government website along with a tour and travel website. The 'Zhongwudang Scenic Area' on Google Earth also features a picture of a temple in Google Photos. This picture is taken from a lower angle.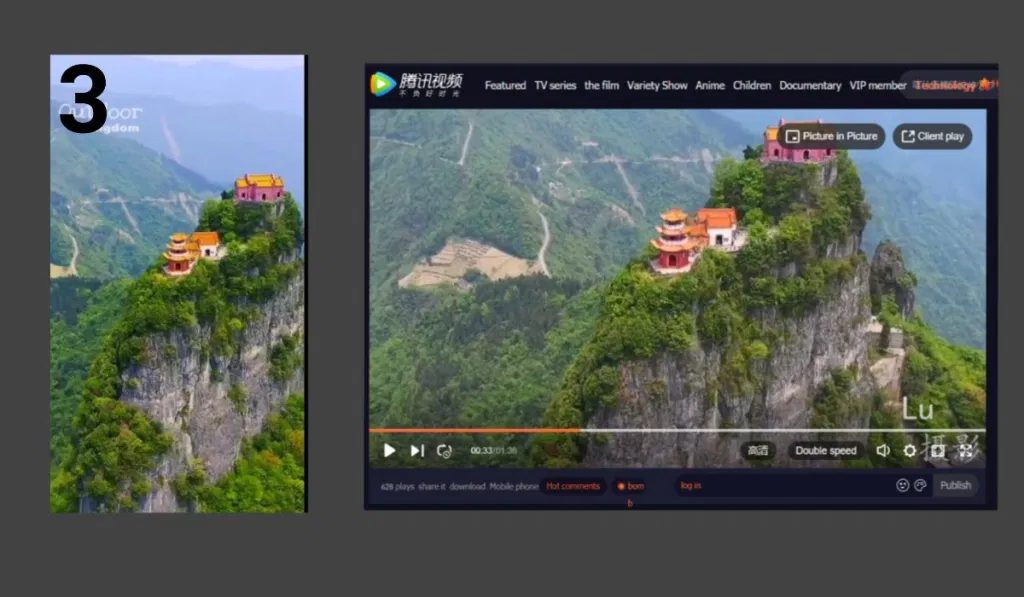 4. Atulie'er Village, Daliang Mountain, Sichuan Province, China: When we performed a reverse image search using Yandex, we found a video with a description that mentioned the location as Atulie'er village of China's Sichuan province. More videos of the village can be found by searching these keywords on YouTube. Global Times and BBC have also published reports about this area. We would like to point out that the ladder seen in the fifth screenshot leads to this village. Therefore, both of these are indeed from the same location, China's Sichuan province. This can also be verified using Google Earth.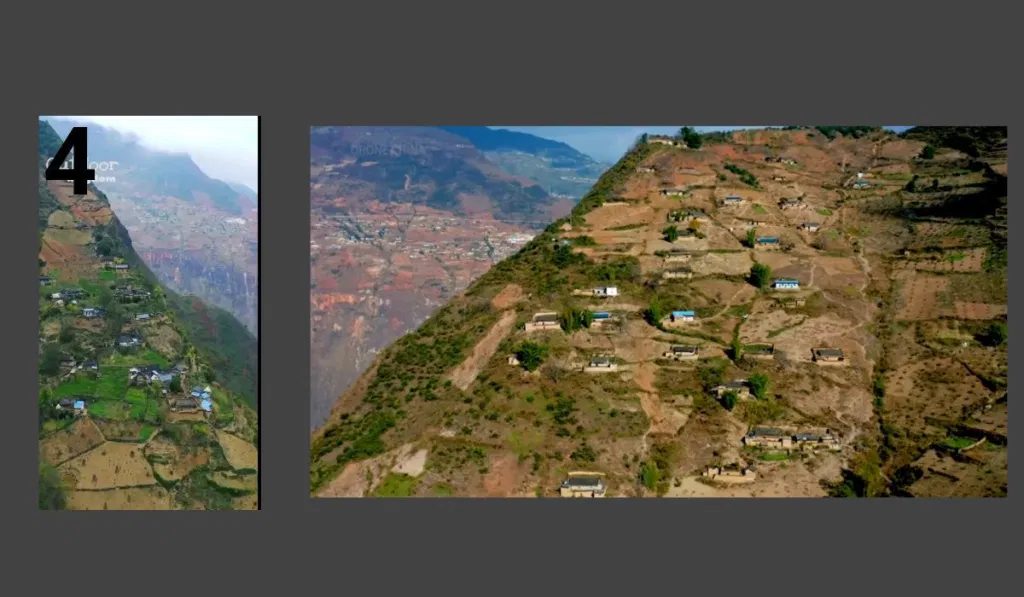 5. As stated above, this ladder leads to Atulie'er village. Media reports state that there was a wooden ladder here earlier. Children used to take the ladder to travel long distances to get to school. When the government found about this, they stepped in and replaced it with a steel ladder. Several video reports on YouTube can corroborate this development.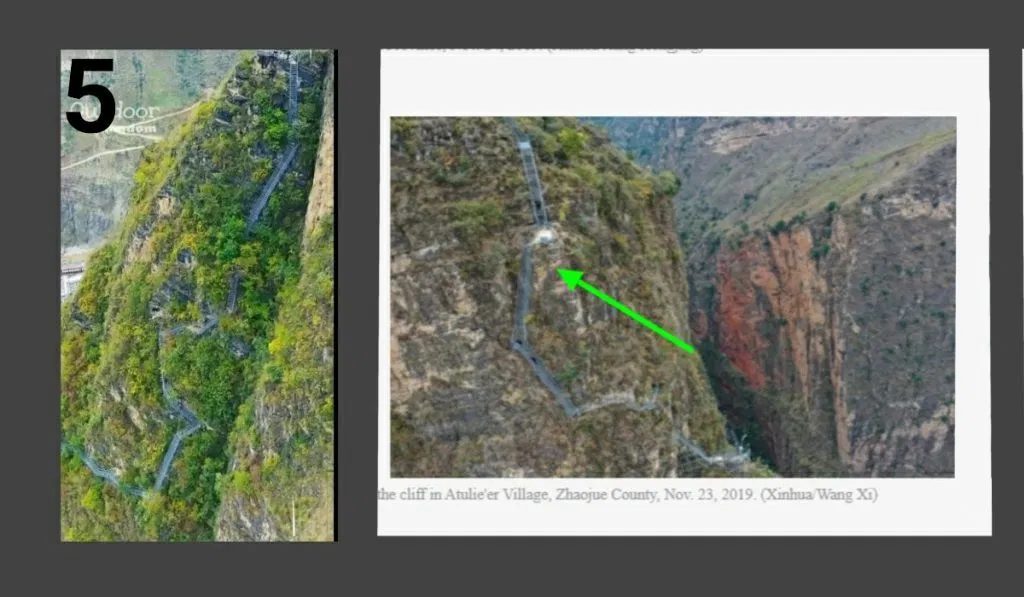 6. Guizhou, China: A reverse image search of this picture led us to videos of two vloggers (link 1, link 2) who described it as Guizhou. Apart from this, by searching with the keywords '奇峰 贵州 楼 (Guizhou Qifeng House)' on Baidu (baidu.com), we found images with descriptions that listed the location as Guizhou. (Readers are advised to access Baidu website using Tor browser).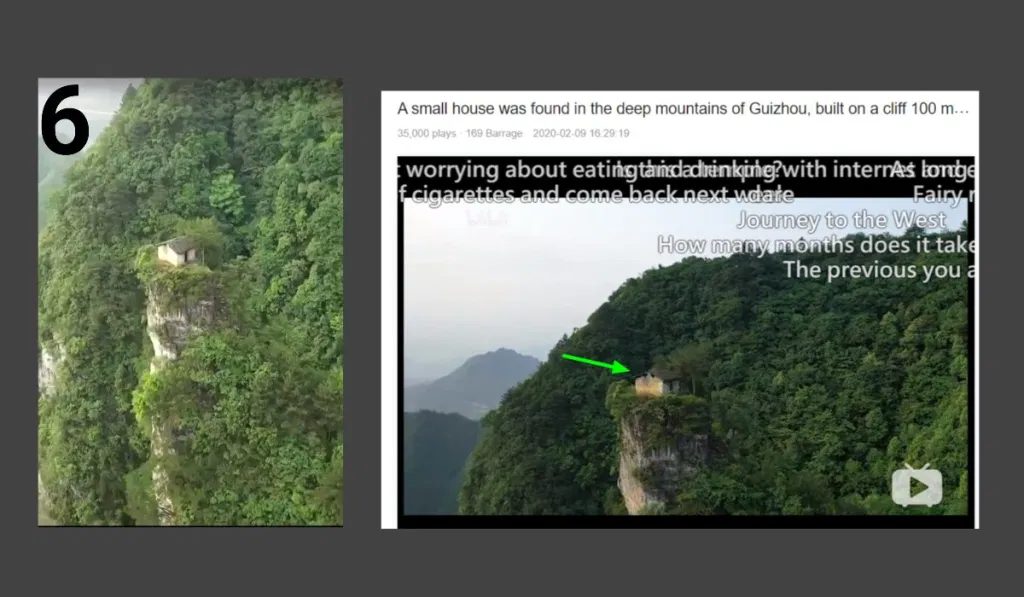 Pic 7 and 8: Alt News was unable to verify these locations.
This slideshow requires JavaScript.
However, Chinese vlogger 'Runaway Couple' uploaded videos (first, second) of these places on the Chinese video-sharing website bilibili.com. Here, the person who shot the first video can be seen. However, due to a lack of any reliable source, we cannot confidently say that it shows Guizhou.
This slideshow requires JavaScript.
Therefore, Alt News can confirm that the viral video is a montage of clips from several scenic locations across China. The social media claims attributing it to the Kailash Mansarovar yatra are false.
Donate to Alt News!
Independent journalism that speaks truth to power and is free of corporate and political control is possible only when people start contributing towards the same. Please consider donating towards this endeavour to fight fake news and misinformation.