Former chairman of Uttar Pradesh Shia Waqf Board Wasim Rizvi converted to Hindusim on December 6. In the backdrop of this, several social media users have shared an image of a Hindu priest surrounded by Muslim men along with the claim that after Rizvi's conversion 34 Muslim families converted to Hinduism in Uttar Pradesh. The claim is viral ahead of UP Legislative Assembly scheduled to be held in February 2022.
[Viral text: यूपी में 34 मुस्लिम परिवारों ने कि हिन्दू धर्म मे वापसी । जय श्री राम🙏🏻🚩 सनातन ही सत्य है🙏🏻🚩]
Several Facebook users posted this claim on pro-BJP or Hindutva groups — रास्ट्र हिंदू posted 0it on मोदी 2.0 🚩( मोदी समर्थक जुड़े )🚩 [gained over 4K likes]; घंटाकर्ण महावीरमेरा posted on वोट मोदी को ( Modi Voters जुड़े ) [gained ~3K likes], and Vijaybhai Kalambekar posted on फिर एक बार योगी सारकार ( इस बार 350 पार ) and India Needs BJP; Tirlok Dewasi in Sudarshan News. Similarly, FB pages Bramha Rashtra Ekam and जागो भारत जागो also made the same claim.
Using CrowdTangle, a social media monitoring tool, we found that at least 100 accounts posted this image.
This slideshow requires JavaScript.
Twitter user @janardanspeaks and BJP politician Anupendra Singh shared the claim without the image.
Fact-check
Alt News performed a reverse image search on Google and found that Hindi-language news outlet Amar Ujala had published this image in 2016. As per the report, the image is from September 23, 2016, and was taken at Mathura's Jama Masjid. It shows an anti-Pakistan demonstration held after the terrorist attack on an Indian Army brigade headquarters near the town of Uri in the former union territory Jammu and Kashmir. A video of this event can be seen on Amar Ujala's website as well.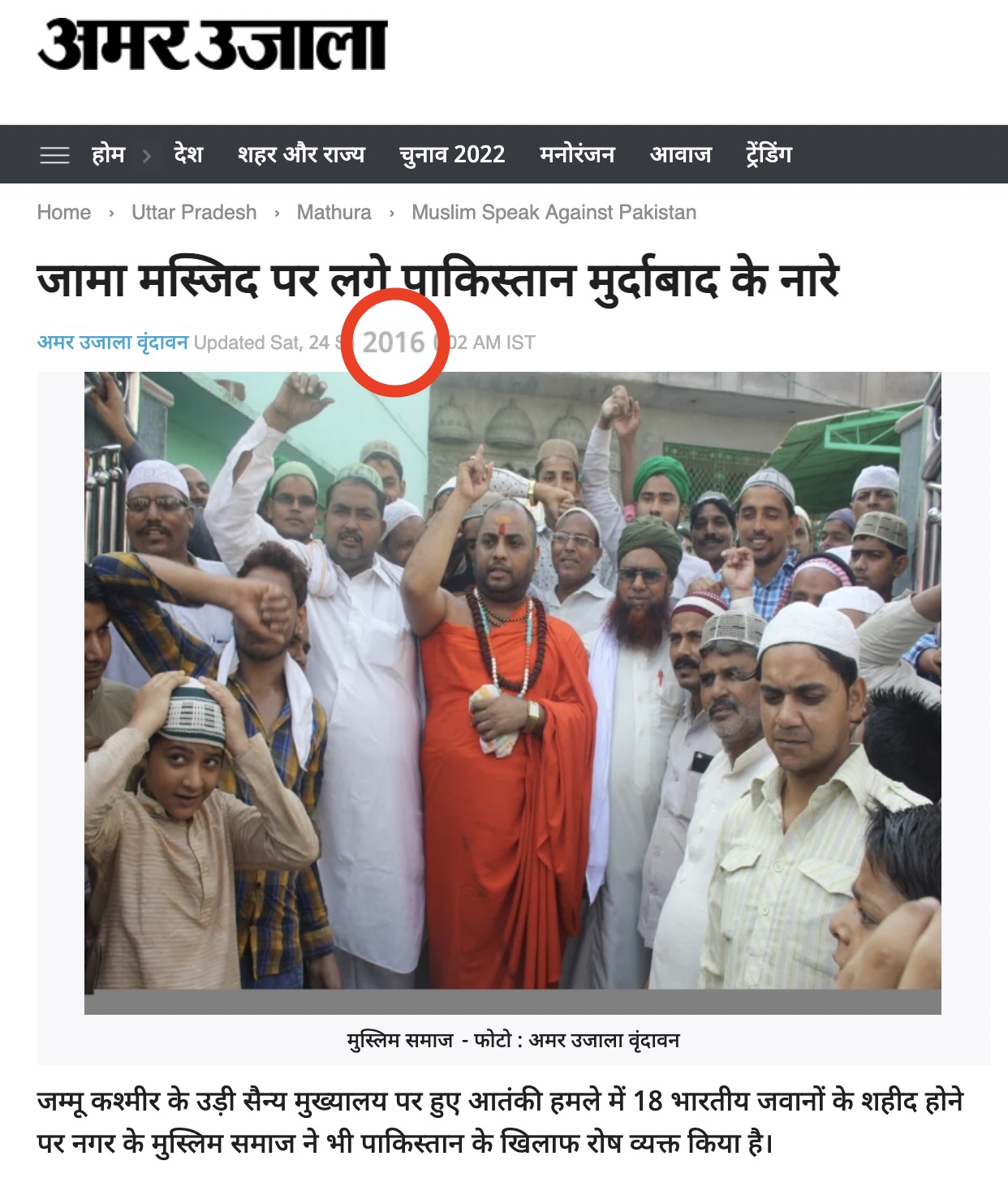 Alt News performed a keyword search on Google restricting results to December 6 onwards and could not find a single report corroborating the claim that 34 Muslim families had converted to Hinduism.
The false claim was, therefore, promoted using a five-year-old image.
Donate to Alt News!
Independent journalism that speaks truth to power and is free of corporate and political control is possible only when people start contributing towards the same. Please consider donating towards this endeavour to fight fake news and misinformation.