A video that shows a group of young men who appear to be celebrating a woman's birthday is viral on social media. Apart from her, there is one more woman in the video. The phrase "Beware of Jihadi" has been added to the bottom of the video. It shows the men spiking the cake which causes the women to lose consciousness. The video has been used to target the Muslim community.
Twitter users @jhuleDhotiRam, @BharatK00741911, @P_Katyayan, and @PMPATEl1969 were among the several people who shared the video suggesting that the men who drugged the women hail from the Muslim community.
शांतिदूत कितीही चांगला असल्याचा दिखावा करत असले तरी शांतिदूत कधीच चांगला असु शकत नाही. कारण त्याची किताब-ए-हवाहवाई मध्ये त्यांना दिलेले आदेश पाळावेच लागतात, पण या गोष्टी मुर्ख हिन्दू मुली कधी समजणार रोज शांतिदूत नव-नविन प्रकारे हिंदू मुलीवर बलात्कार करतात.pic.twitter.com/VISX4HPvJH

— धोतीराम झुले (@jhuleDhotiRam) December 14, 2021
ये मुल्ले आपके दोस्त है तो देख लो जिहाद कैसे करते है कट मुल्ले साले देशद्रोही आतंकवादी
🚨जिहाद
गजवा ए हिंद
बेहोश करके सेक्स क्लिप निकालते है फिर आपको बनाते है सेक्स स्लेवरी, धर्म परिवर्तन और जो आप सपने में भी नही सोच सकते
जागो मेरे हिंदू शेरो जागो
बहुत देर हो जाए उससे पहले जागो pic.twitter.com/v5gs3VKwKz

— Gautam Rudra official (@BharatK00741911) December 13, 2021
#गजवा_ए_हिन्द वाले जिहादियों से सावधान::
ये जिहादी 🐖आपके दोस्त है तो देख लो जिहाद कैसे करते है।😡
बेहोश करके सेक्स क्लिप निकालते है फिर लड़कियों को बनाते है सेक्स स्लेवरी, धर्म परिवर्तन और जो आप सपने में भी नही सोच सकते।#जागो_हिन्दुओ_एकजुट_हो_जाओ
बहुत देर हो जाए उससे पहले जागो pic.twitter.com/Ej6W9XlkQc

— 🇮🇳कल्याणी_पुष्पा🇮🇳 (@P_Katyayan) December 14, 2021
Several Facebook users also shared it.
Using CrowdTangle, a social media analysis tool, we found that it was posted in several groups with thousands of members — 'Sudarshan News' [over 1 lakh], members 'support Mr. Sonam Wangchuk' [over 70,000 members]; and 'BENGAL TIGER NEXT CM OF BENGAL (suvendu adhikari)' [18,000 members].
There are also a few users who did not promote the anti-Muslim claim but believed the incident to be true.
பொட்ட பிள்ளைகளை பெத்தவங்க பாவம்.
இப்டியான பிராடு நண்பர்களிடமிருந்து காத்து எப்படி வாழவைக்க? 😞😞 pic.twitter.com/88afvdcyYI

— தர்சினி (@DharsinTweets) December 10, 2021
Video verification
Off late, scripted dramas posted by popular Facebook pages are being reshared with misleading narratives.
This video was uploaded by a verified Facebook user Sanjjanaa Galrani where she has clarified that it represents a scripted drama. "Thank you for watching! Please be aware that this page features scripted dramas and parodies as well. These short films are for entertainment & educational purposes only," reads its caption.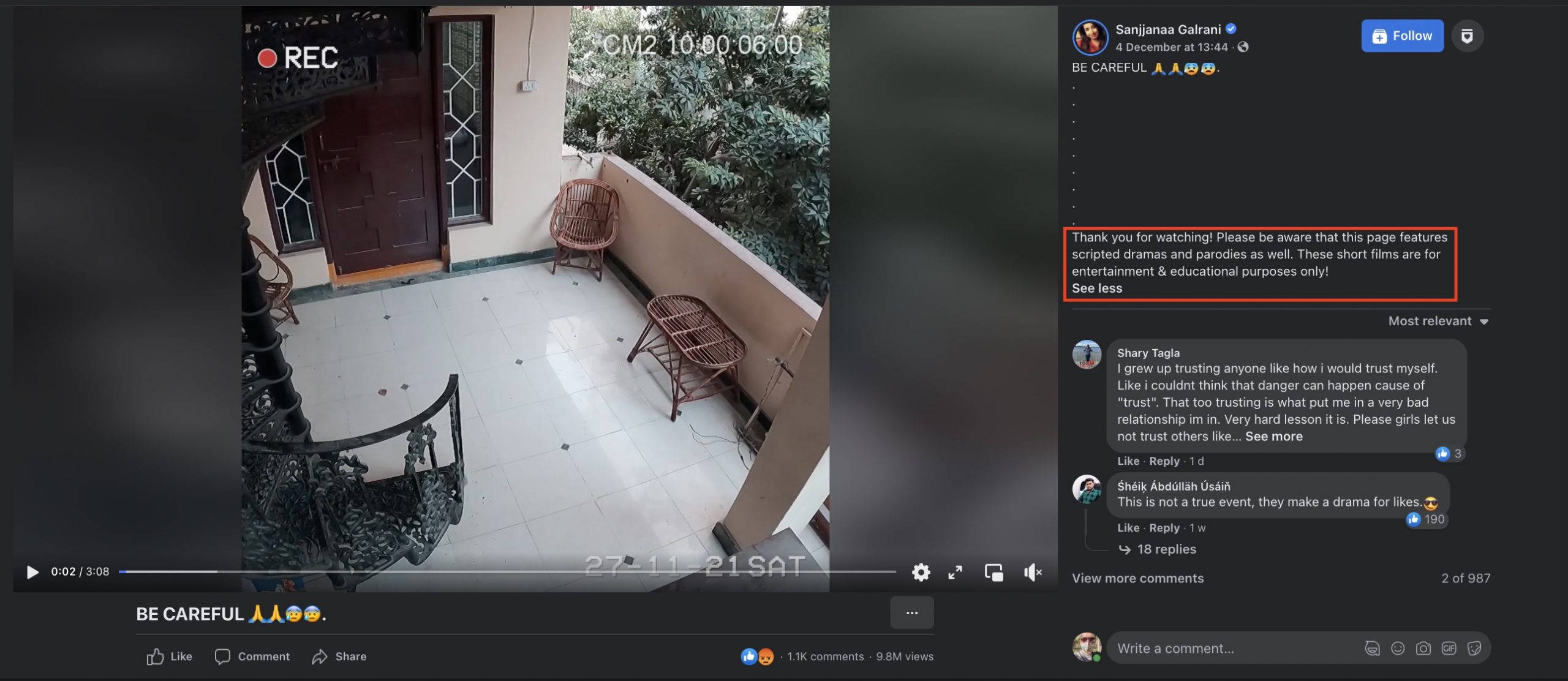 In recent the past, Alt News has documented similar videos misused to build a narrative targeting the Muslim community.
Donate to Alt News!
Independent journalism that speaks truth to power and is free of corporate and political control is possible only when people start contributing towards the same. Please consider donating towards this endeavour to fight fake news and misinformation.