A photograph of a woman with a head injury has been shared on social media with the claim that the incident took place in West Bengal. Viral claims have blamed the Mamata Banerjee government in the State that recently won assembly elections. The poll results have led to violence across parties, with the opposition blaming the TMC.
(Hindi text viral with the image: आबरू लूट गयीं बंगाल की क्या ये महिला नहीं, क्या बंगाल की बेटी नहीं, क्या बंगाली और महिला केवल ममता ही है धिक्कार उन को जो महिला है और ममता का अब भी बेशर्मी से समर्थन कर रही है)
Twitter user @Isha5384 shared the image, gathering close to 1,000 retweets.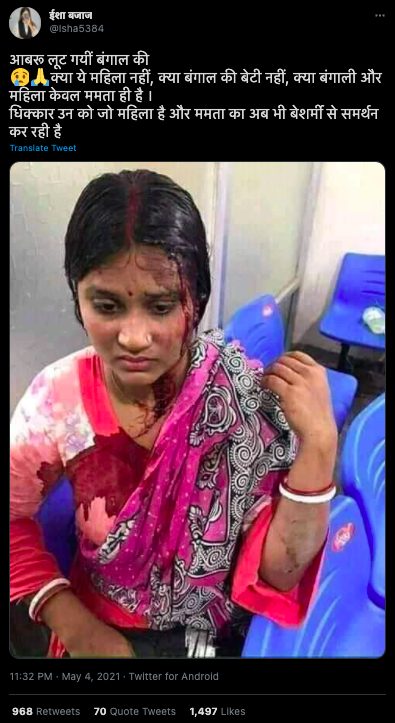 A Twitter account in the name of Chandana Bauri, BJP MLA from West Bengal's Saltora assembly, also tweeted the image.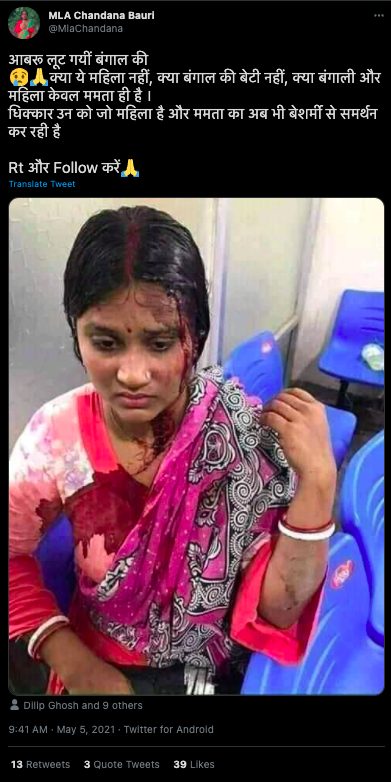 BJP leader Ritesh Khandelwal shared multiple images including the viral picture and linked them to post-poll violence in West Bengal. A party supporter Ashwini Upadhyay also claimed that the incident took place in West Bengal. Several Facebook users amplified the claim.
This slideshow requires JavaScript.
The following video shows the scale of virality of the image.
2020 incident from Bangladesh
Performing a reverse-image search, we found an article by Bharat Samachar 24×7 published last year. The article is about an alleged increase in violence against the Hindu community in Bangladesh. However, the article does not give any details about the photograph. It is also noteworthy that the Twitter account of Bharat Samachar 24×7 is suspended. Nonetheless, the article suggests that the image does not represent a recent incident from West Bengal.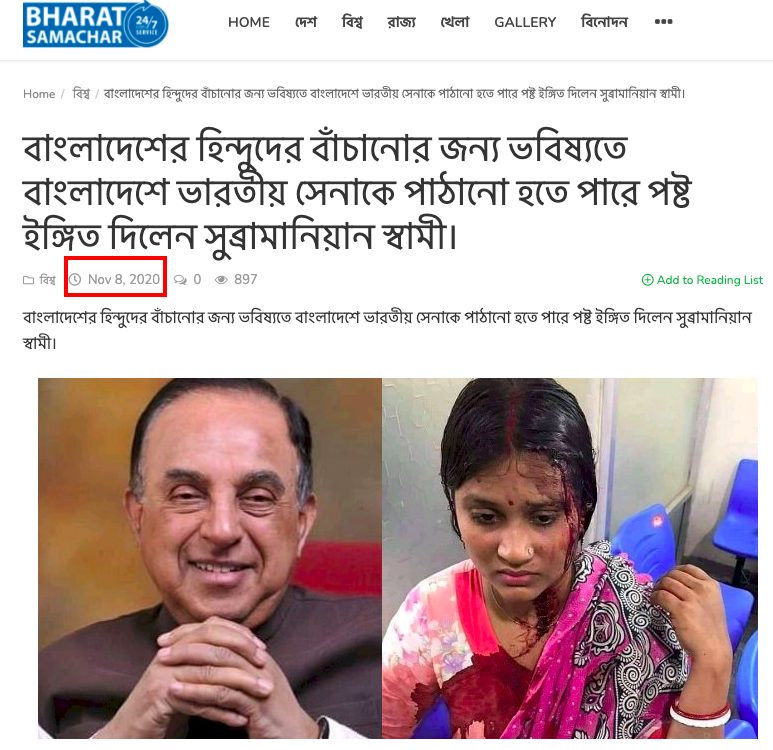 A chair is visible in the picture where we can spot the logo of Bangladesh-based furniture brand 'Regal' established in 2013. All their showrooms are based in the country.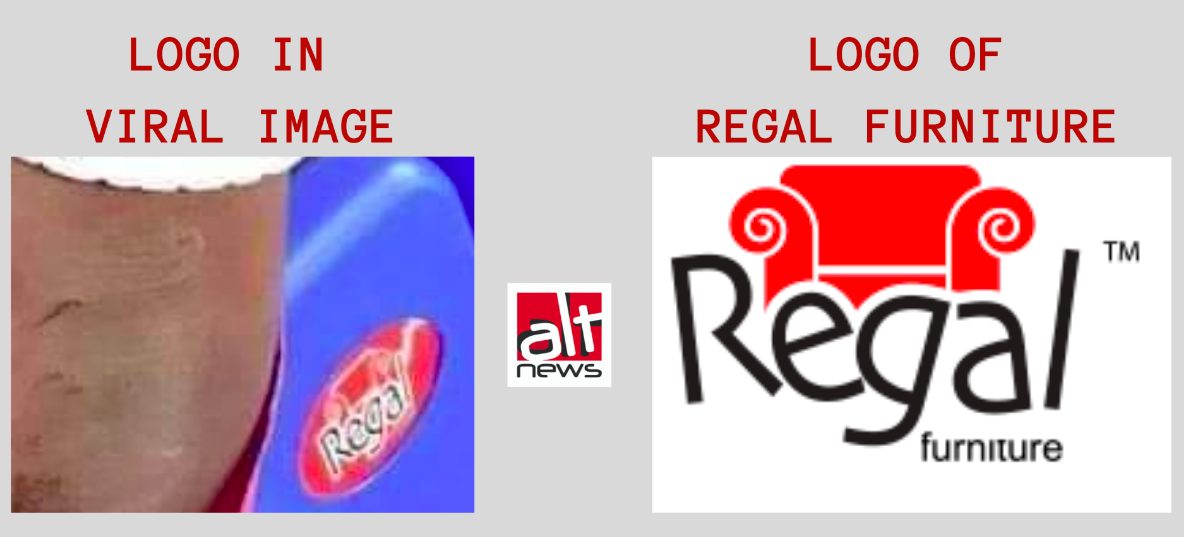 Another reverse-image search led us to Twitter posts (1, 2, 3 and 4) from last year where users claimed that the incident took place in Chittagong district, Bangladesh. A Hindu family was attacked by land robber Md Rubel and his gang, in Aman Bazar that falls under Hathazari police's jurisdiction, the posts claim.
On 3/11/2020, land robber Md: Rubel & his terrorist forces attacked a poor Hindu family at East Yugir Hat in Aman Bazar, Hathazari Police Station,Chittagong,Bangladesh.
Land robber Md: Rubel has been trying to occupy d victim's place for a long time.#HinduLivesMatterInBangladesh pic.twitter.com/9bHfWeCPPy

— Raju Das 🇧🇩 (@RajuDas7777) November 4, 2020
We used this as a clue and found a report by Chattogram Pratidin through a keyword search. The report was published on November 5, 2020. It said that Ratan Kumar Nath, his daughter-in-law Putul Nath and niece Mukta Rani Nath were attacked by Rubel, Shakib, Arman, Osman, Morshed and a few others on November 1. As per the report, Rubel and his associates were demolishing parts of Nath's house and the police delayed filing the family's complaint.
Bangladesh-based media outlets Desh1 and Eibela reported that the accused were a part of a land-grabbing gang. Both reports carry the viral image and reported that the name of the woman is Anamika Das.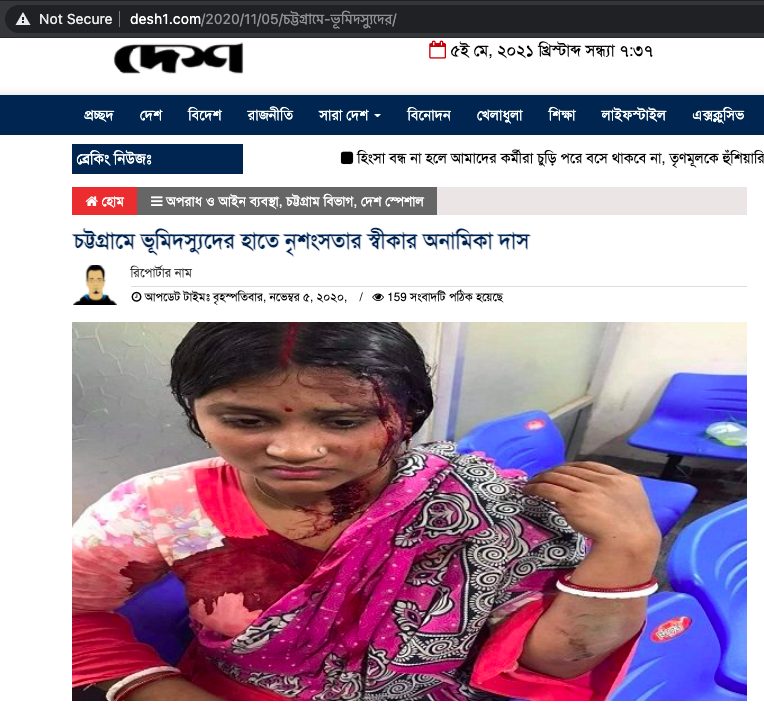 Alt News reached out to Ratan Kumar Nath who informed that the woman in the image is his daughter. "She was injured during a land-grabbing related incident last year," he said.
An image of a woman with a head injury was shared with the false claim that the incident took place recently in West Bengal. However, the incident took place last year in Bangladesh and the family confirmed that it pertains to a land grabbing case.
Donate to Alt News!
Independent journalism that speaks truth to power and is free of corporate and political control is possible only when people start contributing towards the same. Please consider donating towards this endeavour to fight fake news and misinformation.